My family recently took a mini vacation to Las Vegas to check out the most family-friendly spots in a town known for being an adult's playground. It's known as "Sin City," but we really got the chance to enjoy a whole different side of Las Vegas, and it was great!
When looking for a place to stay, we wanted a few things to keep with our "family-friendly" needs: a great location, space for our family to be comfortable, and well-priced. The Embassy Suites Las Vegas was a no-brainer.
This all-suite hotel is the perfect spot for anyone to stay when they are visiting Las Vegas (no matter the occasion), but it is truly made with family comforts in mind!
Located a short distance away from the famous Las Vegas Strip, we were really happy with the fact that we were close enough to go to the main action if we chose (and could use the free shuttle they offer!), but we were far enough away that we didn't have the craziness to deal with in getting to our room OR keeping our kids awake every night.
My husband's observation was that he was really pleased that there was no type of gambling in the hotel at all as well. If you've ever been to Las Vegas, you know that even the convenience stores have slot machines…but not Embassy Suites! You and your family are able to stay in a place that is free from the chimes and lights of the machines!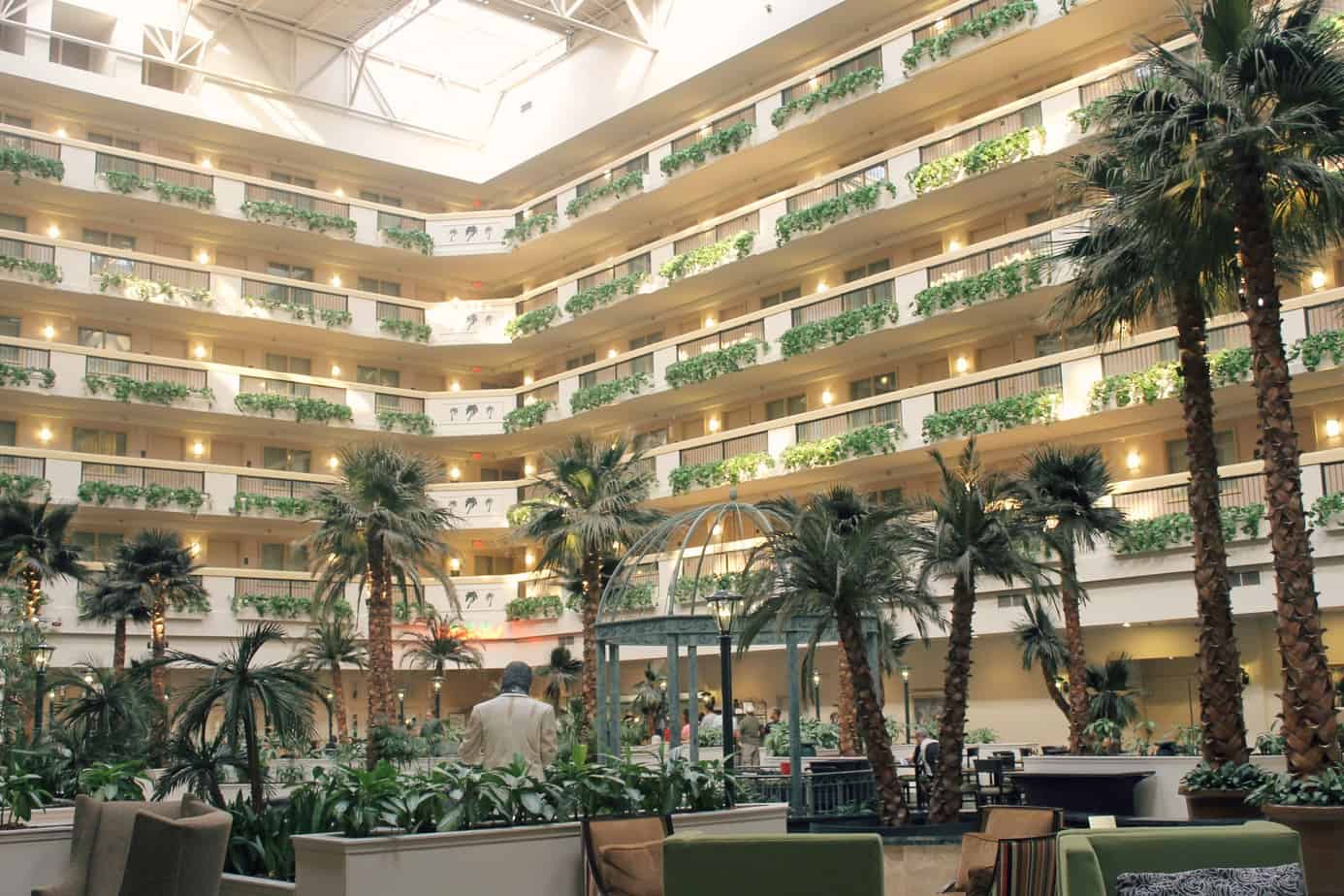 As you enter the hotel, it resembles many other Embassy Suites hotels. The rooms are all surrounding a gorgeous atrium full of natural light and vegetation. There are plenty of places to sit, and we saw many people reading and working in this beautiful setting during our stay!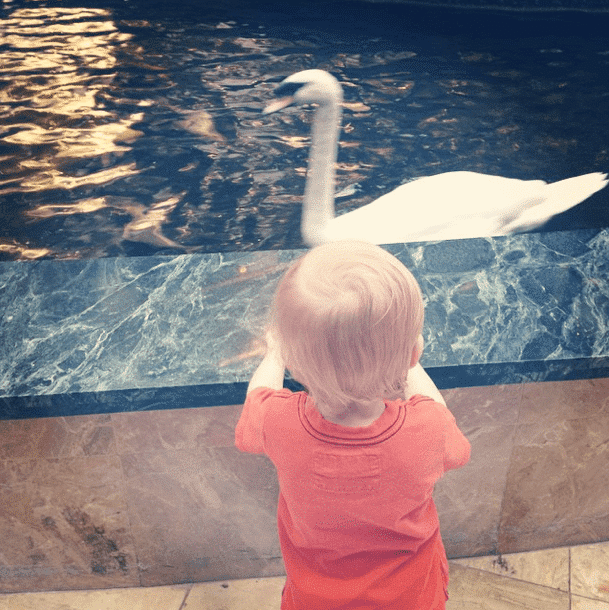 My kids' absolute favorite part of the hotel was the resident Swans, Elvis, and Priscilla. These two live in the Koi pond that flows through the center of the atrium, and we couldn't walk around the hotel without making at least one stop to see our new friends.
Another resident of the atrium in the Las Vegas Embassy Suites is Elvis himself! Well, a statue. Because what kind of Las Vegas vacation is complete without an Elvis sighting?! The nice thing about this one is that we didn't have to wait in line, AND we didn't have to tip him to get a picture with him!
Our room was the perfect oasis from the hustle and bustle of the strip. Two large-sized rooms with a wet-bar area and bathroom kept our family comfortable for the week.
The living room was a mix between our boys' bedroom and their playroom. By day, we dumped out their toys and let them play as they wished, and at night, they went to bed while my husband and I could watch TV or read in our room without bothering the kiddos.
Located between the living room and bedroom is a wet bar that houses a refrigerator, microwave, sink, coffee maker, and tons of room for storage. With two younger kids, this is a lifesaver when we travel. We need to keep milk with us, snacks at hand, and a microwave for those family movie nights when popcorn is a must! A coffee maker makes mom & dad happy in the morning when the kids get up early, ready to play, too!
The main bedroom houses either one king-sized bed or two doubles, another TV, a small dresser, a desk, and a closet. Our room overlooked the beautiful pool, which was lovely to look at, but ended up being a little noisy come Friday and Saturday night (this was totally expected, in my opinion, I can't imagine there are too many places in the area that aren't a little loud on the weekends). The noise subsided before midnight and never got so bad that we felt it was bothersome. The rest of our week was wonderfully quiet, though. If you are concerned about noise on a weekend, simply ask that your room not overlook the pool.
The bathroom was perfect for our little family, with a low-edge bathtub (LOVE this with the little ones who can get in and out easier on their own!), sink, and toilet.
As I mentioned before, our living room space doubled as a bedroom and playroom for our boys. This works out so well for us, and my son thought it was magical to sleep on a couch that turns into a bed!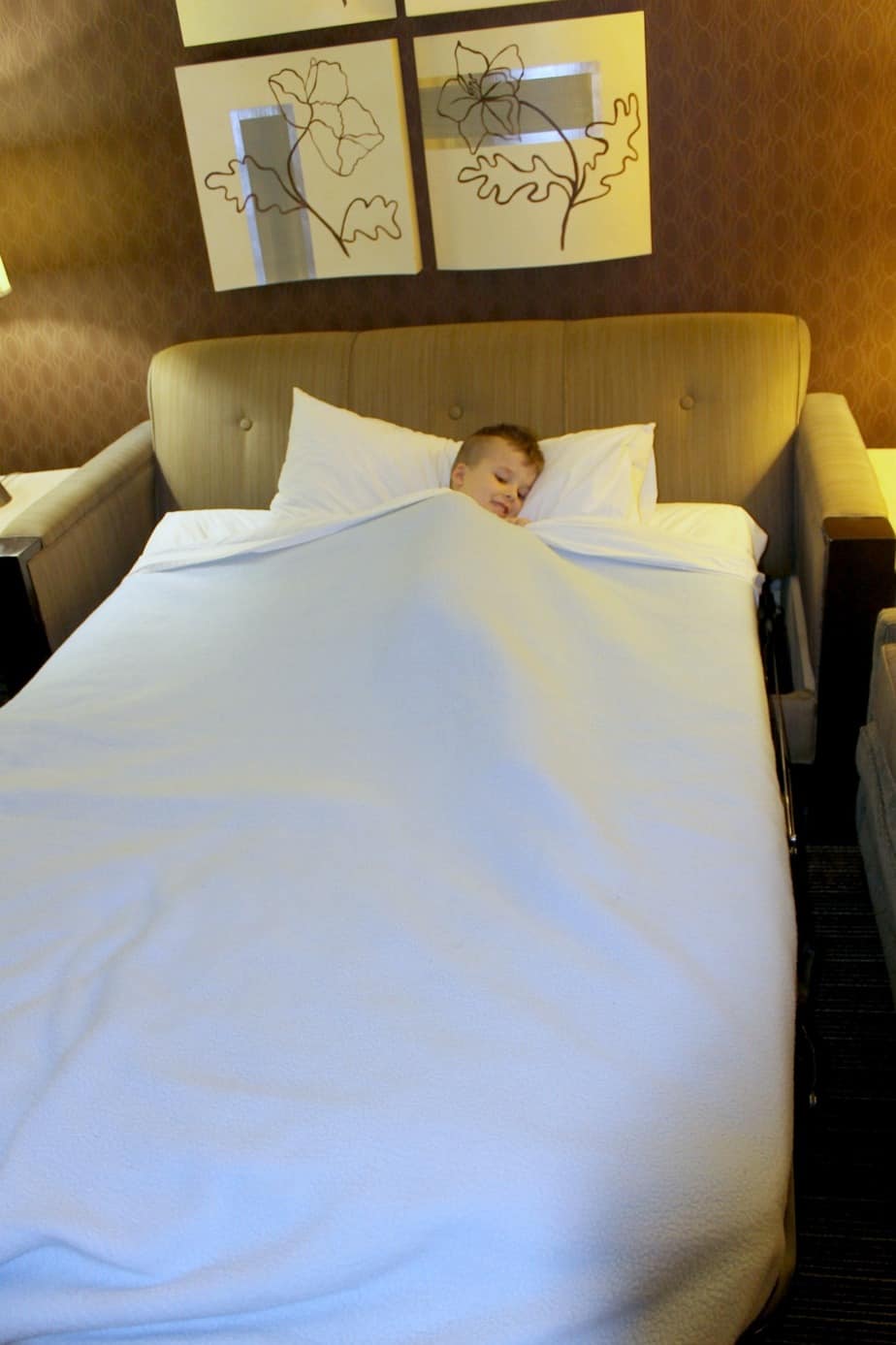 Once we were all up in the morning, we would put the couch bed away and let the toys free from their suitcases, and the room became the perfect play area! My husband and I were still able to dress and get some work done in the bedroom without stepping on Legos and Monster Trucks.
One of my absolute favorite reasons for staying at an Embassy Suites as a family is the hot cooked-to-order breakfast included in your stay. This may not seem like the most exciting thing, but when you travel with your family, having hot nutritious options available for breakfast available right outside your door is so helpful! Add in that it is included in your stay, and you have the perfect combination for a great start to the day.
At the Las Vegas Embassy Suites, omelets, pancakes, french toast, eggs, bacon& sausage, hash browns, and more are all available cooked to order for you! There is also an assortment of fruit, muffins/bagels/donuts, cereal, and yogurt, with choices of coffee, juices, and milk available for your meal.
We would fill up on a hot breakfast with fruit (and even a donut!) in the mornings, and we would be ready for the day without having spent a fortune or being stuck eating a simple breakfast just to stay on budget. As a mom, I sure appreciate the convenience of free breakfast!
On warmer days and in the summertime, the pool is a great place to spend some time. What a beautiful pool they have! My son was in love with the waterfall and the tunnel that ran behind it. There are also two hot bubbly hot tubs to soak in after a long day of fun activities!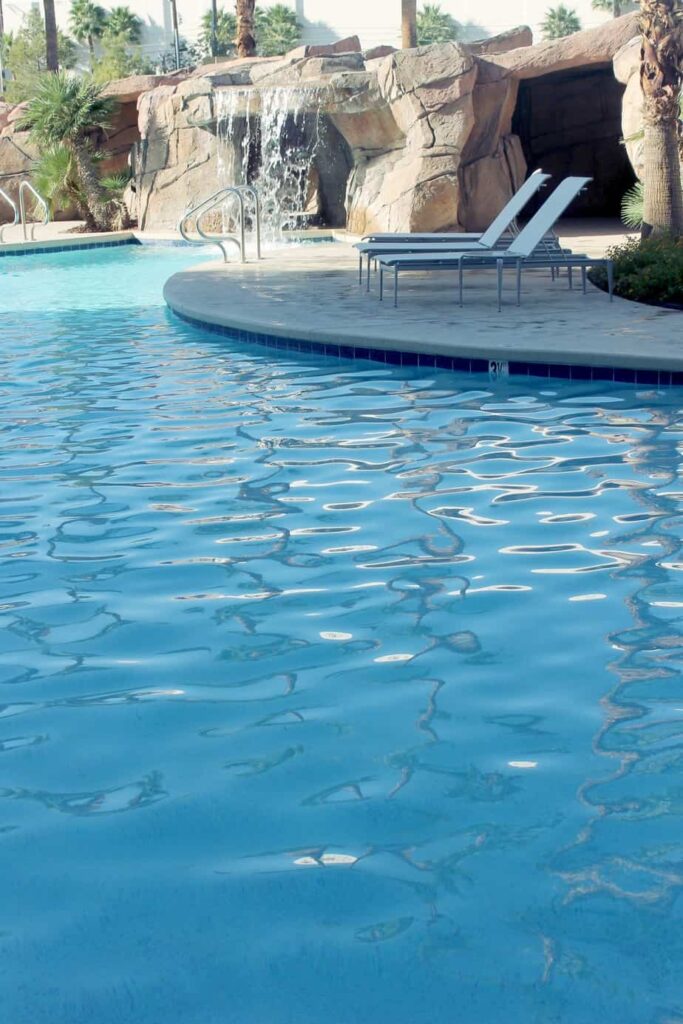 Don't forget about the included evening reception when you stay here! Each night from 5:30-7:30, drinks and snacks are available in the bar area. Complimentary well drinks, wine and beer are all offered, and snacks like hot popcorn, chips and salsa, spinach artichoke dip and more are available to enjoy free of charge.
When you stay in Las Vegas, you have to go see a show, right?? We wanted to see a show that our kids could enjoy as well and chose the Tournament of Kings to take our kiddos to. This is a fun dinner show that brings you back in time to the Knights of the round table and is located only a few blocks away at the Excalibur Casino on the strip!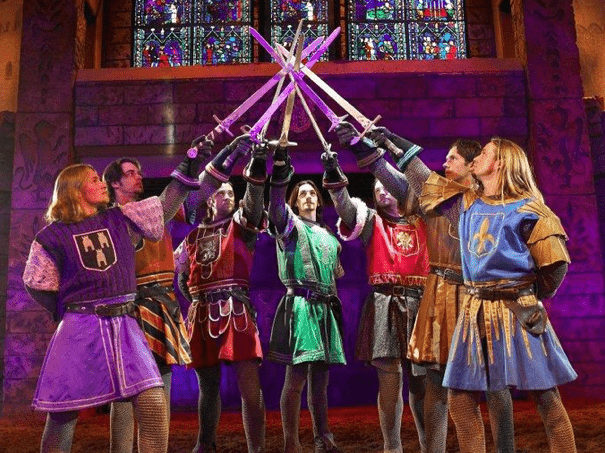 Our boys were floored by the theatrics, delicious food (that you eat with your hands!! A dream come true for my kids!), and even some pyrotechnics. We cheered on our knight as he fought the others in sword duels and jousting, and the kids couldn't contain their excitement and would "Huzzah!" along with the rest of us.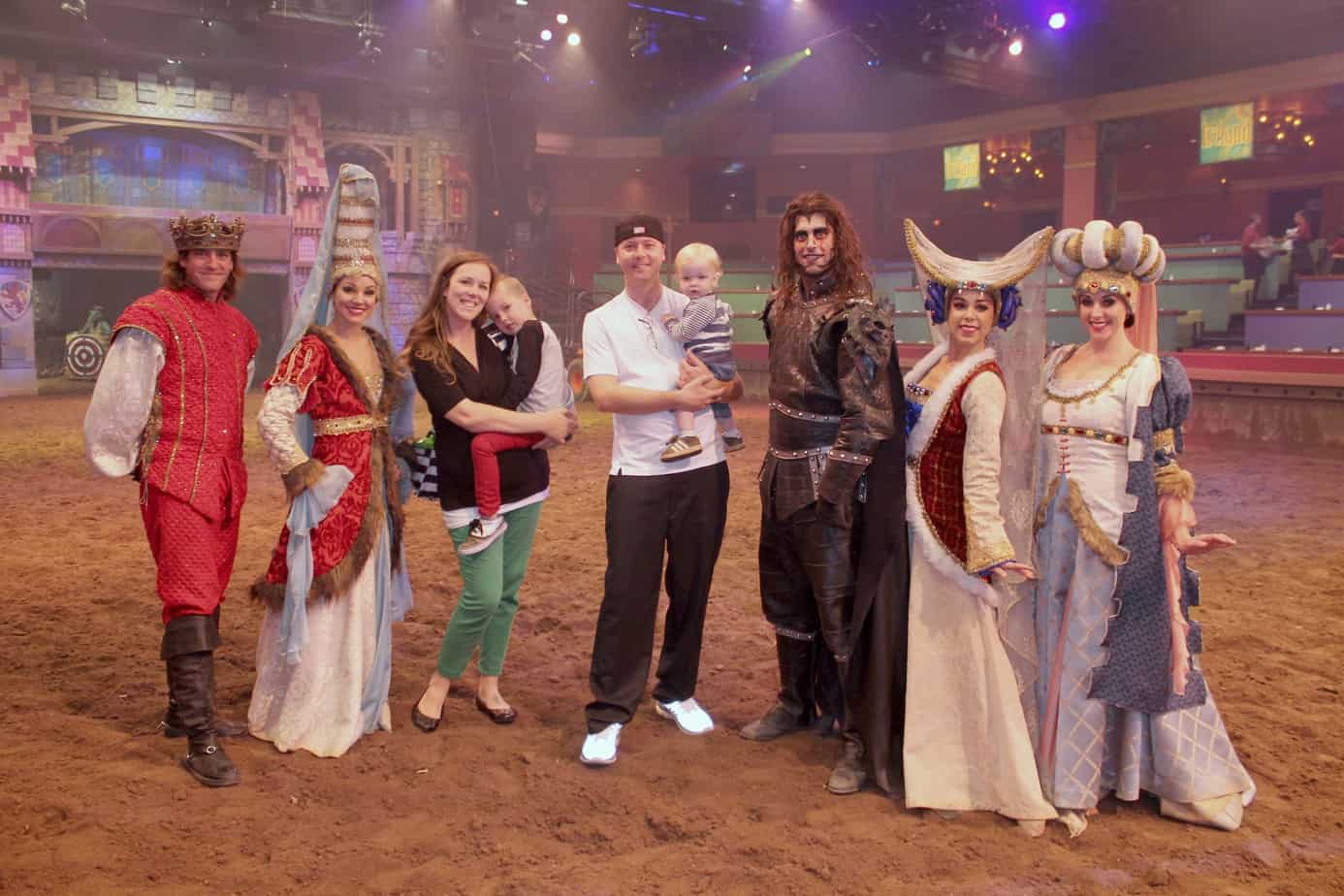 This was the perfect way to enjoy Las Vegas as a family-we got the show with our dinner, and our kids had a great time the entire dinner!
Make sure to add the Embassy Suites to your itinerary for your next family stay in Las Vegas. You will be close enough to the action that you can do all that you want to do, yet far enough that you aren't stuck on the strip with your children the entire visit!
*Part of our stay was hosted by Embassy Suites, however all opinions are my own. Thanks to Embassy Suites for accommodating our Tournament of Kings dinner!