Carnival Magic Cruise Review and Tour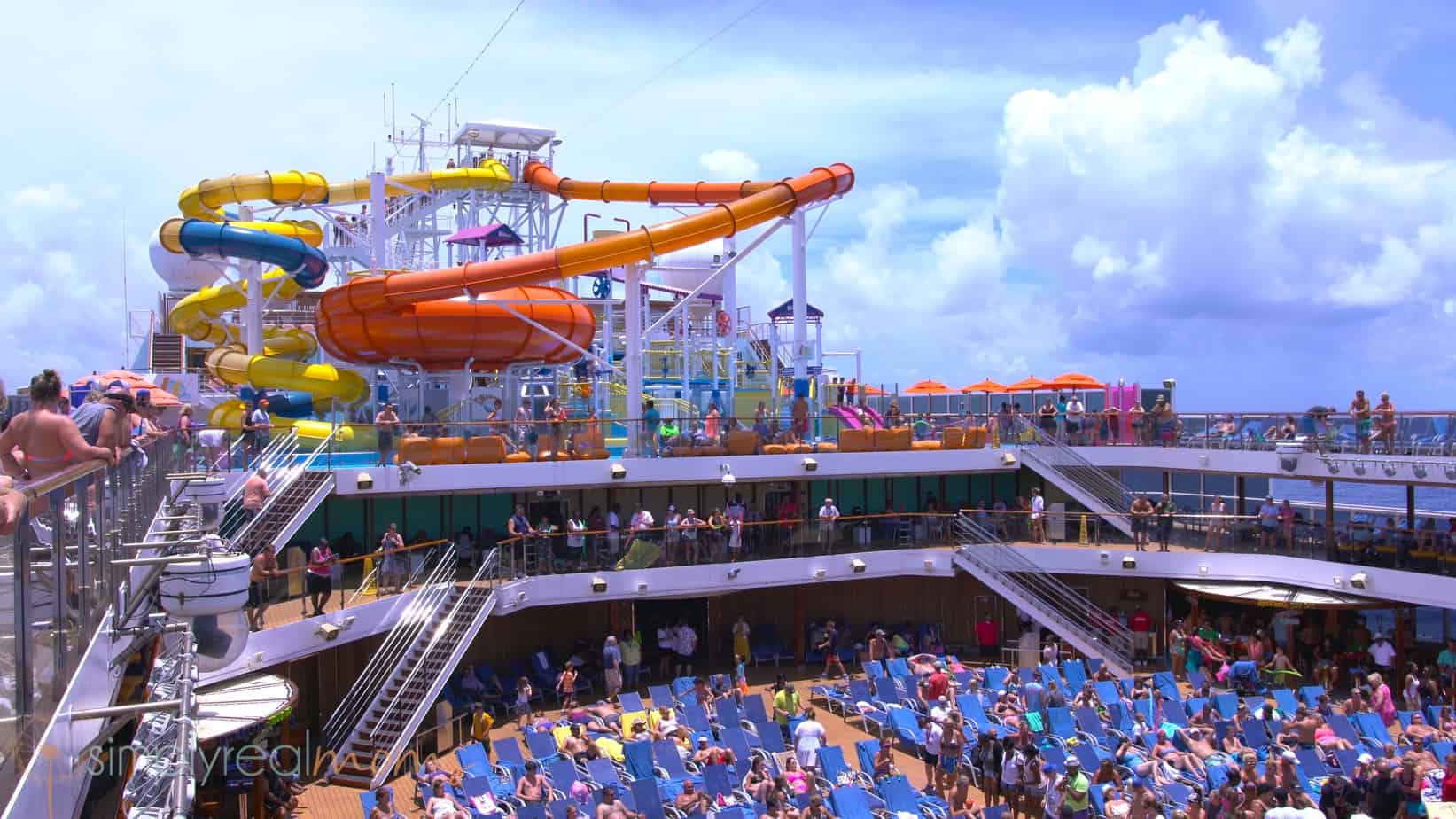 I set sail on an incredible journey with Carnival Magic. We experienced a 7-day Western Caribbean Cruise, which ports at Cozumel, Belize, Mahogany Bay, and Costa Maya. Unfortunately, we were unable to make it to Mahogany Bay as there was someone on the ship that needed medical attention, so we ended up at Key West, which was such a fun experience. This was the first time in almost 20 years that I have cruised, and I will tell you now, it definitely won't be the last.
I was a little nervous at first and probably googled everything about cruising so I could be prepared, but honestly… now that I have been, I get why so many people prefer cruising as their vacation destination.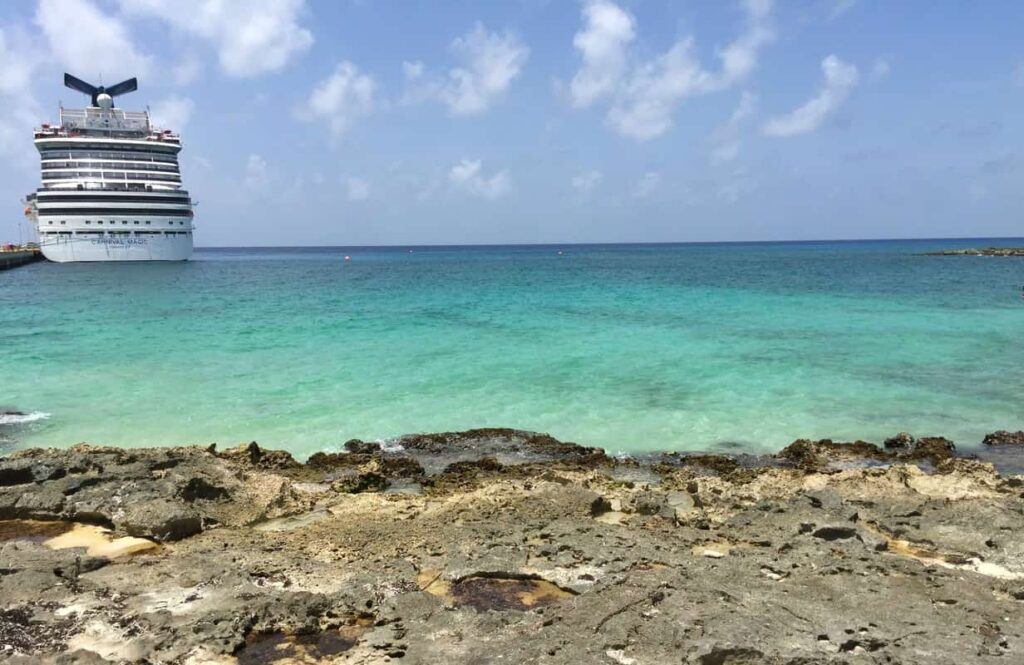 Our voyage started at Port Canaveral in Orlando, Florida. Checking in was an easy process as we were given priority check-in. The staff was completely friendly and gave us a rundown about the cruise ship and how things work as we were cruise newbies.
Something I learned is that you check your luggage before you even head inside to get yourself checked in. I was a little worried about this process, but I will assure you they have this down to a "T." Our luggage was waiting for us outside our room door by the time we made it up.
Our room, which was a balcony stateroom, was more spacious than I imagined. Because we decided to sail kid-free, our room had one king bed, a couch, a long countertop, and a big closet space with three compartments. (You can read all about our tips for room storage and outlet information to plug in devices here: 12 Things To Know Before Your Carnival Magic Cruise.)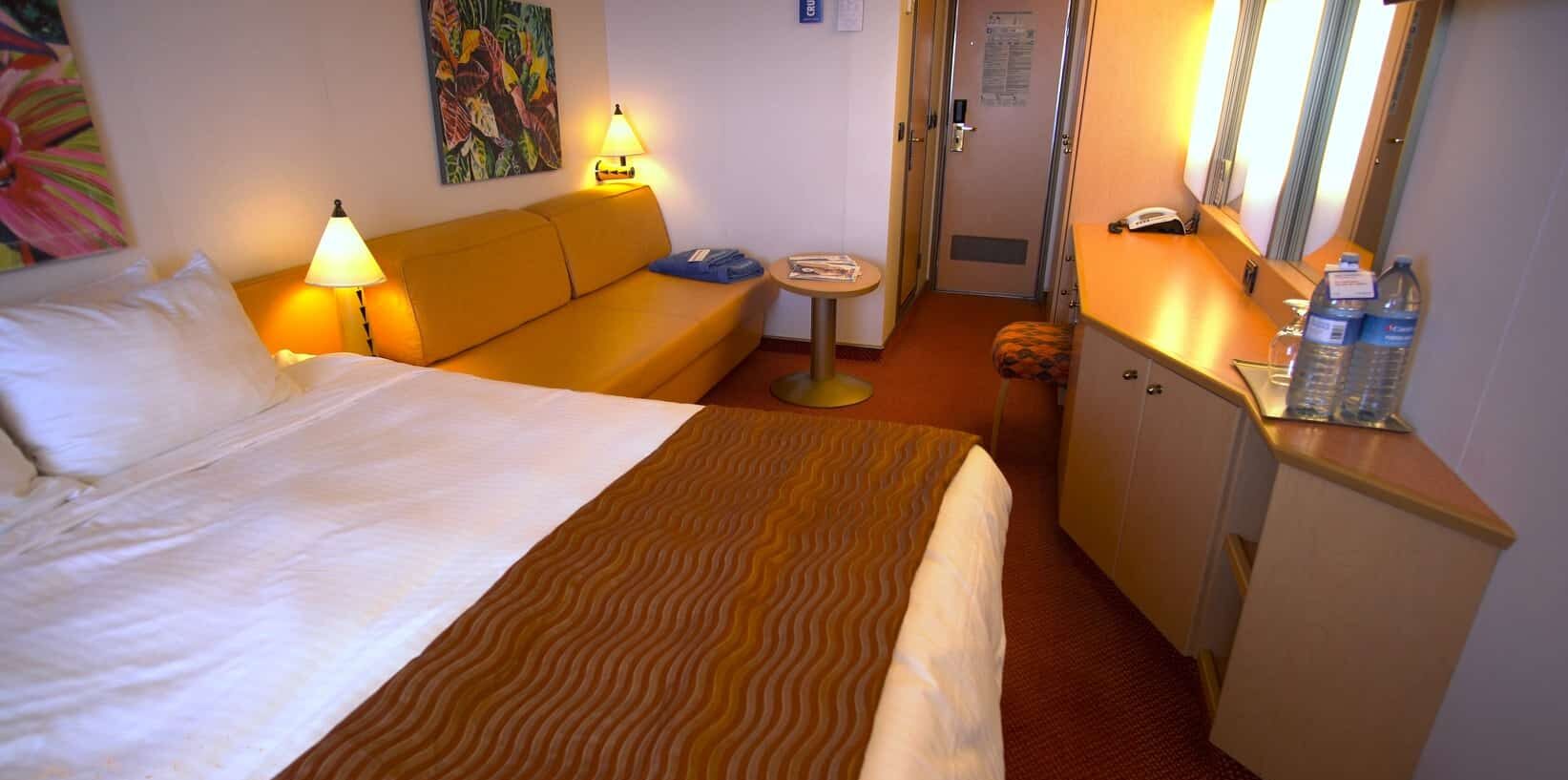 The bathroom, a bit small, still had ample space to store all our bathroom products. I tend to overpack everything, and between the two of us, we had enough room to store all our toiletries and my makeup. I mentioned in the article I linked above that the bathroom isn't stocked with conditioner, so if that is something you can't live without, make sure to pack your own.
The balcony had to have been my favorite part of the room. There was nothing like waking up each morning to the views of the ocean and watching the sunset in quiet, away from what seemed like the rest of the world.
After getting settled in, we decided it was time to explore the ship and see all that the cruise had to offer. The ship, as big as it is, was easy to navigate around, and Carnival made it easy with the locations of restaurants, outdoor activities, the spa area, and more. If you didn't want to wait for one of the many elevators, you could easily walk up and down the big staircases in between the floors.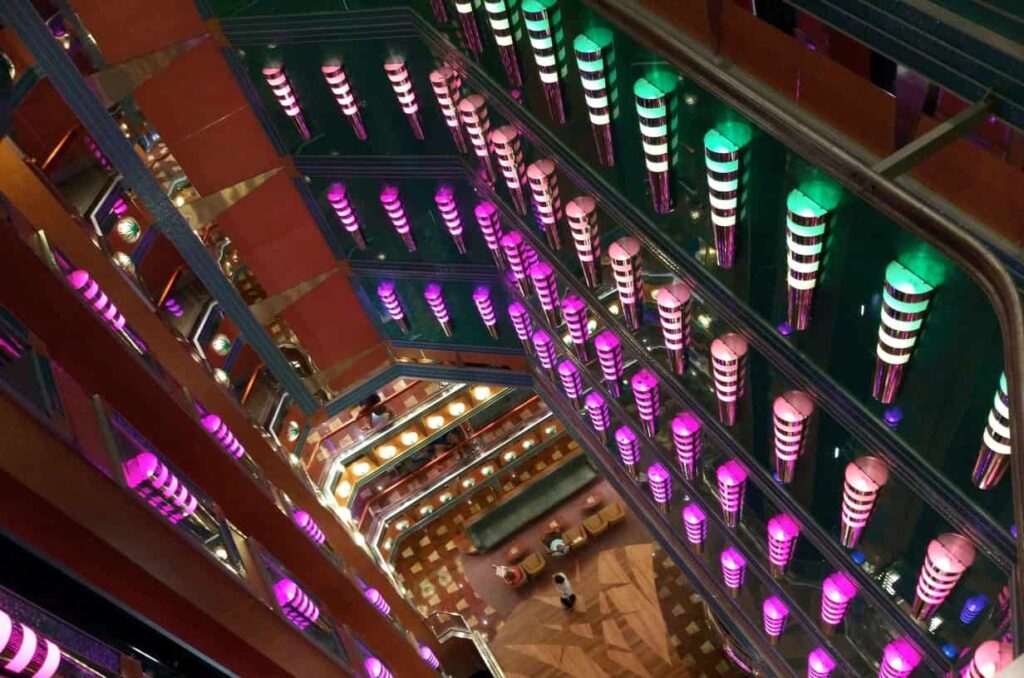 The Carnival Magic had so many fun things to do throughout the morning, afternoon, and night. I found the time on the ship went by quickly as we were having so much fun.
There are a few pool areas on the ship, but they can get crowded and busy fast. However, we did find there were a lot of hot tubs spread out on the ship, and those were perfect for relaxing.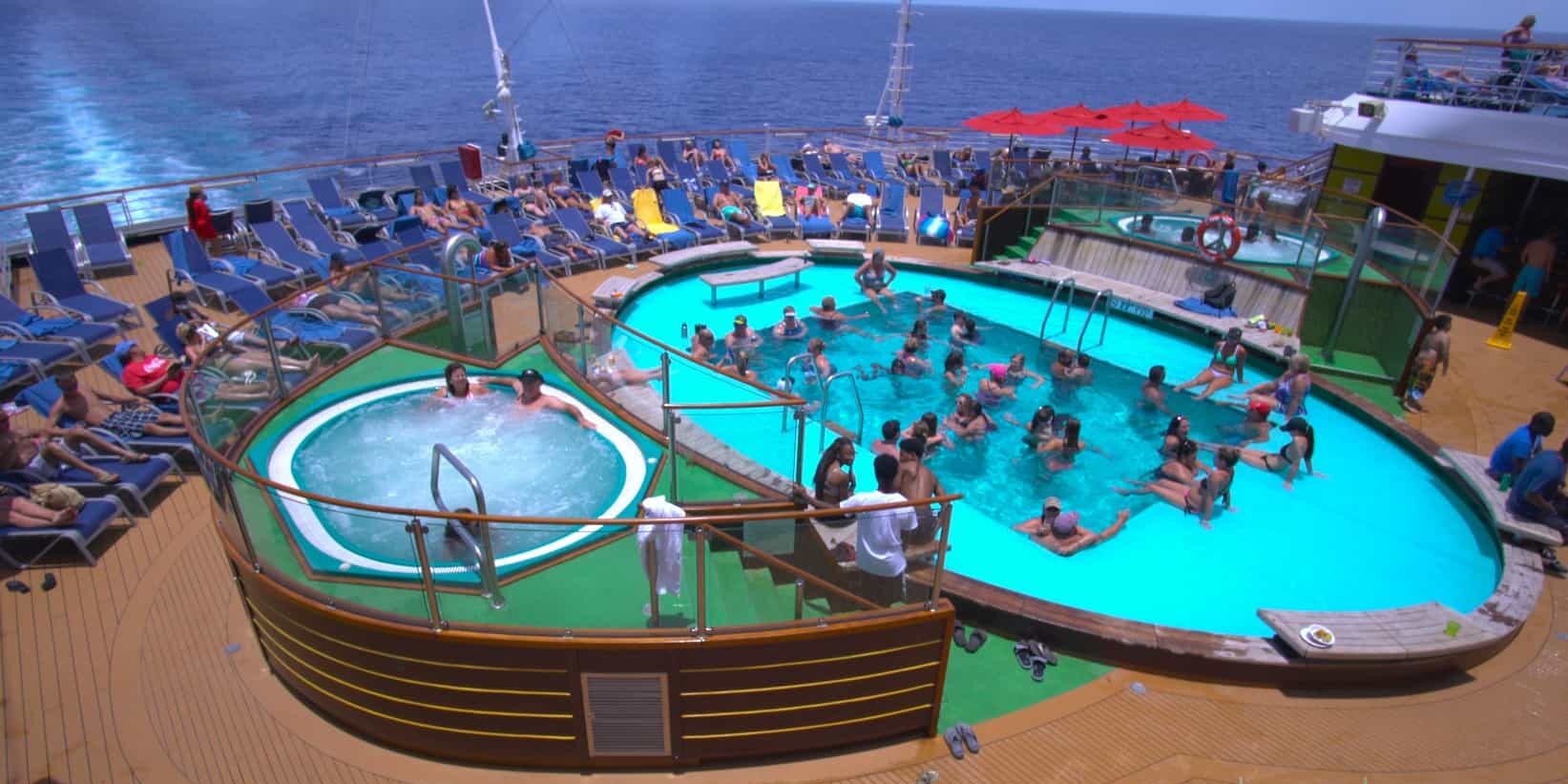 When you want some more excitement than just swimming, the Carnival Magic has an awesome waterpark area with waterslides and more. Perfect for both adults and children of all ages. On the other side of the cruise ship, there are areas where kids can enjoy a basketball court, running track, ropes course, and miniature golf.
When the kids are tired of the outdoor scene, you can take them to the kids club, arcade area, or teen lounge, depending on their age. We obviously didn't do this as we sailed kid-free, but the friends who were with us, who brought their children, said nothing but great things about it. You can also request a phone to carry around with you while your kids are enjoying the kids club, that way, the staff can get ahold of you if needed.
I'll be honest, I had heard not-so-great things about the food on Carnival, so I really went in not expecting much. However, I was more than impressed. I didn't get a chance to explore all the dining options on board as I don't eat red meat or pork, so restaurants like Guy Fieri's were out, but I can speak for most of the restaurants on the ship, and I never had a bad meal in all the seven days I was on the cruise. In fact, some of the meals I am still craving!
The dining room, which is available every evening for dinner, had a rotating menu that meant I never ate the same meal twice. There were new appetizers, dinner, and dessert items every single evening. They even offered at least two vegetarian options if you are meat-free.
We had the opportunity to eat at the Steakhouse and Cucina del Capitano (Italian) during the cruise. Both those restaurants cost extra, but not by much, especially for the quality of food you are getting. I could have eaten at Cucina del Capitano every night. The food was incredibly delicious.
If you are a vegetarian, but traveling with a carnivore, don't let the menu at the Steakhouse scare you off. Carnival Cruises is all about accommodating dietary needs. We went to the restaurant the night before our reservation and were able to speak to the chef about creating a special meal that was meat and carb free!
After dinner every night, we found ourselves at the Alchemy Bar.
Hands down, this is what I miss about the Carnival Magic the most. It wasn't just for the drinks, although completely delicious, but it was for the coolest mixologists I have ever met in my life. I really don't think there is any way I could relay how incredible they are, it is something you will just have to experience, but I am already planning my next trip in the hopes they will be working while I am on board.
The mixologists at the Alchemy Bar are not only the most highly trained, but they can also customize drinks to your liking based on simple questions, and they are completely entertaining, to say the least. It's really like dinner and a show, without the dinner.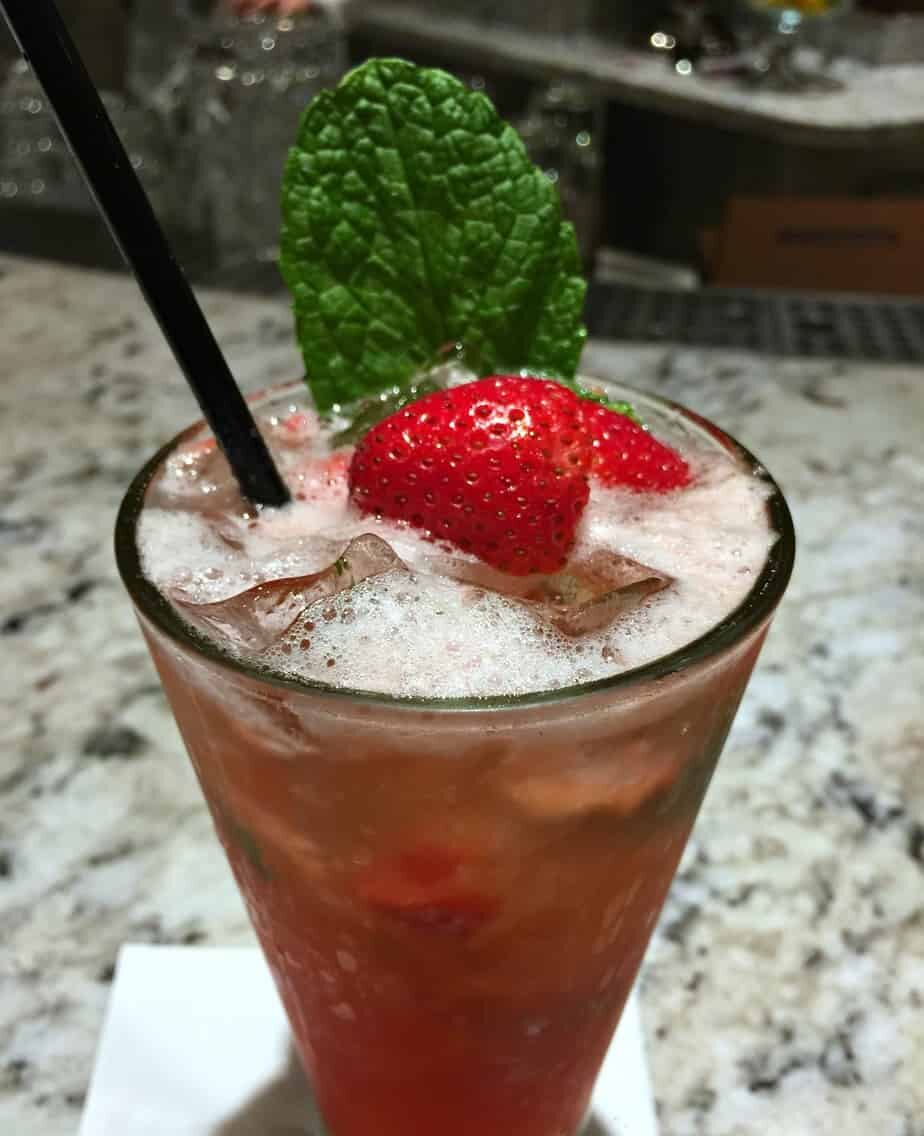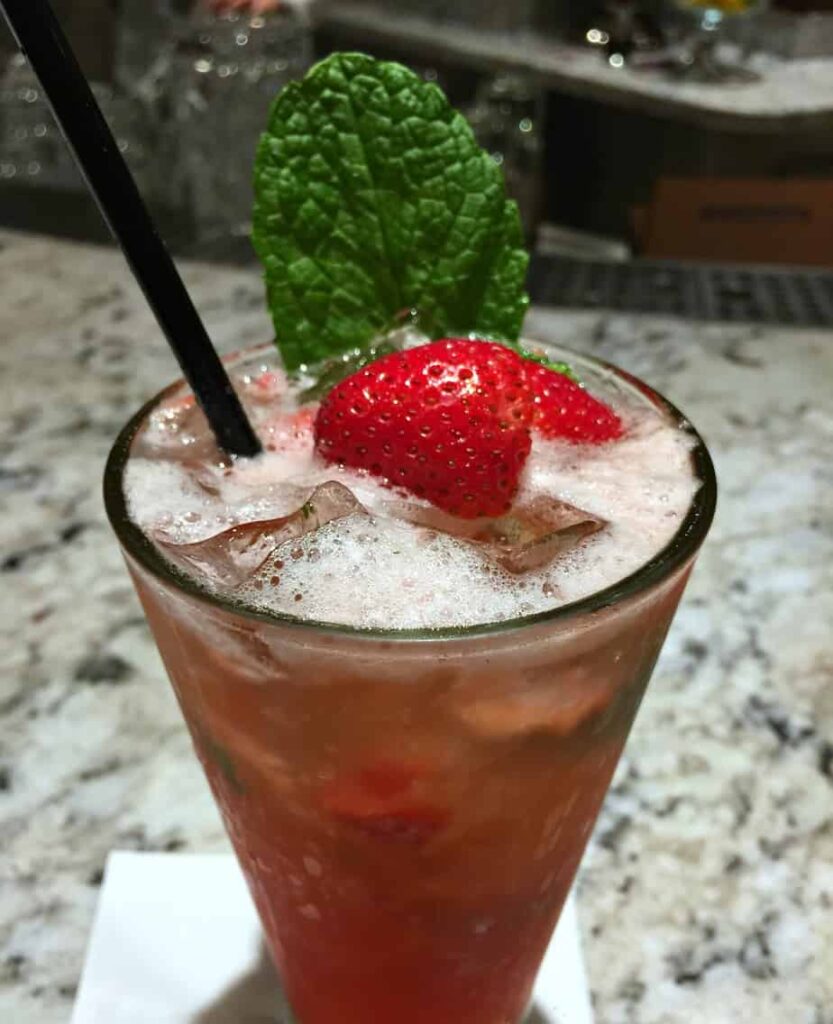 There are a lot of things happening on the ship to keep you entertained. There's a comedy club (one for all ages and one for 18+), a piano bar with a very talented pianist, a nightclub, shows, and activities on the Lido deck that have you and your family dancing and laughing all night long.
There's even a huge movie screen above the pool when you want to wind down and relax before heading to bed each night.
If you are curious about the ports we visited, be sure to check the site in the next week, as we will have our article up on it soon.
Our experience on the Carnival Magic was something I only dreamed about. They exceeded all my expectations and left me with memories I will carry with me always. From the bluest water I have ever seen (seriously, it's like they put food coloring in the ocean to make it that color) to the most breathtaking sunsets, to the wonderful staff who somehow always remembered your name and left the most adorable towel animal art in your room, these are the things that make Carnival Cruise spectacular.
Book your next cruise here: www.carnival.com
*Disclosure: I experienced Carnival Magic as a part of the Lets Go! Retreat. My expenses were covered, but my opinions are my own.