Family Butchering Day +linkup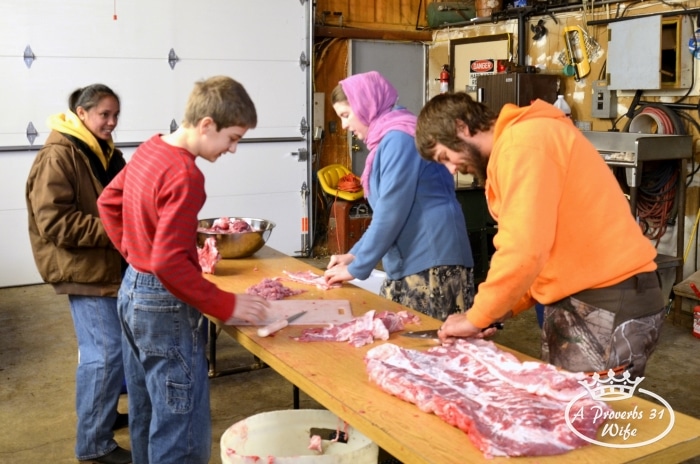 Hello all!
I don't have a regular post for you today, just been a bit busy around here. 🙂
Saturday our family butchered 2 pigs and they are now residing in our freezers.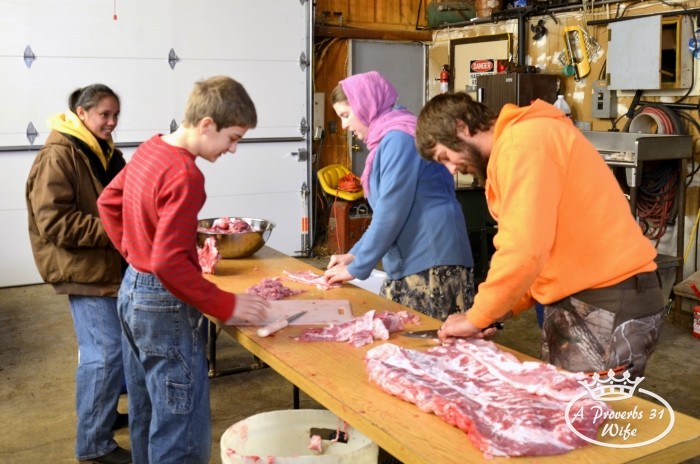 Butchering is usually pretty fun for a couple of reasons. One, it's just fun to have the family together, even though most of the time we are arguing. 🙂 In a good way of course. The guys all say they are having discussions and it is done in fun. But the outsider would likely think us the most dysfunctional family ever!
The other reason maybe isn't so much fun as just good. We buy the pigs from a farmer who raises his animals in a human way and on non-gmo/organic feed. Healthy animal = Healthy human. We also pay less per pound of meat, than we would at the store.
My brothers did the killing on Friday night, Jason got hung up at work so he didn't make it down there to help.
We were supposed to be there at 8am to start cutting up the meat, but I was so tired when I set my alarm the night before that I accidentally set it for the time we needed to leave, instead of the time we needed to get up. Ooops!
Kolton is teething and a bit clingy. I tried leaving him the house with my grandma but 30 minutes later she calls me to say that he has cried most of the time. Poor baby 🙁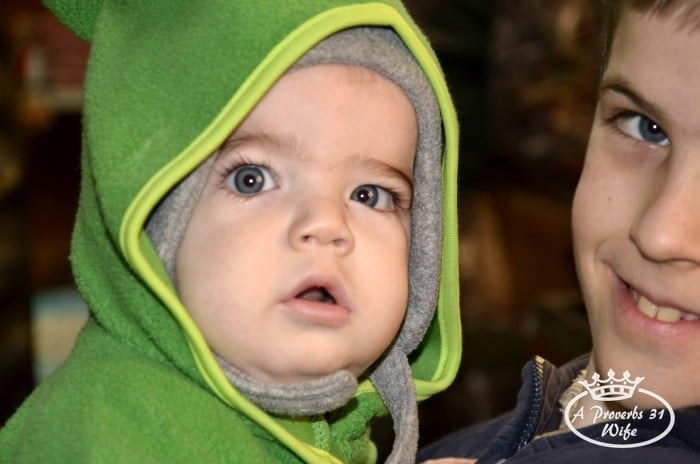 Fortunately it was a nice day, and even though the shop was cold, he stayed warm on my back. Later he was okay being carried around by his young uncles and his aunt wore him for a while too. He was really a trooper through all of it, but boy was he ready for his bed that night!
Peek-a-boo grandma!
When we butcher, supper consists of fresh sausage. Yum! (Looks like Kolton wanted some too!)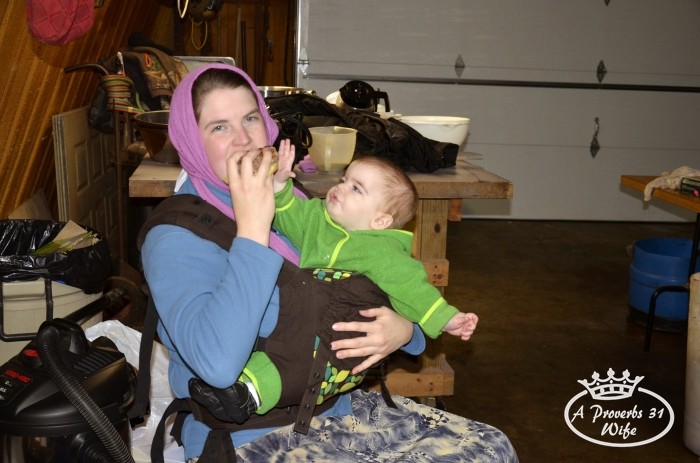 In the end we brought home a huge cooler full of pork and our freezer now contains 1/2 a hog. 🙂 Yummy eats y'all!