Family Friendly in Las Vegas: The Titanic Exhibition
Las Vegas is one of the top vacation destinations in the US but is known to be an adults-only kind of place. There is so much to do and see around Las Vegas that is geared toward families and children, and we are here to prove it! Follow our Family Friendly Las Vegas tour, and get some awesome ideas on how to turn "Sin City" into a "Family Party"!
Growing up, my family traveled a lot. We had extended family scattered around the US, and my father's job as a pastor sometimes took the family to different parts of the country as we accompanied him on visits to other churches and meetings. There was not one trip I can recall that didn't incorporate some sort of historical site or lesson from my history-buff father. We didn't just travel as a family, we learned valuable lessons and stories from the past wherever we went.
I try to do the same with my kids…although right now, most of our travel is a lot of  "Just get there as quick as we can!" because my boys are still so young. I hope that as my boys grow, we can try more and more to do as my parents did and teach our children during our family travels!
While in Las Vegas, we decided to visit the Titanic Artifact Exhibition inside the Luxor Resort to take a look back at a historic voyage that is something I grew up hearing all about from my dad. The Titanic is very special to him-he has followed the story, finding the wreckage, retrieval of artifacts and pieces of the ship, and more as a former member of the Titanic Historical Society. It's kind of a big deal in our family. Lucky for me, my dad was also in Las Vegas at the time, and I had the pleasure of bringing him along with my son and I to check it out.From the minute you get your boarding pass, you are thrown into the past. Each ticket holds the information of an actual passenger from Titanic's fateful trip. Such a neat way to start connecting…even though you won't need much help! This tour is emotional and amazing (astounding was my father's word for it) and a must-see for everyone.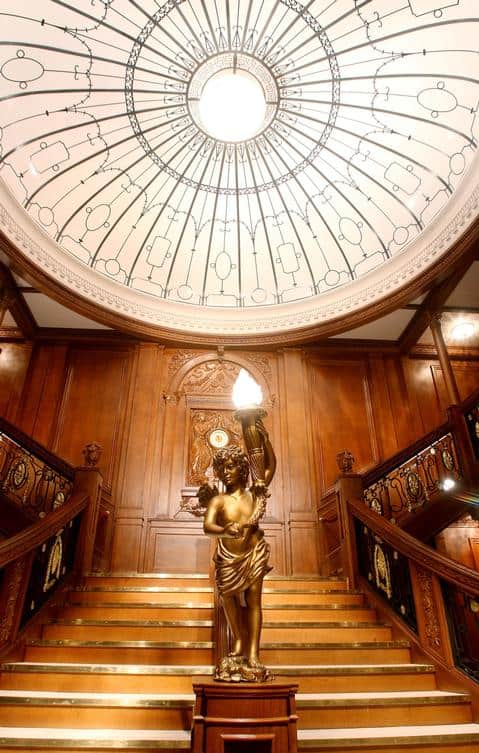 The exhibition is filled with authentic artifacts brought up from the wreckage that lies deep in the Atlantic. Clothing, dishes, personal effects, and even letters are displayed throughout the tour. It is really amazing to see how some artifacts are so well preserved while others sustained so much damage in the water.
There are also many re-creations of items used on board as well as rooms, furniture, and even the famous Grand Staircase (seen above). Such care was taken to follow architectural plans to make sure these recreations are perfect. We stood in the Grand Staircase room for a very long time as my dad took in every detail…down to the right floor tiles and wood carvings.
Another neat recreation was the outside deck. This area of the exhibition is made to look and feel as though you are outside on the open ocean on a cold April evening!  It was very chilly, and you couldn't see anything but stars when you looked out beyond the deck. (You may want to bring a jacket if you tend to get cold easily. There were a few spots during the tour that were cold)
Another favorite of my dads was the "Big Piece" This 20-ton piece of the ship's hull was brought to the surface from the wreckage and very carefully preserved. The display has several informative signs that show you where on the ship this piece came from, including where each port hole led to. What a neat piece of history to stand right next to in person.

There are so many different emotions we went through on this tour, and it's hard to explain how amazing it really is. This exhibition is well worth your time and money to take your kids (or history buff dad) to see. I don't recommend this tour for younger children, but elementary school aged and up would benefit greatly from the history of The Titanic Artifact Exhibition. Make sure to get in your history lesson while visiting Las Vegas!
If you are looking to visit a few attractions while in Las Vegas, I HIGHLY recommend buying the "3 for $57 Package". Choose any three of the following: Siegfried & Roy's Secret Garden and Dolphin Habitat, BODIES…The Exhibition, Titanic: The Artifact Exhibition, SCORE! Interactive Sports Exhibit, Adventuredome Theme Park, CSI: The Experience, Roller Coaster at NYNY or Shark Reef at Mandalay Bay and pay only $57. This is a REALLY great deal!
All photos used are property of Luxor and the Titanic Exhibition and used with permission. There is no photography allowed inside the exhibition. Our admission was complimentary for review purposes, but all opinions are my own.