Family Friendly Las Vegas: Excalibur's Tournament of Kings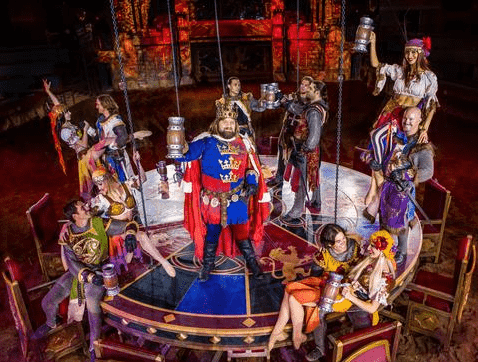 Las Vegas is one of the top vacation destinations in the US but is known to be an adults-only kind of place. There is so much to do and see around Las Vegas that is geared toward families and children, and we are here to prove it! Follow our Family Friendly Las Vegas tour, and get some awesome ideas on how to turn "Sin City" into a "Family Party"!
After a day of sightseeing and fun on the Las Vegas Strip, my family wanted a great dinner and something fun to do. Why not take in a dinner show?! With a family full of boys, our group headed over to the Excalibur and checked out the action-packed Tournament of Kings!
Our kids were all thrilled as soon as we walked in and saw the fun scene they set in the Tournament of Kings Arena! The entire arena is split up into separate "cheering sections," and where you are sat (you can choose when you buy your tickets) corresponds with the knight you will be rooting for throughout the night! Right away, we sat down in our section and prepared for our dinner.
As our drinks and delicious creamy Dragon's Blood (tomato soup) were brought out to us, the show started with Merlin and a jester introducing us to the lingo, the way to cheer, and what to expect during the show. As our dinner plates were brought out, the show began.
Dinner consisted of (huge) cornish hens, red-skin potatoes, broccoli, and a roll. The fun part about the meal is that no utensils are used! That's right! You sip your soup, and you use your hands to eat your meal. This sounded a little iffy to me but turned out to be the perfect way for our little guys to enjoy their food…I mean, they end up tossing their utensils to the side for most meals anyway!
The show is a non-stop, action-packed tale of knights competing in events like fencing, jousting, races, and more, and songs and dancing are strewn in between the events. Our boys (ranging in age from 1-5) had the time of their lives hooting and hollering, banging the tables, and lifting our drinks in cheer! I was most surprised by how much my 1 year old absolutely loved the show! He was cheering and dancing along with the music and LOVED the horses and fireworks!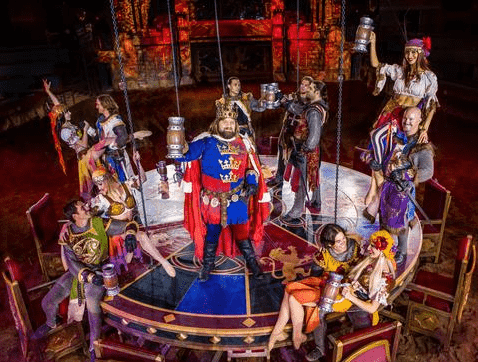 We were seated in the "Dragon" section, which meant we were cheering on the bad guy…and we loved it! It did get a little dark when Dragon entered, so if you know your kids tend to get a little scared in those kinds of situations, be warned. It never got too scary for our kids, and the dark scenes seemed to be over so fast that the kids never noticed them.
This was the perfect way to spend an evening in Las Vegas with our kids! Everyone had such a great time, and it's not too often that we encourage our little ones to scream and bang the table during a meal, so they absolutely loved it!
There isn't a bad seat in the house, either! Choose the knight you wish to cheer for or sit randomly, but know that wherever you sit, you won't miss a bit of the action and fun!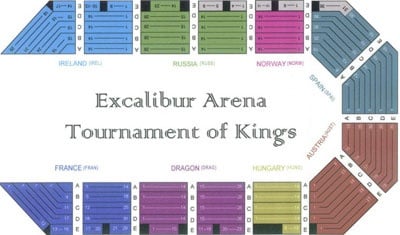 You can find more info on the Tournament of Kings HERE
*Our tickets were complimentary but all opinions are my own.