When looking for a diaper bag, we aren't just looking a place to keep diapers-it's also with us all the time and needs to be visually pleasing and fit our lifestyle.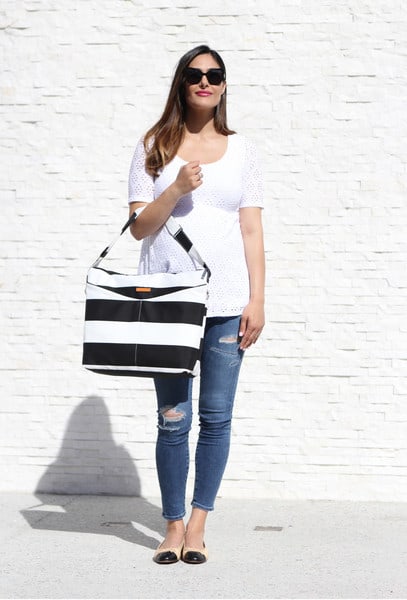 When I came across Foxy Vida diaper bags I was instantly impressed with their style. Modern and chic, they are made stylish to fit in with any look but they also are well though out!
We've been using the Prive Bag in Black Stripe, and I am in love. It's made with a shoulder strap that can easily be lengthened for a cross body fit.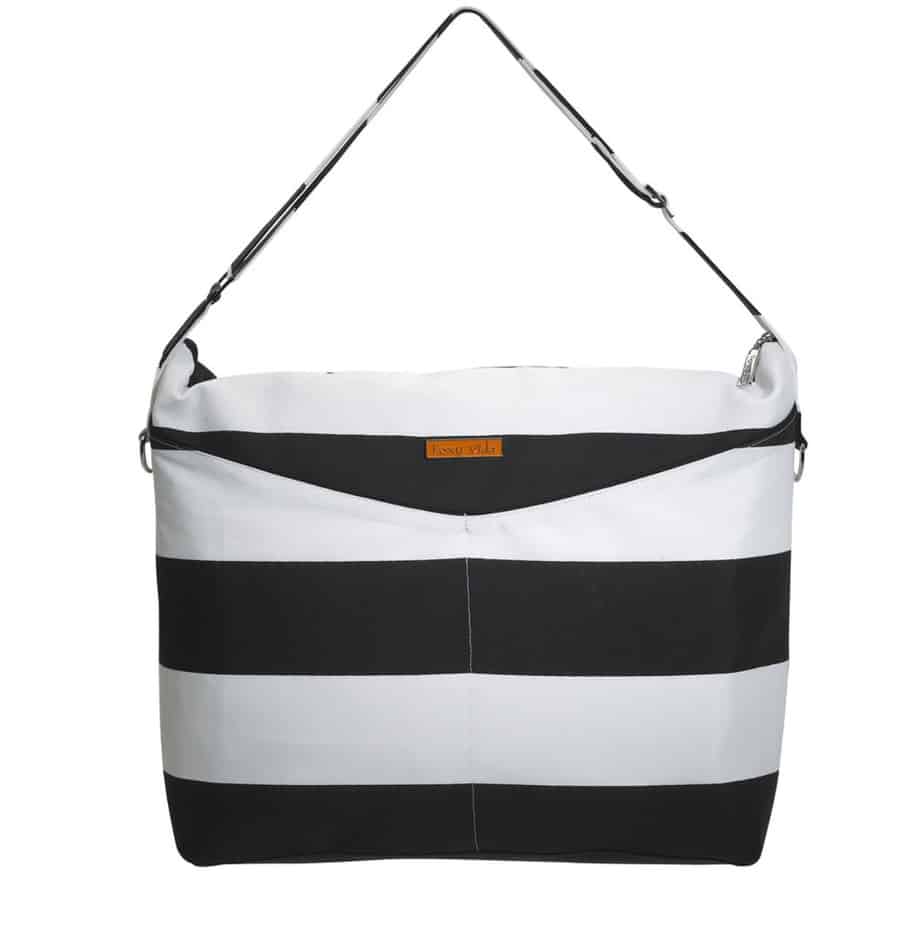 The interior of Fox Vida's diaper bags are waterproof, so they are ready for spills and messes and clean up is a cinch, even in the pockets (there's SEVEN of them)!
The Prive comes with a bottle holder inside, key clip and rings that are ready for stroller clips to strap onto the back of your stroller. The Base of the Prive Bag is a vegan leather, keeping the bottom of your bag sturdier and easier to keep clean which I love!
The over sized changing pad is made from a black vegan leather and wipes clean so easily, so even on the messiest changes your changing pad wont be ruined!
An awesome add on accessory they have for the Prive line is their adorable coordinating wet bags. If you haven't used a wet bag before, they're not just for cloth diapering! I love using mine for wet or messy clothes and even dirty diapers when garbage is not available! They are made with the same fabrics as the diaper bags, so you can coordinate your wet bag with your diaper bag.
My only complaint about Foxy Vida's diaper bags is the material they are made with. It's gorgeous and its obviously amazing quality but the lighter colors attract dirt and the bags are hand wash/hang dry which takes a little longer than machine washable diaper bags. This is absolutely not something that would keep me from buying, more something to know ahead of time!
The Prive Bag, along with all of their adorable bags are available on Foxy Vida's website!
You can find Foxy Vida:
ONLINE
FACEBOOK
TWITTER
INSTAGRAM