How to Create the Perfect Friendsgiving Invitations for Free
Hello Sensible is supported by its readers. If you click on a link and make a purchase, I may earn a commission at no additional cost to you. For more info, see my Affiliate Disclosure Policy.
Few things beat a table of great food surrounded by your closest friends. That's why I'm pumped to share how you can create the perfect Friendsgiving Invitations for your epic "pre-game to Thanksgiving" — where you put on your fat pants and feast with your friends who are so close they're practically family.
After you selected your Friendsgiving date, you'll want to follow these 3 steps in order to create beautiful, budget-friendly Friendsgiving invitations in Canva.
Step 1: Nail Down the Details
First, you'll want to set the obvious details like the time, location and the RSVP host. Then, you'll want to consider these other important event details, like…
Is this an adults-only or kid-friendly event?
Are alcoholic beverages included or would you like to ask your guests to BYOB (bring your own beverages)?
If you're hosting a potluck, would you like your guest to bring any dish or will you coordinate the dishes separately?
Would you like an RSVP for every guest attending or only for regrets?
Do your friends have any dietary restrictions or allergies?
Determine these details now so that you can include them on the invite so your guests understand your event expectations.
Step 2: Select Your Friendsgiving Invitation Wording
Next, hand-select the message you to include on your invitations. Here are eight examples you may want to steal:
You're Invited to Friendsgiving
Eat, Drink and Be Thankful
Get Your Fat Pants Out! You're Invited to a Friendsgiving Feast.
Keep Calm & Gobble On.
Please Join Us For a Friendsgiving Feast
(Let's) Give Thanks
Let's Gather With Grateful Hearts
We're Thankful for Good Friends Like You! Join us for a Friendsgiving Feast & Celebration.
Step 3: Design your Invites!
My favorite graphic design tool to create invitations and other digital graphics and printouts is Canva because it's easy to use and also free! You can use this tool to customize your Friendsgiving invitations whether you intend to print them and send via snail-mail or want to embed or attach the design as an evite.
Canva has hundreds of pre-made templates you can start with or you can create a new invitation from scratch. To begin designing from a pre-made template, click here. You can also browse other terms like "Thanksgiving Invitations" or "Fall Invitations" for even more options.
For this example, I'm going to select the template called "Cream Bordered Foliage Friendsgiving Invitation (Square)". To begin customizing it, you'll need to select "Use this Template".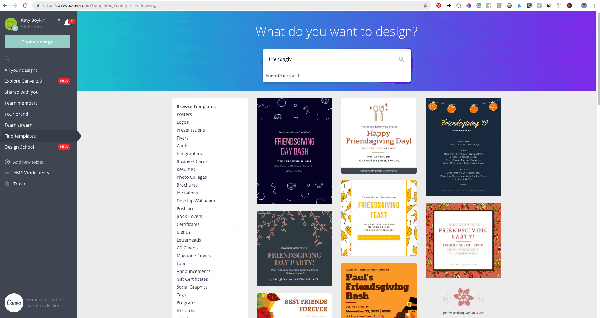 Once the invitation is on your screen, click on the leaves and graphics to edit the colors. In this example, I updated the color codes to:
Green – #adc16e
Yellow Orange – #ffbd4a
Burnt Orange – #c55e40
Notice that every time I updated the color, I selected the "change all" button to help me save time! Otherwise, you'll have to update every element one-by-one.
You can also change the message and font type.
Once you've resized your text and added any additional elements, you can download your design. Canva gives you the option to choose from PDF, PNG or JPG file types.
Voila! It's that easy.
You have a beautifully designed Friendsgiving Invitation you can email or print to send to your friends.
Bonus Tip: Get Them Out In Time!
Even though it can be fun to host spontaneous get-togethers, give your guests enough time to plan and prepare for your event is essential to a successful Friendsgiving. If you're printing and mailing your invitations, send them three weeks in advance. If you're sending an evite, it's appropriate to send them two to three weeks before the event.
By giving a few weeks notice, you should have enough time to plan the menu and coordinate who is bringing what. This will help eliminate any last-minute dashes to the store.
If you're already outside of that two to three week window, get them out as soon as possible.
Better late than never!