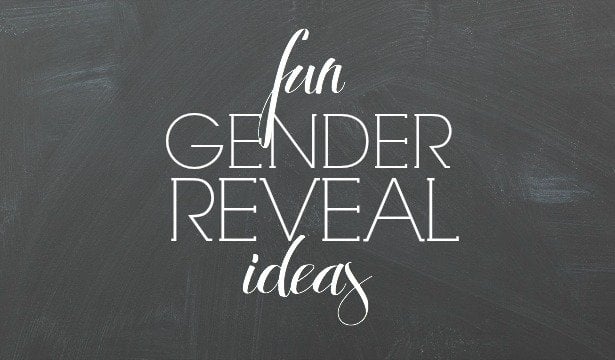 Congratulations! You're pregnant!!!!
Last week, we gave you some of our favorite pregnancy announcements. This week we are taking the next step to help with the gender reveal. Now, technically this is about the SEX reveal of the baby, but whatever you choose to call it, let's check out some super fun ways to let everyone know if you're having a boy or a girl!
Glitter Magic Reveal
This is a fun one! Take a piece of wood or a posterboard and paint on the words "It's A" (I stained the wood and used THIS tutorial to paint on the letters). Then, use clear contact paper and cut out the letters for "boy" or "girl". Stick the contact paper onto the board and spray lightly with adhesive spray. Pull off the contact paper and take pictures as you blow glitter (you can use pink, blue, gold, whatever color!) onto the board! Slowly you will reveal if you are expecting a little boy or girl. This was so fun, and would make for a great photo announcement!
Silly String Reveal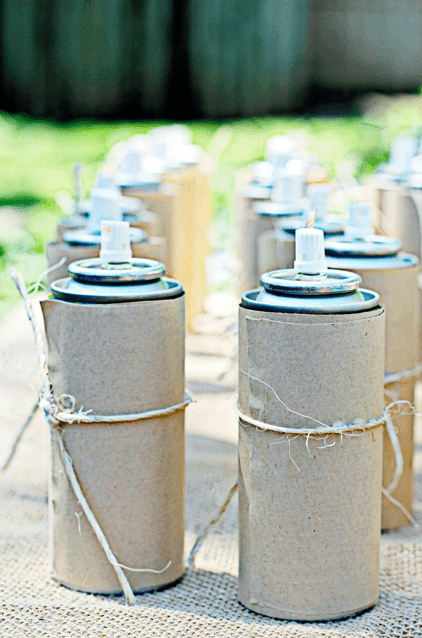 source: Front Porch Sittin with the Fentons
Having a party? Why not stock up on some colored silly string?! Buy a bunch of pink or blue and make sure to cover it using kraft paper, wrapping paper, or something similar. Have a silly string fight with your guests and surprise everyone at the same time! You can also ask a friend to wrap the cans if you are keeping it a surprise for yourself as well.
Push Pop Reveal
I was in love with these push pops the second I saw them. How absolutely modern and adorable are they?! Order them for either a girl or boy and they come all ready to reveal in pink or blue! You can't see the colored glitter inside thanks to perfectly placed wrapping, so your secret is safe until you pop these suckers!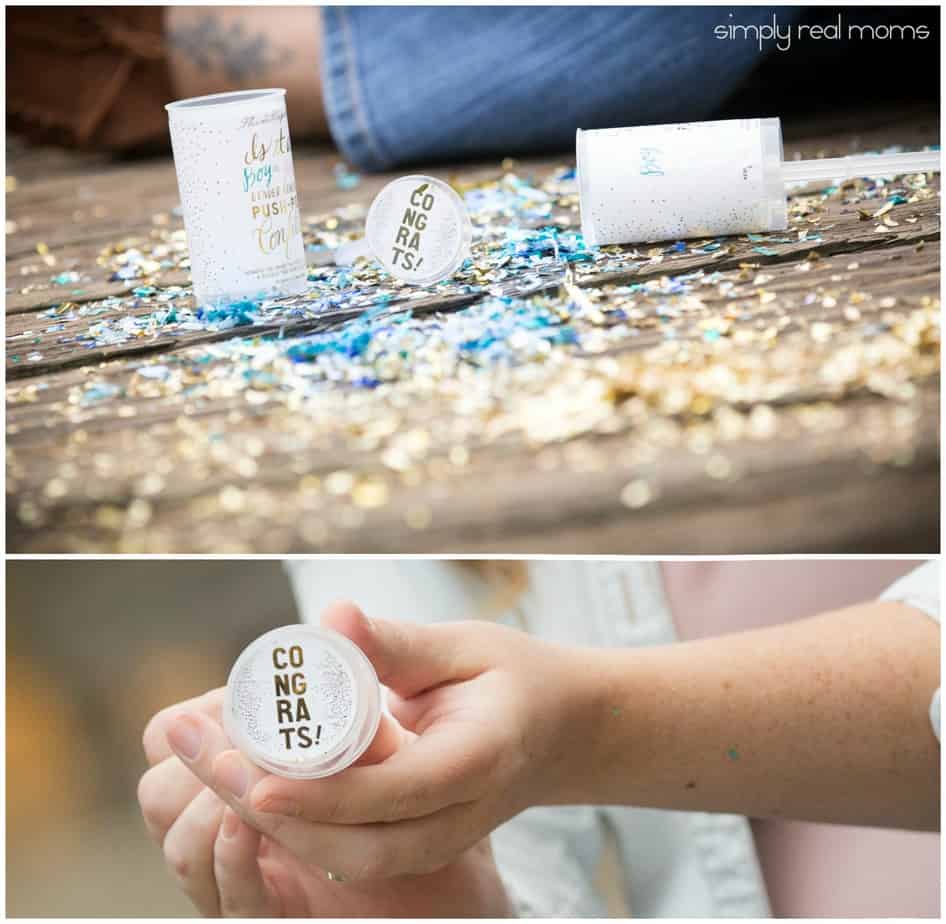 We obviously had such a fun time popping our Thimblepress push pops! We didn't tell my son what would happen when he pushed up, and our photographer caught his raw reaction. How much fun would this be in a group setting too?! Oh, the possibilities. Make sure to check Thimblepress out to buy some and check out their adorable letterpress selections too!
Boys with a Sister Reveal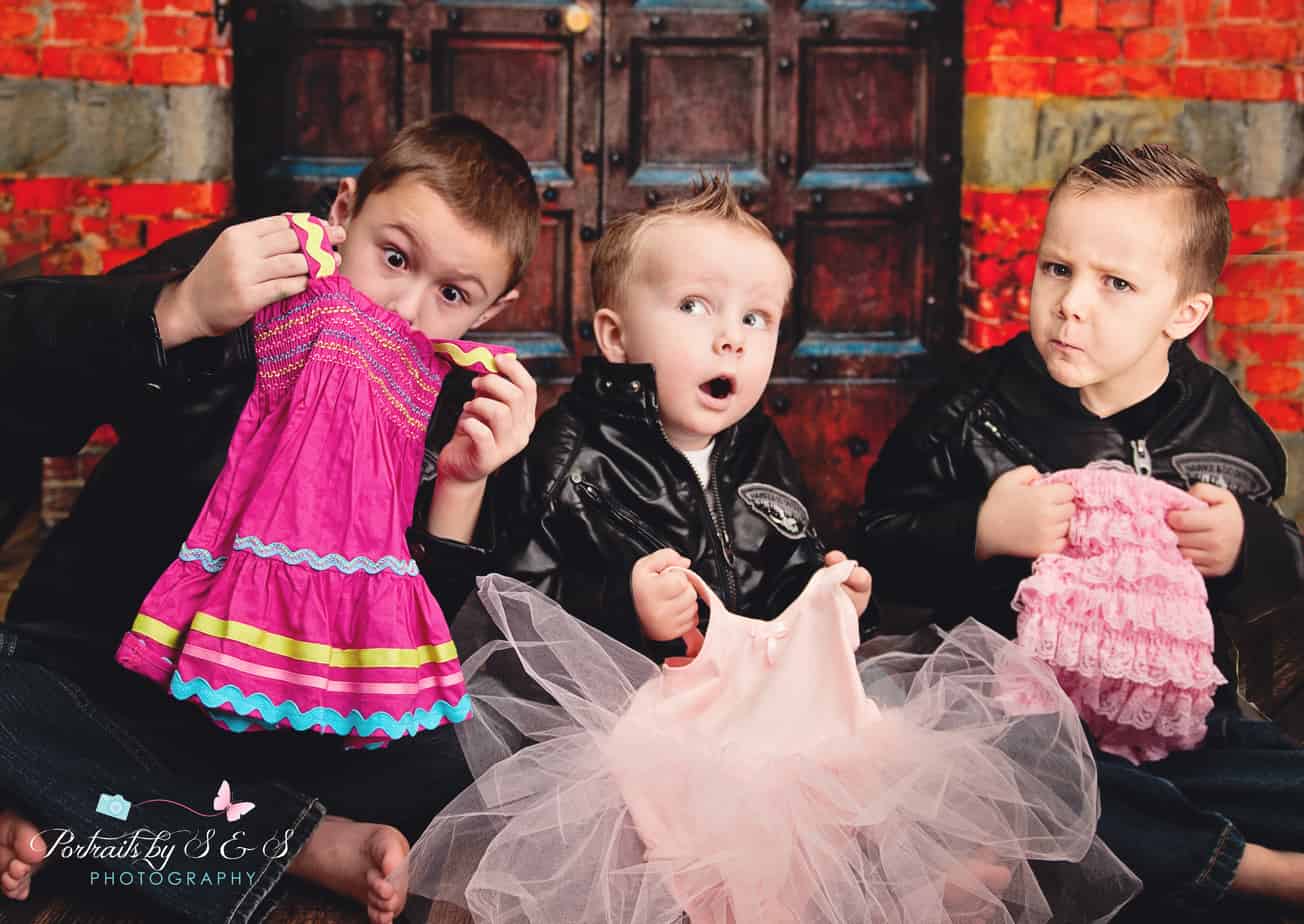 source: Portraits by S&S
There's a whole lot of gender reveals out there. A lot. This one though? It's my favorite. Ever.
Shannon from Portraits by S&S was expecting a girl after having three boys, and thought of the most clever way to reveal it! The looks on her boys' faces is so priceless and I won't ever get tired of looking at this adorable announcement! This is easily swapped for a boy reveal when you have all girls too! simply swap it out for trucks, boy clothes etc.!
A Christmas Reveal
Tutorial FOUND HERE
Wanting to surprise some friends or family on Christmas morning?  Use this fun idea with pink or blue glitter (and rather than use baby's real footprint, paint one on with glue and sprinkle with glitter) and give a really fun ornament as a gift to reveal if your baby is a boy or girl!
Queen of the Castle Reveal
source: Instagram
Gwen Stafani announced that her third child would be a boy with this adorable instagram photo with the caption: "I was ready to hand over the crown. but I guess I am still queen of the house. #itsaboy #surroundedbyboys". Love this so much, especially now that I am expecting my third boy and will be queen of the house too!!
Baby Name Reveal
This is a SEMI gender reveal, depending on the name you choose. We made shirts for our boys using THIS technique, and I wore a plain white t-shirt (I just didn't want to ruin a shirt, but you are welcome to make one rather than add in the name later!). I edited the picture using PicMonkey to add baby Charlie's name onto my shirt, and them we packaged the picture up to give to each of our family members! This can be changed up to your liking! Use the words "boy" or "girl" on each shirt, write the names in pink or blue corresponding to the sex of that child, or even just numbers to represent the order your children were born!
Scratchers Reveal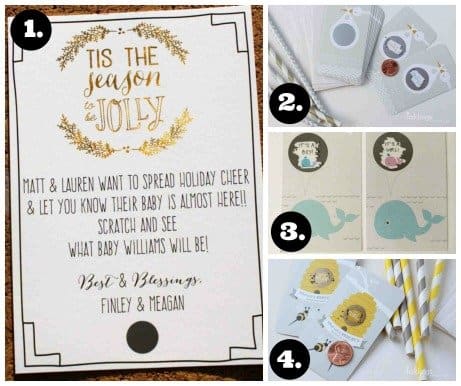 This is a fun way to announce in person OR from afar! Have these fun scratchers sitting out at a gender reveal party, or slip them in with a card (Christmas? Birthday?) to surprise everyone!
Scratchers:
1. Christmas Themed Scratcher from LivLoveCruz
2. Stork Themed Scratcher fr0m InklingsPaperie
3. Whale Themes Scratcher from hopeandfancy
4. Bee Themed Scratcher from InklingsPaperie
Pinata Reveal
Pinata available at BellaandTeoBoutique
I've seen a lot of fun pinata reveals, but this particular one is just so darling I couldn't help but share it! How gorgeous is this?! Made to order in the colors you choose and filled with colored hand cut confetti, this pinata is also re-useable as decor (maybe for baby's room?) Invite your family and friends over and pull the string to reveal to all what you are expecting!
However and whenever you decide to announce your pregnancy or the gender/sex of your baby, what an amazing time in your life you are entering! Congratulations and enjoy the ride!
Do you have a creative gender reveal?? Come on over to our Facebook page and share it with us!!