Her Children Call Her Blessed.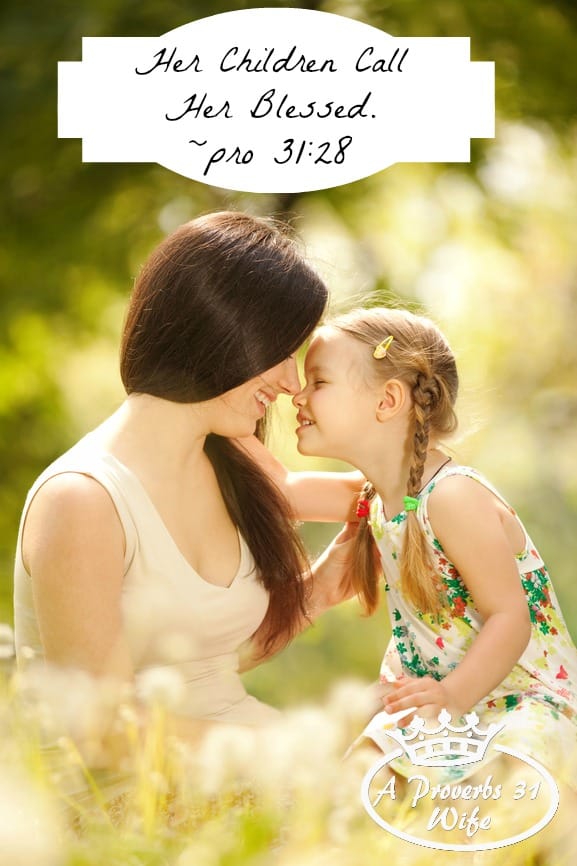 Her Children Call Her Blessed: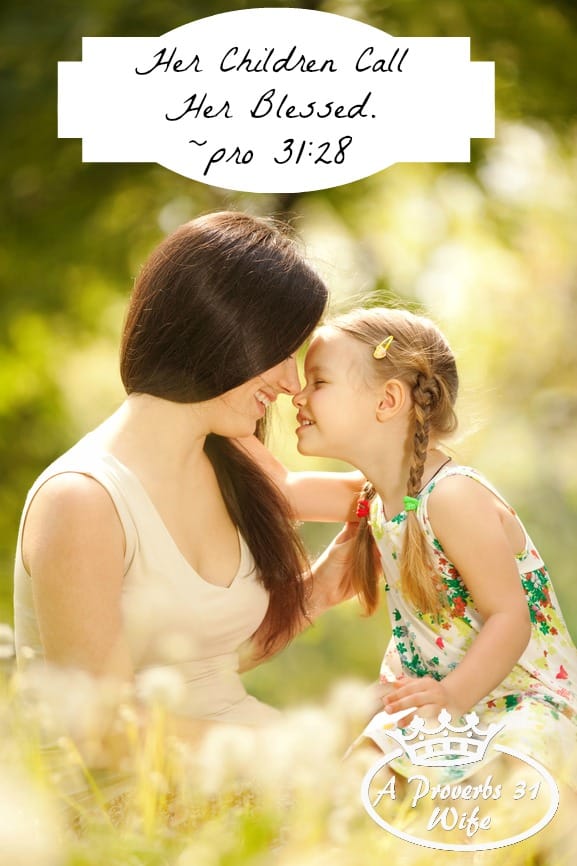 Her children arise and call her blessed;
her husband also praises her.
Proverbs 31:28
While much of Proverbs 31 speaks of womanhood and not necessarily motherhood, this verse discusses the virtuous woman's children, so I'm going to talk for a moment to mothers specifically. (If you are not a mother yet, tuck this nugget away, or think about others in your life whom you deal with.)
You may feel like many of the tasks you do for your family go unnoticed. Mothering is a thankless job indeed. Some of our children may be too young to even say, "thank you", and many of the rest of them are just too ego-centric. A child's world does in fact revolve around them.
I was once at a women's conference and we had a speaker who gave the following object lesson. She stood at the front of the room and asked us to shout out tasks we do throughout the day. For each task a woman shouted she'd string a bead on a rope. Dishes. Laundry. Sweeping. Playing. Feeding. Laundry. And laundry.
But there was no knot in the end of the string. Each time she strung a bead it fell straight off. Is mothering (especially with young children) any different? We do dishes, laundry, read books, and sweep or vacuum the floor. And at the end of the day what do we have to show for it? More dirty laundry, messy kids, and a pile of crumbs in the corner.
The hope comes in this: God sees it. God sees every single bead you string onto your rope. He knows. HE knows. And there's so much hope in that. Your hard work does not go unnoticed.
Thankfully, children don't remain children forever. Lord willing, they eventually turn into teenagers and then adults. I can't even count the number of times I apologized to my parents as an older teen. Once I moved out of their house I began to see how horribly I treated my parents as a teenager. I didn't call my mother blessed then, but I certainly do now.
Sometimes you just really want that affirmation, I do. Some days I nearly beg for it. In Proverbs 31:28 we finally see it. "Her children call her blessed. Her husband also, and he praises her."
When we follow through, we remain faithful and trustworthy, and when we honor our families without looking for selfish gain, we will see the fruit of our labors. Sometimes we just give up too quickly. With vigilance and with faithful-ness, our work will be rewarded.
I'm not talking days. Maybe not even months.
And sometimes I think husbands can be ego-centric too. We all joke that men cannot multitask. If this is true, our husbands may not see our faithfulness while they're under their own burdens. (And how many times do we do the same – not see our loved ones' struggles because we're too wrapped up in our own?)
The good news is that with vigilance and prayer, eventually your family can look back at the work you've done. And then, on that glorious day, they will rise up. And they will call you blessed. Hang in there!