Ibotta App Review – Is It Legit? Is It Worth It? What's the Catch?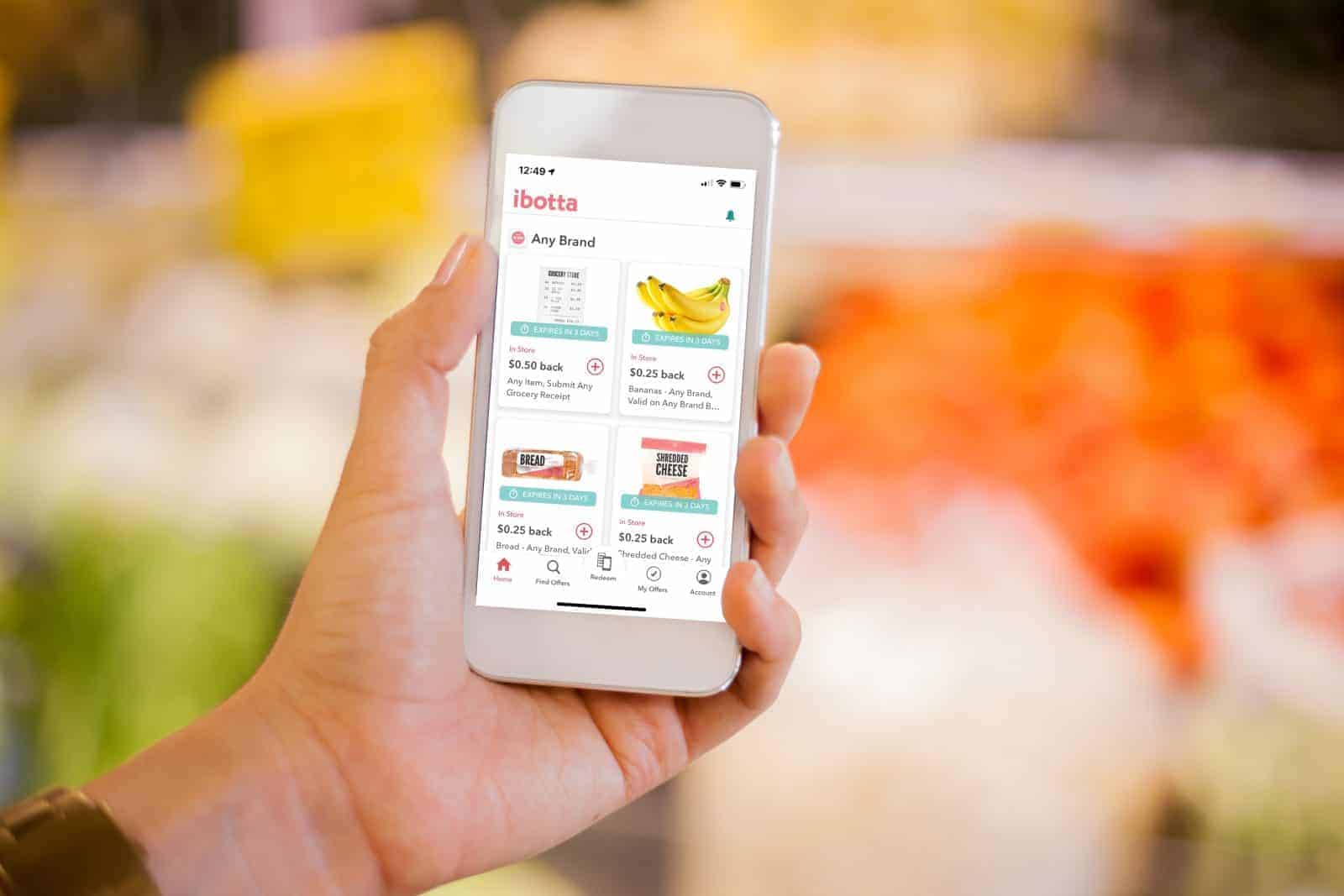 It's painful to admit, but as a family of four, we've been known to spend over a thousand dollars a month between grocery store trips and dining out in the past. 😬
With a hefty goal to pay off a chunk of debt this year, we needed to get a grip on our grocery and restaurant spending stat!
In the new year, we started meal planning, sticking to a low (but reasonable) grocery budget, and cooking almost exclusively at home which has saved us a significant amount already. Short of clipping coupons (which I did not have time for), I thought I was doing everything possible to save on groceries.
Then I found out about a free app that pays you cash back on items that you already purchase from stores that you regularly visit. Sounds too good to be true, right?
I was skeptical at first, as you might be too, but this app is seriously so incredibly easy to use and doesn't suck up a ton of time. After my first grocery haul at Target, I was able to earn $13.74 back on items I was planning to buy anyway.
So what is this beloved money-saving app? It's called Ibotta.
What Is the Ibotta App?
The Ibotta app is kind of like the new-age of couponing except you don't have to search through the newspaper to find ads, clip paper coupons or take them to the store when you shop.
The smartphone app is free and, as I mentioned before, allows you to earn cash back on items that you purchase at your favorite stores.
Most people start using it to save at the grocery store (like I did), but you can also find rebates at pharmacies, online retailers, liquor stores, beauty shops, restaurants, wholesale retailers, convenience stores, craft and home good stores, electronic stores, and even travel sites!
Ibotta is so good that I now check the app before I make any purchase. You better believe I want 5% back on my hotel rooms over spring break and $2.00 off a good bottle of red wine. Guys, they have deals on eyeglasses from time-to-time. 
How Does Ibotta Work?
Here's the TL;Dr version
Find offers

Click the plus sign next to the offers you plan to redeem

Upload your receipt

Earn cash back!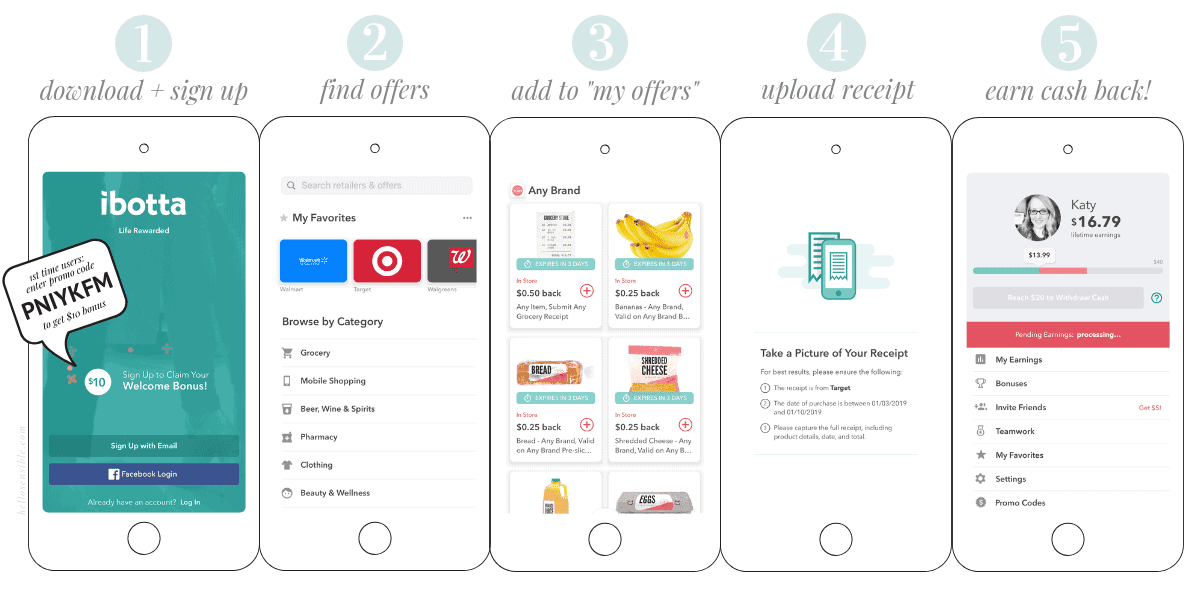 Download the app (Psst… Here's $10 bonus!)
If you've never downloaded the app before, simply click here. This link will guide you through the signup and download process, or you can visit your smartphone's app store, type in "Ibotta" in the search bar and download the app.
If you are a first time user, you can use the promo code PNIYKFM to get a $10 bonus by signing up and redeeming a brand name offer.
Who doesn't want $10 for free, am I right!?
Using this code will also add you to "my team" which will allow us to work towards team goals together. Don't worry – this isn't an MLM (multi-level marketing company). It's just a way to earn even bonus rebates and more cash back on the app!
If you already have an account, you're not eligible for a bonus and won't be added to my team, but that's ok. Go ahead and sign in to your account for these next few tips.
Here's How To Use the Ibotta App Every Week
Step 1: Meal plan
First, plan out your meals for the week.
Step 2: Find offers
Once you have a good plan in place, open the Ibotta app and browse offers from your nearby grocery stores. Once you click on a store, you'll find tabs across the top to help you find what you're looking for.
I prefer to start with the categories that include items that are on my grocery list. For example, I'll check out the "dairy & eggs" and "produce" sections before I explore the "what's hot", "best value" or "new offers" sections. This helps me stay focused and stick to my budget!
That's the main goal, after all!
Even if you generally shop at one store, I recommend browsing a few other stores nearby because you may find offers at one store that's not valid at others.
If that sounds overwhelming, you could also go to the "find offers" tab and type your item, like eggs, to see which stores have rebates on that item.
Step 3: Add rebates to \\"my offers\\"
As you find offers you'll redeem, click on the plus sign that's on the rebate itself.
Sometimes you have to take a short 1-question quiz or watch a 15-30 second video before you can get the rebate.
True story: I actually joined ibotta a few years ago and felt bombarded by annoying ads that just don't make the rebates worth it, but with the latest app updates, I feel like it's come a long way. Now, I never feel spammed or overwhelmed by too many ads and feel like there's a lot of value!
Step 4: Go shopping!
When you shop, make sure you purchase the appropriate size, quantity or item as the offer outlines. If a rebate says "any size", choose the size package that's best for your family. I personally look at the price, subtract the rebate and then divide it by the quantity or ounce.
For example, if I have an offer that will give me $1.00 cashback on Honey Nut Cheerios I'll look at the price on the regular size and family size.
Regular Size = $2.98 – $1.00 = $1.98 / 10.8 oz = $0.18 per ounce
Family Size = $3.64 – $1.00 = $2.64 / 19.5 oz. = $0.14 per ounce
In this case, I would buy the family size because it fits in my budget, our family eats a lot of cereal and it's the best value.
I've seen other ibotta users recommend always getting the smallest package, but I prefer to pull out my iPhone calculator and run the numbers to make sure I'm getting the best deal!
Step 5: Upload your receipt
I recommend uploading your receipt immediately. On my last grocery haul to Walmart where I earned $6.80, I uploaded the receipt once I got in the car. It takes less than 30 seconds! I also add my total receipt amount into YNAB, my favorite budgeting app so I can make sure I'm on track with my expenses.
Technically you have a 7-day window to upload your receipt into Ibotta. For example, if you go shopping on Sunday at 2:00 PM (your time), you will have until the following Sunday at 1:59 PM to send your receipt to Ibotta.
If you forget though or misplace your receipt, you'll miss out on the rebates, so don't wait!
Step 6: Cash out
The way you earn money back is straightforward — no gimmicks, no confusion. If your balance is greater than $20, you can redeem cash back via PayPal or Venmo, or you can redeem it in the form of a gift card. I prefer the cash and apply the credit to my grocery budget.
What's the Catch?
Some of you skeptics are intrigued but are still wondering…
Is ibotta legit?
How does ibotta make money?
Is ibotta safe?
So let's talk about that real quick.
Ibotta is a legitimate company and makes its money by getting a small commission (or a finders fee) whenever an item is purchased through the app.
This business model is called affiliate marketing. Instead of keeping all of the commissions for themselves, they reward their users and share a cut of that affiliate commission so it's a win-win all around!
As you use the app, ibotta collects different data points. According to Ibotta's privacy policy, "we and our partners will use the information we collect from and about you in many ways to help you shop and learn about your shopping habits."
So "the catch" is that they get to monitor and share your shopping habits in exchange for rebates that turn into cash and gift card rewards for you.
If that turns you off, consider if you have a Facebook or Amazon account or do any shopping online. Those businesses collect your data and monitor your demographics and spending habits too. It's a standard business practice, but if you want a little more control, you can always limit ad tracking in your settings.
Is Ibotta Worth It?
I say, "YES! OF COURSE", but let's talk about the pros and cons.
Pros
It's free and easy to use!
Supports over 300+ retailers
There are a variety of rebates available from groceries to hotel rooms and liquor stores.
Rebates are available on healthy foods and generic purchases, not just specific brands
Offers cash back (via PayPal or Venmo) or a gift card of your choice.
The Ibotta app can be used in conjunction with other saving strategies shoppers use, such as redeeming coupons, rewards programs, coupon stacking and matching, rebates and other money-saving apps.
Cons
You can be tempted to try new things and purchase items you don't need or brands you wouldn't normally buy.
Occasionally, certain brands listed on the app may not be available in the store which is a tad inconvenient.
If you carry a reward balance for 6 months and do not cash out or actively use the app, you'll be charged a $3.99 convenience fee.
I 100% recommend using the Ibotta App to save on groceries, household items, and dozens of other purchases. By taking advantage of some bonus offers at Boxed.com and scanning 3 separate receipts, I was been able to save $56.23 in 6 days! I wouldn't have been able to rake in those savings with Ibotta.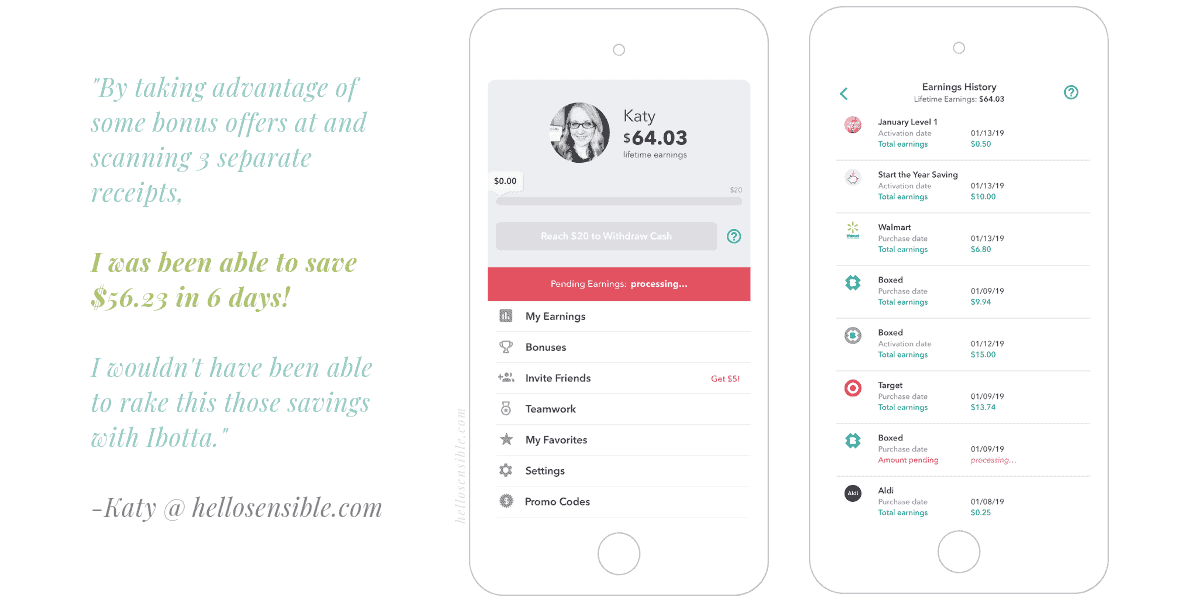 So I wanna know…
Have you tried Ibotta before? What was your experience like? Or if you haven't tried the app yet, sign up with your free $10 bonus, come back and share your 1st grocery haul savings in the comments below!
P.S. If you already use Ibotta, another similar app I love is Fetch Rewards. Fetch lets you scan receipts and automatically finds cash back, it doesn't get any easier!