Joovy Big Caboose: A Stroller For Bigger Families!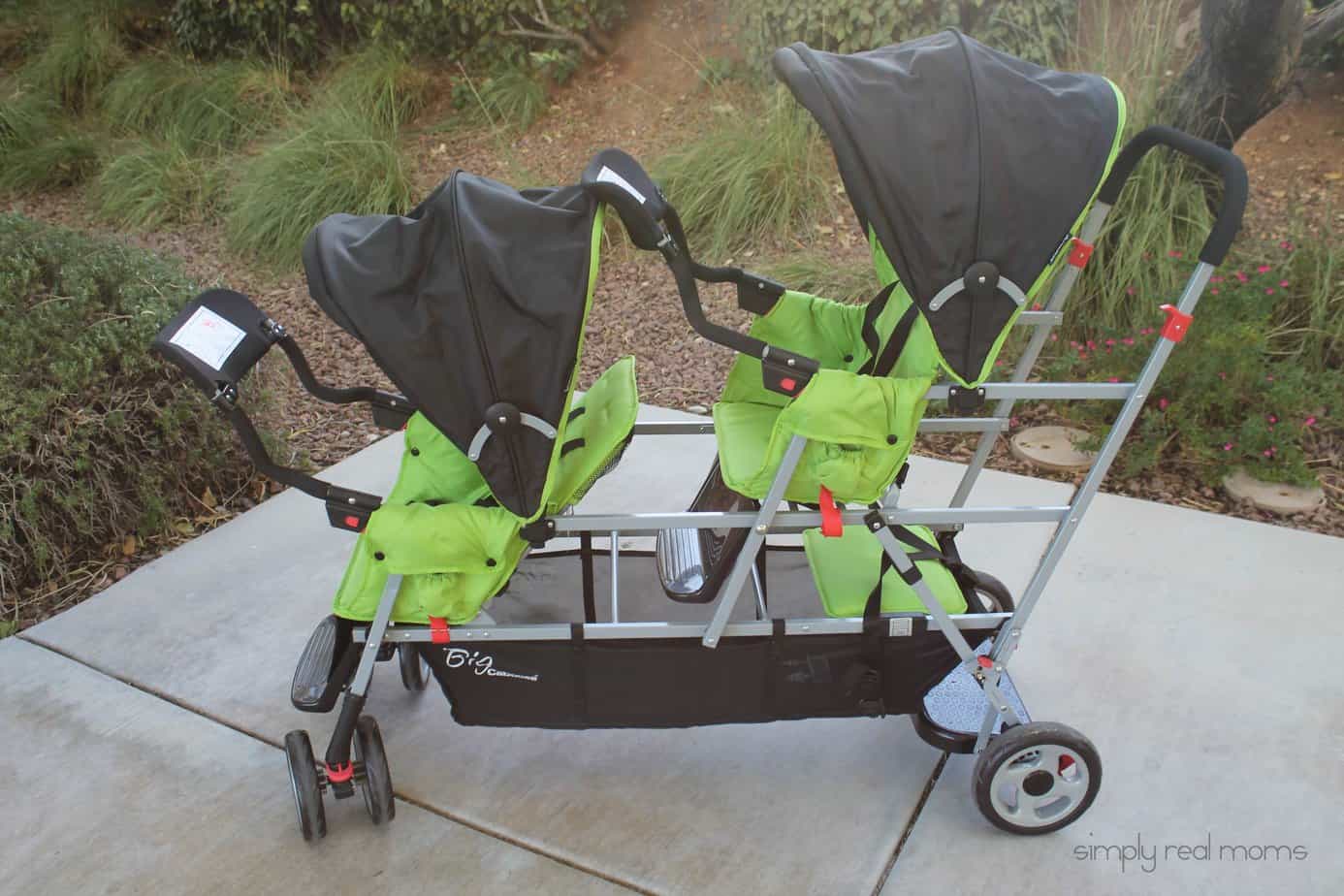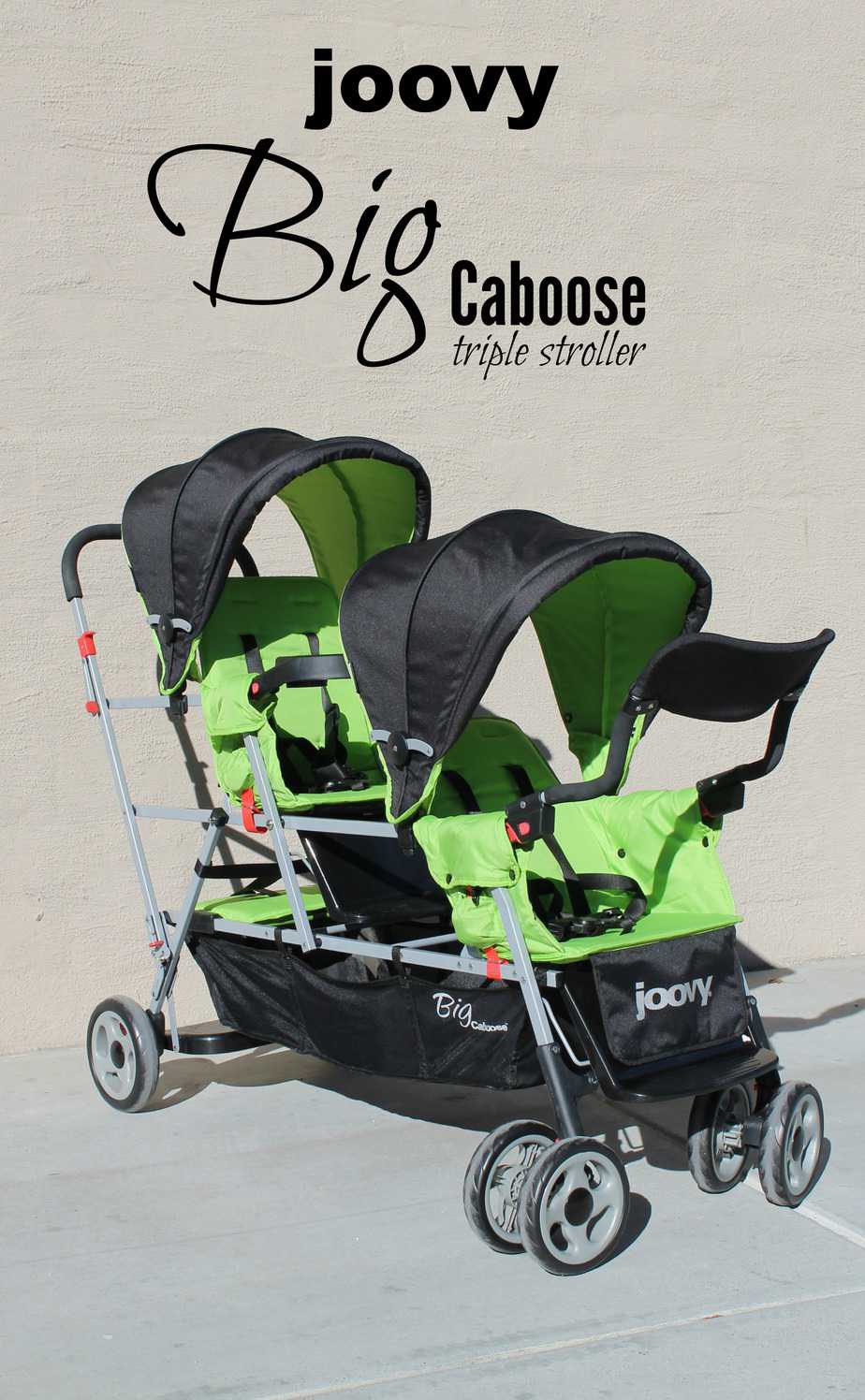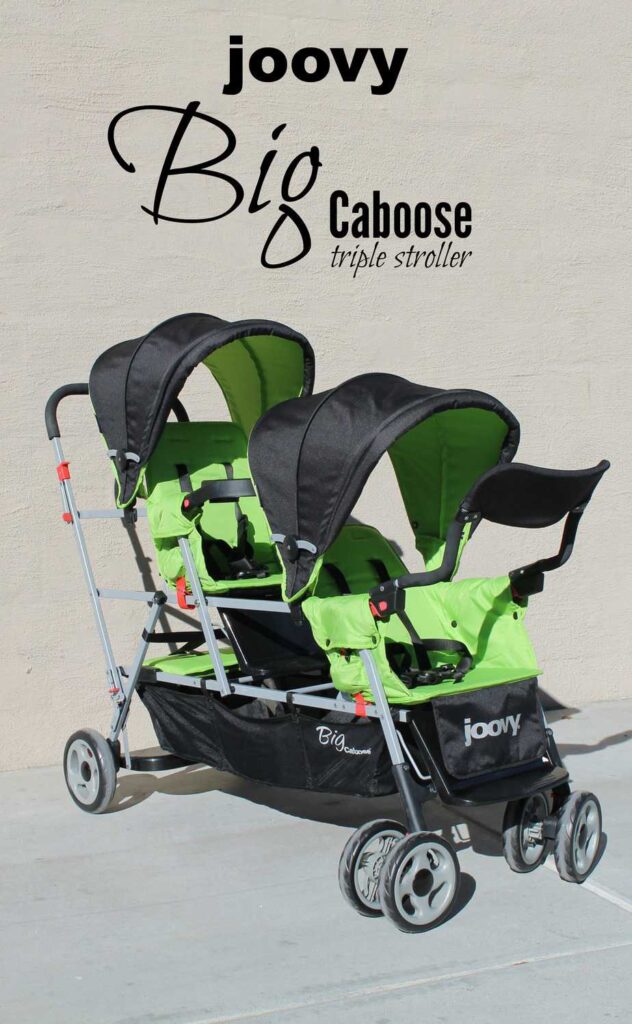 I have, what I like to call, an instant family.  Already parents to a 3 1/2 year old, my husband and I adopted two children this summer (a 17 month old and a newborn).  Talk about a lot of logistical changes in our family!  We bought a minivan, pulled the baby clothes out of storage and re-baby proofed the house.  It was not until we went to an outdoor event that we realized our stroller was just not big enough for our family.  Our oldest is definitely big enough to walk around for short periods, but it would be nice to give him the option to sit down without bringing an additional stroller.  We had a basic sit and stand, which we figured could work if I wore the baby.  Here's the thing, I live in the desert.  Wearing a baby between April and October is just out of the question (unless you don't mind giant sweat stains).  You can imagine how excited I was to learn about the Joovy Big Caboose!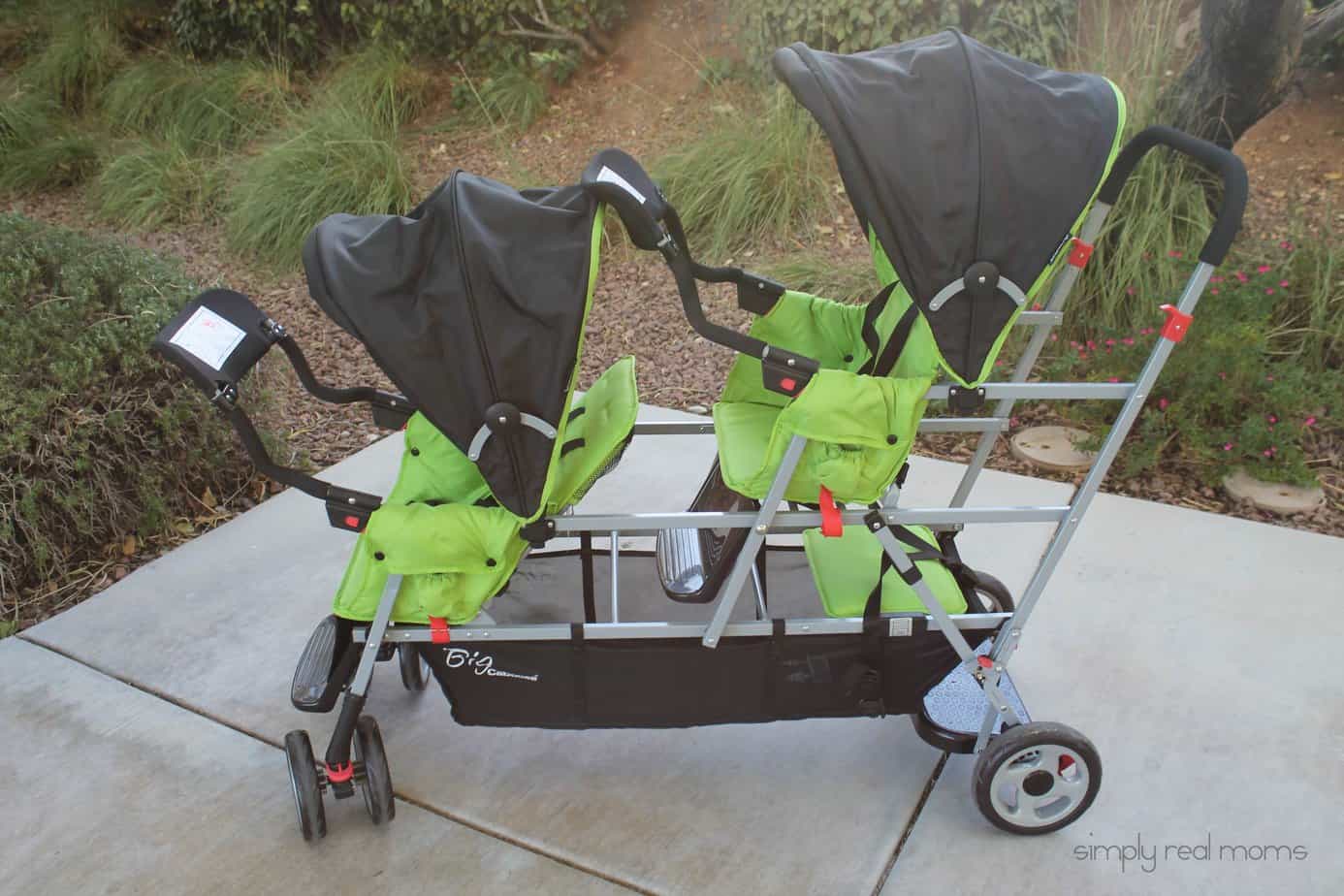 I'll be honest, the idea of a triple stroller was overwhelming but as soon as I saw the Big Caboose, I knew that our stroller problems were solved.  I don't know who was more excited to get it out of the box, me or my boys.  In fact, they were so excited that the two older ones "helped" me put it together.  Despite having to track down pieces that they moved around, I put it together in a very short period of time.  Before we knew it, we were ready for our inaugural ride to the park.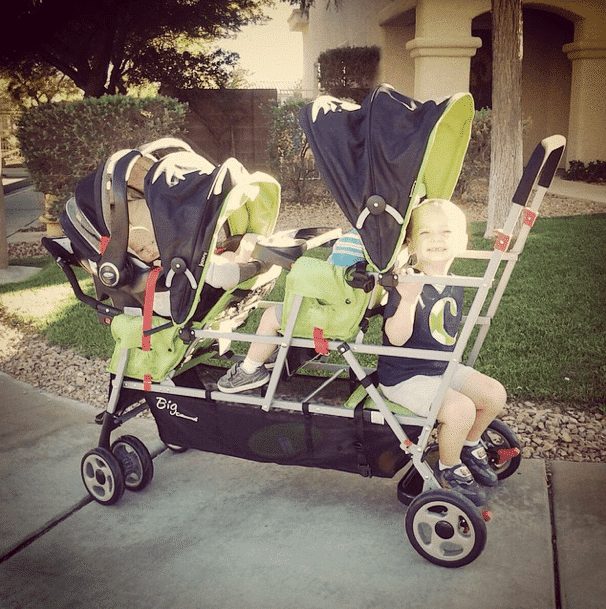 Now, a trip to the park is not as easy as just loading up the kids in the stroller.  Between toys, snacks and the diaper bag, we end up bringing a lot with us. I was very excited to see how much storage space was available in the compartment under the seats. It runs the entire length of the stroller and can hold up to 10 pounds.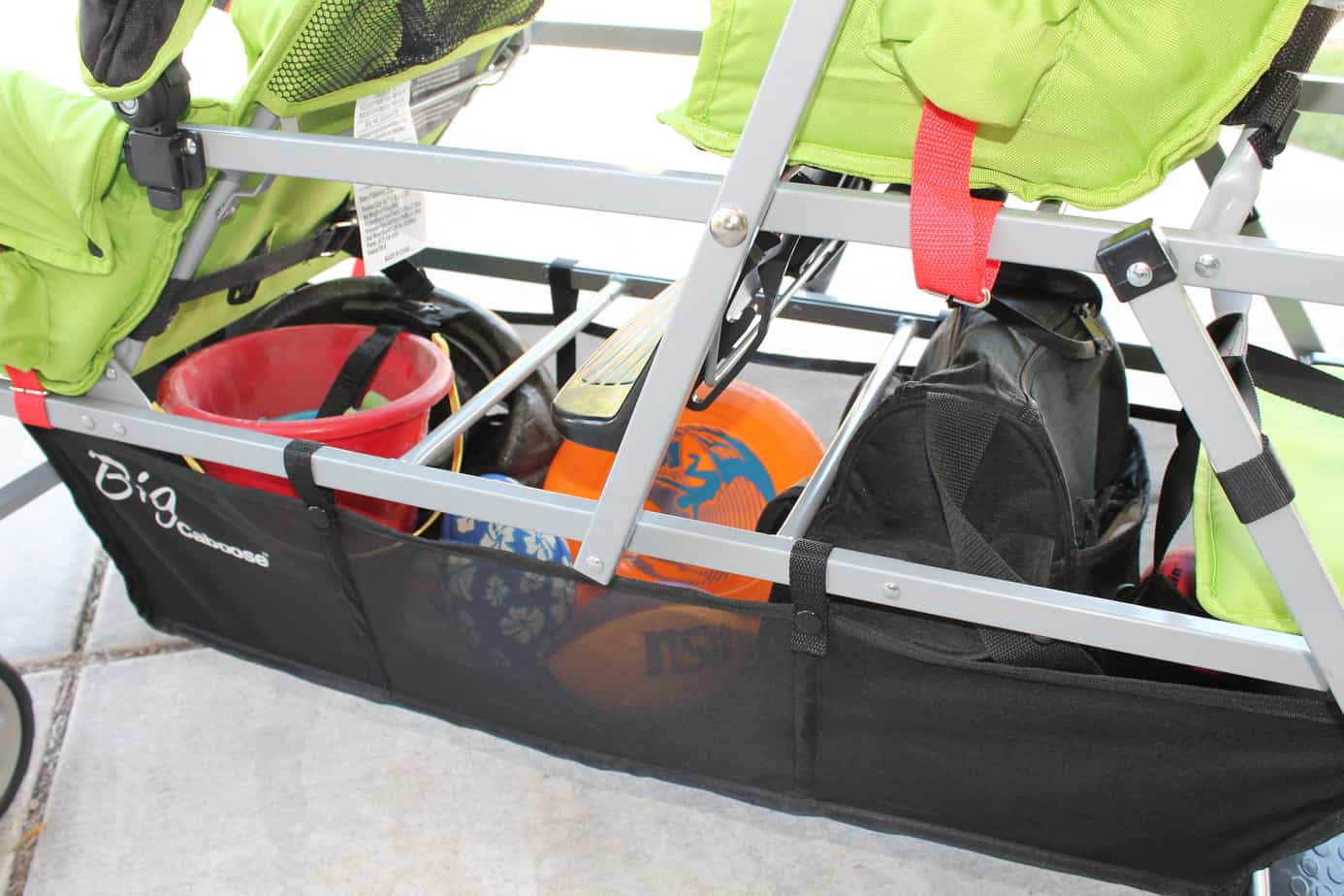 We easily packed everything we needed for a few hours at the park. I would have liked built in cup holders and/or storage at the handle for my water bottle, but Joovy does offer a parent organizer that you can purchase on their website. I ended up putting my water bottle into a mesh pouch on the back of the seat, which worked just fine for me.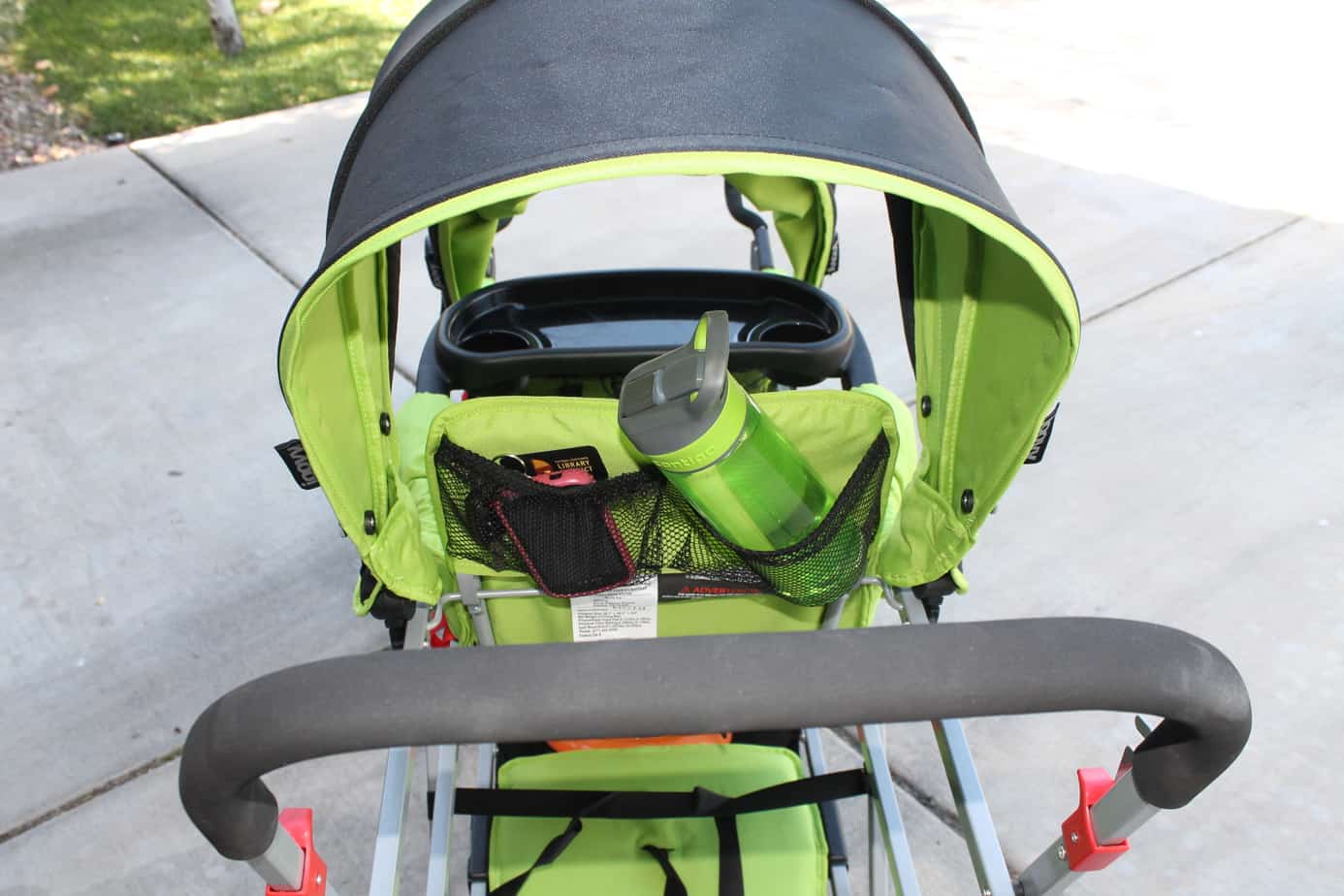 Having a 2-month old, we needed to use one of the included car seat adapters. After testing it out in both the front and back seats, I liked the way it fit in the front.  Both seats offer restraining straps that connect over the car seat to secure it in place. I love that the restraining straps are hidden in little pouches on either side of the seat, preventing the straps from dragging or getting stuck in the bottom of the stroller. The adapter and the tray were very easy to attach and remove when needed, too.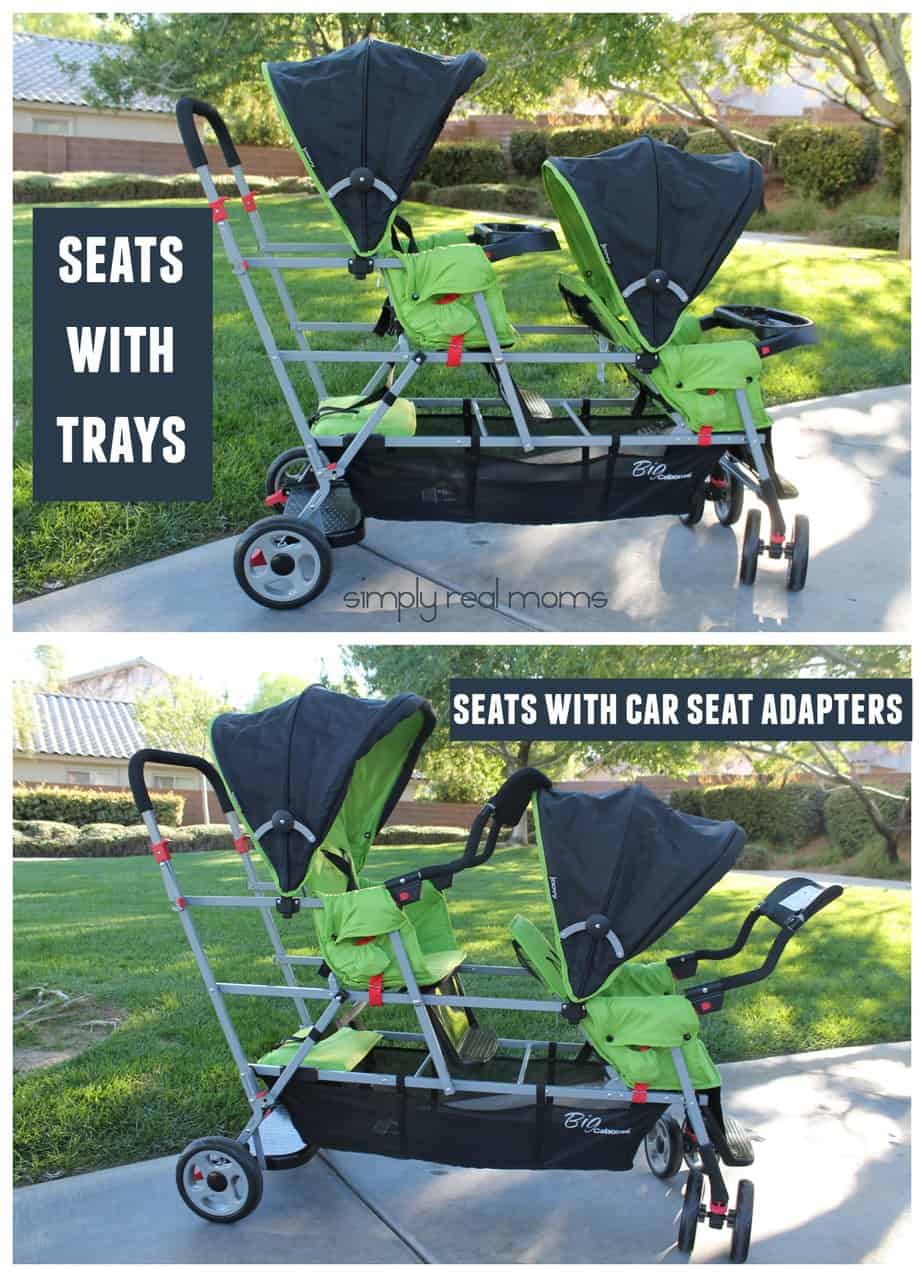 The seats have 5-point harnesses, are cushioned, and have two reclining positions. The foot rests also have two positions so that they can grow with your child. The armrests are padded, adding to the comfort of your sweet little passengers. The canopies (which are easily removable) cover a lot of space, shielding your kiddos from the sun (very important here in the desert!).
As we went on our first adventure, I found that it was relatively easy to steer, given the size of the stroller. It is quite long (55 inches or 4.5 feet), but has a fairly tight turning radius. I felt that the stroller is easier to turn if I slowed down or stopped first.  As big as the Big Caboose may sound, I was really surprised to find that it isn't too much longer than a regular Sit n Stand stroller, and the Big Caboose has a whole extra seat!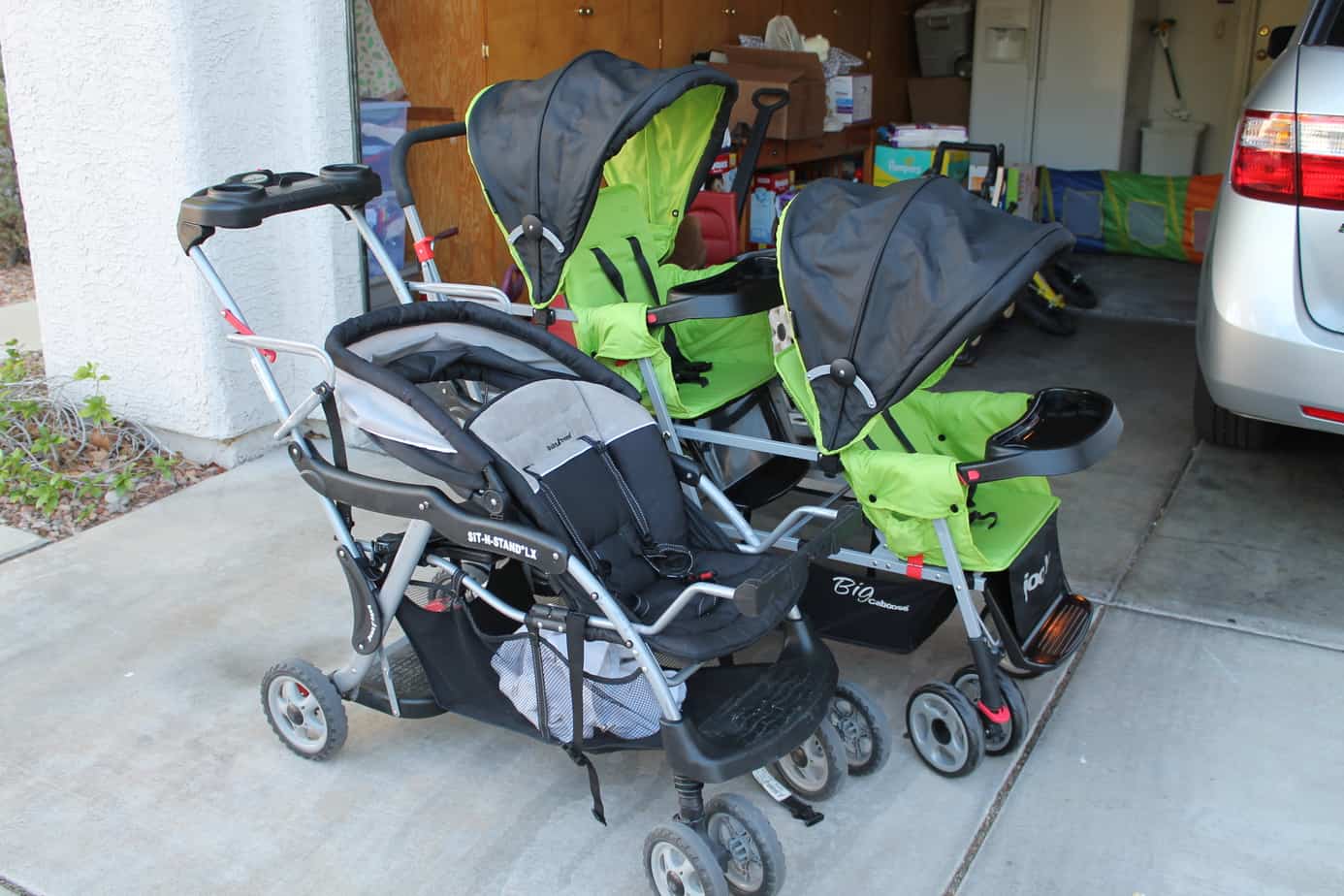 Getting ready to take our brood out to an event, I needed to collapse the stroller and load it into our van.  I was pleasantly surprised by the ease of folding it down.  After positioning the canopies forward and locking the wheels, I simply pulled two levers on the handle and pushed forward.  It can be folded with the trays and/or car seat adapters in place, but I removed them to save space.  I ended up removing the front canopy as well to make it easier to store in our van. It is fairly heavy, but not unmanageable. While it did not fit in the back storage area of the van, it easily slid in once I folded down one of the back seats.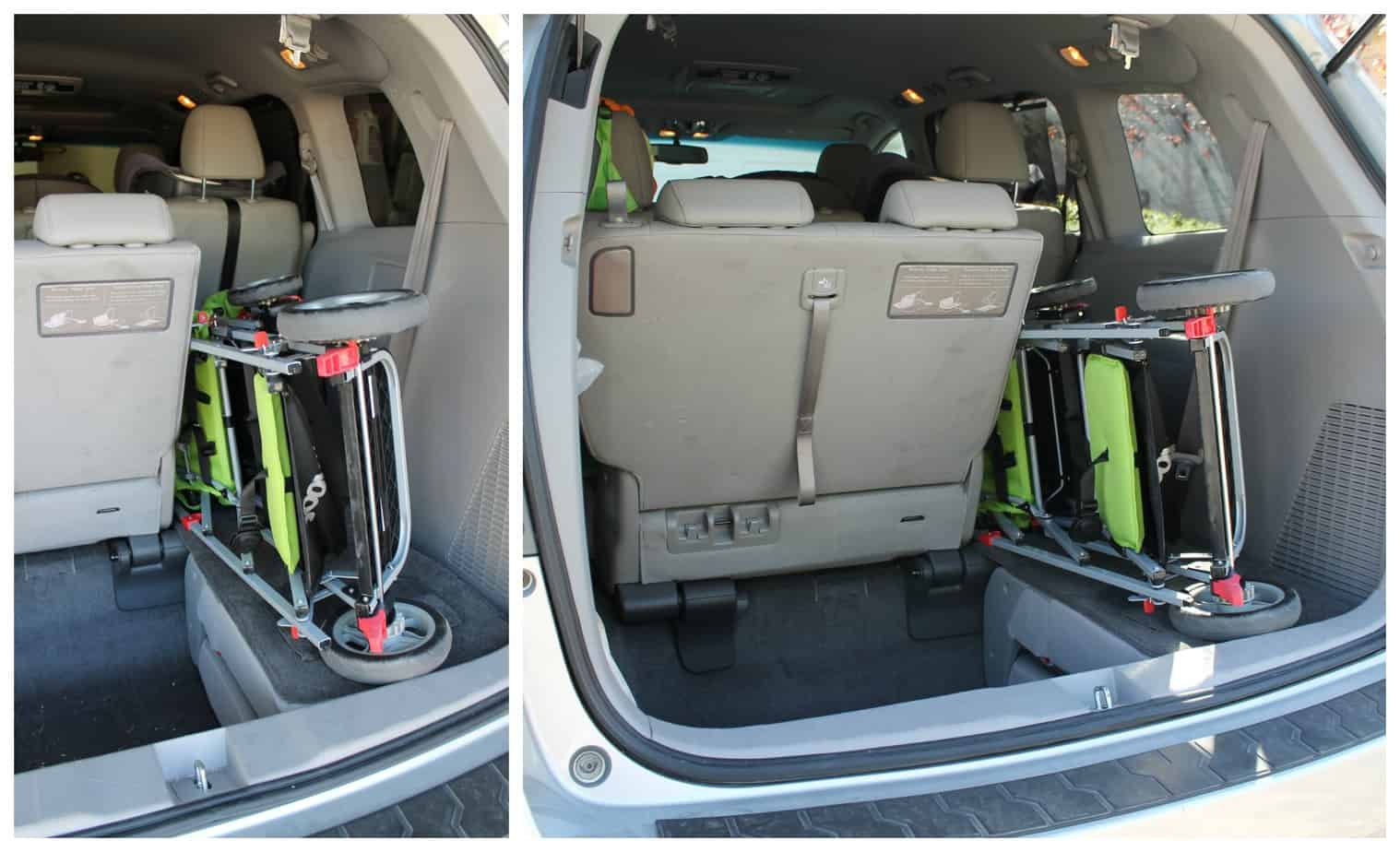 As a mom of three, I am so excited to have such a sleek stroller option for all of my kiddos. It is a relief to be able to avoid taking multiple strollers when we go out as a family. Whether you have an instant family from adoption like me, or if you find out you are expecting twins with an older sibling, if you've got three little ones, the Joovy Big Caboose is the stroller for you!
Find out more about the Big Caboose and other amazing Joovy Products:
ONLINE
FACEBOOK
TWITTER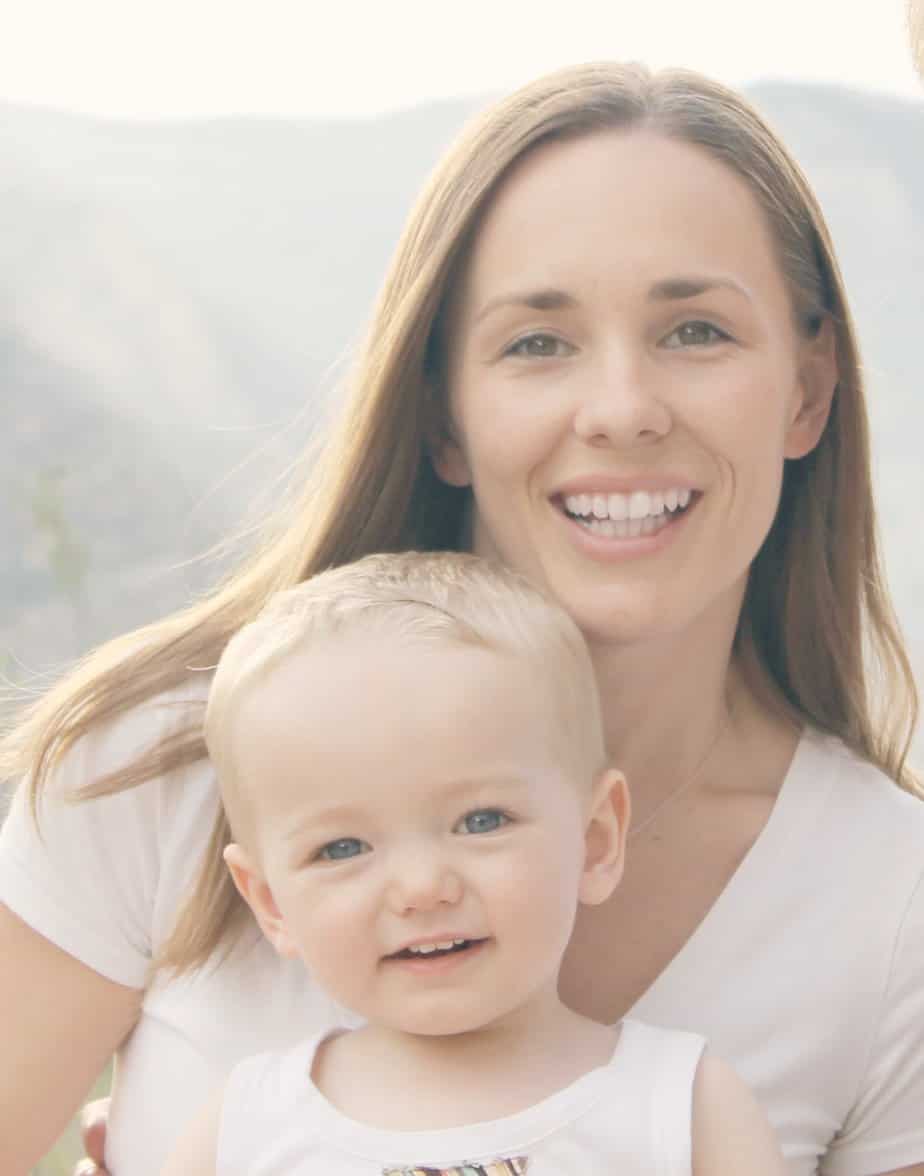 This review was written by Katie, a stay at home mom of three boys living in Las Vegas.
*I received product to facilitate my review, but all opinions are my own.