Jungle Themed Party- DIY Number Piñata
.
Items needed:
Empty Box
Box cutter
Scissors
Tissue paper
Hot Glue or Glue Stick
Masking Tape
Craft/floral wire
Ribbon or Rope

Step 1: Trace the outline of your number onto cardboard. Using a box cutter, carefully cut out your shape.
.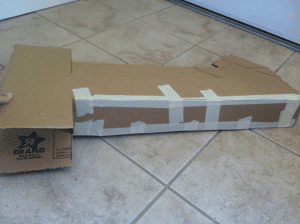 Step 2: Once you have all pieces of your number cut out, tape them together using masking tape. Masking tape is very important as it will allow the kids to be able to break the pinata. Try not to tape too much otherwise it will be hard for the kids to break (I learned that lesson).
.

Step 3: After all sides are taped together, take your box cutter and cut open a flap at the top. This will be where you put your candy in.
.

You are now half way done!
.
Step 4: Next, take the colors of tissue you wish to use on your piñata and cut strips about 2 inches wide horizontally. After the strips are cut, you need to make your fringe.

To make the fringe, snip half way up the tissue until your tissue looks like the picture above all the way across.
.

Step 5: Now start gluing your tissue to the cardboard working your way from bottom to top until the entire piñata is covered.
.
Step 6: Fill your piñata up with candy
.
Step 7: Taking your open flap cut on the open flap at the top and corresponding holes on the top in a section. Put your craft wire through and seal it up. Hang a ribbon or robe from the craft wire and you are ready to hang to be used.
.
.
This tutorial is a part of a Jungle Themed Party, check out the rest of the tutorials here: Jungle Theme Party