I think the Lord has been giving me lessons in patience lately. And no, I didn't pray for patience!
Anyone who knows me, will be able to tell you that I am not patient by nature. I want things done and I want them done yesterday. Living in even a small remodel project puts me on edge and even over the edge at times….
Lessons in Patience #1: Things may not always go as planned.
If you follow me on Instagram, you may have noticed a few photos popping up on our recent bathroom remodel. What was supposed to be a simple project for our long Labor Day weekend turned into a plumbing nightmare.
Not plumbing in the bathroom. No. The main plumping coming into our house has had a mini leak for several months. Every time I cleaned the litter box, I dried the floor. Annoying but liveable. Nothing that HAD to be done right away.
However, on Saturday morning after I stripped everything out of our bathroom on Friday night; Jason and Grandpa decide that little leak should be fixed first. Well, I guess it wasn't an easy fix? Our water was off all day on Saturday. We showered at Grandpa's that night and brought jugs of water home with us for Sunday.
Lessons in Patience #2 Things don't go as planned a lot of the time.
On Monday they are at it bright and early again. Since the soldering of copper pipes wasn't working (they were installed too close to the wall and the paint on the wall was burning off when they would try to solder), they pulled all the copper out and went back the the store to buy pvc. Ugh. Finally Monday night we get the water back on. Yay! But guess what? There is still a slow leak (different spot). 🙁
Deciding to put a towel under the 1-drip-a-minute leak, they plan on working (finally!) on the bathroom Tuesday after work.
Lessons in Patience #3 If something can go wrong, it will.
Tuesday was going great for me! Sure I didn't have my bathroom back together, but I had running water and could finally put things back in order in the kitchen. All is well and I sit at the computer to take a break.  Imagine my horror when I hear the sound of wildly spraying water!
Running like a mad woman, I shut off the water, and start frantically sweeping/mopping up the massive amounts of water that ran out of a piece of cracked PVC, so it doesn't go under the wall into our bedroom.  Poor Jason then got a call from a wildly crying, hysterical woman begging him to come home. So, instead of finally getting our bathroom done, we had to spend yet another day working on those pipes. You know, there comes a point where it occurs to you that calling a plumber would've been cheaper. 🙁
Lessons in Patience #4 It's ok to just let things go.
We decided to ignore the blow out. It was on the outside pipes and we could shut it off, while still having water to the house. That night we worked some more on the bathroom, but 3 hours isn't a lot of time.
Wednesday, I got home from cleaning and cleaned my house. Yes, we are in the middle of a construction mess, but just having clean floors was amazing. My bathroom was still in shambles, but the Lord was still with me, and I began to feel shame over my attitude.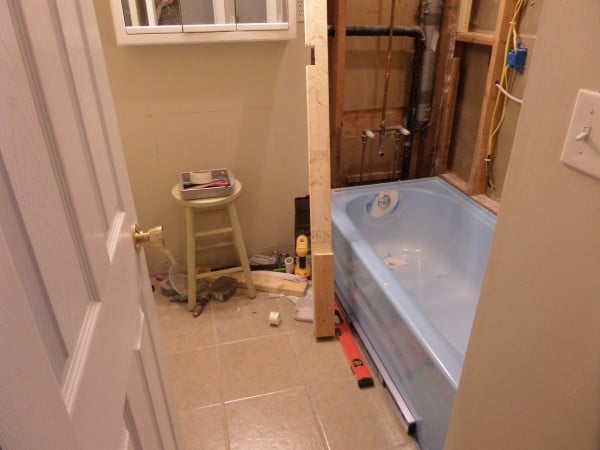 Lessons in Patience #5 There are always blessings, even in the middle of a storm. (or construction mess!)
Here it is, Friday morning, and our bathroom is still not completed. Our house is still a dusty mess, but guess, what? I'm ok. You see, we have a house! There are those who do not.
I'm annoyed that Gramps and Jason thought that plumbing HAD to be done that weekend, but guess what? I have a husband, and a grandpa who is still able enough to help and advise on projects like this.
We only have one bathroom and it was torn up, but guess what? The toilet stayed in place! (as well as the door lol) We couldn't shower here, but Grandpa's let us shower there and the wonderful people I nanny for is letting me use their shower this morning.
We are spending more than I wanted to, but guess what? God has ensured we have the funds, even though we didn't want to use them.
Lesson Learned? I would love to say I have learned my lesson. That next time things don't go my way, I will sit back and look for my blessings. I wish I could say that. But I am human, and have to relearn a lot.
So I will thank God for blessings past, and praise him for what is to come. I will humbly plead forgiveness and rest in the grace that is offered to me a sinner.