Letters With Pooh: An App for Learning Toddlers
We are always on the lookout for the best learning apps for kids, and today we are sharing an amazing app that has transformed my son's way of thinking about letters!
The Winnie The Pooh Letters With Pooh App is hands down my 3 year old son's favorite new app, and I couldn't be happier with his choice.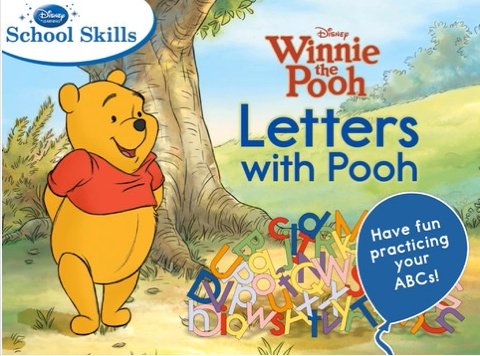 "Letters with Pooh is a Disney Learning interactive app filled with delightful activities designed to help young children identify and write letters of the alphabet. Children will join Winnie the Pooh on his quest for honey and help him reach a honeybee's hive by tracing letters and collecting letter balloons. Finally, they will assist Pooh's friends in supplemental activities that reinforce the letters they traced and collected during Pooh's honey-hunting adventure."
The app begins with a story about Pooh having a rumbly tummy (doesn't he always?) and he is in need of some honey! Each "chapter" of the game gradually helps your child learn to trace and recognize letters!
First, basic tracing skills. Pooh searches for honey and follows the bees, and your child's finger follows along! What seems like a fun activity is actually teaching your child basic letter writing skills!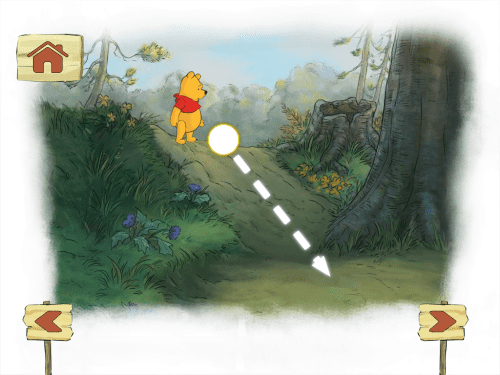 Next, Pooh needs to get some balloons to reach the beehive. Tracing letters helps your child earn ballons for Pooh! Both upper and lower case letters are needed, so kids have quite the job ahead of them.
For the third chapter, your child will  need to solve simple puzzles with the letters they have learned in chapter 1 & 2.
Tigger needs help finding the letters that fell out of his books,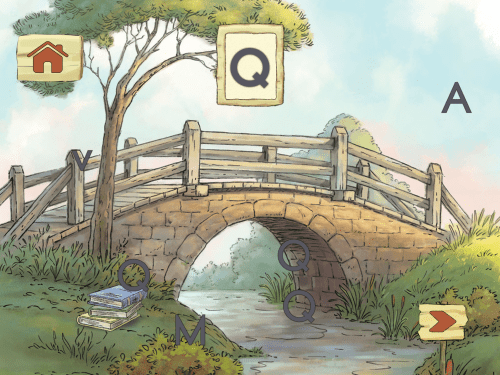 Piglet needs help painting by letter,
and Owl needs to collect letters for his poems!
My son's favorite part of the entire game is the painting by letter with Piglet. Matching the letter to the correct painting space is very rewarding once the painting is finished!
As your child progresses, Pooh will earn balloons to eventually take him to the beehive for some honey!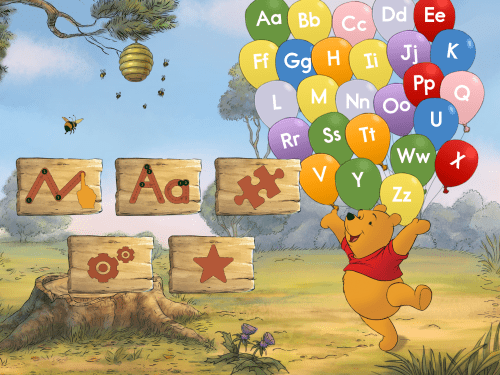 Above is my son's current balloon status! He's got all of his uppercase, and almost all of his lowecase letters, almost there!
My only complaint about this app is that the tracing for the letters in chapter 2 doesn't need to be too acurate. In fact, sometimes my son misses the shape completely but passes anyway. I would prefer it to be a little more accurate in order to make sure the correct tracing is learned.
Key Features:
•Practice tracing and writing upper- and lowercase letters to help Pooh find honey!
•Record all the letters of the alphabet in your own voice!
•Play fun, character-driven activities that reinforce letter identification!
•Create your own Winnie the Pooh scenes with interactive stickers!
•Guided skill instruction for up to four players
•Comprehensive parents' section with content leveling and progress monitoring
•Whimsical Winnie the Pooh artwork!
•Professional narration, music and charming sound effects!
This Appis for the iPhone and iPad, costs $1.99 and is well worth the money. I absolutely reccomend this game for kids that are learning to recognize and write letters! DOWNLOAD IT HERE NOW
*I was provided this app for review purposes, but all opinions are my own.