Mamas & Papas Three Bears Armadillo Flip XT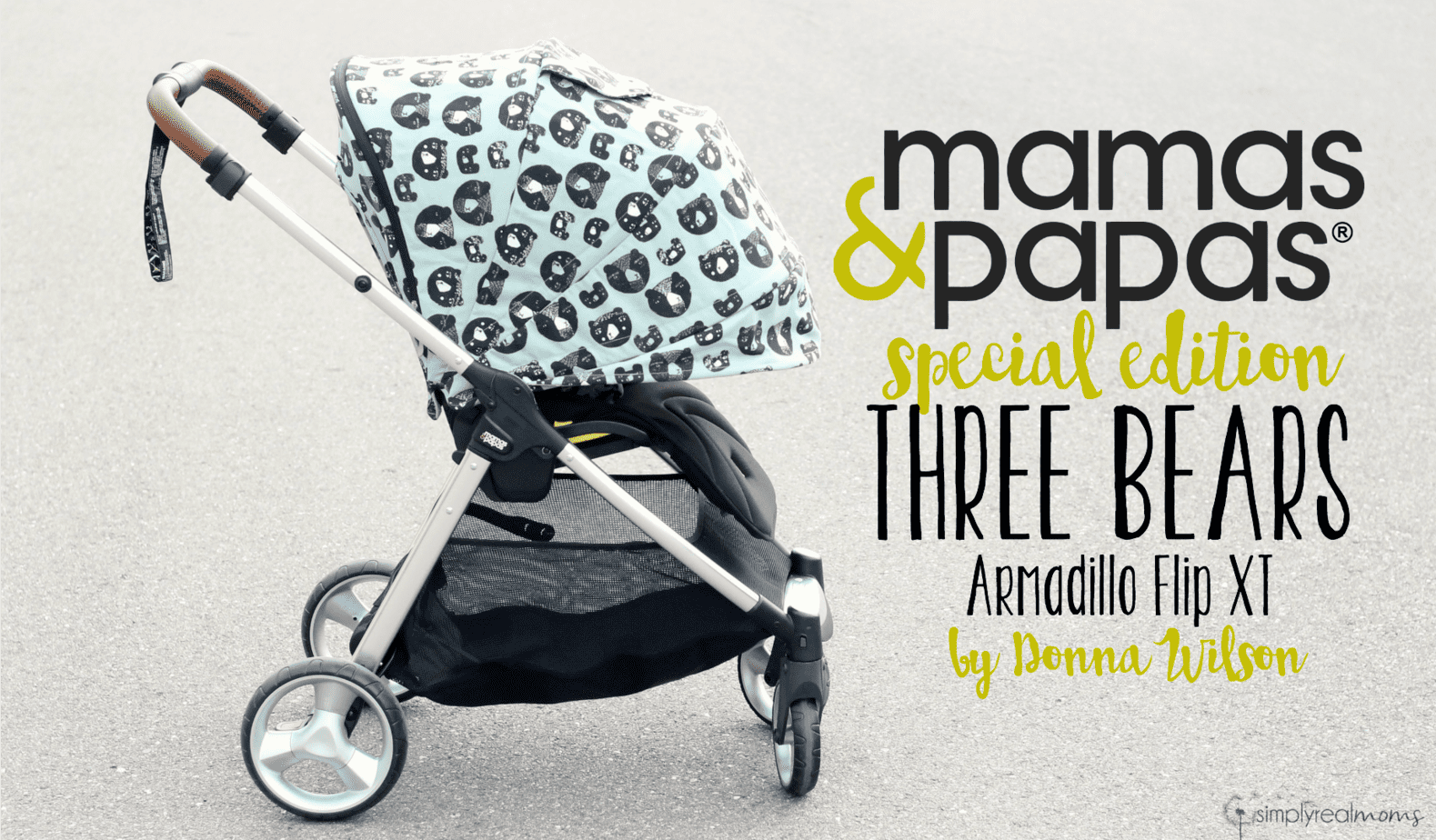 Introducing quite possibly the cutest stroller ever!
The new Special Edition Armadillo Flip XT is the newest in Mamas & Papas designs from Donna Wilson and I am infatuated with it! Let's take a look at this versatile and adorable stroller:
The Armadillo Flip XT is a wonderful stroller. It can be used forward or rear facing in several recline positions and can be used with the matching bassinet (not included) and car seat adapters for Graco, Cybex, Maxi Cosi and Nuna car seats (also not included).
Possibly my favorite feature on the Armadillo Flip XT is the oversized sun canopy. It comes all the way down to the seat of the stroller when in the upright position, making it great for sunny days, nap time and even dodging paparazzi if that's your need! It is lined with an SPF 50+ fabric, keeping your child safe from the sun's harsh rays. The canopy's underside is a gorgeous green pattern that compliments the soft blue of the main design.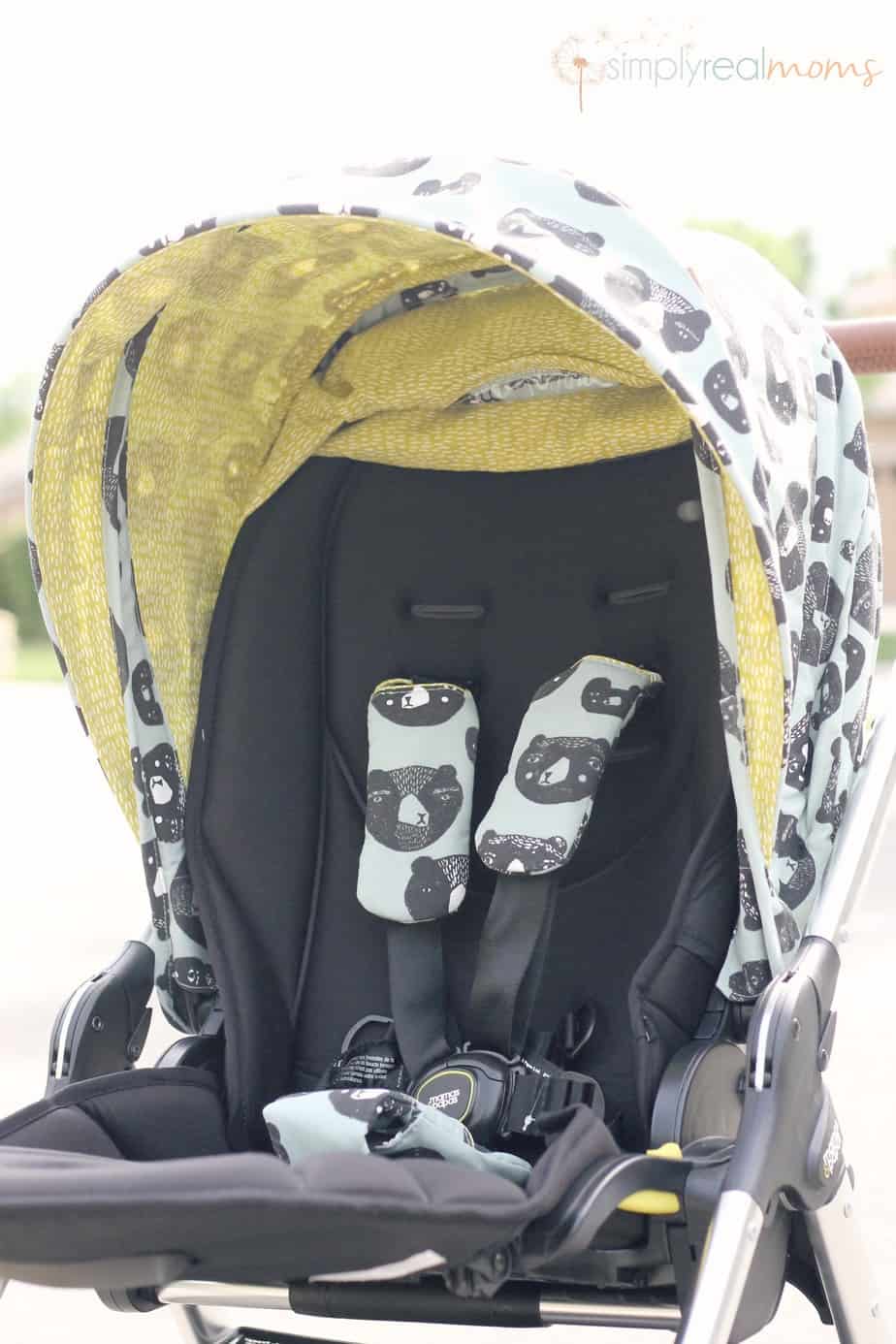 And can we talk about that design?! These funky bears are so cool and modern and get noticed everywhere we go! There isn't an outing we are on with this stroller that I'm not stopped and asked where I got it…it stands out in a good way!
The adjustable handle on the Armadillo Flip XT is a gorgeous leather look (not real leather) that is soft and comfortable.
I love that this stroller comes with a rain cover for those rainy day outings! City moms fear not-even if you have to go out in the rain, your little one will be comfortable and dry in their stroller seat.
The basket is a very generous size, both in length and in depth. It easily fits our diaper bag along with jackets, water bottles and sports gear! As a mom of 3, storage is essential!
Some other features we love about the Special Edition Armadillo Flip XT:
Compact Fold  This stroller folds from the middle, making it very compact and easy to fit into your car's trunk or your closet for storage and the wheels are removable for an even more compact fold
Lightweight  Getting it in and out of the car is a breeze! It's light enough that I don't feel like I'm weight lifting every time I go to the store
Adjustable Leg Rest  The leg rest easily adjusts with a simple button on the underside to keep your little one as comfortable as possible
Sturdy Wheels  These wheels are amazing and durable with front and rear suspension! The front two wheels lock for better maneuverability.
Peekaboo Window  The large sun canopy features a window to peek in on your little one. Comes in handy when the canopy is all the way down!
Up to 50 lbs  This stroller has a weight limit of 50 lbs…my 6 year old is only barely heavier than that, so this stroller can be used for years if needed and is great for special needs childrenLiterally Cool  It's got a mesh design that keeps things a little cooler for your little rider!
This stroller has been a delight to push. It's a little pricey but will last through the years and several children, so I believe it's worth the investment! My only complaint is that it doesn't come with a cup holder…this mama always has either a coffee or a water in hand, so that would be something I wish it came with. They do offer a cup holder to buy separately, but I have not yet done that.
Overall, would I recommend this stroller to a girlfriend? YES! It's a wonderful stroller that looks just as amazing as it pushes. It's sleek, trendy and perfect for the modern mama on the go!
You can find the Special Edition Flip XT at Albee Baby, Stroller Depot and on Amazon.
You can find Mamas & Papas:
ONLINE
FACEBOOK
INSTAGRAM
*I was given product for review purposes but all opinions are my own