Marshmallow Jokes and Marriage
What do marshmallow jokes have to do with marriage? Maybe nothing for you, but for us, they mean a lot of fun.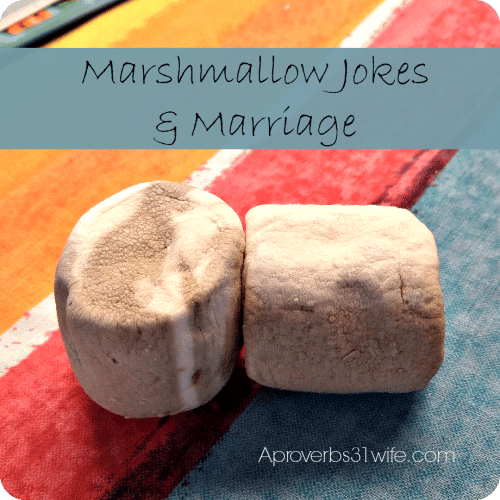 Marshmallow Jokes and more:
I know I've said before, that Jason and I like to play practical jokes on each other. Today I thought I would share some of those practical jokes.
I cannot remember when the marshmallow jokes started, but one day I found a marshmallow in my cereal. So a couple of weeks later, Jason found one in his cottage cheese. You never know when one of those nasty little things will pop up. One day, I took and cut one up into very small pieces and mixed them into his salad!
It's not like we enjoy eating marshmallows, because we don't. (We buy them for s'mores and they never get all ate). But we do enjoy hiding and finding them. It has something to do with opening up your container of food and realize that the other person is probably thinking of you right now and snickering to themselves over a joke that should be really old by now, but isn't.
Besides marshmallow jokes, we play other pranks as well. Like an un-wrapped slice of cheese in some-ones sandwich. Glitter on a towel. Soap on a tooth brush.  Instead of buttering the top of a slice of bread, there is a thick layer of butter all the way around the outside (crust) of the bread!
Or my all time favorite:  We didn't really date, (or court for that matter) but every once and awhile when Jason had a little extra money, he would take me out to eat. One of the very first times we went out to a nice restaurant, he showed his true maturity by blowing his straw wrapper at me! As the oldest of 6 kids, I was not amused. But, I did plot revenge. (showing my true maturity! lol)
Sitting across from him in the booth, I had my straw in my lap as I began pulling the wrapper off. As I pulled, I twisted the paper, so that when the wrapper was clear off the straw I had a little paper stick. That paper stick was then slid inside the straw!  I reached for his drink, saying I wanted to taste it and slid my straw in. Then proceeded to drink out of his straw and pull it out, leaving my straw with the paper inside it, in his glass. I still laugh as I remember his face when he pulled a very soggy wrapper out of his mouth!
Playing pranks on each other keeps the fun alive. Marriage can become ho-hum; work, come home, eat dinner, do something around the house for a bit, go to bed.  Our marshmallow jokes and all the other pranks we pull, keep things lively. 🙂
On to Matrimonial Monday. We are getting the new name in place, thanks to all of your helpful votes last week, but I just ran out of time to do anything with it yet.