Becoming a Mary and Martha Consultant – Everything You Need To Know
If you are interested in starting your own faith-based home business with a company whose values align with your Christian values –OR– if you are a Christian blogger looking for a Christian affiliate program to promote on your blog, you should seriously consider becoming a Mary and Martha consultant!
About the Mary and Martha Company
Mary and Martha was founded in 2013 as a division of DaySpring Cards, Inc. and gives Christian women a unique business opportunity to earn an income while sharing and living out their faith. As a Christian direct sales company, Mary & Martha empowers women to share life together through their faith-inspired products.
Mary and Martha's parent company
If you're not familiar with DaySpring, the company began in 1971 when four Christian men started a small commercial printing shop with the intention of making Christ known in their generation through their greeting cards.
In 1999, they were acquired by Hallmark Cards, Inc. as DaySpring was on its way to becoming the largest publisher and distributor of Christian greeting cards in the world.
Today, DaySpring continues to thrive and help Christians throughout the world experience and express the joy, hope, and encouragement of Jesus every day.
Partnership with Candace Cameron Bure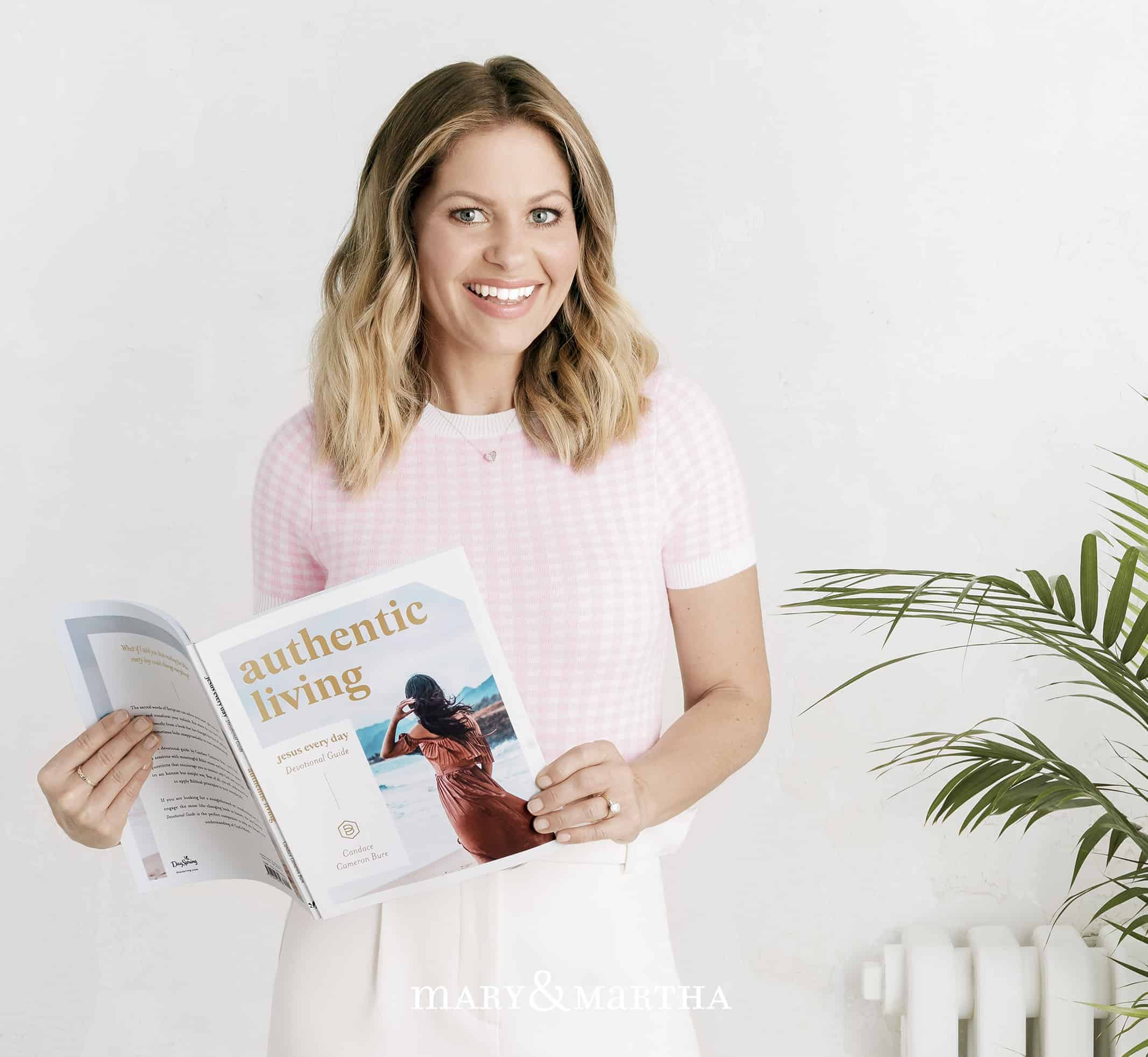 In 2017, DaySpring entered into an exciting partnership with famous Actress Candace Cameron Bure to launch her own line of Biblical-inspired products. Then in 2019, Candace partnered with Mary and Martha to launch her very first Christmas line called Simply Christmas!
If you're not familiar with Candace, she is an award-winning actress, producer, New York Times Best-Selling Author, dynamic speaker, wife, and proud mother of 3.
To many, she is DJ Tanner from Full House, Aurora Teagarden and appropriately nicknamed the "Queen of Christmas" for her role in numerous Hallmark Christmas movies.
Mission-minded partnerships
It's also worth noting that Mary and Martha regularly team up with organizations that make a worldwide impact. In 2019, they partnered with Compassion International to provide 10,000 Bibles to Rwanda!
[elementor-template id="12382″]
Mary and Martha Products
As you may have guessed, Mary and Martha was named after the two sisters in the Bible who shared life at home, around the table, and in their community. Because these two Biblical women loved God and others, you'll see that same mission, vision, and story reflected throughout Mary and Martha's products.
Most of Mary and Martha's home decor and gift items include faith-inspired messages that are designed to help you welcome, serve and connect with others; that's why you'll find products for your table, your home, and your faith in every Mary and Martha catalog.
Here's a preview of their latest seasonal catalog so you can see the kinds of products offered for yourself:
Benefits of Being a Mary & Martha Consultant
If you're wondering, "why should I become a Mary and Martha consultant? What's in it for me?"… Here are some pretty compelling reasons:
Flexible hours, the freedom to make your business fit your schedule
Unlimited earning potential, including personal volume bonuses
Company-sponsored Incentive Trips
A great business kit and the opportunity to add to that kit by earning your Great Starts Rewards
Personalized website and monthly e-newsletter
Company Training & Support
Extra income! Whether you're a Christian wife, mom or grandma
We'll talk about these benefits and more as you keep reading this post…
How Do Mary & Martha Consultants Make Money?
There are two main ways: referral commissions based on customer orders and additional commissions and bonuses based on your team's performance.
Referral commissions
Mary and Martha consultants earn a 25% commission of the retail value every time a customer buys through their referral link. If you sell $1,200 in a month, you can earn an additional 5% commission bonus, for a total of 30% commission on that month's sales.
Great Start Rewards
In addition to your commission payout, you can also earn free products in your first two months when you qualify for the Great Start Rewards program!
Here's how to qualify in your first and second full month:
Bronze Star: sell $500 & earn $50 in product credit
Silver Star: sell $1,000 & earn $150 in product credit
Gold Star: sell $1,500 & earn $250 in product credit
Platinum Star: sell $2,000 & earn $350 in product credit
Recruiting Bonuses
As other consultants join your team, you'll earn a $50 bonus for each new consultant you sponsor; plus, as your team grows, you have the potential to increase your commission to 40% in addition to other perks!
If you'd like to see the full Mary and Martha compensation plan, I'd be happy to share those details with you. Please request the compensation plan information here.
Is Mary and Martha a Pyramid Scheme?
No, Mary and Martha is not a pyramid scheme or a scam.
Pyramid schemes are illegal because the people in those schemes recruit new reps and are only paid for starting people rather than selling a product. In that model, only the people at the top make money. 
With Mary & Martha, we sell reputable meaningful products and are the Direct Selling Division of Hallmark and Dayspring. You only make money by selling products and helping others on your team be successful!
Mary & Martha pays leaders for training and support.
[elementor-template id="12382″]
How Often Are Mary and Martha Consultants Paid?
Consultants get paid weekly.
Paychecks are directly deposited to your account every Friday morning and bonuses are paid out on the 15th of each month.
Earn All-expense-Paid Trips
Consultants can also earn luxurious all-expense-paid incentive trips for one or two!
For example, consultants who qualified for the trip from July through December 2019 were rewarded with a trip in April 2020 to Pueblo Bonito Pacifica Resort and Spa in Cabo San Lucas.
Consultants receive these trips by accumulating points they earn over the qualifying period. Here are a few ways to accumulate points:
Every dollar you sell in your personal volume earns one point. So if you sell $1,200 worth of products every month for the qualifying 6-month period, you'd earn a total of 7,200 points. 
Attending a conference earns 1,000 points. 
Getting promoted to a new rank earns 1,000 points.
If a leader on your team is promoted to a new level, you'll also earn 1,000 points.
The minimum amount of points required to earn a free trip for one starts at 22,000 points.
Even if you don't earn that many points, your work can still count towards other rewards. For example, you can get a travel pouch for 4,000 points or a suitcase for 10,000 points.
Once a consultant hits that level, her gift shows up at her doorstep. That's a huge perk for those consultants who are still working hard but don't quite hit the trip qualifying mark.
How Much Does It Cost To Become a Mary & Martha Consultant?
You can get started as a Mary and Martha consultant for $99 (starter kit) or $179 (deluxe kit)! That fee gets you set up with your business kit, which includes: 
Over $300 of amazing products to try, demonstrate or gift to others
Business supplies
Mary & Martha home office training support
Plus, you'll get to work with me and get access to our team's customized training, mentorship, and support.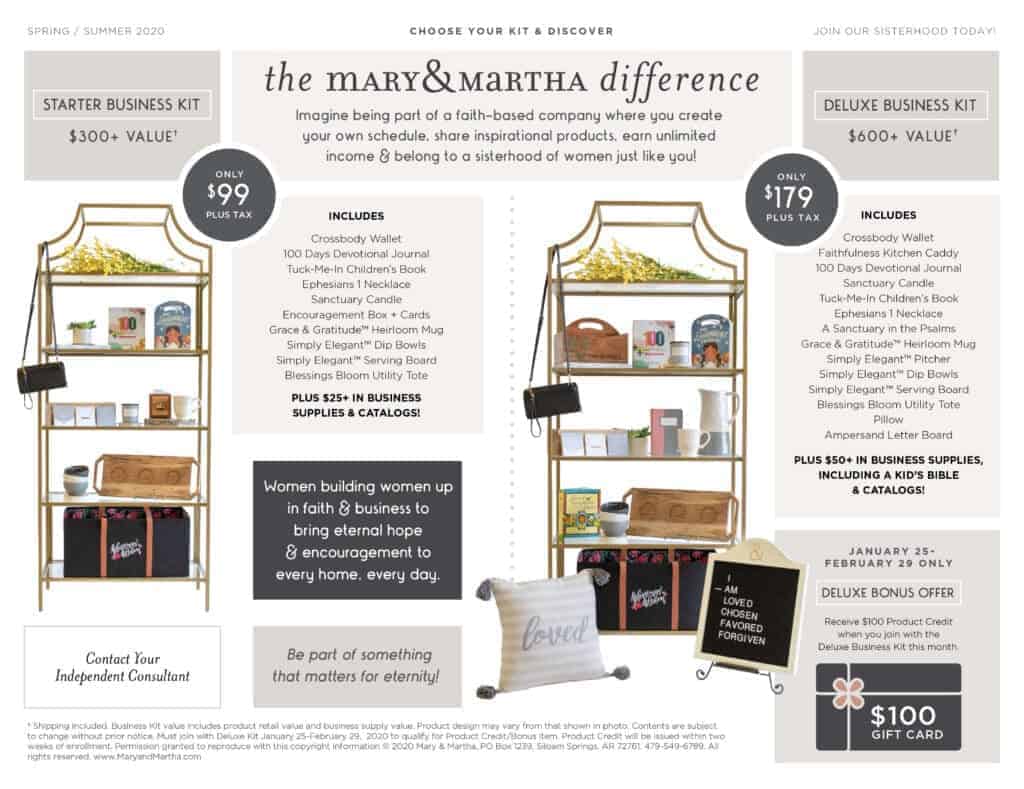 If you want a replicated website so that you can send people directly to your store to order online, there's an ongoing $10.00 per month website fee.
[elementor-template id="12382″]
Is There a Sales Quota Required in Order To Remain an "Active Consultant"?
As a consultant, you do not have a monthly quota. Submitting just 1 order of $1 or more every three months keeps your consultant status active.
The fact that there aren't monthly order requirements and that we don't have to carry inventory makes Mary and Martha a very good opportunity!
Can I Become a Mary and Martha Consultant for the Discount?
Absolutely! You can become a Mary and Martha consultant and consider your 25-30% commissions as your discount!
If you like the products that come in the Business Starter Kit and plan on ordering more than $1 worth of Mary & Martha products every three months, it would be wise to join as a Mary and Martha consultant.
Do I Have To Host Home Parties?
No, you do not have to host any local Mary and Martha gatherings if you don't want to.
While Mary and Martha's primary business model is designed for women to host gatherings in their homes, it isn't the only way to market Mary and Martha products.
If you're a social butterfly who loves to entertain and interact with guests in person, there are tools and training available to show you how to have a successful home party, but if that isn't your thing, no worries!
You can promote Mary and Martha online through social media, your blog and/or an email list! (That's my preferred method!)
Do I Have To Sell to My Friends & Family?
No, you don't have to sell to your friends and family if you don't want to.
Thanks to the power of the internet, you can market your Mary and Martha products through various channels without ever asking your friends or family for a single sale.
That said, I also think that if you truly believe in the products, you'll naturally share them with the people you love the same way you'd recommend the latest movie you saw in theaters.
If you are concerned about being viewed as "salesy" or feel uncomfortable having sales conversations, first of all, I get it. It can be intimidating asking people to buy something from you, especially when you're emotionally tied to the outcome.
I want you to know that I will never ask you to prospect a friend you haven't talked to in 10 years via Facebook messenger or do any other spammy marketing techniques. On my team, we only share and practice the best marketing strategies.
[elementor-template id="12382″]
How Much Time Would I Need To Commit To Growing My Mary & Martha Home-based Business?
That is 100% up to you; you can work as much or as little as you desire.
The amount of time you spend promoting products and recruiting new consultants will likely depend on a number of factors including your current work, family and income situation as well as your goals. It will also depend on the promotion method you feel most comfortable with.
To get a better time estimate, it's best to schedule a one-on-one call so that I can speak into your individual situation. To set up a call, please fill out this form.
What if I Become a Consultant and I Don't Like It?
Unlike other network marketing companies, there's not a lot to lose by joining Mary and Martha. If you join and later decide it's not for you, you'll still have over $400 worth of products to gift or enjoy for yourself – and the best part is that it only costs you $125!
If you are concerned that you might not like being a Mary & Martha consultant, my best advice is to do your research BEFORE joining so that you have clear and realistic expectations about what's involved.
Have you ever heard of the saying:
"The dream is free but the hustle is sold separately?"
One of the top reasons people join a network marketing company is because the business model promises flexible hours and unlimited pay. Oftentimes, people wind up joining because they buy into the dream, not realizing all of the work that's involved.
So before you sign up as a Mary and Martha consultant, have your questions answered by a leader in the company. Get the full picture. The last thing I want is for you to waste your time or your money!
What are the guidelines and restrictions about promoting Mary & Martha through an independent blog or website?
At the time of writing this post, here's what the independent consultant agreement says in regards to the promotion of Mary and Martha products online:
Page 1, Section 4: "I understand that the success of the Company and its independent Consultants depends on direct selling to consumers. For this reason, I will not sell the Company's products to or through a retail store, yard sales, or other fixed commercial establishments, nor will I sell Mary & Martha Products via the Internet except through the Company's approved website."
Page 2, Section 15: "I will protect the high reputation that Mary & Martha and the Company enjoy in the marketplace and operate in a lawful and ethical manner. I will not do anything as a Consultant that would tarnish the brand names or business of Mary & Martha, the Company or its affiliated companies."
With those guidelines in mind, you can promote Mary and Martha on an independent blog, however, you must direct all traffic to purchase a Mary and Martha product through your approved Mary and Martha website.
I'm Already a Blogger Who Promotes Christian Products Through Affiliate Marketing. Is It Worth My Time and Effort To Become a Consultant?
Yes! If you are a Christian blogger searching for legitimate affiliate programs that your audience will love, Mary and Martha is a solid affiliate partner. Here's why I believe that…
You'll get 25 to 30% on all retail sales even if you never recruit a single consultant to your team.
You do not have to manage inventory.
You do not have to maintain a high threshold of sales. To remain active, you just need to generate one sale worth $1 or more every 90 days.
The company provides beautiful photos of the products so it is easy to promote on your blog, Pinterest, Instagram, and Facebook.
If you decide you do want to become a Mary and Martha consultant as a blogger, it's important to join a team that understands the world of online marketing, including blogging, search engine optimization, Pinterest marketing, social media marketing and more. (Hint… that's my team)
I actually found Mary and Martha through Dayspring's about page. As a Christian blogger, I was already promoting DaySpring's products through Shareasale and was getting a 13% commission. When I learned that I could get a higher commission, basically selling the same thing that I was already promoting, I signed up that same day!
[elementor-template id="12382″]
What Marketing Training and Support Is Available?
When you become a consultant, you'll be able to access the company-wide training material on your website dashboard.
We also have a few Facebook support groups so that you can get live training from the corporate office and national leaders. In these groups, you can also collaborate with other reps for promotion ideas and strategies. 
Then, of course, if you sign up on my team I'll mentor and support you as well.
How To Become a Mary & Martha Consultant
If you're ready to get started, signing up is easy! Simply click here and follow these 8 steps:
On the sign-up page, select the ENROLL button.
A pop-up window will say, "You are about to enroll under ID#19566, Katy Boykin. Press 'OK' to confirm or 'Cancel' to be directed to the Consultant Locator." When you see that, press OK.
Next, review the independent consultant agreement, select the checkbox saying that you have read and agree to the Mary & Martha Independent Consultant Agreement and then hit the "I AGREE" button.
Select your enrollment kit and hit the "ADD/CONTINUE" button. Remember, you can choose the Starter or Deluxe kit. 
Fill out your personal information. Be sure to check YES to get a personal website and then click "CONTINUE". 

Remember, saying yes to a personal website will cost $10/mo, but it gives others the ability to shop through your link. If you're a blogger or plan on promoting via social media, this is required.

Next, set up your direct deposit information
Enter your credit card to pay for your business kit and monthly website subscription.
Voila! You're a brand new consultant. Once I receive a confirmation email, I'll reach out and walk you through the next steps. 
If you are seriously interested in becoming a Mary & Martha consultant but have a few questions before signing up, you can also fill out this form to set up a call with me.
[elementor-template id="12382″]