A Mom's truly inspiring and Amazing Weight-Loss Transformation
Tiffany Katchmar 26 From Antioch, California
An Amazing Weight-Loss Transformation- Tiffany's Personal Story
I never realized how big I had gotten. I believe once we get past a certain point we don't want to admit to ourselves how unhealthy we are. I had many excuses to blame it on too! I was working full-time, had an emotionally abusive husband, didn't know how to cook meals let alone healthy meals, and I had a toddler. Doesn't that make you sleepy and depressed just reading it?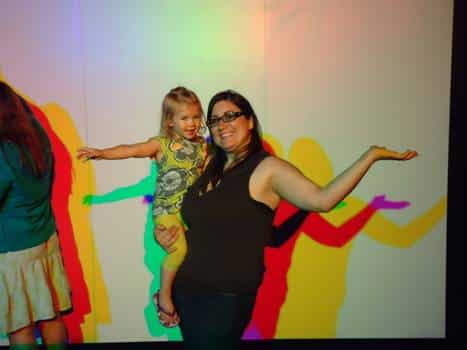 This was me at 195 lbs
This is me at 175lbs
A few years back I finally got the courage to file for a divorce; May 2011. After we separated I was beyond an emotional wreck. My whole life had changed as I knew it. Even at that point I was starting to eat healthier since he wasn't in the house. I had lost about 10 pounds by July putting me at 195 standing 5'3". I had a co-worker who had been there for me through all of the divorce. We started talking about how I wanted to get out but didn't have the time let alone the confidence. You want me to go see if guys like me, when just a few months ago my husband would tell me how fat and ugly I am?? She was doing the program called Insanity by Beachbody. She told me I should give it a try; I might like it and it could build my confidence. I went onto  www.beachbody.com and looked at Insanity. I wasn't too sure about it and looked around their site to see what else they had. After looking at a few programs I found Power 90 by Tony Horton. It was more of a beginner program. I can do this, I thought to myself. So I bought it and couldn't wait for it to arrive.
August 18, 2011 I was drenched in sweat! Wow did that kick my butt for a starter program. I have 90 days left of this?? Plus, with my 2 ½ year old running around while I was trying to do my 30 minute workout wasn't all that fun at that time. However, I was determined. I would put on Mickey Mouse Club House on my laptop and she was glued. Besides completing the workouts, I read the program starter book and stuck with their food plans. Day 30 rolled around and I did my measurements and progress photos.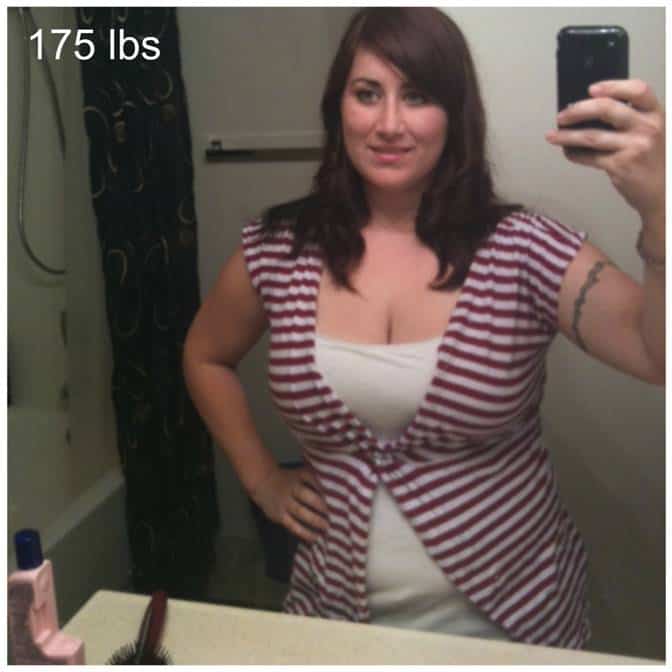 There was progress and I was happy. That kept me motivated as well as everyone else noticing and complimenting me. I started feeling confident all ready! The book said you may notice progress by day 30, but day 60 you notice even more. Talk about motivating since I had already lost a decent bit. Between day 30 and 60 I took a 3 days off from working out while I was in Disneyland and enjoyed unhealthy foods such as pizza. I still made great progress by day 60 and didn't use my days off as an excuse to give up. I even ordered another Beachbody program called ChaLean before my day 90, so that I would have something else to do when I finished. I completed those 30 days to finish the 90 day program. I had lost 35lbs and about 6 inches off my waist in total. After completing Power 90 I took two weeks off due to moving and also wanted a break. After the move I decided to start ChaLean which definitely had increased the intensity of my workouts. I also started running to race in a 5K that December. Between doing those two things, even with the holidays around, I had gotten to 150lbs by December; 55lbs lost now in total.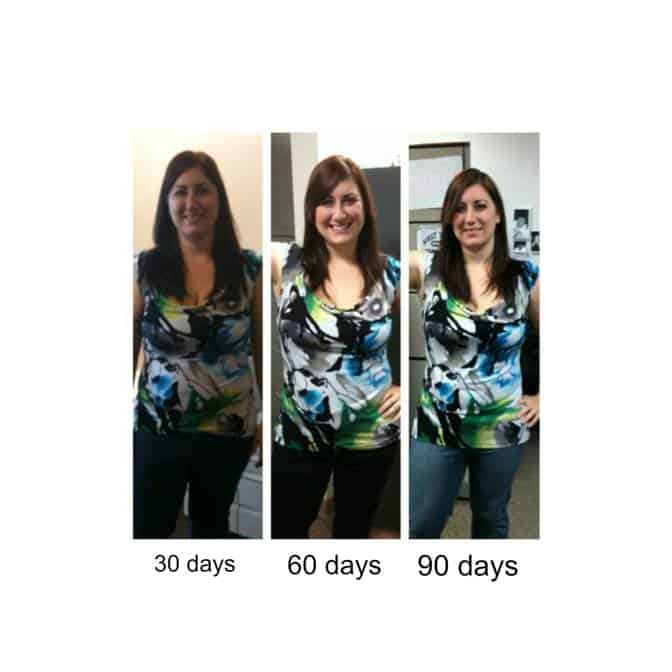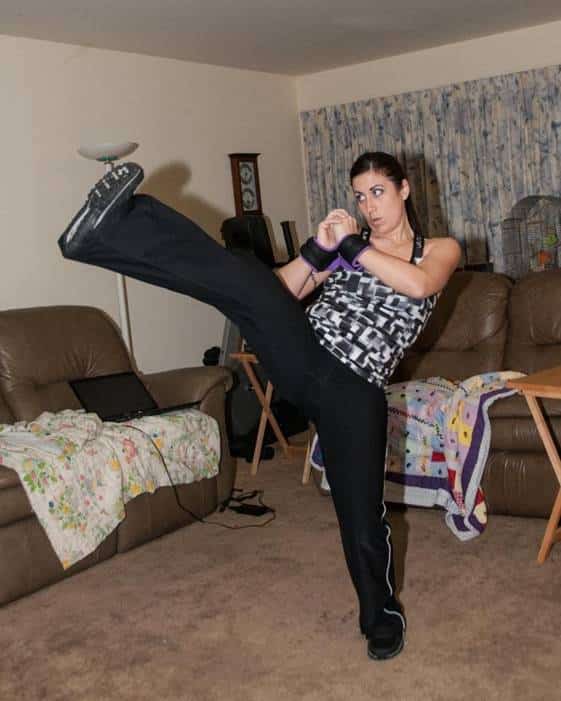 The new year came around and I kept on with ChaLean and this is where I started to get comfortable. It can be hard to stay on track once you get to a comfortable point. It doesn't have to be a goal that's reached, just maybe one that's close in site. I had made small goals in the beginning. One was to get to 150lbs. Once I got there I had a new goal of 140lbs; always aiming and pushing for more. That year I varied from 145lbs to 136lbs and also started TurboFire by beachbody. I was on and off but at least I didn't fall all the way off and ran a 10K in December. By the end of December I got to 147lbs. I ordered Les Mills Combat, another beachbody program, to start off the new year. This one was 60 days instead of 90 days like the rest. I started in the beginning of January and completed it in March. I got my waist to 30″ (my smallest ever) and 129lbs! I got myself a side tattoo that I had been wanting for years; I deserved it. Then I decided to push for a bikini competition, which is related to bodybuilding. I started weight training in a gym that April and continued Les Mills along with the Insanity program. I competed that September in the Figure division, not bikini, because I wanted more muscle mass, and it was an amazing experience. I love my fitness life and don't want to ever go back to my non fitness, non healthy ways. Even with the hard times of managing my daughter, workouts and meal prepping, I wouldn't have it any other way. I still have desserts here and there as long as I know it won't cause me to binge (peanut butter has been out in exile). It's all about keeping it in moderation and what fitness/healthy means to you.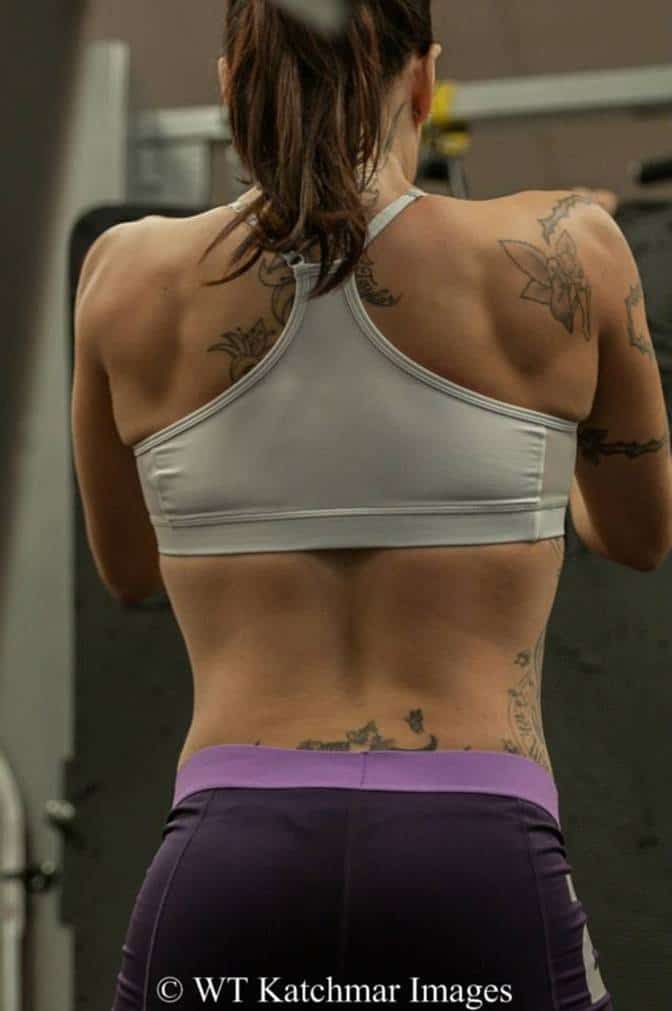 I was determined to have some pictures taken once I met my goal weight.
My trainer and I at my first competition.
Me and my daughter who is now 5
Now that you know the timeline and the general of my fitness journey I would like to share some more information. Nutrition is a major factory in a weight loss journey. That is one thing that I wish I would have researched more before starting to workout. I was eating 900 calories a day and working out 6 days a week; completely unhealthy! 1200 is a bare minimum. Now I eat 2300 calories a day (I had to slowly work my way up to that) and monitor what percentage is carbs (50%), protein (24%), and fat (27%). If it fits your macros (http://www.iifym.com/) is a great tool to find out what percentages your carbs, protein, and fats should be at. Don't be scared of carbs or when you eat them. If it's within your macro nutrients limit it doesn't matter when you eat it. My percentages are set at that because I am trying to gain muscle. If I was trying to lose fat they would be completely different! Also, my carbs contain lots of veggies, so complex carbs. My fats are things like avocado and cheese. Cardio is great for you, but you really don't need to do 2 hours a day or anything like that. 30 minutes of a High Interval Intensity Training (HIIT) 3-4 times a week is plenty! If you do the beachbody programs or any other program stick to what they want. They include the HIIT workouts and it's not every day. Lifting weights will NOT make you bulky!! Believe me, I WISH it did. It would make my life a lot easy to compete right now since I want to be in the physique/bodybuilding division, haha. Muscle makes you burn fat!!! Every pound of muscle you gain burn 50 more calories a day! Think of the food you can eat 😉
I really hope this helped and if you have any questions you can message me at get_fit_tiff@yahoo.com and I will try to help you or guide you in the direction of where to look for your answer. You can also follow me on Instagram @ get_fit_tiff