Motherlove Diaper Cream and Thrush
When it comes to taking care of my baby's skin, I want only the safest and best products—especially when it comes to diaper rashes. I'm always hesitant to use chemical-based creams and lotions because that can sometimes irritate my son's skin more. My son unfortunately inherited my gene for sensitive skin and I have to be very careful about what I put on him.
The Motherlove Herbal Company recently sent me a couple of products to review; one of them being the Diaper Rash and Thrush Salve. The diaper rash and thrush salve is an all-natural salve for diaper rash, including persistent, inflamed diaper rash possibly caused by yeast. It is diaper-safe and compatible with all diapers including cloth. Motherlove's diaper rash and thrush has a zero rating (zero toxins) on EWG's skin-deep database and is made with 96-percent certified organic ingredients.
I was immediately intrigued because it's made with organic ingredients, so the next diaper rash I noticed on my son, I broke out this salve and gave it a try. I didn't expect to see much improvement for at least a day (like all the other creams I've used), but I literally saw improvement just a couple of hours later during his next diaper change, and it was completely gone by the next day! I was very impressed and I found this cream to not only be effective, but it was easy to apply and wipe off. I hate how some diaper rash creams are so thick that they are hard to get on and off—Motherlove's diaper rash salve is very smooth and easy to apply, which is perfect when you're working with a wiggly toddler!
The bottle is small, but don't be deceived by that; a little goes a long way, so I imagine it will last us a long time. Although Motherlove makes no claims in treating eczema, I decided to try it on my son's eczema-irritated skin (mostly because I ran out of our prescription and hadn't had a chance to run to the drug store yet). I couldn't believe it; it worked just as well as a prescription I pay for, without all the harsh chemicals! I will never ask for a prescription again!
Motherlove also claims this product is effective on thrush-infected nursing nipples. I have not had to opportunity to review it regarding thrush yet, but if I do end up with thrush, it will be the first thing I try, considering it's made of certified organic ingredients and has been so effective in treating our other skin conditions.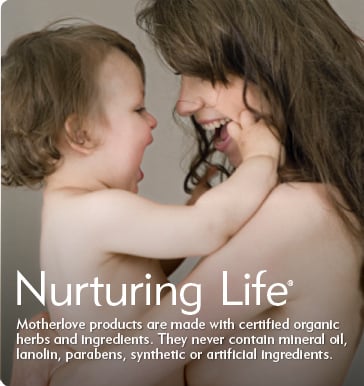 Motherlove also has many other wonderful products from belly oils for expecting moms, nipple creams for breastfeeding moms, to products to help moms with postpartum discomfort. Motherlove has led the holistic body care industry since the company began in 1990. They make only the finest, purest products, using certified organic ingredients to nurture both mom and baby. You can purchase their products at MotherLove.com. Also be sure to follow them on Facebook  and Twitter for recent product news and updates.
*I received this product for review, but these words are strictly my own.