Mouthwatering Jalapeno Poppers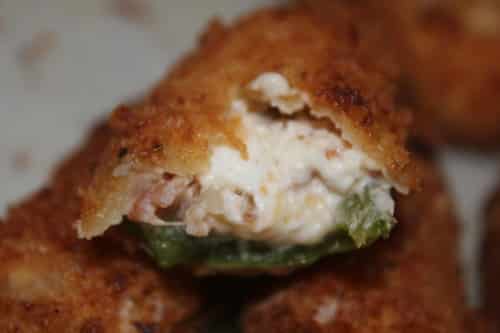 While at Target the other day my husband and I started talking about jalapeno poppers. They are my husband's favorite thing to eat. If we are out to eat at a restaurant and he sees them on the menu, it is almost a given that he will order some as an appetizer. Going out to eat can be pretty expensive and I wanted to give him his favorite appetizer without having to leave our house. He loves the bacon wrapped poppers but thought it would be more fun and less greasy if we incorporated them into the popper instead.
We started making at list while we were at Target of items we could get. One of them was Kraft's shredded cheddar cheese. Best cheddar cheese you can buy.
These Jalapeno Poppers are incredible!
In a medium bowl, mix the cream cheese, Kraft cheddar cheese, and bacon bits.
Slice each jalapeno in half, lengthwise. Then, using a small spoon, scrape and remove all the seeds
Spoon the cream cheese mixture into the jalapeno pepper halves.
Place two bowls next to each other.  In the first bowl,  put flour. In the second bowl, milk. Dip the stuffed jalapenos first into the milk then into the flour, making sure they are well coated with each. Allow the coated jalapenos to dry for about 10 minutes. Then dip the jalapenos in milk again and coat them with the breadcrumbs. Allow them to dry, then repeat the step one more time.
In a medium skillet, heat the oil and deep fry the coated jalapenos 2 to 3 minutes each, until golden brown. Remove and let drain on a paper towel.
This is a sponsored conversation written by me on behalf of Kraft. The opinions and text are all mine.