Ninja Coffee Bar vs Keurig – Which Is the Best Coffee Maker for Work-at-Home Moms?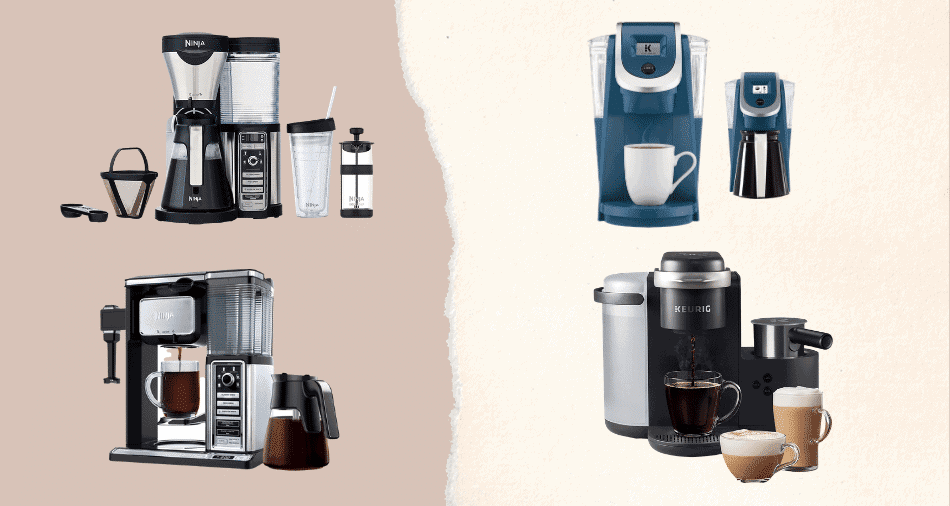 ---
If you're a work at home mom (WAHM) who adores coffee, you know it's time to invest in a good coffee maker, but which one is better: Ninja Coffee Bar vs Keurig?
Without a doubt, both the Ninja and Keurig brands are at the top of their class in at-home brewing machines. Both companies offer machines that can brew one single cup all the way up to machines that emulate the full barista experience at home, so how do you know which one is the right one for you?
Don't worry. I got you.
In this post, I'm going to compare four models (two Ninjas and two Keurigs) to help you decide. Before we get into three major differentiating factors, let's see how these two makers compare side-by-side in terms of specifications and features.
---
Comparison Chart: Ninja Coffee Bar vs Keurig Coffee Maker
[elementor-template id="8630″]
While some specs and features may seem obvious in the side-by-side view, I also want you to consider three big differentiating factors:
Brew Size Capabilities
Brew Types & Styles
Coffee Compatibility (Pod vs. Pod-Free)
Let's take a look at each:
Brew Size Capabilities
There are a few questions I want you to think about:
How often do you drink brewed coffee? Do you drink it every day, a few times a week or a few times a month?
When you drink it, how much do you consume? Do you drink a single cup of coffee, prefer travel mug, want half a pot, or maybe a full carafe? Does it vary day-to-day?
Who else in your family drinks coffee in the morning or on the weekends? Does your spouse grab a cup on the way out the door to work in the morning? Do you enjoy an extra cup leisurely on the weekend?
Your answers matter here.
Of the four machines, you'll notice that all of the models make single cup and travel mug sizes, but only three of the four can brew a full pot. If you want the ability to brew more than just one cup at a time, cross the K-Café Maker off your list as it just won't meet your needs.
If you ever have friends over to your house or want an extra dose of caffeine on a random Tuesday, trust me the carafe capability is an awesome feature to have!
Bottom line: do you want the ability to brew a carafe?
For the next factor, I want you to think about how you like your coffee.
Brew Types & Styles
Do you like a strong cup of coffee? Do you take it black or would you like the ability to make a homemade latte, iced coffee or specialty beverage?
Most Ninja Coffee Bar machines include four brewing options: classic, rich, iced, and specialty. A few others include a bonus brewing option called Cafe Forte. Here's what that means for your cup of coffee:
You can control the flavor profile for a regular cup of joe or your favorite coffeehouse-style drinks!
Classic: Balanced flavor
Rich: More intense flavor
Iced: Designed to brew over ice so your coffee is never watered down
Specialty: Super-rich coffee concentrate so you can create your coffeehouse-style drinks
Cafe Forte: Lively, complex flavors that allow your coffee to be the best version of itself.
Keurig, on the other hand, doesn't have quite as many customization options. The K250 model offers three different pod-sizes and gives you control over a variety of different brew sizes (4, 8, 10, 12 oz). It also doesn't offer a frother or tools for specialty beverages. But it's sister model, the K-Café really shines if you want coffeehouse-style drinks at home.
The K-Café model also includes a shot and strong brew option along with a built-in frother if you want specialty drinks at home.
Bottom line: how much flavor customization matters to you?
But, before you decide there's still one last really big factor to consider:
Coffee Compatibility (Pod vs. Pod-free)
No matter what model you choose, all Keurig brands use pods and Ninja Coffee Bar is pod-free
That means with any Keurig, you'll have to purchase a brand of coffee that's specifically designed for their machines or buy a My K-Cup Universal Reusable Coffee Filter in order to use your own coffee brands.
Ninja's coffee machines, on the other hand, come with a standard conical filter basket so that you can use any coffee brand you'd like and portion out the perfect amount of ground coffee beans with their handy Double-Sided Scoop.
Over the years, pod-based coffee machines have become wildly popular because they help you save time, are easy to use and require less maintenance, but they also have their downsides.
In fact, K-cups have stirred up quite the controversy as reports have come out stating coffee pods are bad for the environment. They're difficult to recycle & create a lot of waste. Another negative point is the expense. Pods cost nearly 5x the amount of regularly packaged ground coffee grounds alone.
Bottom line: decide what's most important…
If ease of use, speed, and convenience are at the top of your list, a Keurig might suit you best.
If you're willing to give up a few extra minutes each morning in order to save money long-term and reduce your carbon footprint, one of the Ninja models would be your best bet.
Final Thoughts & My Personal Recommendation
Even though both home-coffee makers are direct competitors, they target a slightly different demographic of coffee-consumer so I can't say one is necessarily better than the other.
I have owned both a Keurig and a Ninja Coffee Bar and, personally, I love the flexibility and overall value that Ninja's systems provide. But my preference may not fit yours, so it's best to consider your own personal lifestyle before making the right decision for you.
Ready to Purchase Your Next At-home Coffee Maker?
Click on one of the models below to shop on Amazon!