Oreo and Peanut Butter Stuffed Brownies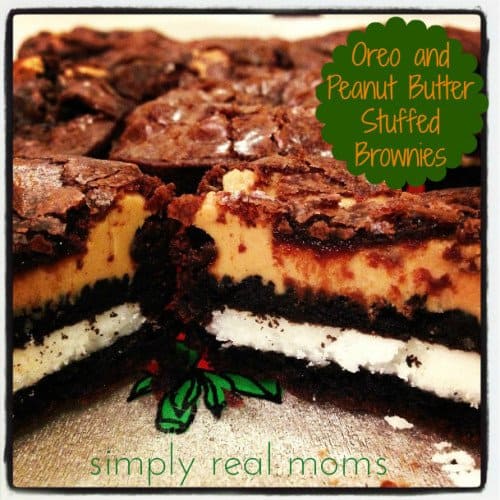 This past weekend I was enjoying a fun retreat with some incredible women. After dinner we snacked on some desserts. One of the most popular desserts that night were these Oreo and Peanut Butter Stuffed Brownies. I have seen stuffed brownies before but never with Oreos and peanut butter in them. I thought it was incredibly genius, so of course I had to try one. These have to be one of the most delicious and satisfying desserts I've ever had. The Oreo and peanut butter go so well together and once it is mixed with the brownie flavor it is to die for! Not only are these great to eat but they are easy to make and don't make a huge mess. That is a triple bonus for me. But beware, these are incredibly addicting!

Oreo and Peanut Butter Stuffed Brownies
Easy and addicting Oreo and Peanut Butter Stuffed Brownies
Ingredients
1 box brownie mix, 8x8 inch size
12 Double Stuff Oreo Cookies
½ cup creamy peanut butter
Instructions
Preheat oven to 350 degrees
Line a 12 muffin cupcake pan with paper liners.
Prepare brownie mix according to package directions.
Spoon a tablespoon of brownie mix in each cupcake cup.
Take your Oreo cookies and spread 1 teaspoon of peanut butter over the Oreo cookies.
Place Oreo into the lined muffin cups.
Spoon 2 tablespoons of brownie batter over each of the Oreos and let it run down the sides of the cookies.
Bake cookies and brownies for 15 to 18 minutes, until brownies are cooked through.
Let cool completely then serve.
Related Dessert Recipes: