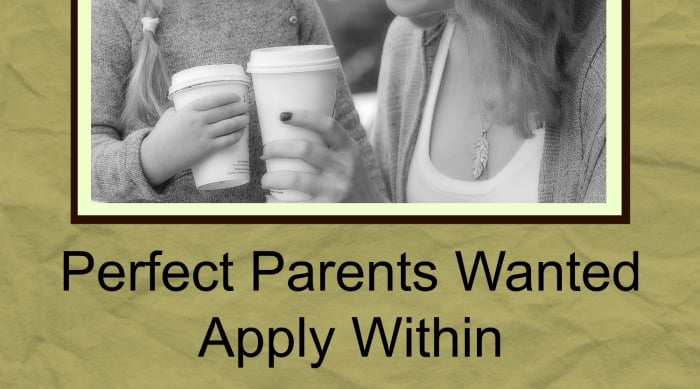 In reading through Facebook the past few months, and really the past few years, something has become quite clear to me. Two somethings to be exact. #1. There are a lot of perfect parents out there. and #2. I'm definitely not one of them. So I'm writing Perfect Parents Wanted to advertise for a few of them.
Why am I looking for perfect parents?
Well, it's easy. There are parents out there who knew exactly what they would've done to keep that little boy out of the gorilla pit. They also know what should've been done to keep that baby away from the alligator. Their children don't get sick because they know how to keep them well.
And on it goes.
Honestly, I'm appalled at my poor parenting skills. Just last week my toddler let the dog out, and while I was attempting to retrieve the dog, the toddler went across the street to visit the neighbors.
The morning ended with everyone alive albeit a bit shook up, however in the between time, the dog was hit by a car and my neighbors returned my small son before I even realized he was missing.
It was not a fun morning for me, and stuff like that happens a lot.
This is why I'm this writing perfect parents wanted ad. I figure that with all hundreds of thousands of perfect parents that are out there on facebook, surely a couple dozen at least will read this and and be willing to help me out here. If I can get one or two perfect parents to give me their expert advice before the tragedy happens, then we should be good right?
So here are the requirements to be a perfect parent. I'm certain none of these are at all unreasonable because I've seen them all on Facebook giving out advice and telling everyone what they did, or would've done in (enter whatever case we are talking about).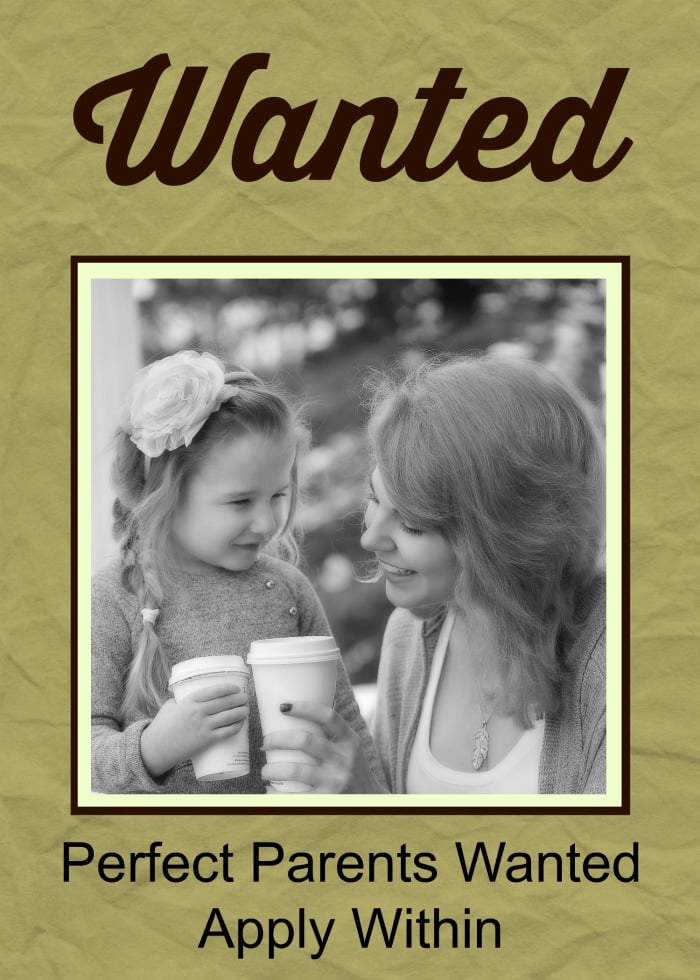 Perfect Parents Wanted
Qualification #1.
First and foremost, you MUST be a parent. I don't care if you gave birth or adopted, but you must be a parent. I'm sorry, but younger siblings, babysitting, nieces and nephews… they don't count. If you think  you know how to handle kids, but don't have any, I will laugh in your face!
Qualification #2.
Your kids must have ALL safely made it to adulthood. Even a miscarriage will disqualify you because I know a perfect parent would have somehow figured out how to prevent it.
Qualification #3.
No hospital visits (other than birth) ever. If your child got sick or hurt, clearly you screwed up somewhere. Poor diet, not enough exercise, not enough supervision, you didn't vaccinate, you did vaccinate… Whatever happened, you screwed up. Perfect parents don't let their kids get hurt OR sick.
Qualification #4.
You must never, ever, not even for a single second lost track of your child. Ever.
So that it. Nothing extreme at all, you must be a perfect parent with perfect kids, and from the hundreds of posts and comments I read daily on Facebook, I'm certain that I should get at least dozen or so responses to my perfect parents wanted ad.
And as for the rest of you parents… The ones like me who sometimes despair of their child ever reaching adulthood safely, know that you're not alone. There's at least one imperfect parent here, and if I get too many responses to my perfect parents wanted ad, I'll be sure to send them over to you!
In the meantime. I'm going to keep trusting the Lord to look out for my babies and stand in the gap when I simply fail. After all, God is a perfect father so I know I can trust him to lead me. Perhaps it would seem that the only perfect parent I need is already here!