You know when you see a product that looks amazing and your first thought is that it's just too good to be true? That was my first impression when I first saw the Pockit Stroller. There's no way something could fold that small and still function well, right?
WRONG.
Let me tell you. The new Pockit Stroller from GB is freaking cool. It folds down from a high end umbrella stroller into a cube that can fit into a large tote bag. Yep, you heard that right. A tote bag!

This is life changing for the traveling parent. For the city-living parent. For the parent with no extra space. For the parent with a small car. For the parent who wants minimal gear. Life. Changing.
The Pockit stroller has a secure 5 point harness to keep your little one safe and contained and is sturdy enough to hold children up to 55 pounds! For reference, my 6 year old is 56 pounds. Not that everyone needs a stroller that long, but it goes to show how strong it is for a lightweight stroller!
When I say lightweight, I mean it. It weighs a super light 9 1/2 pounds and folds down to a record breaking size of 11.8″ x 7″ x 13.8″ when folded in the ultra compact fold!
You can also fold in in the easier fold option (still compact, only difference is you don't fold the back wheels in first so it's a little taller).
Let's dwell on this folded stroller for a minute. The ultra compact fold not only fits into a large tote bag, it also fits into the overhead compartment or under the seat on an airplane. This is huge for me. I always push my stroller to the gate and then need to gate check, but my strollers have all ended up damaged or scuffed even with the minimal time it's in the baggage handler's possession. With the Pockit, I can simply fold it up and carry it to my seat!
Storage space at a premium in your home? I love that I can slip the Pockit under a bed or in a closet when not in use. So many times, a stroller will fill the trunk of your car leaving no space for suitcases or groceries and shopping bags. The Pockit takes up such little space but also fits on the car floor under my little guy's feet-leaving the entire trunk for everything else!
The Pockit does have a basket under the seat to store some necessities, but it is rather small. You can fit a mid sized purse or small diaper bag if you squeeze them in there, but I found it best to just keep a water bottle, some diapers and a blanket in there. If basket storage is a need for you, this stroller probably won't cut it.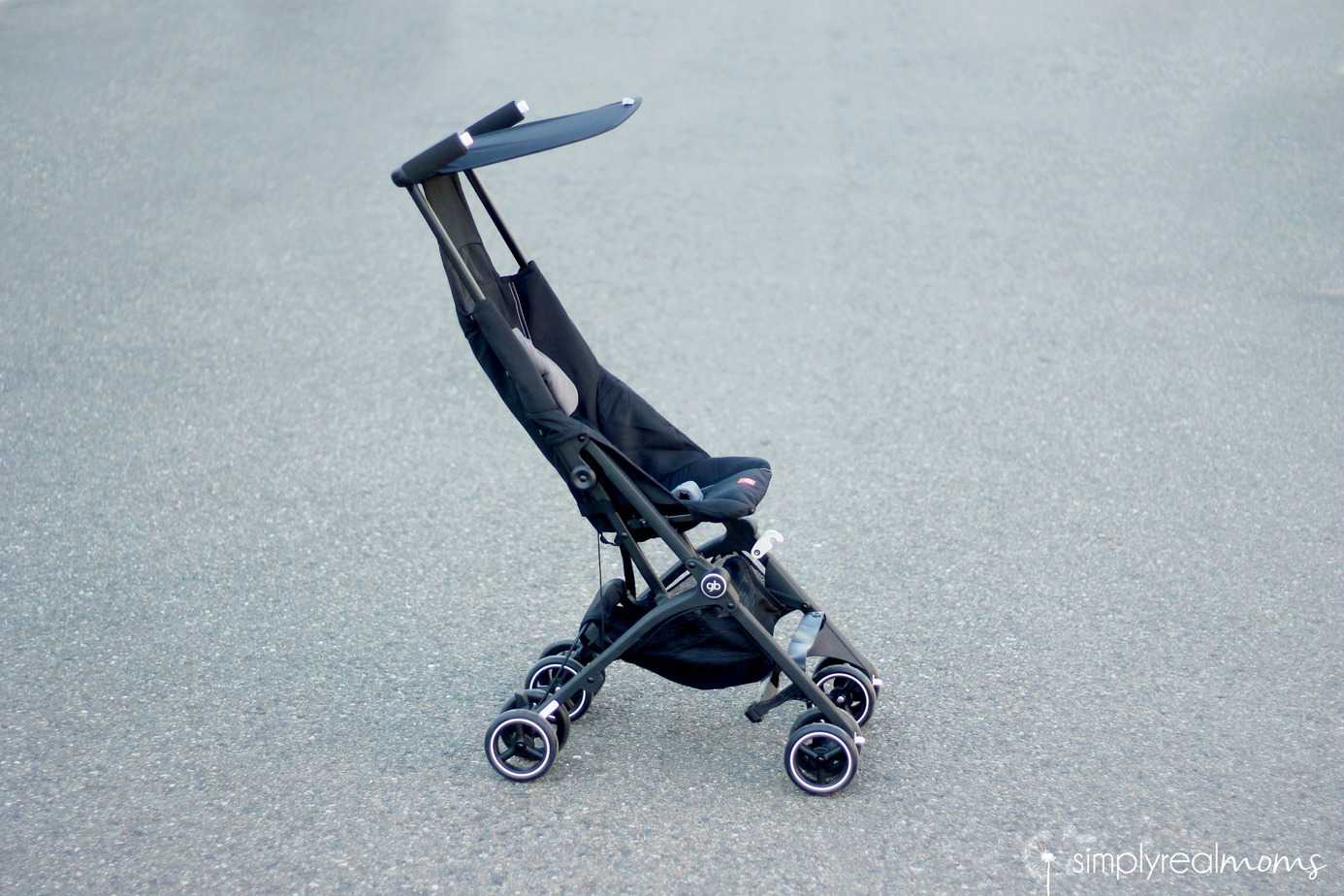 The sun shade is a great help when the sun is in your kiddos eyes and will protect their head as well. It can flip back behind the seat of the stroller when not needed, and to get a peek at what's going on.
The foot brake is basic and simple to use, and the front two wheels lock into place when you need to navigate uneven paths.
My biggest complaint is that locking the stroller into the folded position can be tough. Sometimes it's simple enough, but more often than not it takes some strength to push the sides of the stroller together to slide the lock into place. I did notice that it got a little easier the more I did it, but all in all the slight struggle isn't something that should deter you from buying this stroller.
So is it as amazing as it sounds? You bet. I can honestly say I highly recommend this if you're in the market for a compact stroller or if your family travels a lot. Remember that it's not for use with young infants (your baby should be able to keep themselves-especially their neck- stable while sitting in it) and can't be used as a travel system with a car seat, but it makes for a great choice for your 6 month or older little one!
You can purchase the GB Pockit Stroller at Buy Buy Baby or at Babies R Us
You can find GB:
ONLINE
FACEBOOK
I received product for review purposes but all opinions are my own.