Powerful Patterns! Back to School Routines for Everyday
Children of all ages thrive on routine and schedule. There is no better time than right now to establish healthy patterns of sleep, exercise and healthy nutrition! Read on to learn about establishing powerful patterns in your family's life to help your children grow up to be healthy and happy.
Study after study show the positive effects of having a routine with children. When children know what to expect, they behave better, their body knows what to expect and they are well rested and healthy. Sometimes it can be hard to know how to establish a routine. Here are some tips to get your started:
Keep your routine consistent:
Consistency is important in any routine. Establish set meal times and bed times to start with. Then, let the rest of your family's activities and needs fall into place around them. Be sure you're including time to spend outside and being active.

Think healthy
In my house, I have a snack drawer for the children. It has snacks they are allowed to have at any time. We also keep fruit, vegetables and yogurt in the house as snacks. Without the temptation of unhealthy snacks such as cookies, pop and ice cream, my children are learning to make healthy choices. Help your children get the vitamins they need by introducing L'il Critters gummy vitamins!
Keep it simple
By not over-planning your day, it is easier to stick to a routine–so don't plan out every minute! Children need down time as well as activities.
Plan ahead
It's helpful to know what's happening in your family life for the upcoming week. Make sure everyone knows what to expect throughout the week, especially if there is going to be a change in routine. By letting everyone know ahead of time, this will minimize any trouble with transitioning because of the change.
What do you do to help establish healthy routines in your family?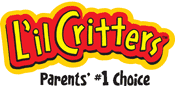 L'il Critters are the #1 child gummy vitamin. We are the better tasting gummy vitamin that is preferred by Kids and trusted by Moms. "We Make Nutrition Taste Good."
Disclosure: Compensation was provided by Church & Dwight via Glam Media. The opinions expressed herein are those of the author and are not indicative of the opinions or positions of Church & Dwight.