Pret a Paquet: Stylish Food Containers
Stylish new lunch storage containers from Pret a Paquet have made their way on to the shelves at Target. Whether it is for your use in the office or sending them off with your children, these will definitely be the envy of the lunch room!

Pret a Paquet insulated kits offer a new storage solution to style- up your lunch. They help working moms pack healthy, inexpensive meals while styling-up the whole food-to-go experience. Their trend setting storage concepts were designed to deliver 'style-up your lunch' solutions in portions recommended by a nutritionist. Each container snugly fits into trend setting insulated sleeves made from modern neoprene material. The zip closure sleeve keeps food fresh for hours, while fashioning a boutique style purse, carry wrap or soft pack. They're just great to slip inside your tote.
The Pret a Paquet containers are a parent's dream. Not only do they come in multiple shapes and sizes, but they also have a ton of sleeves to choose from! These containers are also freezer and microwave safe. Now that is something to get excited about.
I am a huge salad eater and couldn't wait to try their salad kit. So many times I have made a salad to go and by the time I am ready to eat it, the dressing has fallen all the way to the bottom and it has left my greens soggy— not very appetizing. I love that their salad kit includes the container to store the actual salad and then a separate smaller container to store the dressing in. The dressing container also conveniently fits inside the lid of the salad container.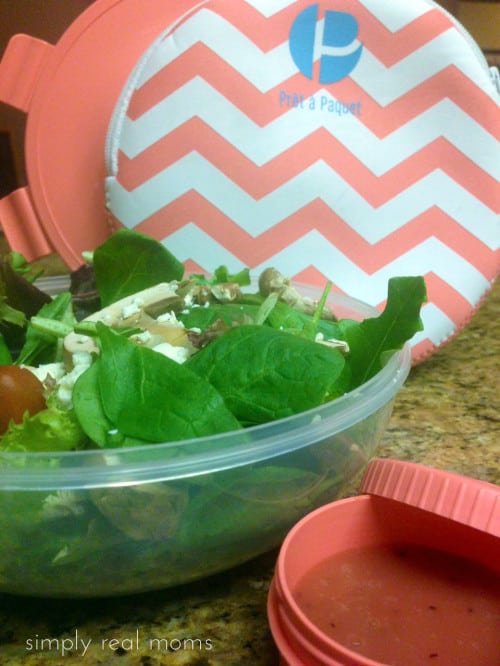 All their containers are so unique and unlike any other I have seen. And how stylish is that pink chevron?!
Pret a Paquet is the perfect container for both adults and children. They are currently available at Target stores across the US, and you will be able to purchase online soon. For more information please visit www.pretapaquet.com and stay connected on Facebook.
"Finally everyone can pack and carryhot and cold meals in style. Just keep them away from your co-workers who might be tempted to steal your latest fashion statement."
* I received containers to review, all opinions are my own.