Puerto Rican Rice: Arroz Con Gandules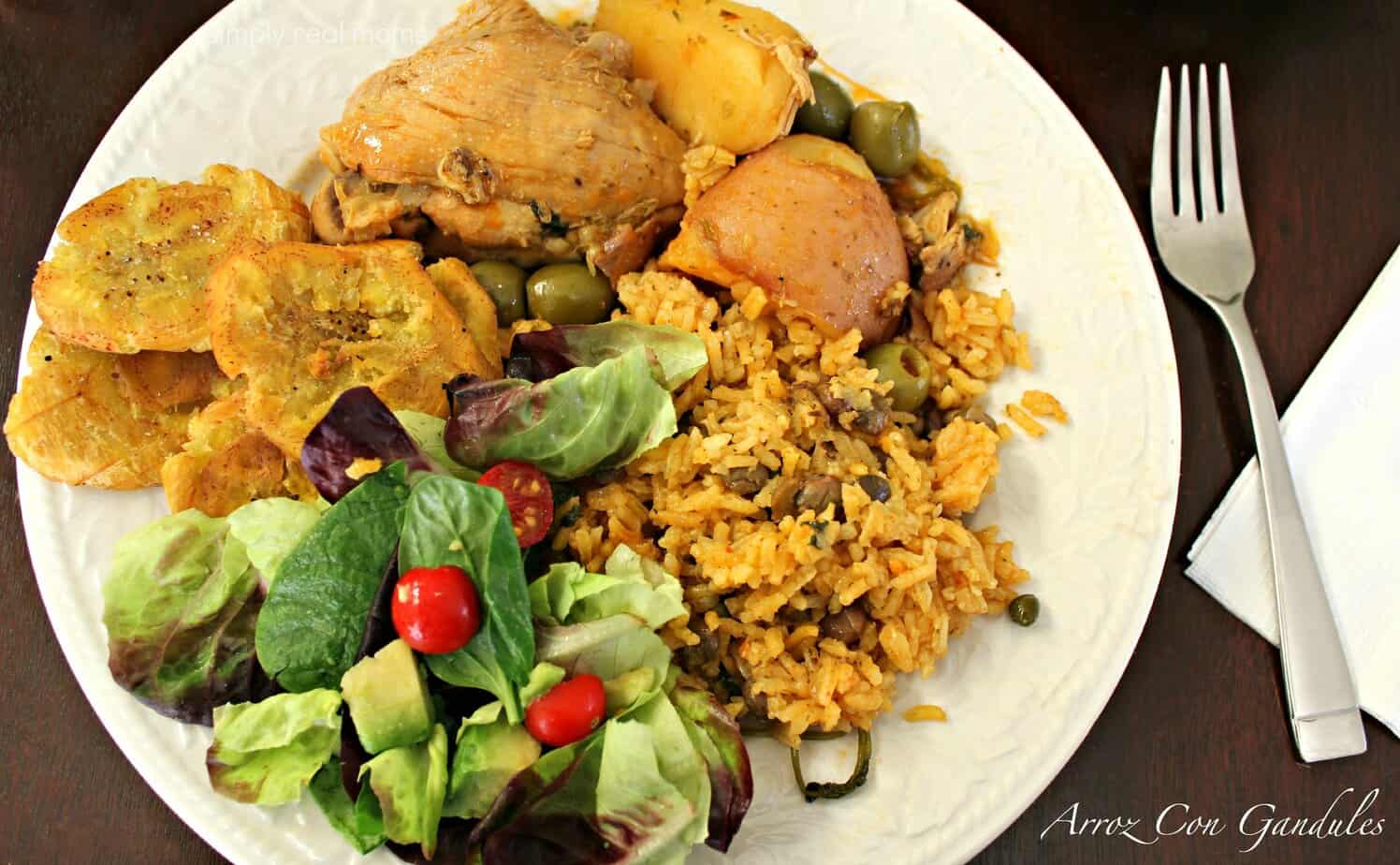 One of my absolute favorite Puerto Rican dishes is Arroz Con Gandules (Rice with Pigeon Peas). It's a dish I would eat at my grandparents house growing up and always during the holidays. When most of my friends had turkey, mashed potatoes, corn, etc during Thanksgiving; we had arroz con gandules, tostones (fried green bananas), pasteles (Puerto Rican version of a tamale made with green bananas), and more.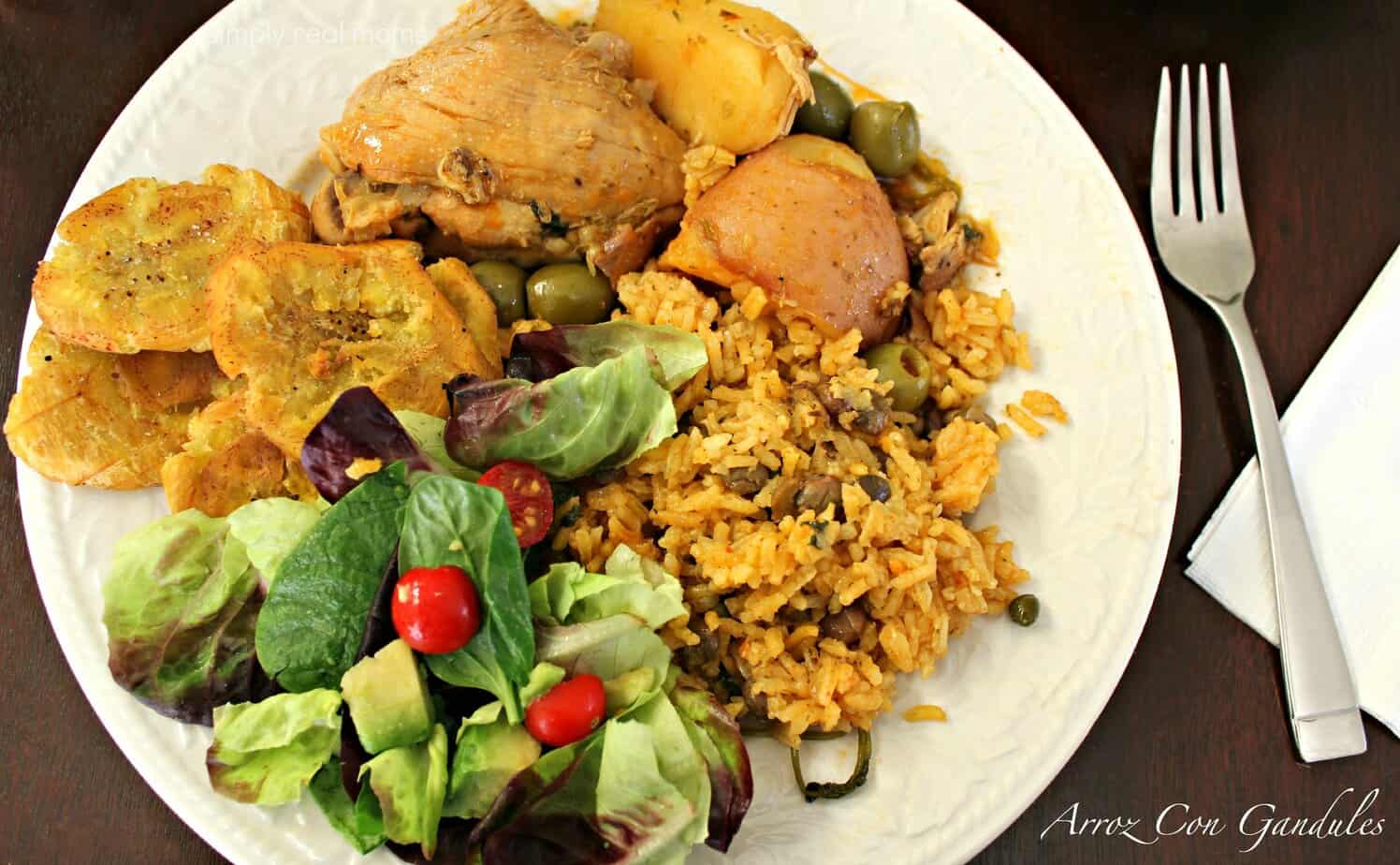 Arroz Con Gandules is not the simplest dish to make as it requires around 2 hours of time to prep and cook, but it is so worth it. It's a dish that can be served alone or with a variety of sides like Pollo Guisado (Chicken Stew), tostones, and a light salad. And a dish that should be made with love.
Two important ingredients in Arroz Con Gandules are Green Pigeon Peas and Sazón. The Gandules look bright green on the can, but don't be surprised when you open it and realize it has more of a brown color to them. These aren't your typical "peas," it is more like a bean. The Sazón is a yummy special blend of seasoning that includes annatto which is important in making Arroz Con Gandulez. Not only does Sazón add flavor to the food, it is also the reason your rice turns yellow.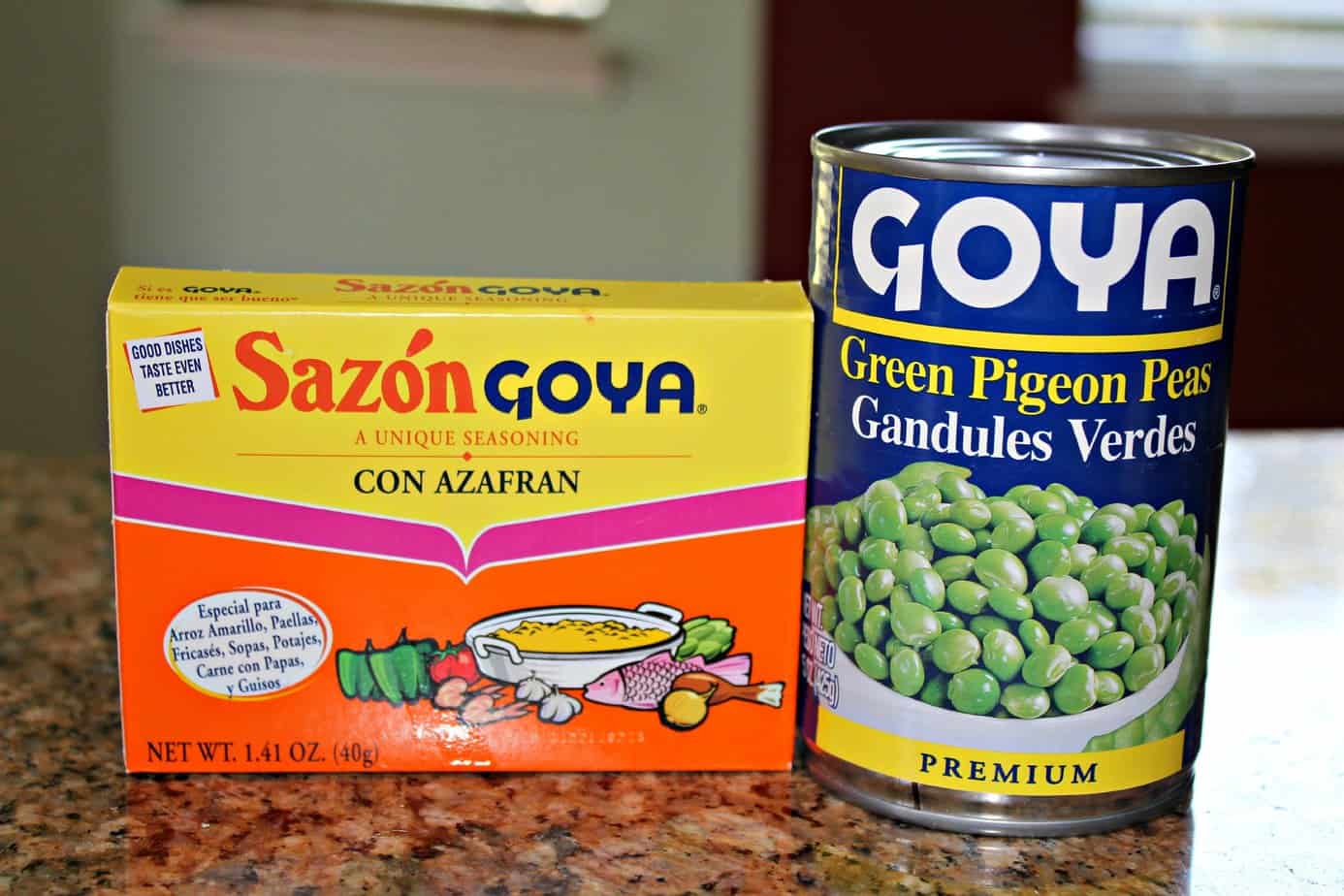 Another main ingredient and the one that adds the most flavor is the Sofrito. Sofrito is the base for many sauces and stews and something that is important in giving the rice its incredible flavor. You can buy already made Sofrito, but I recommend making it.
To make the Sofrito you need:
Half an onion
Half a green pepper
Half a packet of Sazon
A handful of cilantro
Half a 4 fl oz bottle of capers
1 clove of garlic
1 teaspoon Salt
1 teaspoon Pepper
Chop up ingredients and add to blender. Blend until liquified and save to the side.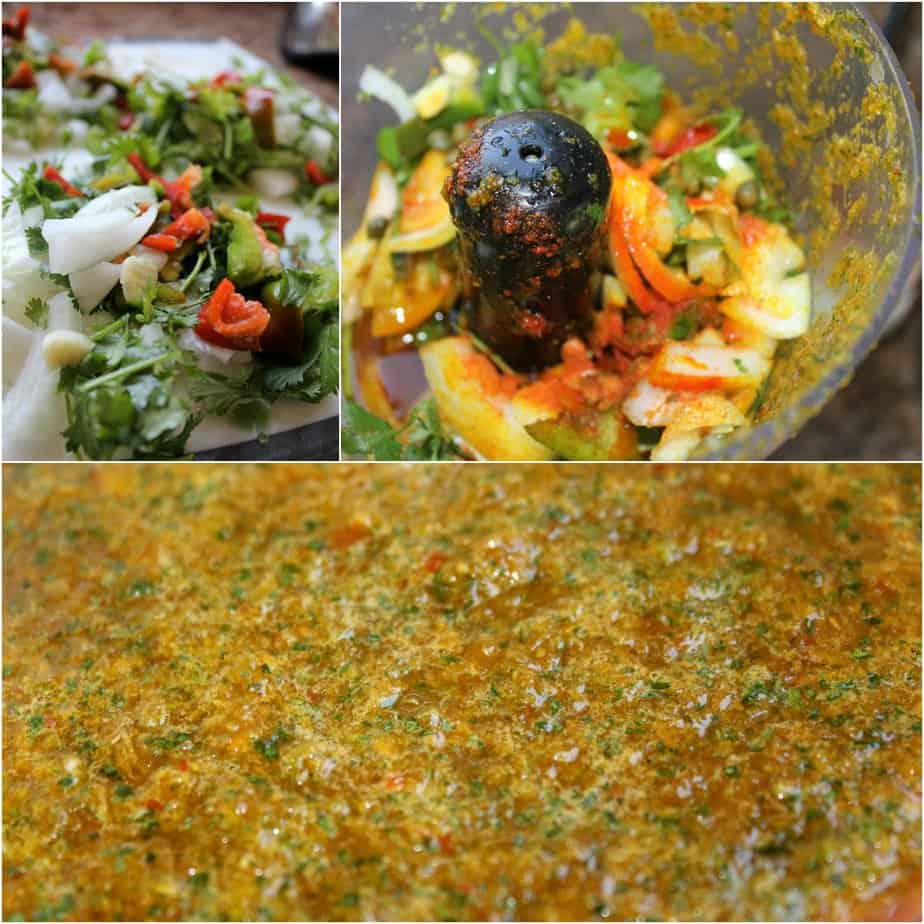 After the Sofrito is done it's time to start the rice.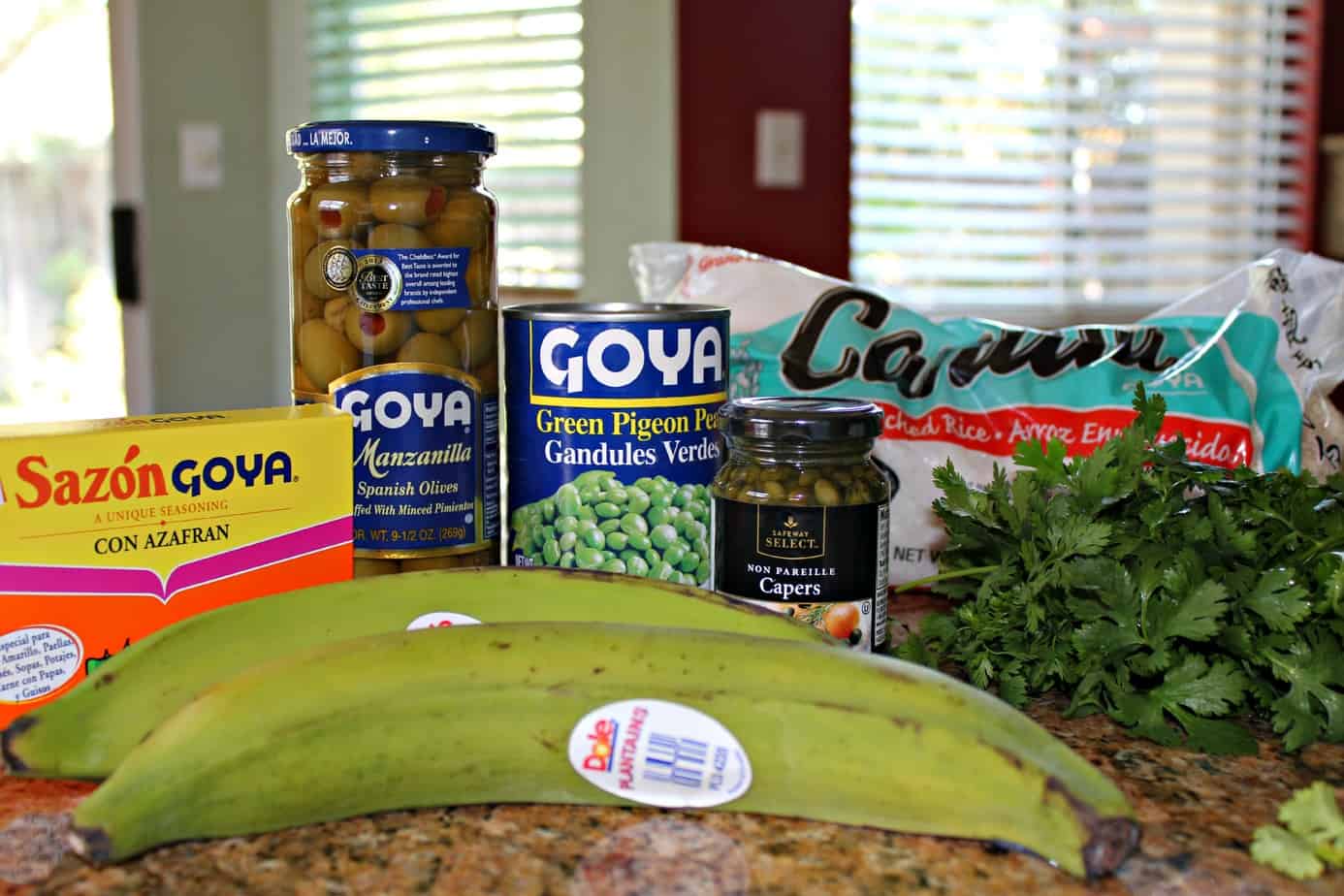 To start the base of the rice you will want to heat 2 tablespoons of oil to a large pot and add in 1/4 cup sliced chorizo. Since I don't eat chorizo, I added cut up pieces of turkey sausage. You can also add bacon, or omit the meat all together.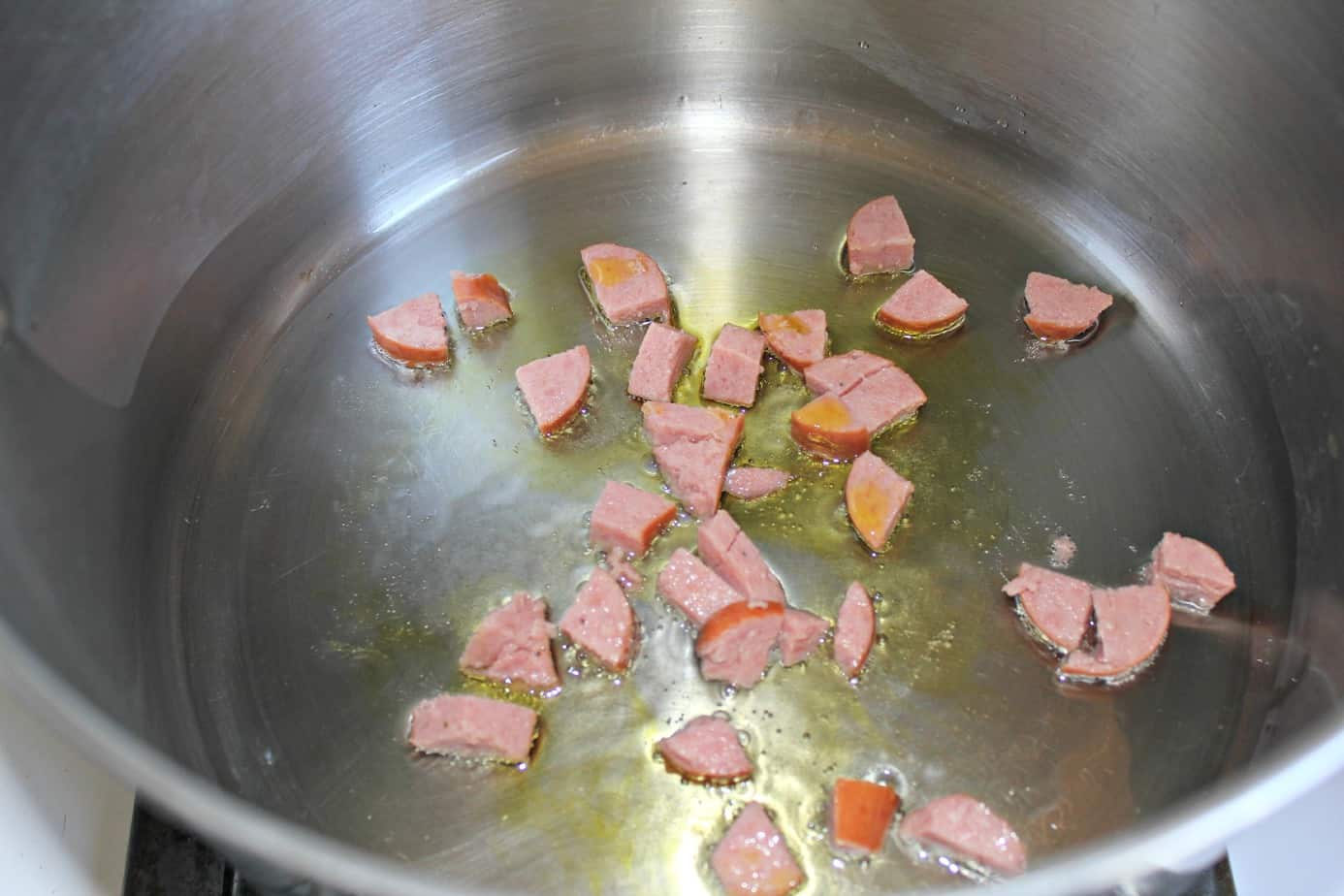 Once the meat is fried lightly, pour in half of the blended sofrito and stir in.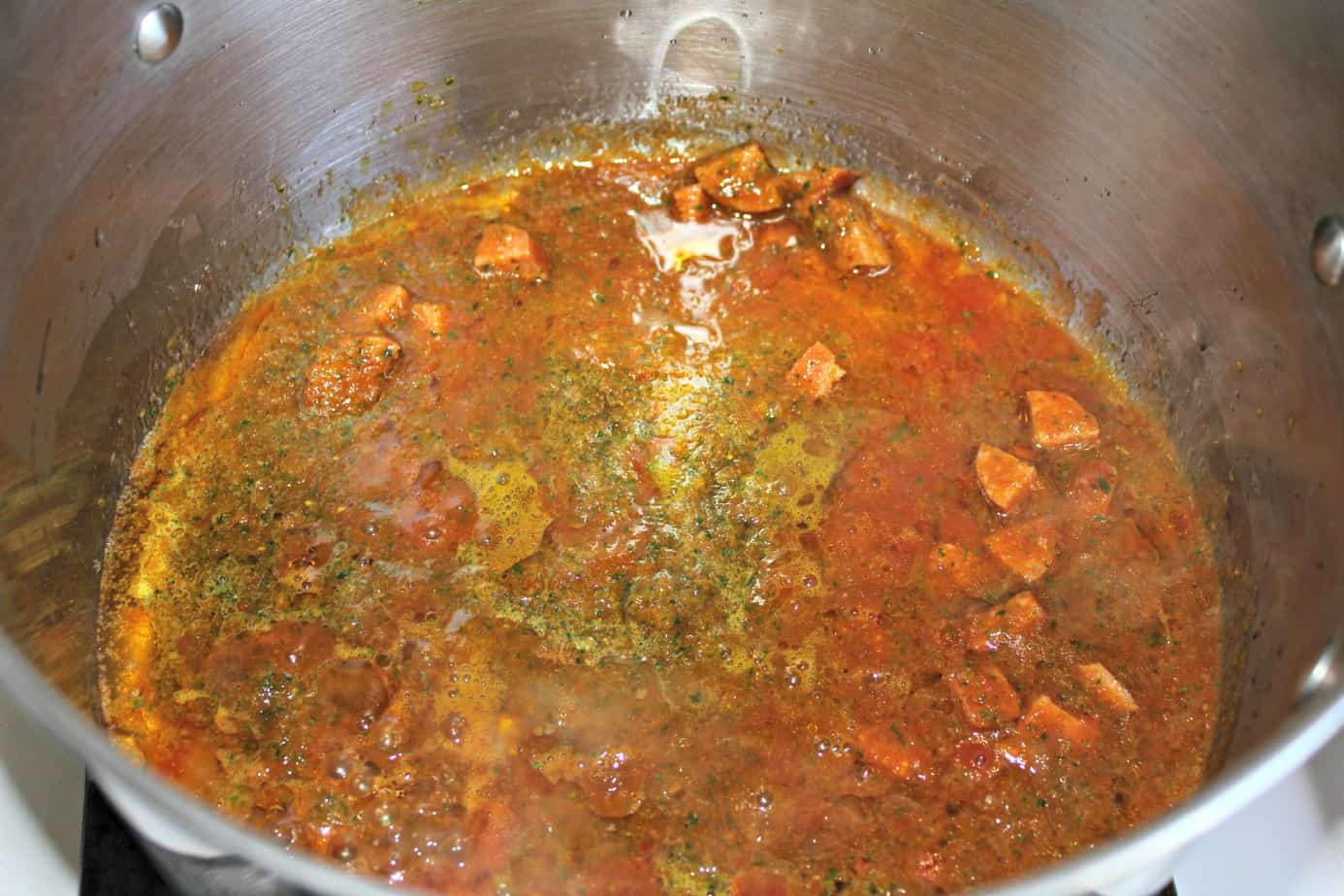 After the sofrito is added to the meat, pour in 2 cups of white long grained rice and 2 cups of water.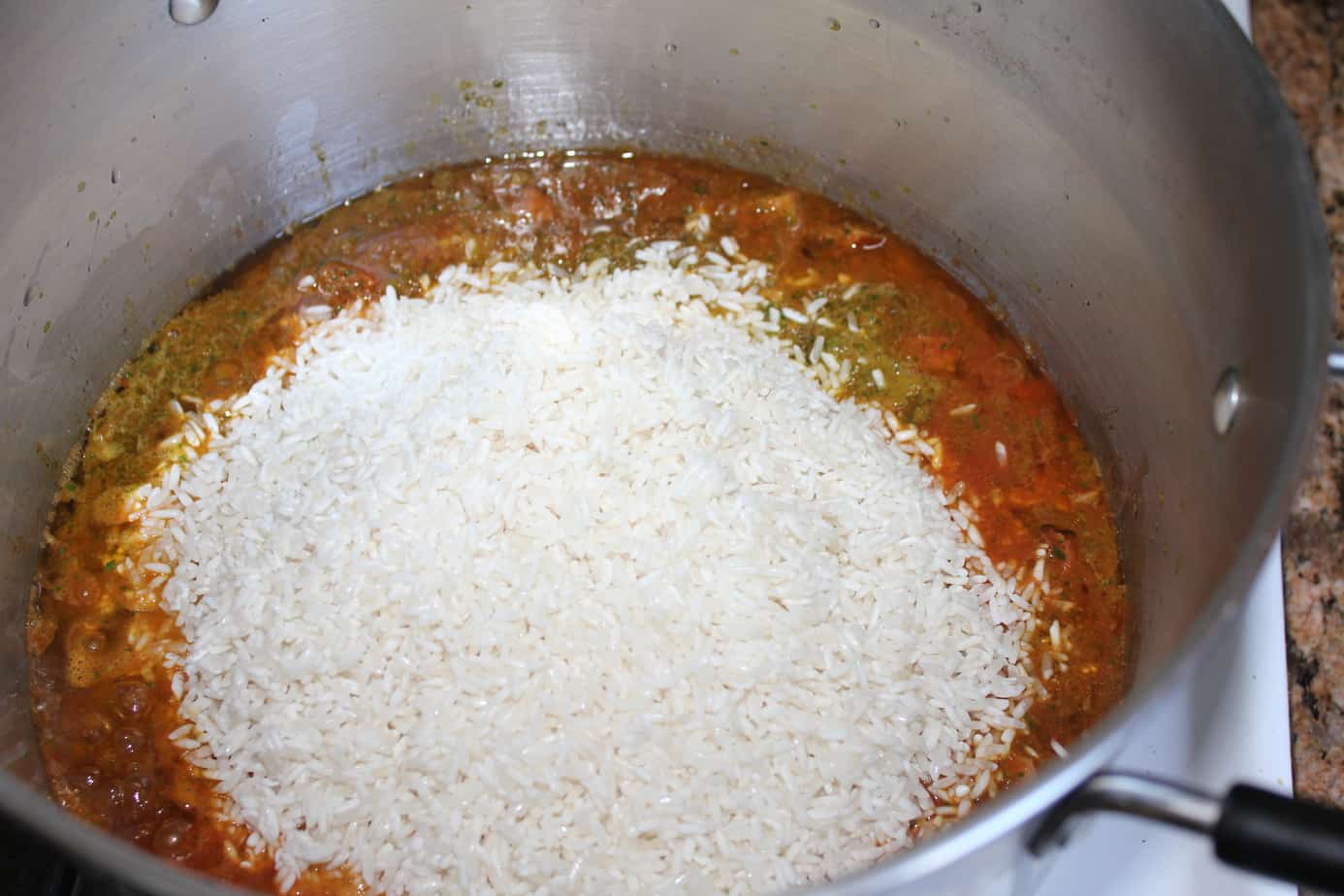 Stir lightly and bring to a boil.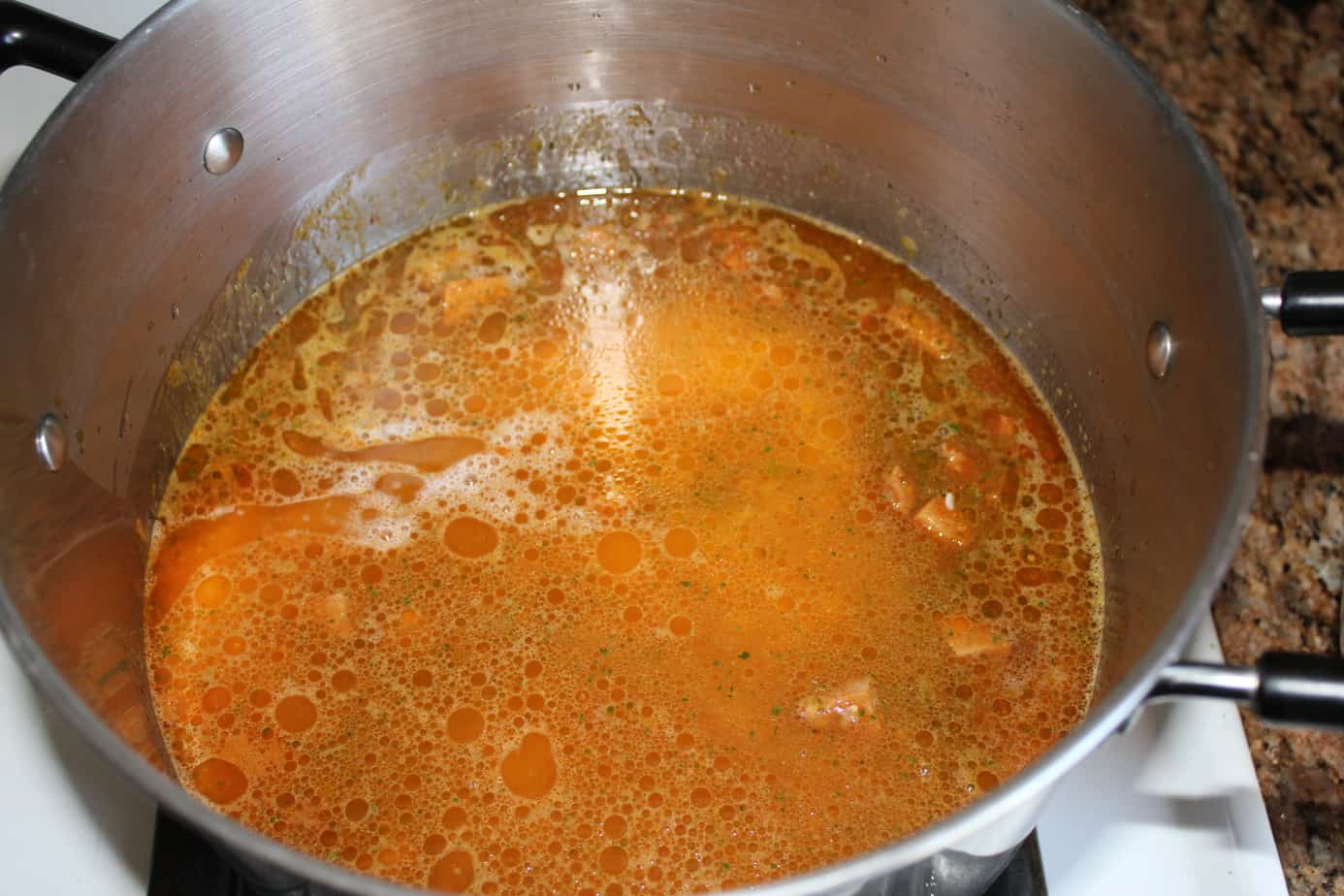 Once the ingredients start to boil add in a small can of tomato sauce, one can of gandule beans, and 1/4 bottle green olives.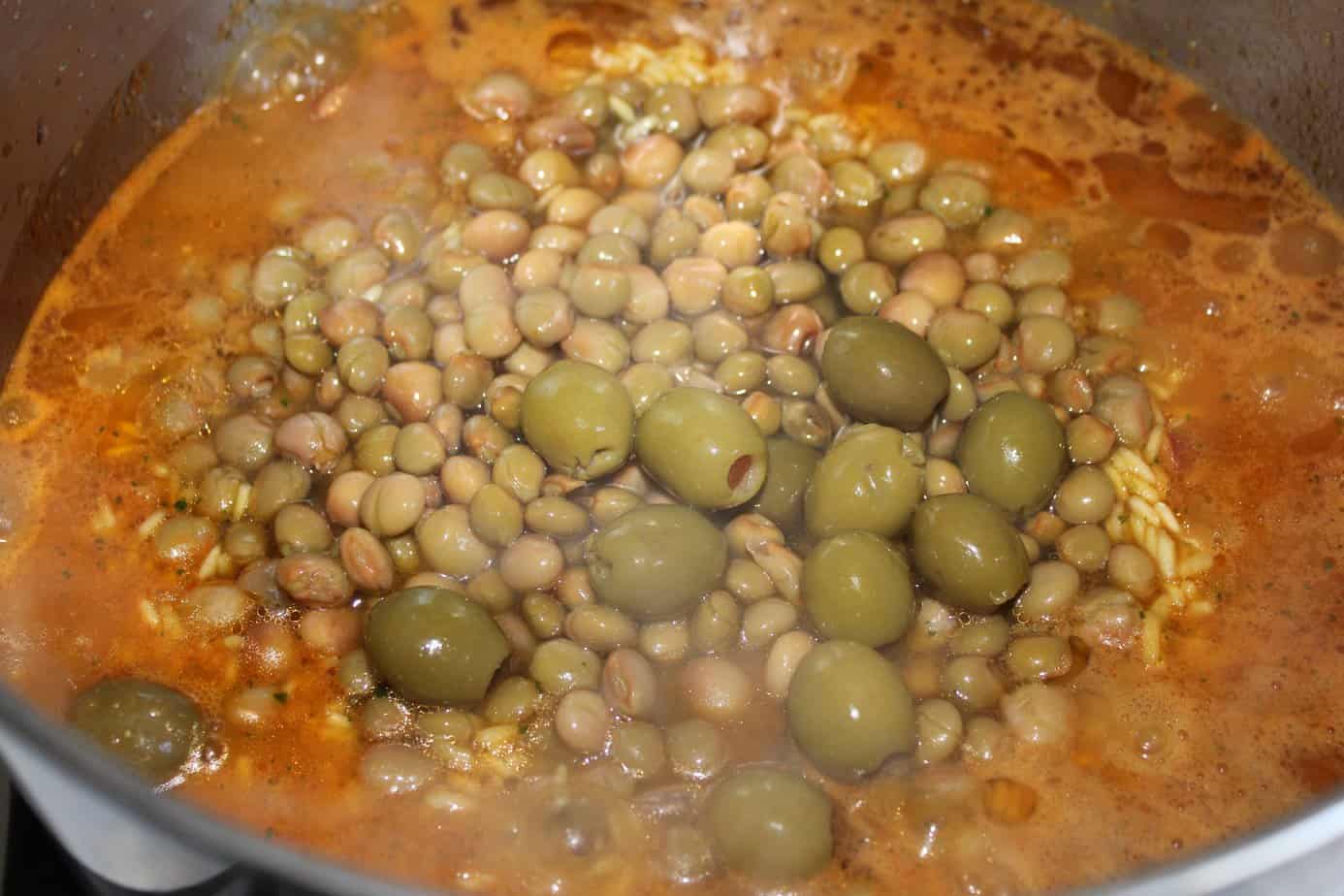 Stir lightly to mix ingredients. Cover pot with a lid and turn down heat to a simmer.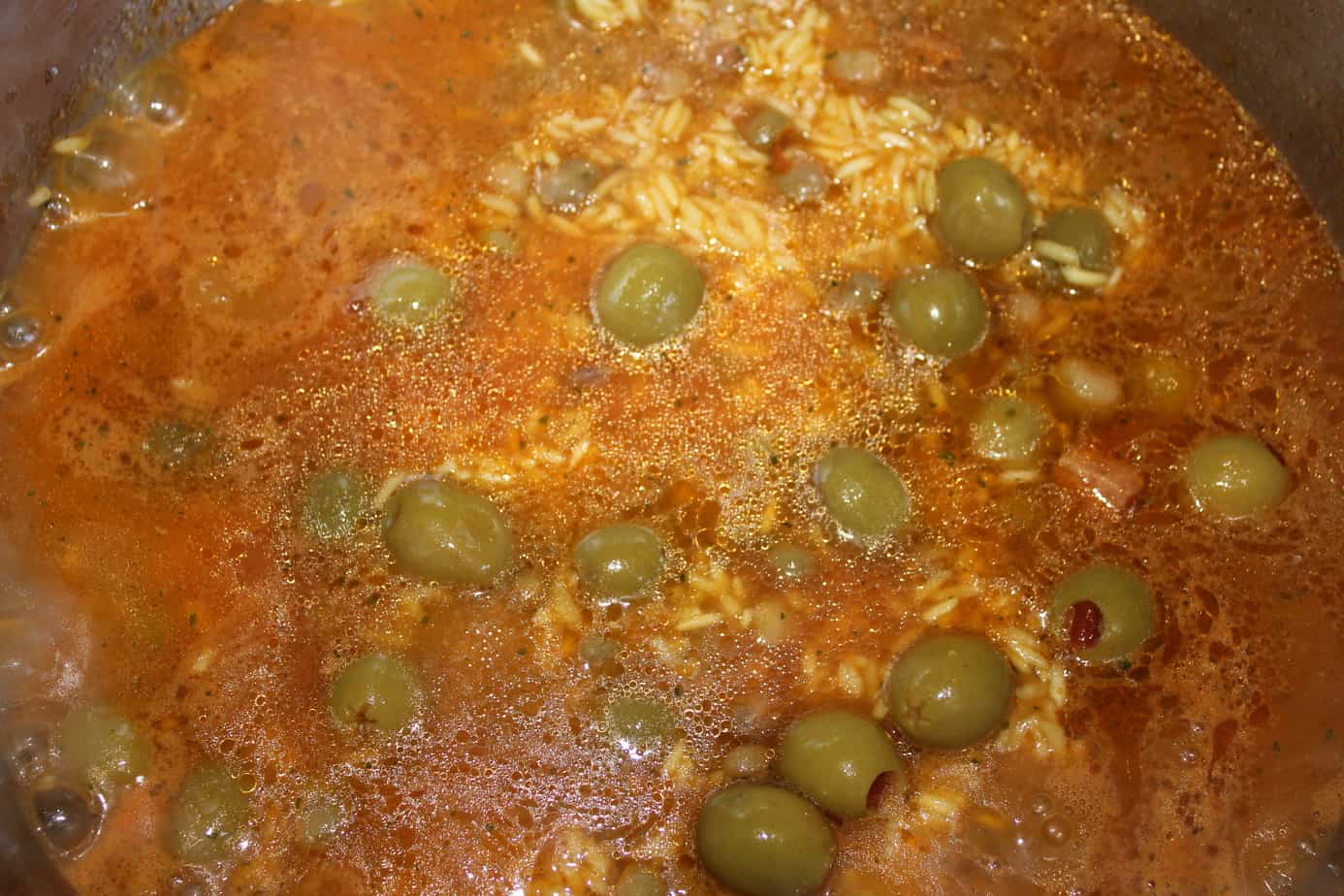 Unfortunately I don't have an exact time to tell you to cook the rice for as it differs every time for some reason. The average time is around 30-45 minutes. I would check the rice in 25 minutes and give it one light stir. Cover it back up and check it around 35 minutes and if the rice is tender, then you are ready to eat, if not keep it covered and on simmer until the rice is tender. Shouldn't be more than 45 minutes.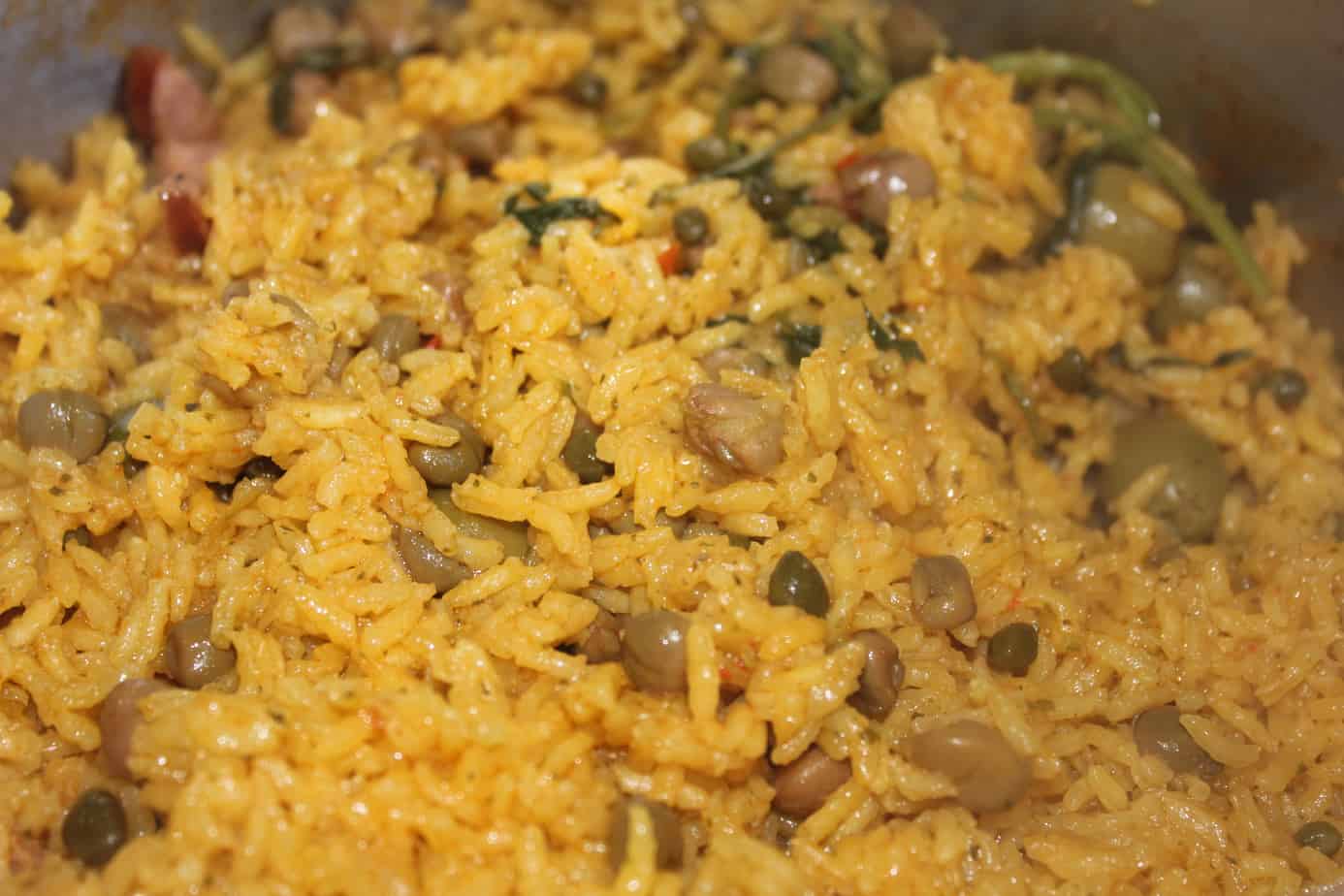 If you are looking to make a complete Puerto Rican dinner I will have recipes for the Pollo Guisado and tostones up on the website later this month. Stay tuned.