Review: Britax Advocate 70-G3 Car Seat
I have been infatuated with Britax Car Seats for some years now. If you look anywhere from Consumer Reports to website reviews, there is no question that Britax makes not only the best car seats around, but the safest as well. We have owned several car seats throughout the years and I could not wait to get my hands on a Britax. They just recently introduced their newest car seat— the Advocate 70-G3—and let me just say, I have never been more in love with a car seat!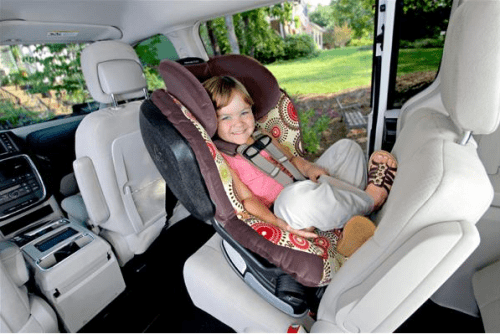 We received the Advocate 70-G3 a day before a huge road trip to Southern California. We went from San Francisco's Bay Area to Disneyland then down to San Diego to visit Legoland and spent an estimated 16 hours round trip. If you have kids, then you will know we were crossing our fingers, our toes and praying our kids would do well on the trip. My youngest isn't a big fan of the car seat, so I was worried about the hours spent in the car. As I witnessed first-hand, a quality car seat will make a huge difference in the comfort of your child. With our old car seat, my son would start to get uncomfortable within an hour of being in the car, but with the Britax Advocate 70-G3, he didn't express any discomfort at all throughout the whole road trip! I honestly couldn't believe it! You really get your money's worth and more!
This car seat is definitely a must-have car seat. The Britax Advocate 70-G3 convertible car seat is designed for children rear facing from five to 40 pounds and forward facing from 20 to 70 pounds. There are so many great features to this car seat!
Features include:
True Side Impact Protection– deep side walls with energy-absorbing EPP foam along with a head restraint which offers a double layer of EPP foam to distribute crash forces, shield from vehicle intrusion, and contain the head, neck and body while keeping them "in true" or aligned
Base with SafeCell Technology– features SafeCells designed to compress in a crash, significantly lowering the center of gravity and counteracting the forward rotation of the child seat which normally propels the child toward the front seat.
Integrated Steel Bars– strengthen the connection to the vehicle and reduce forward flexing of the child seat during a crash.
Energy-Absorbing Versa-Tether– features a staged-release tether webbing to slow the forward movement, reducing the crash forces reaching the child, and a two-point attachment to minimize forward rotation while anchoring the top of the child seat.
Side Impact Cushion Technology– features energy-absorbing cushions on the exterior of the child seat to reduce side impact crash energy by 45 percent by diverting crash forces away from your child and providing extra protection for the adjacent passenger.
Click & Safe® Snug Harness Indicator– an audible aid that provides extra assurance when the harness is within range of appropriate snugness.
Tangle-Free, Five-Point Harness– distributes crash forces across the strongest parts of the body and provides a secure fit.
70-pound Weight Capacity for safety and comfort as your child grows.
Rear and Forward Facing Recline for child comfort and positioning.
High Density Comfort Foam provides an extra layer of padding to gently cushion your child.
Plush, Easy-Remove Cover with matching comfort pads and infant body pillow to provide extra comfort and easy cleaning without disassembling or uninstalling the child seat.
Two Buckle Positions for your growing child.
Infant Positioning Insert- may be necessary for small infants to achieve a snug fit of the harness around your child (sold separately).
Quick-Adjust, No-Rethread Harness– repositions the harness shoulder height without disassembling the harness straps.
Premium Lower LATCH Connectors for a quick and simple installation featuring a push button for easy release.
Built-in Lock-Offs ensure a snug lap and shoulder belt installation with minimal effort.
Anti-Slip, Contoured Base grips and protects the vehicle seat while offering optimum vehicle fit.
Harness Holders keep harness straps pulled to the sides when placing your child in the car seat.
Certified for Aircraft Travel.
Made in the USA with global components.
Some of the features with the Advocate 70-G3 made a huge impact on our sanity. As I mentioned above, we received the car seat before our adventure down south. Since my husband and I are extremely busy (and procrastinators), we didn't get to installing the car seat until five minutes before we left our house. It was late at night and we didn't have time to really go over the manual to the car seat before we tried to install it. Unlike most car seats we have ever owned, the Britax Advocate 70-G3 was so easy to not only install, but adjust to our son as well. The Quick-Adjust Harness was like nothing we had ever used before. Unlike the old-fashioned harness where you have to adjust to remove the straps from the harness yoke on the back of the seat and re-thread the straps in the appropriate harness slots, the new Quick-Adjust Harness System allows you to adjust the height of the harness straps without having to detach the straps from the metal yoke on the back of the seat, re-thread them through a new slot and reattach them to the metal yoke.
Old:
New:
We also LOVE the HUGS™ Chest Pads with SafeCell Technology®. HUGS (Harness Ultra-Guard System) Chest Pads with SafeCell Technology are affixed to the car seat shell to ensure proper positioning. The chest pads contain SafeCells, which are engineered structures that are designed to compress in a crash and manage energy to reduce the amount of impact forces experienced by your child.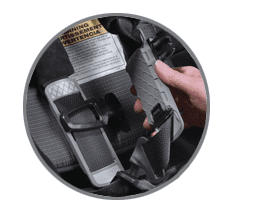 I can not begin to tell you how much we love the Britax Advocate 70-G3. I feel confident that my son is safe in this car seat and that we can travel without any worries. The car seat does come with a heavier price tag than most, but you can't really put a price on the safety of your children. Britax has been proven over and over again that they make one of the best car seats around. If you won't take my word for it, try it for yourself!
The Britax Advocate 70-G3 also comes in some gorgeous fabric designs, perfect for riding in style!
You can learn more about Britax, the all-new Advocate 70-G3, or their other products by visiting their website at:
You can also stay up-to-date by following them on Twitter or liking them on Facebook.
Disclaimer: I received an Advocate 70-G3 to review, but all opinions above are strictly my own.