Rustic Woodland Themed Baby Shower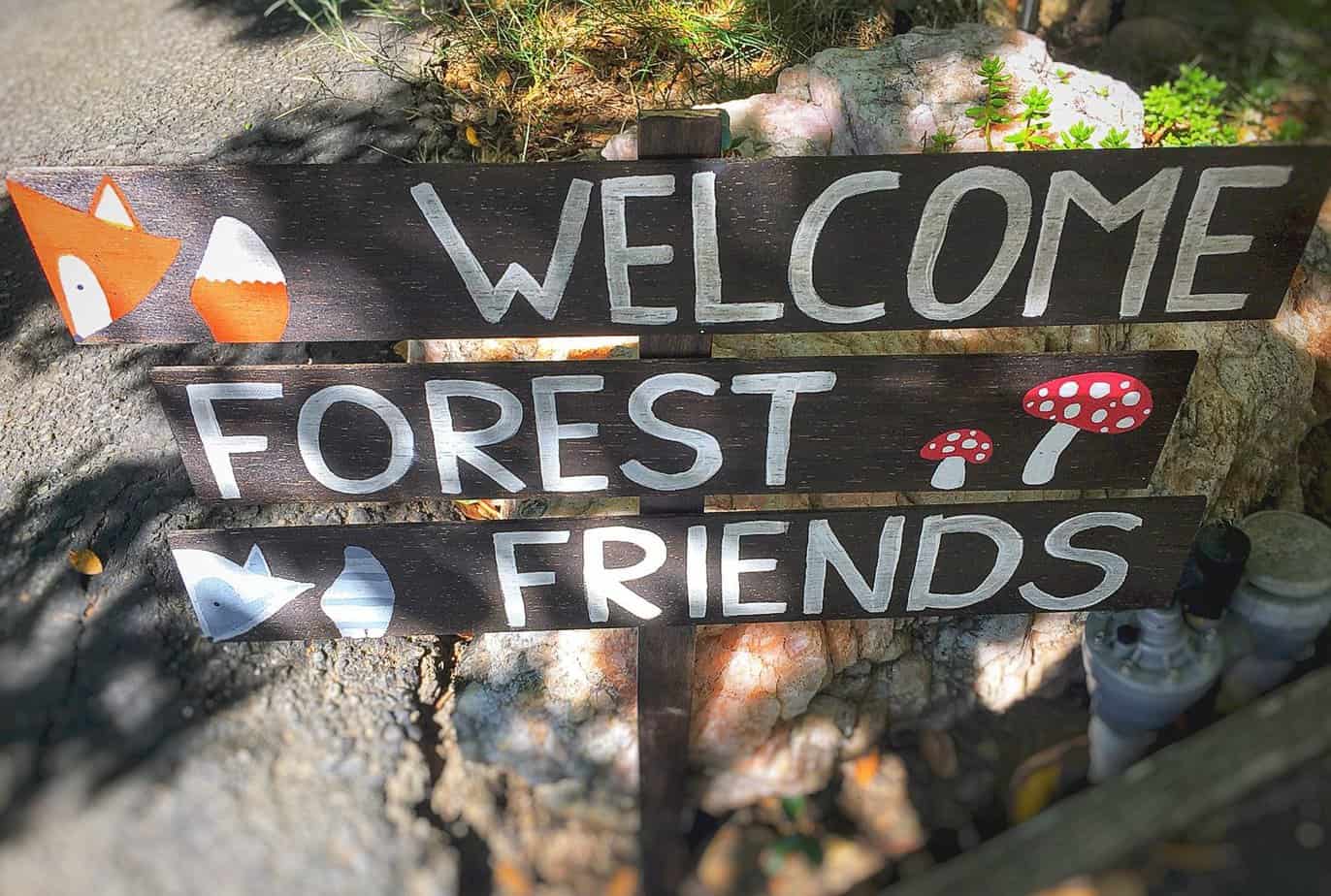 I love throwing baby showers, maybe even more so than throwing birthday parties. Its very theme-centric, there are a million ideas for every theme and I get to use my glue gun, a lot!
There are a few reasons why I loved hosting this particular shower so much! One, it was for my best friend, and my craft-soul-sister. Over the course of our 20 year friendship, we have created so many crafts together and for each other. I knew this shower, had to be the most DIY shower I have ever hosted. Secondly, I am absolutely in love with the theme. Its been my favorite by far, of all the themes I have come across. So, if you are looking for a theme, or you chose this theme and need some awesome ideas, here we will show you how we threw the most EPIC DIY Woodland Creatures Baby Shower.
DECOR
Welcome Sign
(At the top) Just the sweetest little welcome sign, that is super easy to make. I purchased 3 extra light, pressed-wood boards and a ground stake from Michaels. Stained the boards with Espresso Stain (you can just paint using acrylic or any household paint.) I, then, wrote the words in white paint, and drew a little fox, mushroom and raccoon.

Mama-to-Be Chair
I am a firm believer that a Queen needs a throne! So, I knew I had to create a woodsy throne for our mama-to-be. I snagged this chair from a local garage sale group, purchased my forest decorations and extra glue for my glue gun, and went to town. I chose to use plastic ivy, leaves,  acorns, pinecones and moss.  I also made a stencil (Using our T-shirt tutorial) and painted the words using gold Fabric Paint.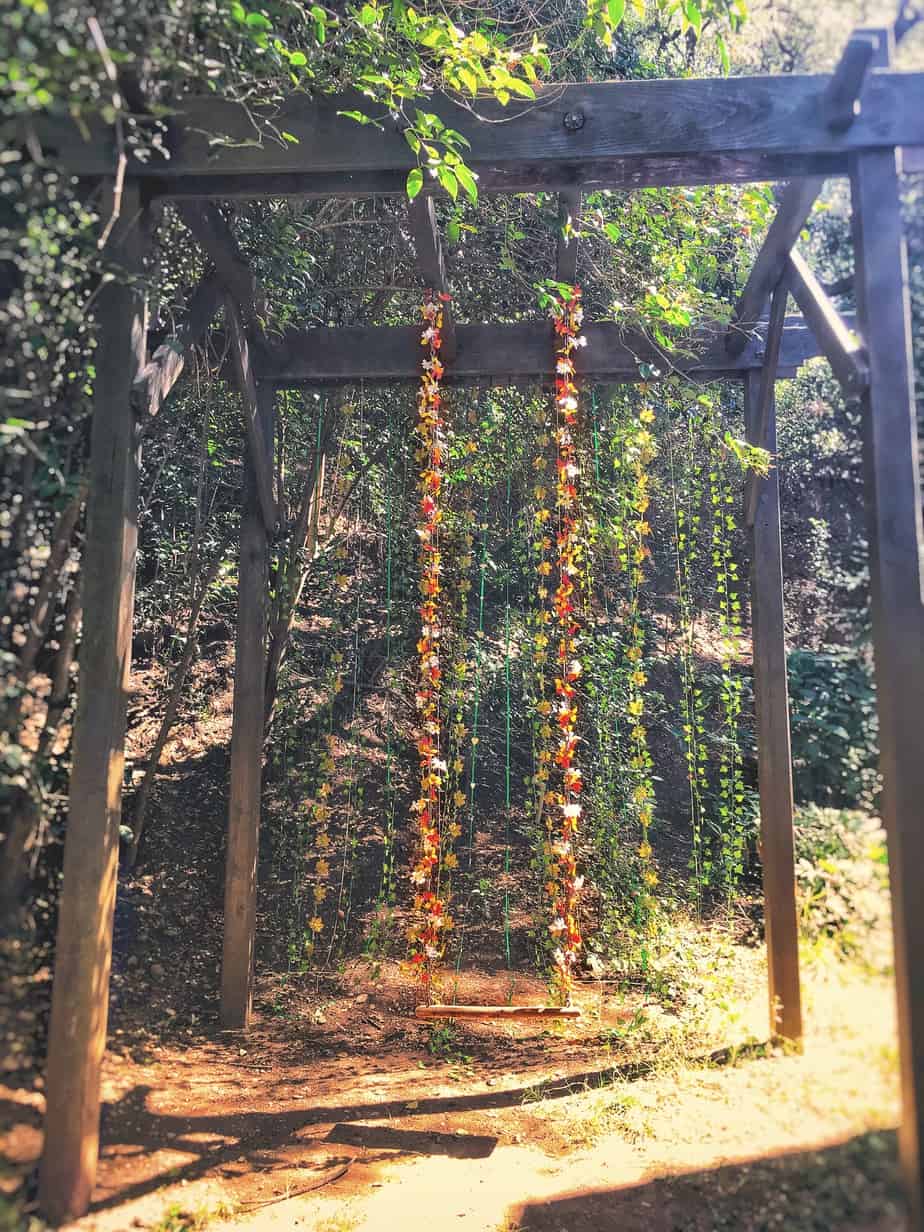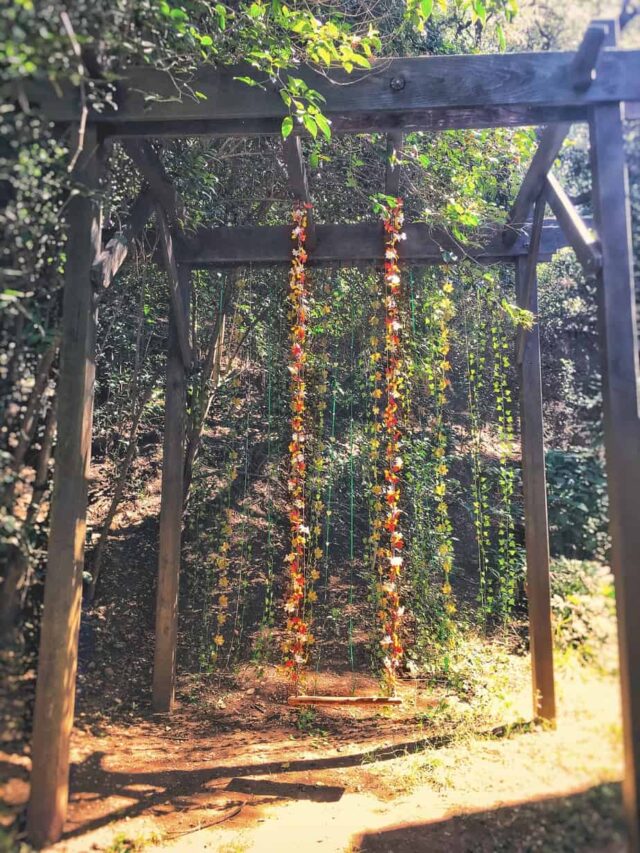 Swing and Garlands
I was fortunate enough to find the perfect venue for the theme. A gorgeous backyard, with lots of trees and a beautiful wooden swing. I decorated the swing with flower garlands. I also created custom garlands by gluing pinecones, wooden hearts, acorns, mushrooms and leaves to ribbons. I also added some ivy to fill in the backdrop. The garland were by far, the most time consuming project, but I think they added so much magic and uniqueness to the swing and created a perfect backdrop for pictures. These would also look fantastic against a white wall backdrop.
The Present Panels
This was my absolute favorite decoration to make. It was also my present to the Mama-to-be. I fell in love with this idea and knew I just had to make it. I purchased Cedar wood panels from Shasta River Milling. I used this process to create the panels: (See the wood project tutorial here).
The Headpieces
I absolutely loved the idea of a fresh-flower headpiece for the Mama-to-be, and since this shower would have a small number of people, who were all close friends, I decided to create headpieces for every person in attendance. All you need: fresh flowers of your choice, floral wire, and floral tape. These headpieces made everyone feel special. They were a huge hit at the shower.
The Little Details
Since I knew we had to go all out for this shower, we added woodsy accents at every opportunity. Here are some more of our crafts and ideas.
Utensil Holders: Mason Jars covered in moss. Accented with bark and mushroom.
Custom Mason Jars: Mason Jars, Chalk tape, Chalk Markers
Woodland Creatures: Purchased from Michaels.
Moss covered Letters: To spell out the baby's name. Letters purchased from Michaels, glue gun and moss! Cute and personal addition to the gifts table.
Moss Table Runners: Purchased from Amazon
Custom Onesies
I do this for every mama-to-be and for every shower I throw. This is such a fun gift and perfect decoration for any shower. (See full tutorial here).
Chalk Board Labels
I love chalk board tape, labels, paint, anything and everything, that will allow me to use my chalk board markers. So needless, to say, I labeled everything with chalk board signs.
Food
Magic Mushrooms
They are not the magic mushrooms we have all heard about. But they sure look magical. Half a small tomato, a ball of fresh mozzarella cheese and a basil leaf. They look adorable and make an easy-to-make, delicious appetizer.
Lettuce Wraps
Super easy to make and was a total hit. All you need is ground chicken (we sautéed with carrots and onions and a tiny bit of olive oil), lettuce leaves and some fun sauces (we chose Peanut, Spicy Green and Sweet Chili, from our favorite grocery store, Trader Joe's).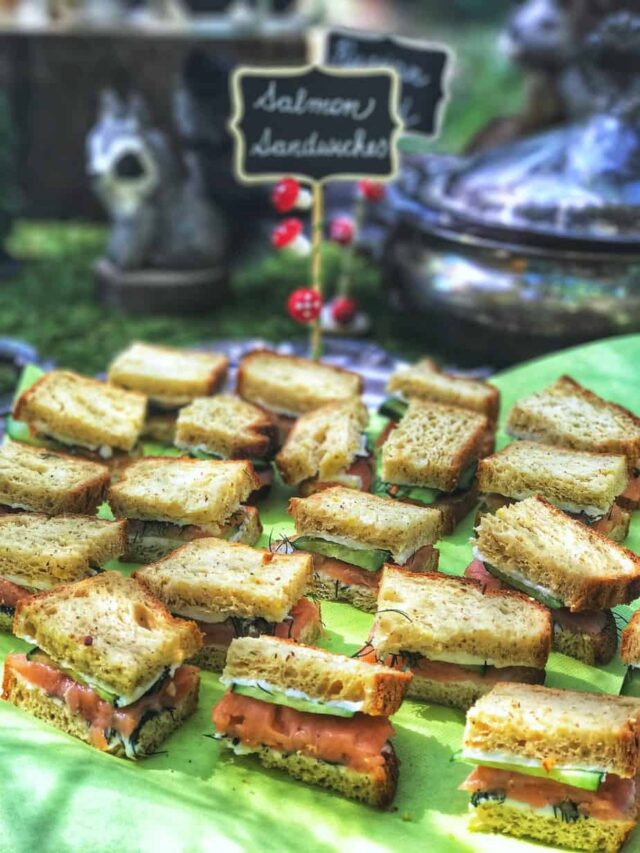 Salmon Sandwiches
Super simple, and super delicious. Gluten-free bread, cream cheese, cucumber and smoked salmon.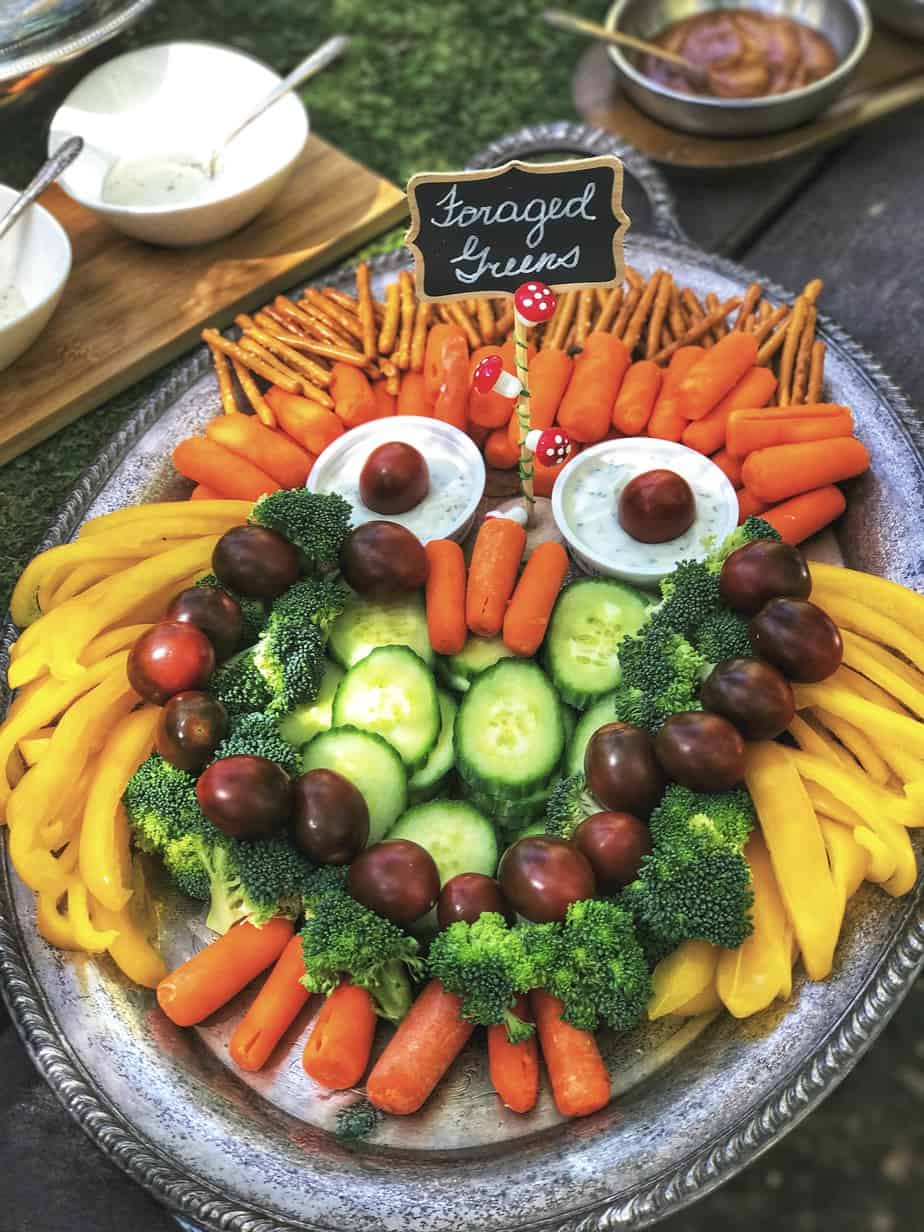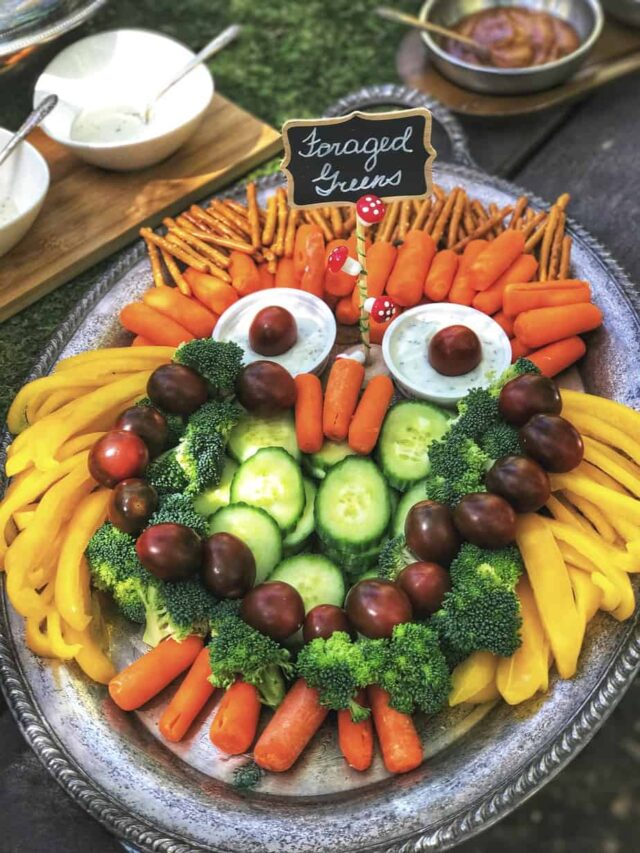 Foraged Greens
Continuing with our woodsy theme, I even had to name a simple veggie platter. I chose to do an owl shaped veggie platter, filled with our favorite snacks.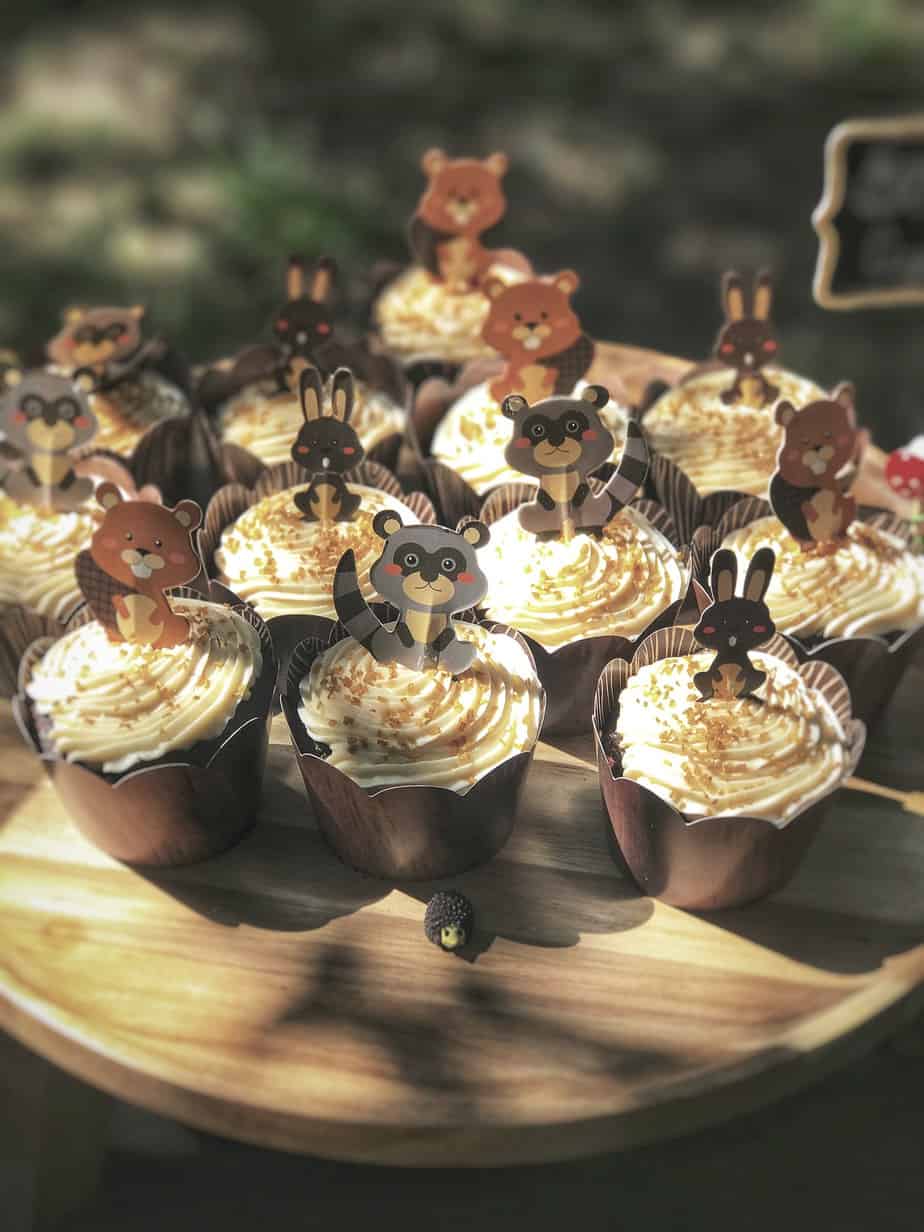 Woodland Cupcakes
Salted Carmel Cupcakes with Carmel Butter Cream Frosting. Delicious!!! Cupcake wraps and decorations purchased from Amazon.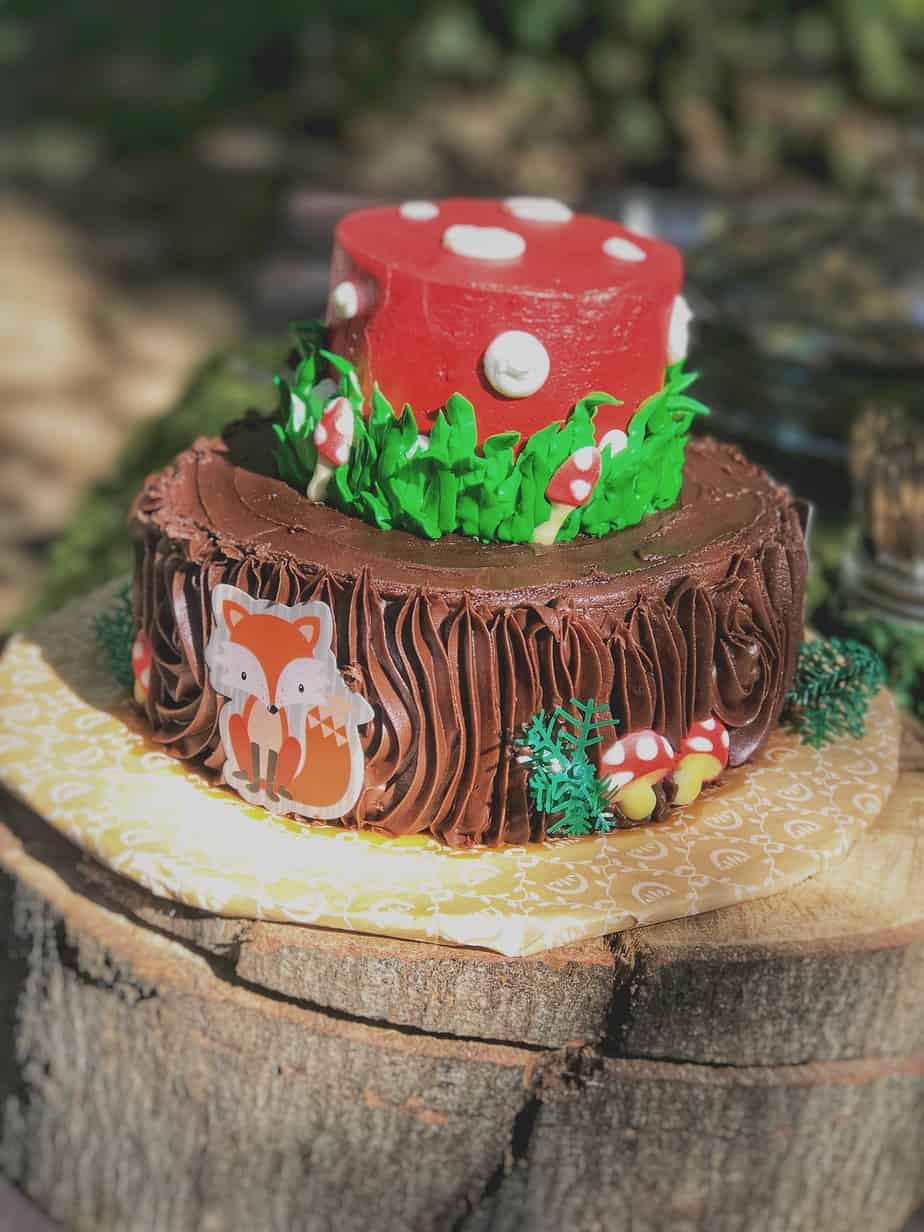 Cake
This German Forest cake with Chocolate frosting had a bottom tree stump layer topped off with a mushroom layer. It was decorated with grass, mushrooms and woodland creatures.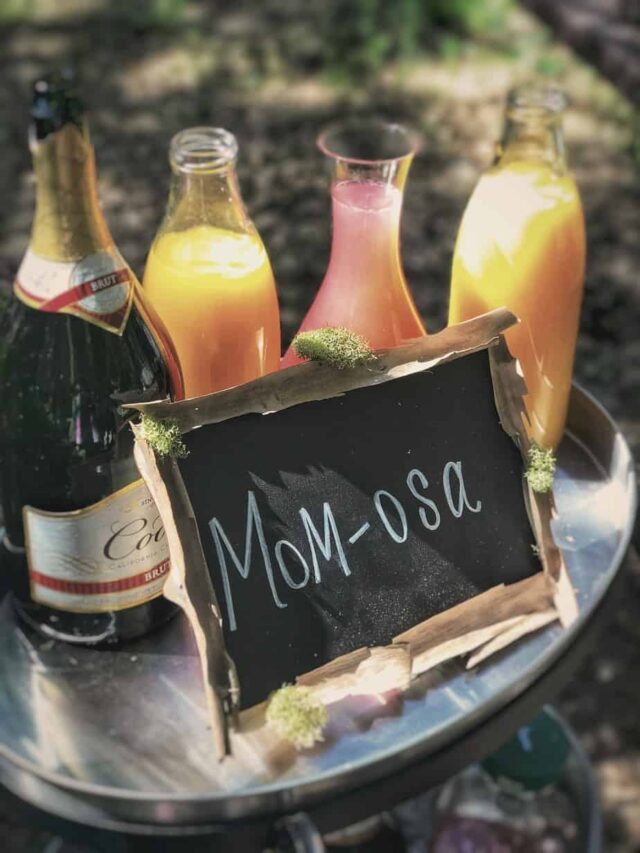 Mom-osa Bar
Super simple and super cute. Champagne and your choice of juice. This way the mom-to-be could enjoy a juice drink and those who wanted a mimosa with champagne were able.
The Trail Mix Bar
I thought this was super fitting for our woodsy theme. I purchased some containers, filled them with fun trail mix fixings and provided some cute little bags. Guests could take some home with them or enjoy some at the shower.
The Favors
Real Green Love
I absolutely love succulents and making lasting favors. So it was a no-brainer for me to create a cute little succulent party favor that guests can take home and enjoy for months to come. I chose a tiny little glass vase, filled with soil and moss. Stuck a single succulent in the middle. To make it a little more personalized, I glued hearts made out of bark on the vases and wrote the baby's name on it along with the year.
Activities
I chose to forgo all the traditional baby shower activities. Yes, that means no belly measuring, no baby bingo, no questionaries. The reason you ask? Because I feel they have been overdone, overplayed, and I find them quite boring. So, instead I came up with a few activities that would be fun for everyone and would leave a lasting memory for the mama-to-be and for baby.
Time Capsule
I made a cute little box with the baby's name and the year. Inside, I wrote an instructional note, that stated that box was to be opened by the child on their 21st birthday. Everyone at the shower, wrote wishes and predictions addressed to the baby. Mama-to-be can also add other keepsakes to the box, such as pictures, booties, hospital bracelets, etc.
Love the bump
Another activity we chose to do was write characteristics, wishes, traits on chalk stickers and place them on the bump. It had some sweet, thoughtful and hilarious words and phrases. It was a huge hit.
Advice for Mama-to-be
Super simple. Everyone wrote down as many pieces of advice as they wished. From advice on breastfeeding, to diaper rashes, to poop-explosions in public. We also, mixed in some hilarious baby stories, and motivational notes. Placed them all in a cute box, and sent it home with Mama.
This post was brought to you by Lydia, a mom of two who loves to craft.