Safety 1st Alpha Omega Elite Car Seat-The only car seat you'll ever need!
Car seats and safety of my children in the car has always been a priority for me. I've tried out several convertible car seats with my now 2-year-old son. The one I am currently using and have been thrilled with is the Safety 1st Alpha Omega Elite Car Seat. I haven't been happier with any other car seat! Designed for infants weighing 5 lbs through children up to 100 lbs, this may very well be the only car seat you will ever need!
My biggest complaint with previous convertible car seats that we've tried is that when you turn them forward facing, they are bulky and large, making the seat in front of your toddler or preschooler a kicking post. We don't run into that problem with the Safety 1st Alpha Omega Elite Car Seat! You are able to slide the seat to sit upright, allowing it to have a snug, slim fit. I'm still in awe of how fabulous the seat fits forward facing and that it is designed for the smallest of infants, all the way to children up to 100 lbs with a belt positioning booster!
I also was worried about my son not fitting comfortably in his convertible car seats for extended periods of time as he gets older and older. I haven't run into that with the Alpha Omega Elite Car Seat. The Alpha Omega Elite Car Seat has an infant insert for rear facing, giving small infants support and comfort. After taking out the insert, your toddler will still have the security and comfort of the rest of the car seat.
One of my favorite features of this car seat is that you can adjust the level of the harness without rethreading. Not only that, but you can do it without taking the car seat out of the car! No more uninstalling and reinstalling your car seat every time you need to adjust the height of the harness!
The features my son likes the best are the cup holder and the adjustable arm rests. The cup holder comes in especially handy on our longer trips.
The Safety 1st Alpha Omega Elite Car Seat has too many features for me to go into detail about. Here's a quick summary of the seat:
Designed to grow with your child, the Alpha Omega Elite™ Convertible Car Seat is three car seats in one: a rear-facing infant car seat, a forward-facing car harnessed car seat and a belt-positioning booster! It features our QuickFit™ Harness System that never needs rethreading and a 3-position recline that adjusts easily with just one hand.

Rear-facing 5-35 lbs.
Forward-facing 22-40 lbs.
Belt-positioning booster 40-100 lbs.
Side Impact Protection
5-point, Center Front Adjust harness
QuickFit™ Harness System easily adjusts height from the front, without rethreading!
3-position recline adjusts with one hand
3 buckle locations
Comfy, pivoting armrests
Removable cup holder
LATCH equipped for easy installation
Meets or exceeds Federal Safety Standards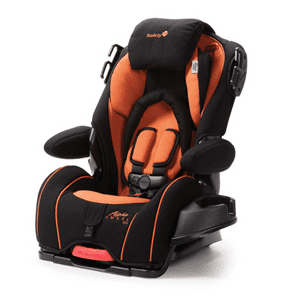 If you are looking for a seat that truly will grow with your child from infancy and beyond, the Safety 1st Alpha Omega Elite Car Seat is the way to go. With features such as adjusting the hardness without uninstalling the car seat, the ease of reclining the seat and that it fits infants, toddlers and beyond comfortably make it the perfect choice for my family–and hopefully yours!
Find out more and follow Safety 1st for their latest news and updates on their website, Facebook and Twitter.
I received the Safety 1st Alpha Omega Elite Car Seat to review. All opinions in this article are my own.