Simply Made Sunday: Name String Art
Welcome to Emily's Simply Made Series! Each post features a craft that looks cute or is practical but is easy enough for even the uncraftiest of people. Cute DIY things are NOT just for the pros! You can do it too!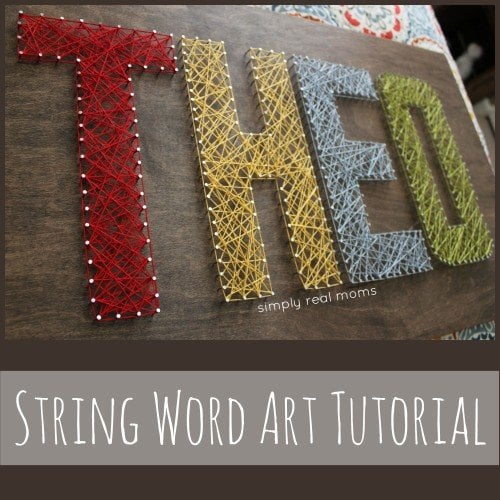 When I started the adventure of decorating my newest son's nursery, I wanted to have a mix of purchased and home made art in his room. I wanted it to be an eclectic mix of fun decor and not necessarily a matchy matchy run of the mill nursery.
So when I wanted to display my new little guy's name-Theo- on the wall somewhere I knew it had to not only stand out and be a major piece in the room, I also wanted something different and colorful. I found a few fun things on etsy, but MAN are the really cute ones expensive!
I saw a trend of these adorable words made with nails and string on walls, such a fun and custom way to decorate with the colors you want as well as the font you want! I decided that is what I wanted to do.
Needed for this project
Wood in the size you want for the art
Wood Stain
Embroidery Floss (about two skeins per letter)
Nails
Hammer
Printed Letters
I set out to buy some colored string. While there are many different options, I went with embroidery floss (found in the embroidery/crosstich section of your local craft store). It's not too expensive, and there are a very wide range of colors, so you can get the exact shades you need. I found mine for $0.20 per skein of floss and I needed two per letter. You can buy more or less, depending on your preference.
We used scrap wood from a project my husband had made (He's amazing and builds me furniture all the time…so we have a lot of wood laying around), but you can go to your local hardware store and buy a piece of cheap wood in the size you want. I stained the wood with the same stain we were using for the rest of the nursery, which is Minwax Dark Walnut. Stain it and let it dry overnight.
I printed out the letters in the sizes I needed, and then taped them onto the dried wood. To give you an idea of the size of this, those pieces of paper are full sized printer paper, trimmed on the sides but not top or bottom. It's pretty big!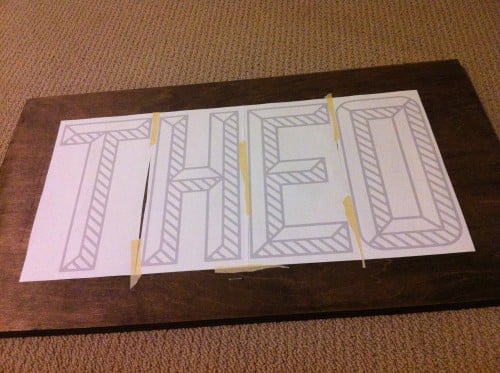 Next, you'll want to start hammering your nails into the wood. I started by nailing all the outer corners, then evenly disributing the nails along the lines of each letter. When you hammer the nails in, you only want to hammer them in about halfway. Just make sure they are secure! If they aren't, give them one or two more taps to really get them in there.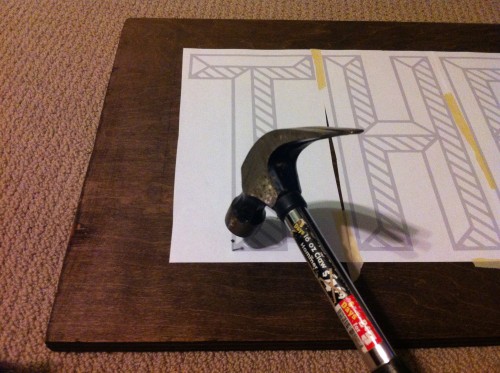 Once you finish nailing all around the letters, take off the paper and tape and you are left with a nailed outline of your word/name!
Tie the end of your first color onto a corner of your first letter. Start by wrapping the string along the outline of the letter, making sure to loop the string around each corner nail (shown below). This helps to anchor the string well.
Once your letter is outlined, start to randomly wrap the string around nails all over the letter, filling it in with string. There is absolutely no order to this, just wrap the string around a nail, then wrap it around another nail across the letter. When you get to the end of a skein of string, tie it to a nail and start wrapping with the next skein. I used two full skeins for each letter.
Repeat this step with each letter.
Stand back and really impress yourself with how amazing it looks!!
Look at how random the string is!
It looks so fun in his nursery (reveal coming soon!!!) and gives a great splash of color in a custom way.
I've seen string art in many different fonts, all caps, all lowecase, or even in cursive (ADORABLE!). Get creative and make it in a way that is pleasing to your eye!
Here's another string art name that we made using three shades of purple and love the look!
And check out this Halloween Version:
 We think imitation is the BEST form of flattery! If you make this or any of my Simply Made Sunday projects, come by and post a picture of it on our Facebook page! We want to see!