Simply Sewn: DIY Cardigan Onesie
I recently gave birth to my second son.
I have heard the stories of "Second Child Syndrome". You know, your first is showered with so many gifts, thousands of pictures are taken of them and put on the walls, you put time and effort into their clothes and nursery, etc. Well, I was determined to avoid that second child syndrome, especially since it was not just my second, but my second of the same gender! I had all the clothes, baby gear and essentials I needed and they were all for a boy. I don't really need anything. But I wanted some things that were just for baby #2 so I set out to make sure that his nursery was custom just for him, that we took awesome pictures of him (AND put them on the wall), and that I took the time to make my new little guy some things.
A baby's first outfit that they come home from the hospital in is a special outfit. My first son's coming home outfit was bought at a baby store.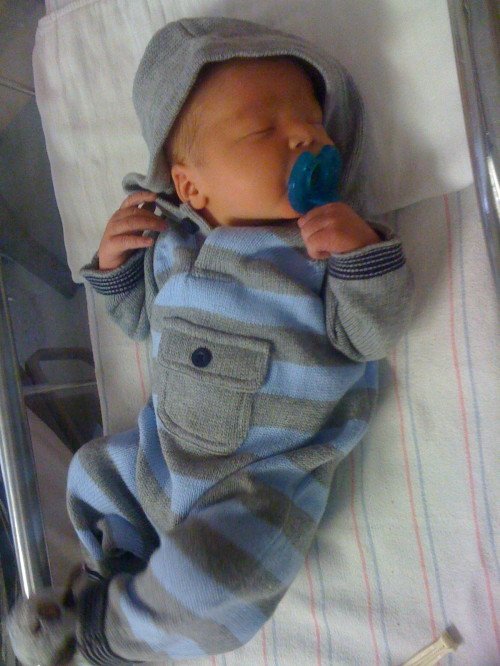 It was a cute one piece sweater outfit that I had just loved when I saw it, but this was before I started getting really crafty. We now keep it in his keepsake box for…well really it's for my own nostalgia because will my son really ever want his keepsakes? Probably not.
So for baby #2 I was determined to make something custom for him to come home from the hospital in. I had seen a few things that I loved, but when I started to see Cardigan Onesies all over pinterest, I knew that I wanted to make one for my little guy (and Icouldn't believe people were asking upwards of $40 on etsy for them!!!).
I played around with making my own for a while and also looked at a few tutorials online, but they all cut the onesie completely open and using real button holes which I wanted to avoid (I hate button holes!) After a while and some trial and error, I came up with a great tutorial for you! This is a sewing project, and it's fairly easy, but probably not for first-time sewers.
I found a onesie at Babies R Us on clearance…$2.50 for 4 of them! That means I spent about $0.62 on this onesie. SCORE.
I also needed:
Double Fold Bias Tape in the color you want for trim
Scissors
Pins
Sewing Machine
3 Buttons
Directions:
Start by folding your onesie in half and marking the middle with a pen. Then about 3 inches or so down, make lines coming up from the center line to the shoulders on either side. You will be cutting this triangle off, so if you chose a onesie with a small design you will be cutting that off.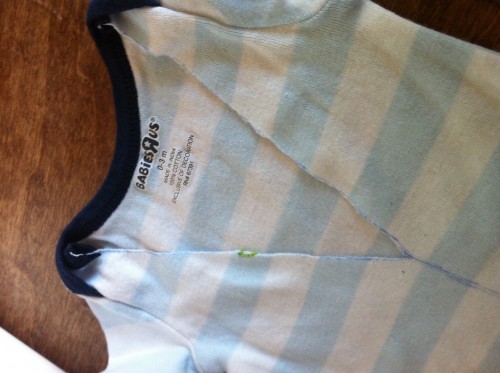 Next, cut a piece of your bias tape that is the length from the tip of your triangle to the bottom of the onesie.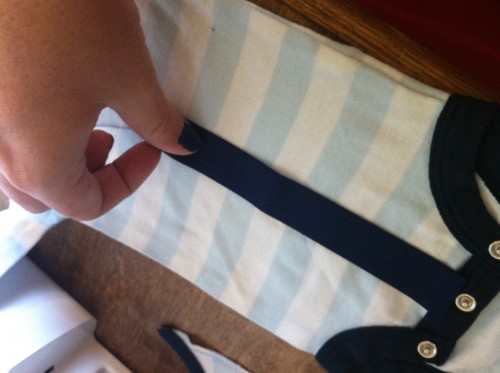 Pin the bias tape in place on the onesie, over the line in the middle.
Pin bias tape over each side of the triangular opening as well.
When you pin at the bottom tip of the triangle, fold over your bias tape to make it look clean. You will sew over this and cut the end off.
Now sew over the entire length of bias tape, on all edges. For example, sew the bias tape around the neckline on the inner edge AND the outer edge.
Sew the shoulders down to the onesie. This is because the onesie is cut very close to the edge and will flap around if it isn't sewed down.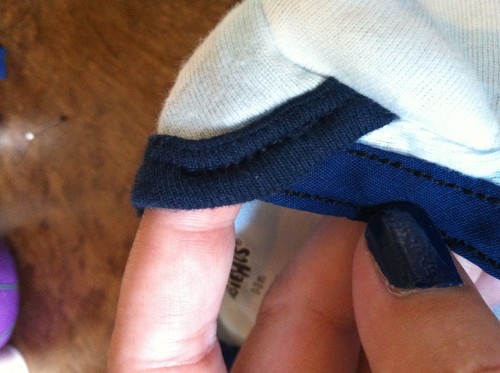 Sew on three buttons down the center of the bottom piece of bias tape.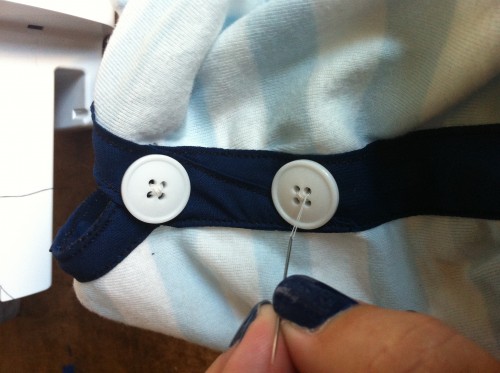 And there you have it! A Cardigan Onesie ready for your little one to wear! I also made a simple necktie onesie using THIS TUTORIAL and my little guy was seriously stylin' when we left the hospital!