Skip Hop: Zoo Luggage for Little Kids
It's no surprise that we are huge fans of Skip Hop, how can we not be? The quality, design and prices are ones that can't be beat. So you can imagine my excitement when I saw they recently introduced their Zoo Luggage! This is definitely a travel must-have if you have small children!
We will be heading to Hawaii in the next few days and we needed something that was big enough to hold my kids' clothes, toys and necessities. The Zoo Luggage is big enough to hold their items, but small enough that even my two-year-old can pull, and trust me, he loves pulling his "dog-dog" suitcase. It's also the perfect size to take as a carry-on or overnight trips.
Each Zoo Luggage comes with a detachable shoulder strap so parents can carry hands-free while the little ones rest. This was a huge selling point for me, because anyone who has traveled with kids knows that sooner or later, they will give up on pulling their luggage. I don't blame them, their little arms get tired. I love that the Zoo Luggage has this option, making it easier on the parents.
Each Zoo Luggage will run about $38. For now, you can only order the Owl, Bee and Dog, but starting in June, all animals will be available. Learn more by visiting skiphop.com.
They're friendly, too! Like them on Facebook and follow on Twitter.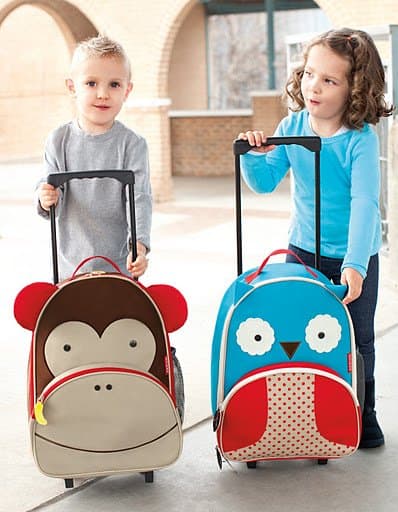 I received a Zoo Luggage to review but opinions above are my own.