65 Unbelievably Good Stocking Stuffers for Guys Under $5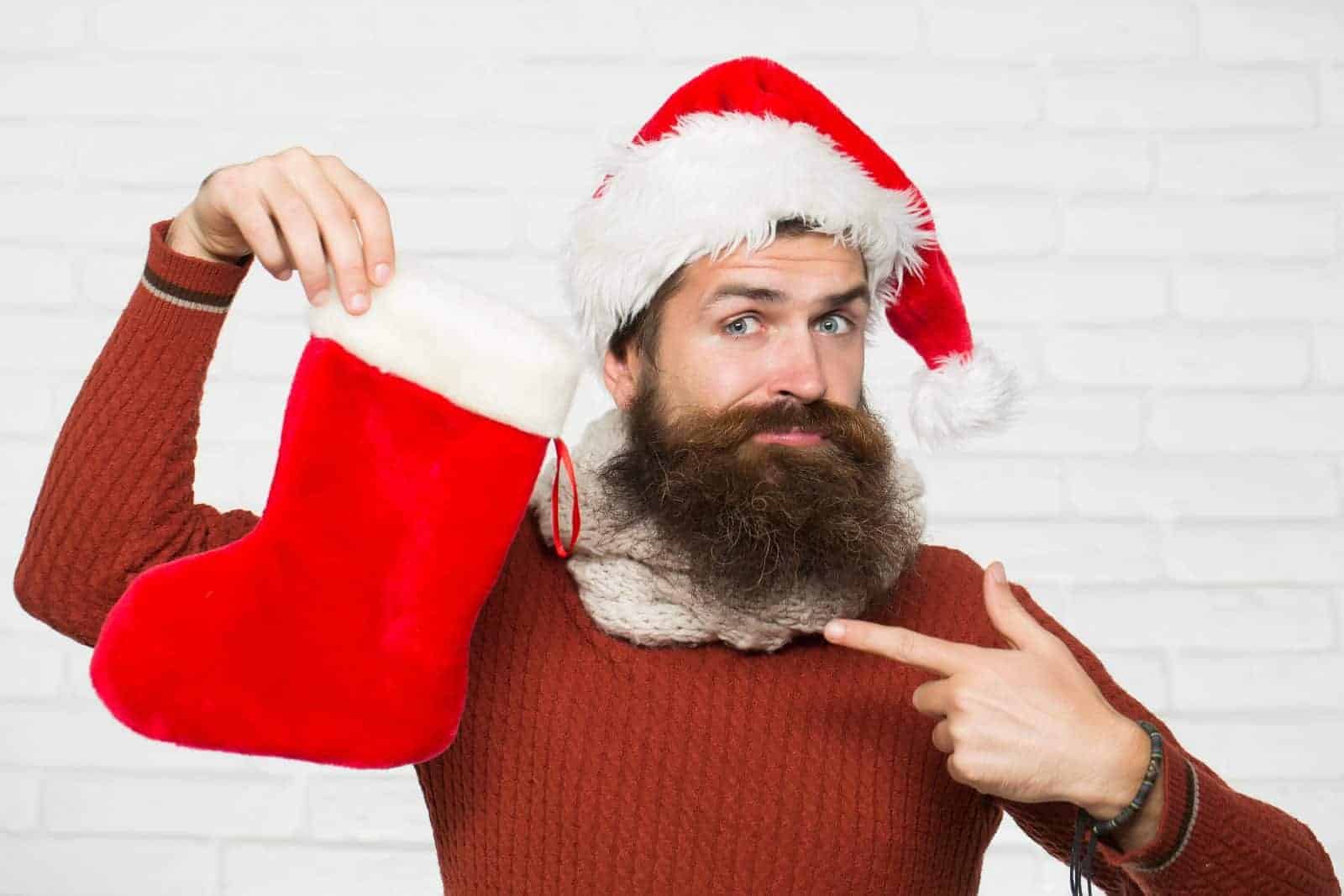 ---
Filling up a stocking can add up quickly and bust any Christmas budget. So if you are trimming back or you want to add just a couple more inexpensive items, we've created a list of 65 unbelievably good stocking stuffers for guys under $5.
This is a list of 65 affordable gift ideas that your dad, husband, brother, uncle, or best friend will love. We've separated them out by category so you can quickly browse and make sure to add variety to your men's stocking stuffers. Every item listed can be ordered and shipped with Amazon Prime so if you're in a pinch or just don't want to fight the crowds, 2-day shipping can save your behind!
Note: all items were listed below $5 at the time of writing this post. The prices are subject to change based on the seller's discretion. If you click on a link and find the product is over $5, do a quick search in Amazon and sort by price low to high to find a similar product.
Just for Fun
1. Tattoo Sleeves – For the men who dream of rad tats.
2. GOT Jon Snow Funko POP Keychain – For that Game of Thrones fan.
3. Dad Jokes (Pocket Sized) – This is a very punny stocking stuffer every dad needs. (Get it… "pun"-ny)
4. Playing Cards – Get ready for a game or two of poker, solitaire, or even Go Fish.
5. $5 Amazon Gift Card – He can literally spend it on anything.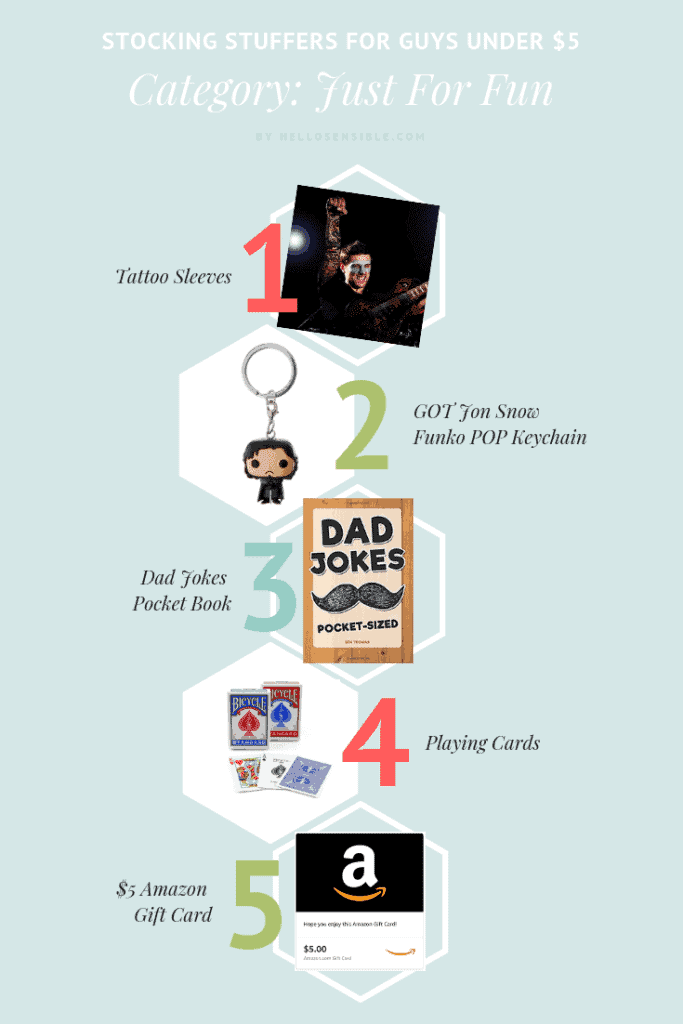 Gadgets
6. Scalp Massager – Every man needs a little self-care. This gadget gently massages pressure points and sensitive nerves on your head and neck.
7. Back Scratcher – Perfect for those hard to reach itchy spots on your back and other body parts.
8. Fidget Spinner – Fidget spinners aren't just for kids. They can help relieve stress and are effective at improving focus and deep thought. If your man fidgets often or has an attention disorder, this is the perfect addition to his stocking this year.
9. Guitar Picks – If your man is a guitar-strumming musician add these picks to your shopping list.
10. Reusable Rubber Twist Ties – Perfect for managing your desk, drawers, toolbox, or any other space that needs organizing.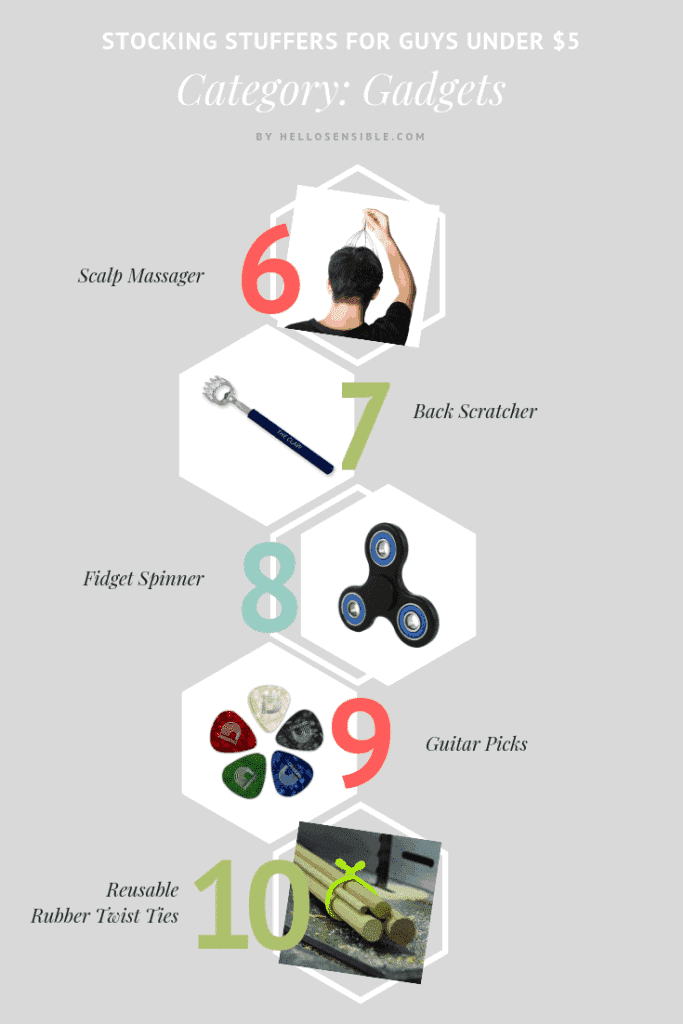 Tools
11. Knife Key – I don't know about you, but my husband loses everything including half a dozen pocket knives over the years. This one, however, he's had for years because it's on his keychain!
12. 2-Step Knife Sharpener – Keep his larger knives sharpened with the Smith's 2-Step Sharpener. This easy to use, pull-through knife sharpener is lightweight, compact, portable, and comes with non-slip rubber feet for added safety.
13. Duct Tape – This stocking stuffer can practically fix anything and was a staple in our household growing up. #hellosensible
14. Tape Measure Keychain – Perfect for all of those times you want to measure something, but can't.
15. LED Camping Headlamp Flashlight – This headlamp is hands-free and great for running, biking, photography, astronomy, construction, reading, dog walking, and a ton more activities.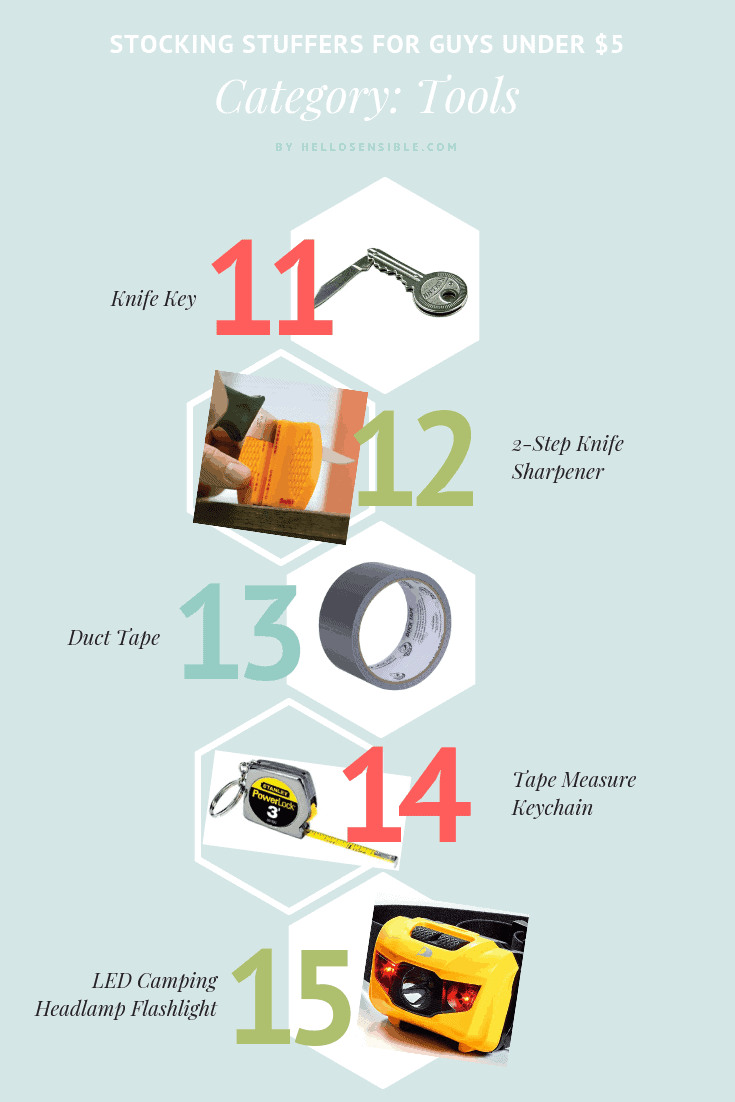 16. 4-in-1 Pocket Screwdriver – This tool fits beautifully inside of your guy's stocking. It's ideal for toy assembly, battery compartments, eyeglasses, electronics and more.
17. Level – Never hang a crooked picture ever again.
18. Hexflex Multipurpose Tool – A cool multi-tool with 15 different functions that fits in your pocket easily. A great gift idea for men.
19. Magnetic Wristband With 6 Powerful Magnets – This is my favorite, handiest tool of all. Never hold a nail between your teeth while hanging a picture! This nylon wristband is embedded with 6 powerful magnets so your man can hold tons of screws and nails. Even if you try to shake them off, they will not fall off the band.
20. Safety Glasses – This practical addition is perfect to protect your guy's eyes during indoor or outdoor projects.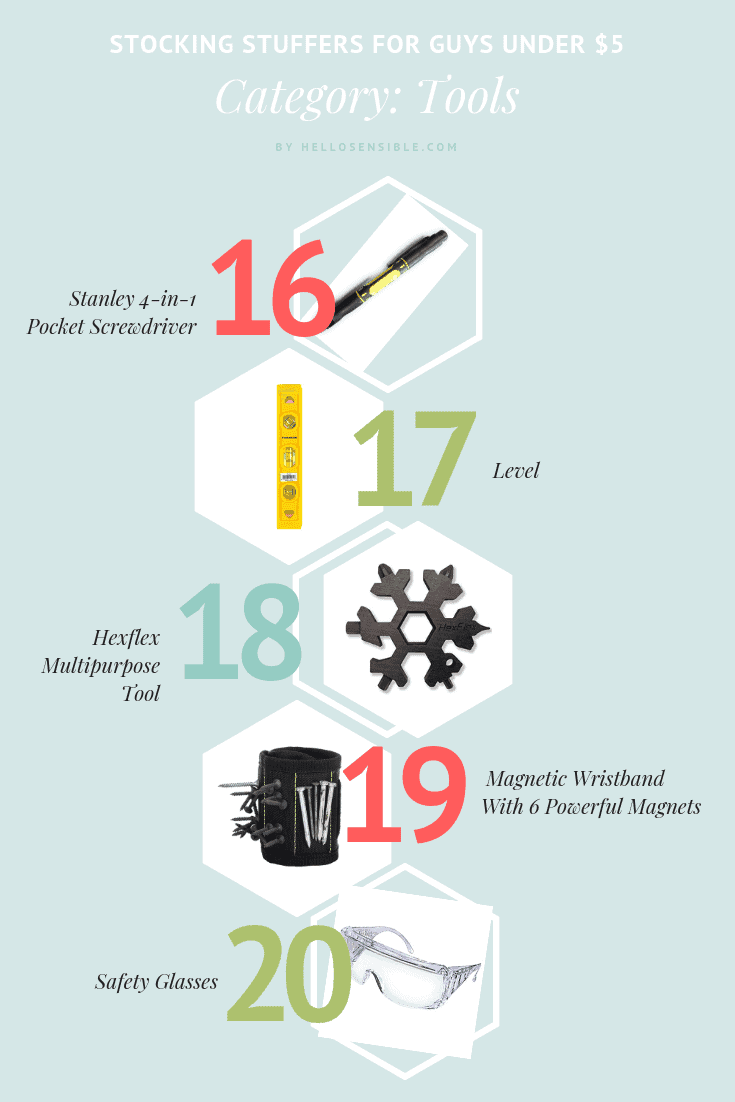 Kitchen
21. Meat Claws – The perfect stocking manly stuffer If your man loves grilling (or you just want him to help more in the kitchen).
22. Espresso Glass Mug – Is your man a coffee connoisseur?  Add this glass mug to his espresso mug collection.
23. Stainless Steel Straws – If you enjoy tumblers or drinking from a straw, these
24. Lime Saver – For all the times you slice a lime for your cerveza but don't use the entire lime.
25. Apron – A great stocking stuffer for men who love to grill or cook.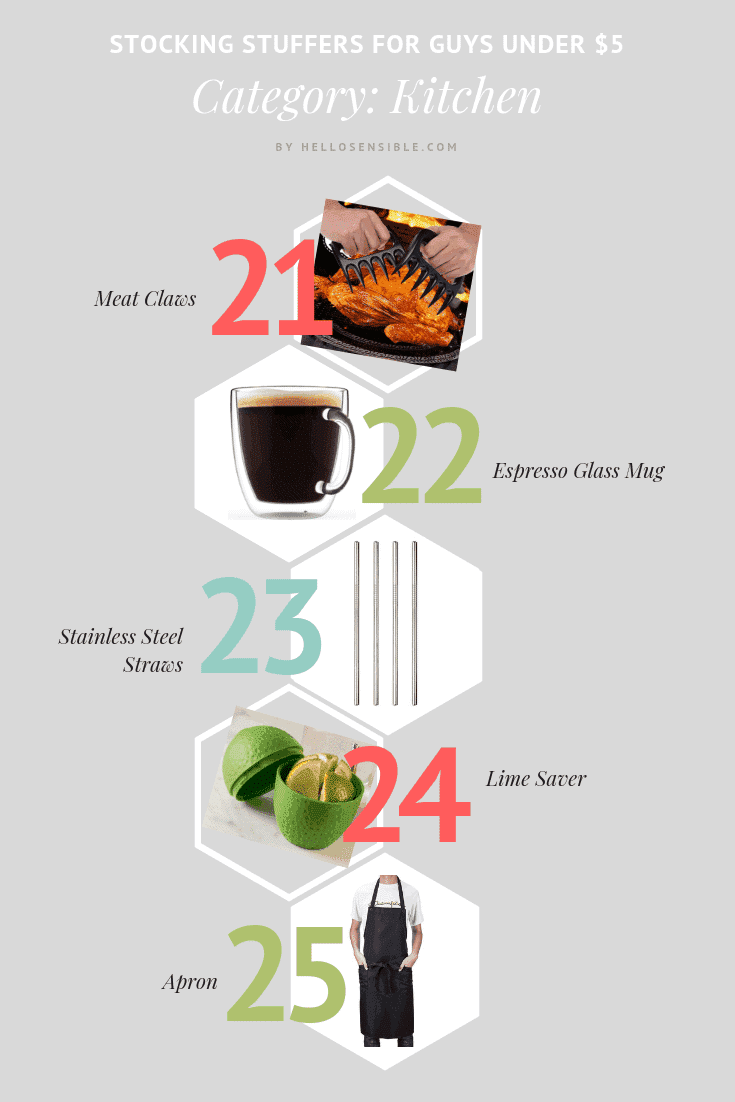 Beer & Wine
26. Corkscrew "Wine Key" – Uncorking your vino is effortless thanks to the superior double-hinged design and the non-stick worm of the Truetap Double-Hinged Corkscrew.
27. Cork Coasters – The perfect spot to place your cold brewsky without ruining furniture.
28. Bottle Cap Opener – This fun novelty piece is small but powerful and durable enough to tackle any bottle cap. Easily stored it in a wallet or other small space.
29. Wine Stopper – Keep your wine fresh with these wine stoppers.
30. Draft Beer-Flavored Jelly Beans – I don't know how tasty these Jelly Belly beer-flavored beans actually are, but it's a fun gag gift for your beer-loving man if nothing else.
Snacks
31. Gum – My husband's favorite gum that brings back memories from his childhood is a pack of Big League Chew
32. Beef Jerky – What man doesn't love a good meat stick? Many jerky brands are loaded with high sodium and other junk though. We recommend Country Archer Beef Jerky as a better quality jerky brand.
33. Maple Bacon Flavored Potato Chips – Because bacon… need I say more?
34. His Favorite Drink
35. His Favorite Candy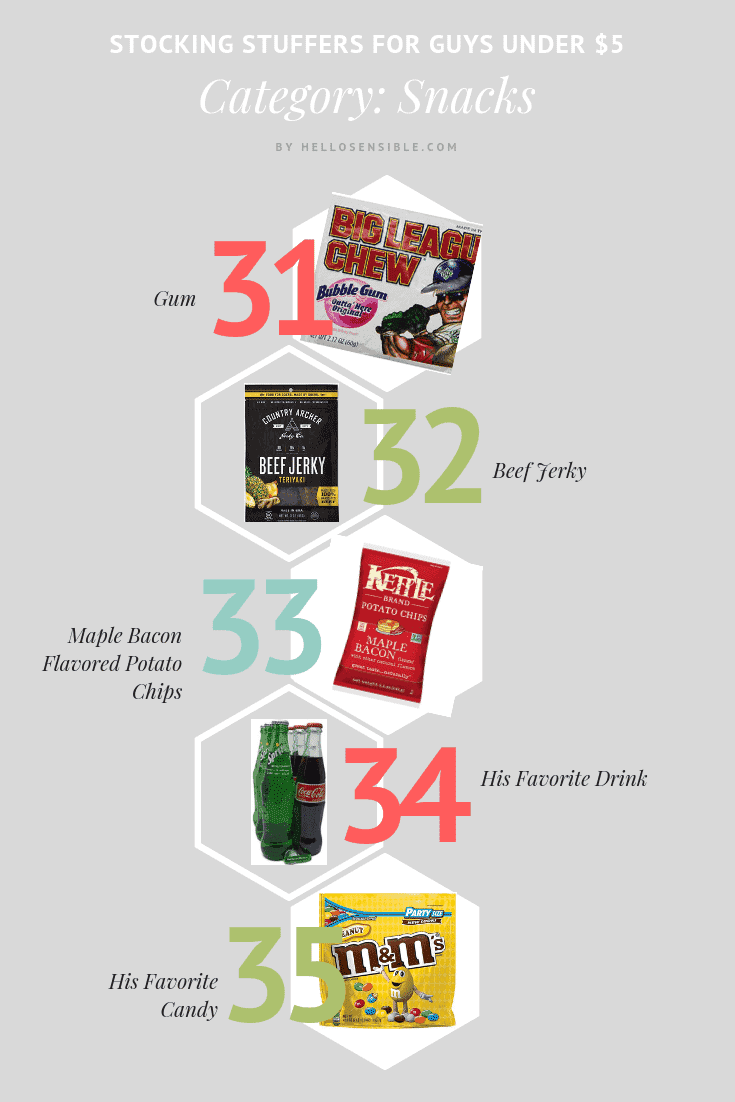 Grooming & Personal Care
36. Men's Travel Manicure Kit – It's time he got his own set so he can stop stealing yours.
37. Vaseline Lip Therapy – It prevents dry cracked lips and fits perfectly in your holiday stocking.
38. Palmer's Cocoa Butter Lip Balm – This also prevents dry cracked lips but is packaged in a more portable style.
39. Old Spice Deodorant – Because every man needs long-lasting odor protection in a fresh, clean scent.
40. Oil Absorbing Sheets – Does your guy have an oily T-zone? Add these to your list so he can instantly absorb oil from the face without leaving behind any powder residue.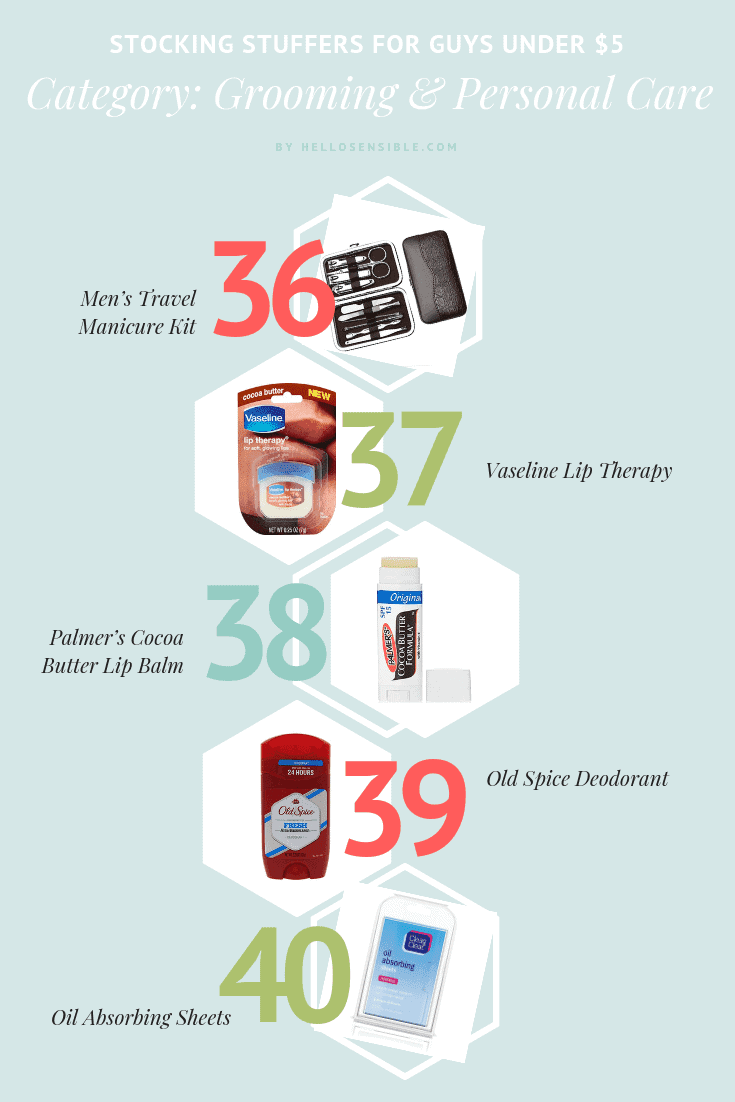 41. Toothpicks – They're just so useful.
42. Beard Pocket Comb – If you have a hairy fellow, this heavy duty, plastic, wide-tooth beard pocket comb is a must!
43. Moisturizing Face Wash – This gift deeply cleans skin, removing dirt and excess oils and will not leave his skin feeling dry or tight.
44. Travel Toothbrush – A great stocking stuffer if your guy travels often.
45. Shaving Cream – Classic and practical.
Men's Accessories
46. Money Clip Card Wallet – This wallet can quickly and neatly slide your cards out with one click. It is lightweight, includes a slim design and can hold up to 15 cards.
47. RFID Blocking Leather Slim Wallet – Wallets can wear out quickly, so replace your guy's with a slim, genuine leather design that includes RFID blocking technology.
48. Oval Coin Purse – Does your man carries a lot of change? If so, this oval change holder will fit nicely in his stocking.
49. Luggage Tags – Whether he travels or not, these tags are a great stuffer idea. Add them to your luggage, laptop bag, backpack and more.
50. Notebook – This simple notebook can help your guy stay organized, journal or take notes.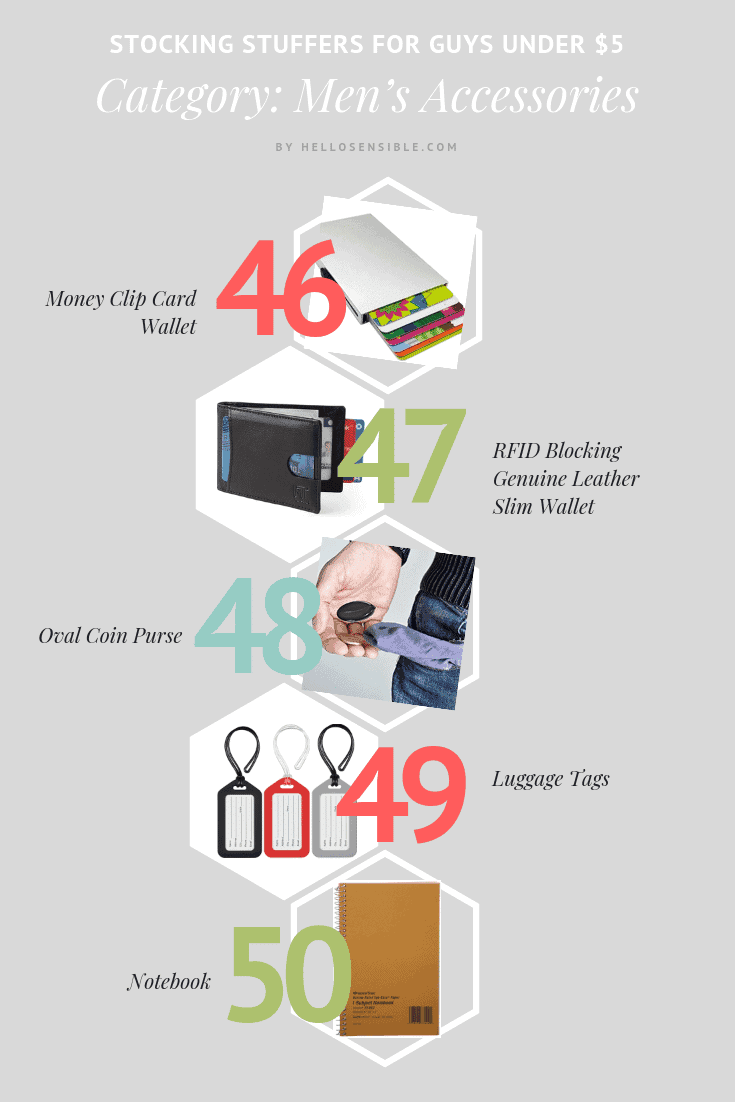 Sports
51. Greenkeepers 4 Hybrid Golf Tee – Have a golfer in the family? These tees are the first and only tee proven in both "Robotic" and "Field" tests to improve distance. Plus, they'll last for over 100 drives.
52. Practice Golf Balls – If your man wants to practice hitting outside of the golf course, add these hollow practice balls to your list. Their limited distance reduces retrieval time.
53. Wilson Eye Black – If he plays sports like softball or just wants to rep eye black at his favorite pro football game, eye black is a great gift idea.
54. NFL Quick Toss Softee Football – Pick out his favorite NFL team and add this football softee to your list.
55. Fishing Lures – A fun idea for the fishermen in your family.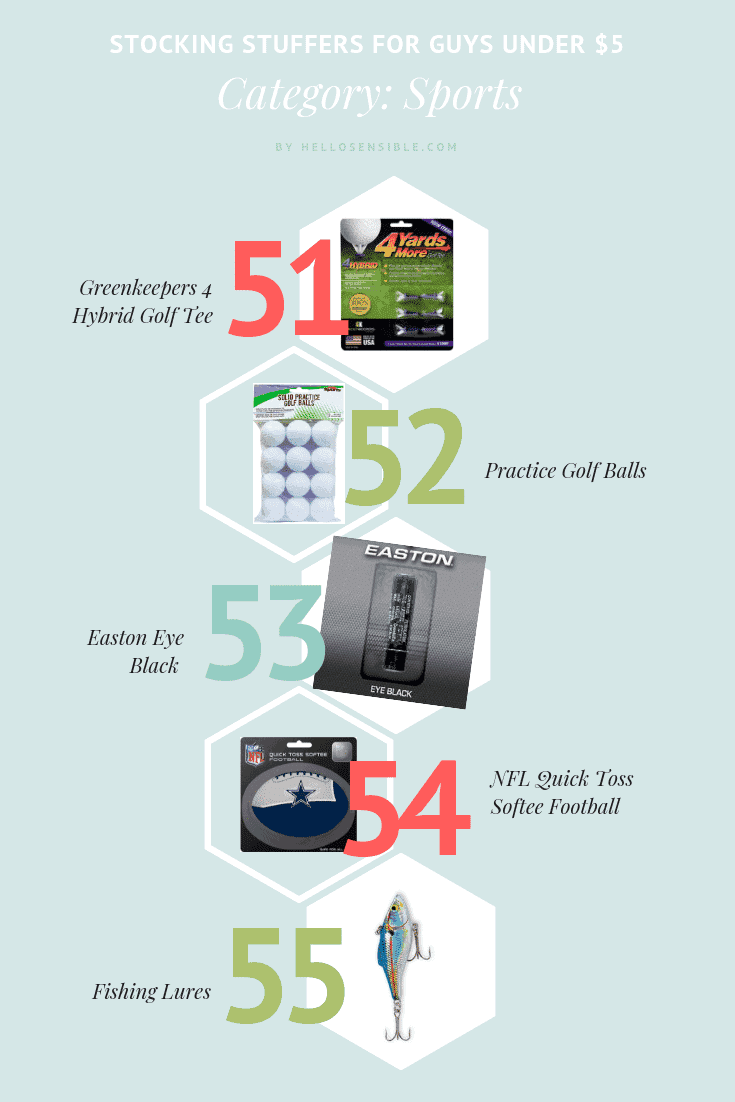 Men's Apparel
56. Soft Plaid Winter Scarf – To keep cozy and warm this winter season.
57. Pre-Tied Adjustable Bow Tie – Ditch the hassle of tying the bow tie without compromising on style. Add a bowtie to your guy's stocking.
58. Winter Gloves (Touch Screen) – A great idea to keep warm this winter without putting down your device.
59. Beanie Hat – Pick out his favorite color and add it to his stocking.
60. Initial Cuff Links – Select your man's initials for a custom, but affordable cufflink design.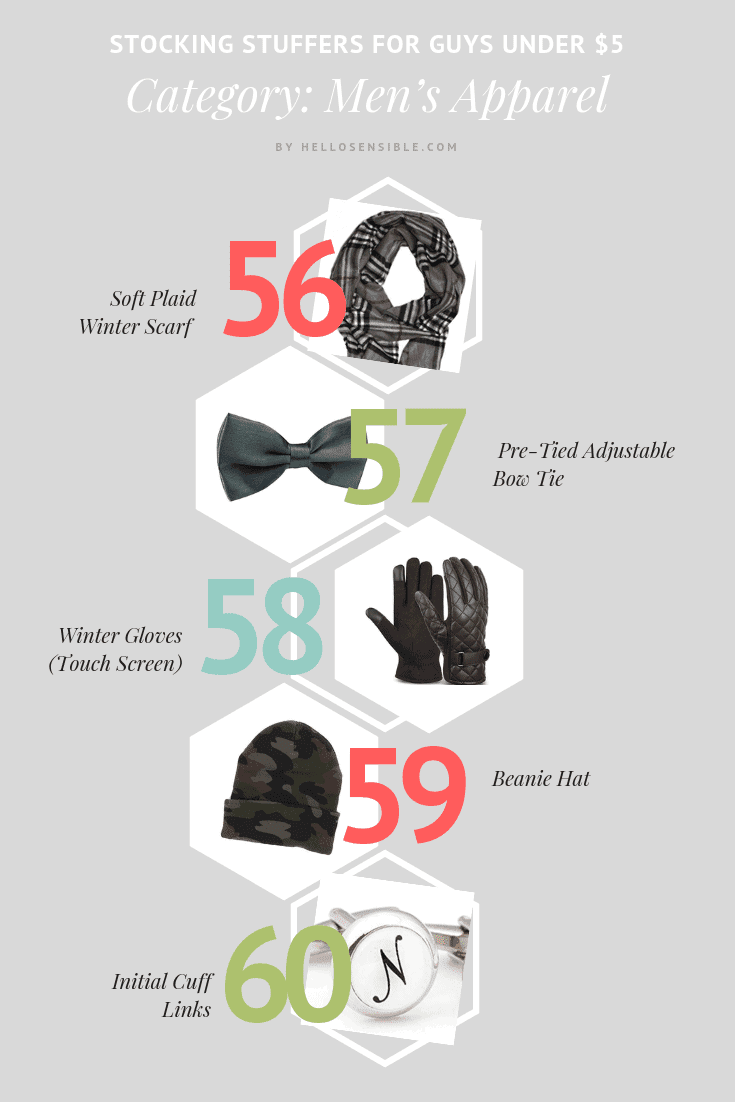 iPhone Accessories
61. Car Phone Mount – Mount his phone for a hands-free driving experience. One customer says, "After buying 2 other brands/kinds this is by far my very favorite. It's sturdy and the magnet is great."
62. iPhone 14 Case – Don't spend $40 on a phone case at Best Buy or Target. Amazon has affordable designs that can protect your man's phone. 
63. Smart Phone Ring Holder – This is a great accessory for the back of his phone. Includes anti-drop, anti-theft clasp, frees hands and holds devices firmly and good for watching a movie and playing music
64. Apple Watch, Airpod, & Cell Phone Stand Holder – Add this charging stand to your stocking stuffer list if he uses an Apple watch, Airpods, and phone.
65. Tempered Glass Screen Protector – Protect his screen with a set of three protectors. Fits snug into your guy's stocking.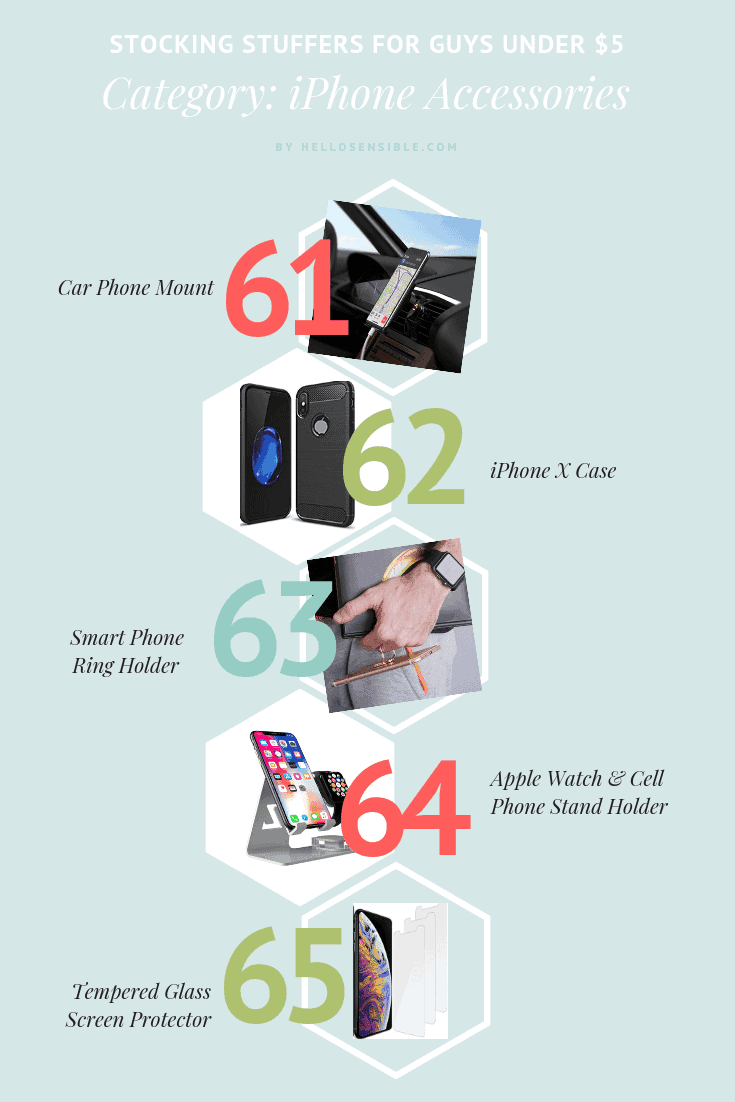 I hope this list inspired you or even helped you finish your Christmas shopping. If you score any deals or find other stocking stuffers for guys under $5, comment below. We'd love to know what you add to your men's stockings this year.
If you're looking for even more budget-friendly stocking stuffer ideas, check out our post: $1 Stocking Stuffers For Colossal Savings at Christmas