Summer Infant Baby Touch 2 Color Video Monitor
With baby number two on the way, I have been in search of an upgraded monitor that can access two rooms, and we have found the ultimate video monitor system in the new Baby Touch 2 Color Video Monitor by Summer Infant!
With my first son, we owned an older video monitor made by Summer Infant and were really impressed with the quality, so I knew that we wanted to stick with them when we upgraded for our newest baby!
When the new Baby Touch 2 arrived in the mail, I couldn't wait to open it and test it out. Everything I had seen about it's features intrigued me (and not to mention also intrigued my husband, who works in video surveillance!) and I was excited to put it to the ultimate test: a three year old's nap time.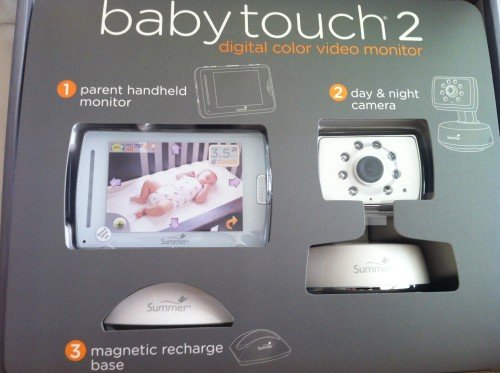 First, lets talk about the awesome features.
The BabyTouch 2 Digital Color Video Monitor is an innovative video monitor featuring a revolutionary touch-screen controlled 3.5" LCD color video monitor, the first of its kind. We're talking high tech, top of the line here!

The camera(s) is controlled by the touch screen monitor, able to move the camera back and forth, up and down, zoom in, turn on the built in night light, and even talk to your little one.

The monitor displays the current temperature in the room that the camera is in, although we have found it to be really inaccurate.

Video can be switched on/off with a simple press of a button while still keeping audio on

The digital technology they use makes sure of a private connection, up to 600 feet away!

Comes with a magnetized recharging station for the parent monitor, and it can hold it's charge for up to (and we found sometimes more than) 10 hours. The monitor also has a belt clip/flip stand for convenient portability around the house.

Add up to three additional (Yep, a total of FOUR) cameras to your system!  Perfect for siblings in separate rooms, playrooms and more.

Camera is wall-mountable or can be used table top
See some of these awesome features in this video I made for you to see it first hand…because pictures just don't do it justice!
Now let's talk about my personal experience, shall we?
We are really impressed with the clarity and quality of this video monitor! The picture is so top notch, and my husband was surprised at how clear the video picture was (he has worked with $5k-$10k cameras!).
Oh, and remember that true test we talked about? You know…the three year old's nap time? It passed the test. For weeks, we had been dealing with my son getting up and out of bed, playing in his room, going to the bathroom for drinks and everything else he could think to do OTHER than go to sleep. We were starting to think it was probably time to cut the nap, but I was in denial. I knew from his behavior that he still desperately needed a nap, as long as we could get him to stay in bed!
That first day after we set up the camera in his room, I put him down for nap, came out to the living room and waitied for the first attempt at getting out of bed. It took only a few seconds, but as soon as I hit the "talk" button and told him I was watching and to go back to bed, he laid right back down! What?! No way it was that easy… He gave one more attempt, this time a little more cautious but I caught him and once again asked him to lay back down and he listened again, this time staying there until he fell asleep! I was in awe!!
Now, I'm not here saying this is some kind of magic monitor that will make your child nap, but it was magic for us! He still listens right away when I talk to him, unless he has a real need like going to the bathroom or is truly thirsty.
Once baby arrives, we will add a second camera in the nursery and will be able to monitor both kiddos! Such a great feature.
We have taken this camera on vacation with us, and used it while we let my son nap in an RV trailer while we visted elsewhere, with absolutely no connection problems! We definitely put the 600 foot range to the test with no video issues, just a little bit of audio skipping every once in a while.
We also put the camera movement to the test, and it is very quiet (although my borderline OCD son can hear it if the room is quiet) and can get a complete 360 degree view! It doesn't spin all the way around, but you can rotate it 359 degrees, getting the full view anywhere in the room you please!
Nighttime video is crisp and clear as far as night vision goes. We tend to not need the video feature as much at night, but we can see when my son gets up, as well as many of the items in his room very clearly. I usually leave the video off at night unless I hear something.
Overall, this video monitor is top of the line and comes highly recommended from this momma and her techno-experienced husband. I have already recommended it to a few friends about it when they asked about what monitors they should get! Find the Baby Touch 2 Color Video Monitor at your local Babies R Us. (The reviews on the Babies R Us website seem to complain about an "out of range" issue. I have not had any issues with this at all, and I believe this may lie in the previous model, since the reviews are all dated before the Baby Touch 2 came out.)
To find more info on the Baby Touch 2 Monitor and all of Summer Infant's awesome products, find them:  Online,  On Facebook, and On Twitter
*I received the Baby Touch 2 Monitor for review purposes, but all opinions are my own.