The Hulabye Happy Changer: Change the way you Change!
As all moms know, changing diapers isn't always pretty. It always seems when my children are on the changing table they choose to become a wiggle worm or throw a tantrum. I cannot tell you how many times poop has ended up on my kids' hands, feet and clothes or my hands, clothes or even hair. Heck, I have found poop on our walls several times after a routine diaper wrestling match.
I was recently introduced to the Hulabye Happy Changer, the first product to offer a simple, stylish solution for wiggle-free diaper changes. The Hulabye is a soft, fabric vest that attaches to your changing pad and prevents your little wiggle worm from rolling or scooting away from you during diaper changes. It also helps keep your baby safe by securing them snugly to their changing pad so he/she doesn't roll off the table. I was immediately impressed by the concept and even more impressed to see it solve our diaper-changing struggles!
I was initially worried my daughter wouldn't like being confined by the Hulabye, but she seems to like it! I think it helps her feel secure by the way it wraps her up—with the Hulabye Happy Changer, diaper changes have been a breeze! I no longer have to clean poop off of our hands, clothes or the walls!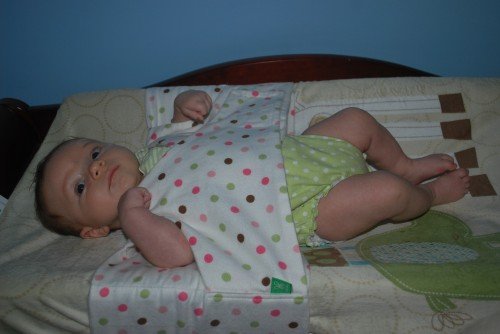 Here's How it works:
Step 1: Gently wrap the Hulabye Happy Changer around your changing pad and fasten securely in the back.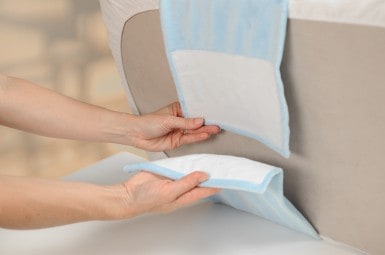 Step 2: Open up the vest and lay your baby on top of it. Place your baby's arms through the arm holes.
Step 3. Close the vest flap on the inside.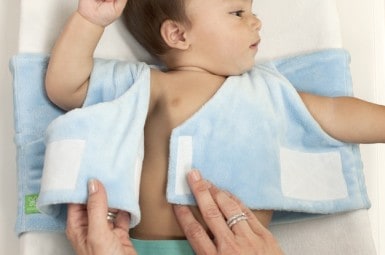 Step 4. Pull the top portion of the vest over your baby's midsection and secure with the hook and loop closure. Now, your baby is ready for wiggle free diaper changes!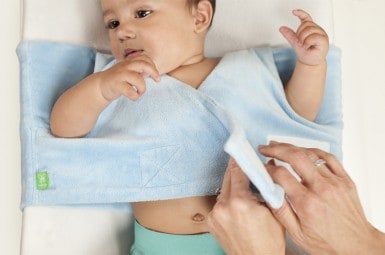 My Favorite Product Features:
quickly and easily attaches to any contoured changing pad.
Simple hook-and-loop closure allows baby to be secured quickly and easily.
one size fits all (newborn to 2 years)
machine washable
The Hulabye Happy Changer was created by Los Angeles mom, Erin Kelly. After having her second child, Erin knew their had to be a better way to do diaper changes. She looked in the stores for something to help keep her baby still but wasn't able to find anything to help her. She decided to break out her sewing machine and create her own "stay-put" product and it made diaper changes much more enjoyable for herself and her daughter. She loved her creation so much that she knew that other moms would love it to—that's when the Hulabye Happy Changer evolved!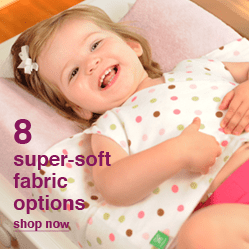 Made of soft wool or minky fabrics, the Happy Changer comes in eight stylish designs, perfect to suit any nursery or taste. The Happy Changer also fits to any contoured changing pad and it's a one-size-fits-all product, so you don't have to buy different sizes as your baby grows.
The Happy Changer would make a perfect baby shower gift—diaper changes are hard enough for new moms—the Hulabye Happy Changer can help simplify diaper time for them! You can find the Happy Changer at Hulabye.com. Be sure to also follow Hulabye on Facebook and Twitter for recent product news and specials!
 *A sample was sent to us free of charge from Celebrity Baby Trend Expert, Rachel Florio-Urso. All opinions are our own.