Tips on How to Remove a Stain With Resolve
I am a mom of two little boys who tend to get more food on their clothes than in their mouths. Needless to say laundry isn't always enjoyable when I'm trying to scrub out stains and needing to wash them on multiple cycles. I was put to the challenge of testing out Resolve Stain Remover against some of the worst stains imaginable and let me just say, I will never use another stain remover again.

Resolve has an incredible website that has a ton of stain removing tips for even the toughest stain. Whether it's sweat, grease, motor oil, grass stains or more, Resolve has a great list to help you in your challenge of removing the stain. You can visit: http://tips.powerofresolve.com/Tips/create.php to learn more.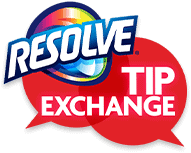 Do you have a favorite way to get out stains? Share your stain removing tips with us and on the Resolve website!
Disclosure: This is a sponsored video for Resolve that I have been compensated for & received free product for through Burst Media.  I have provided parental contest for my child being in this video.