Traveling to Cancun: Moon Palace Resorts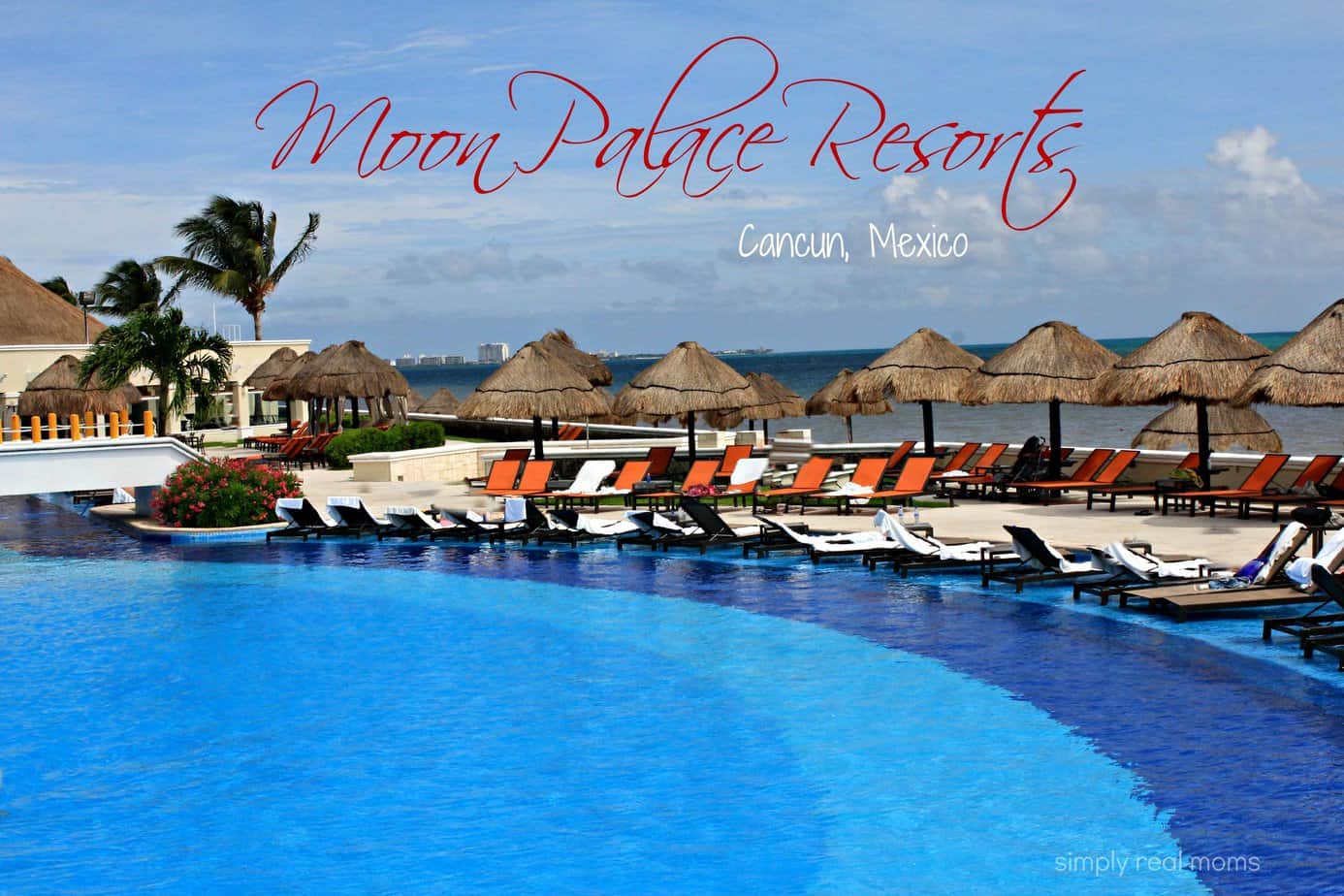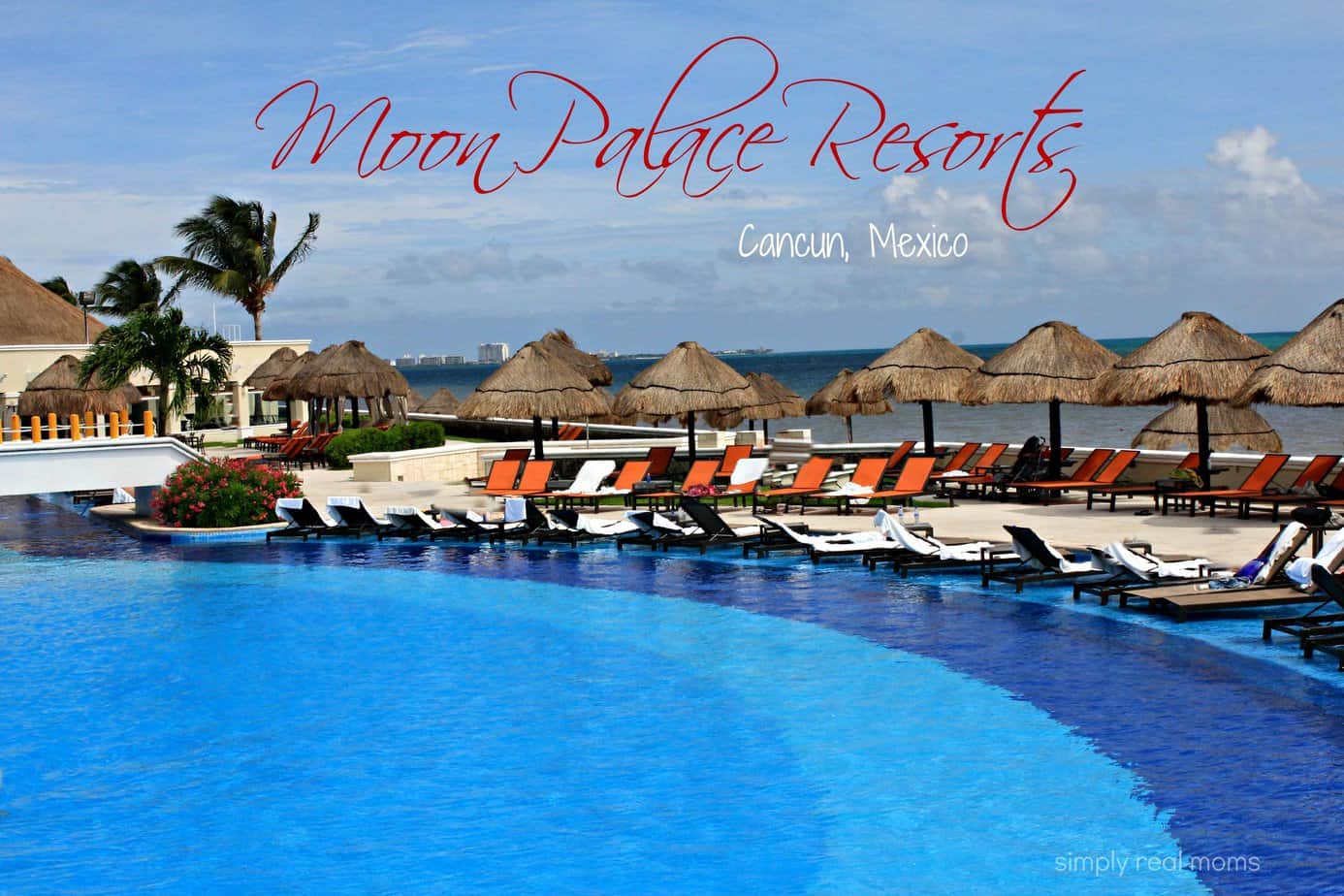 Have you ever vacationed somewhere where you felt like the people who worked at the hotel or resort honestly cared for you?
My husband and I recently stayed at the Moon Palace Resorts in Cancun, Mexico and after years of traveling, for the first time I experienced true hospitality.
The Moon Palace is a first-class, all-inclusive resort that lies on a vast beach overlooking the Caribbean Sea. This incredible resort is rather large with over 2,500 rooms divided into 3 "mini resorts" — Sunrise, Moon Grand, and Nizuc.
The rooms at the Moon Palace are breathtaking.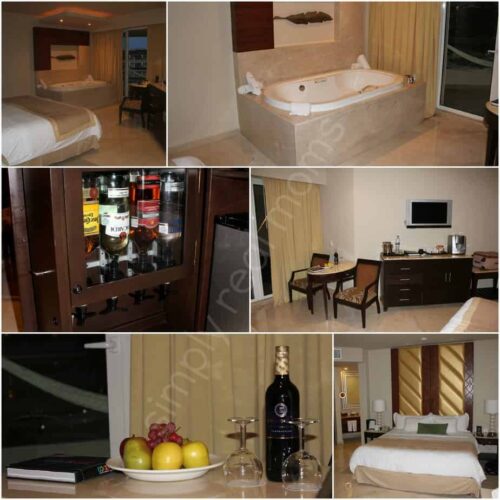 Each room features luxurious décor,  a marble bathroom with glass enclosed shower, a double whirlpool, 24-hour room service, turn down service, a fully stocked mini bar, a liquor dispenser containing whiskey, tequila, rum and vodka, CHI bath products that include a hair straighter and blow dryer. That's right ladies, leave your hair straighteners at home!
Regardless of your room's view, ocean or garden, the balconies are the perfect way to wind down.  We stayed in the Sunrise tower and had a hammock that we could lay and relax on. We were given a garden view however we still had a great view of the ocean:
Here is a detailed video I took of our room when we first arrived:
Whether you are visiting to enjoy a relaxing weekend with your spouse or a fun family getaway, the Moon Palace is the perfect resort that will meet everyone's desires.
Before I talk about all the incredible amenities and activities the Moon Palace has available to their guests, I have to talk a little about the hospitality that is provided while staying there. Sure all the pools, night life, food and drinks are above and beyond, but what really made me fall in love with the resort was the feeling it left me. Every single person who works there made my husband and I feel like family. They went out of their way to make sure we had an enjoyable experience. They remembered our names, laughed with us, set us up on private tours, gave us local advice as to where to shop, and honestly really spent their time getting to know us.
I am forever grateful to have spent our time at the Moon Palace getting to know some of the staff. Our favorite staff member was our bartender, Rigoberto. We made sure to visit his bar every day and learned more and more about the resort and the city of Cancun from him.
Now onto the awesome features of the Moon Palace. Once you check into the resort they hand you a list of the week and weekend's activities— including free nightly shows. There are also an abundance of ways you can enjoy the resort without extra costs:
Swimming Pools:
Each of the towers at the Moon Palace Resorts have their own pools. However, you are free to swim at either of the three towers while staying at the resort. We stayed in the Sunrise Tower and were amazed with how many pools that specific tower had. I didn't get an actual count but there were definitely more than five. Some had swim up bars, some offered daily water activities like volleyball that the resort staff holds, and some are just for regular swim time and sun bathing.
If you do bring the kids, they have a very impressive kids water area that even I wanted to play in.
 Beach: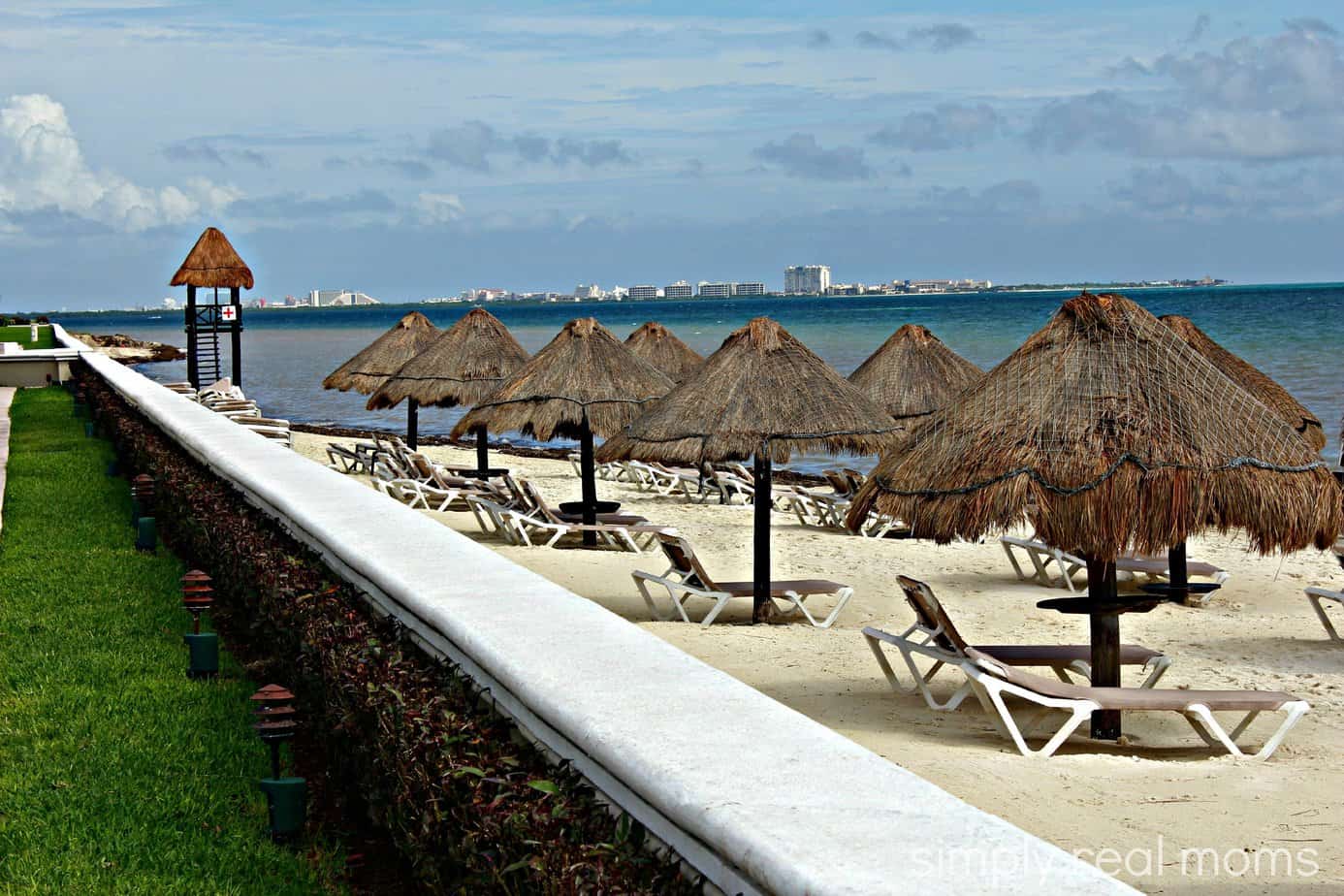 The Caribbean Sea is just footsteps from the resort. There you can relax on a lounge chair while taking in those gorgeous ocean views and relaxing sounds. I also witnessed first-hand how serious the resort is in taking care of the guests' experiences. One morning my husband and I woke up early to take a stroll on the beach. We saw staff raking the sand and clearing off any of the seaweed that made it onto the shore.
FlowRider: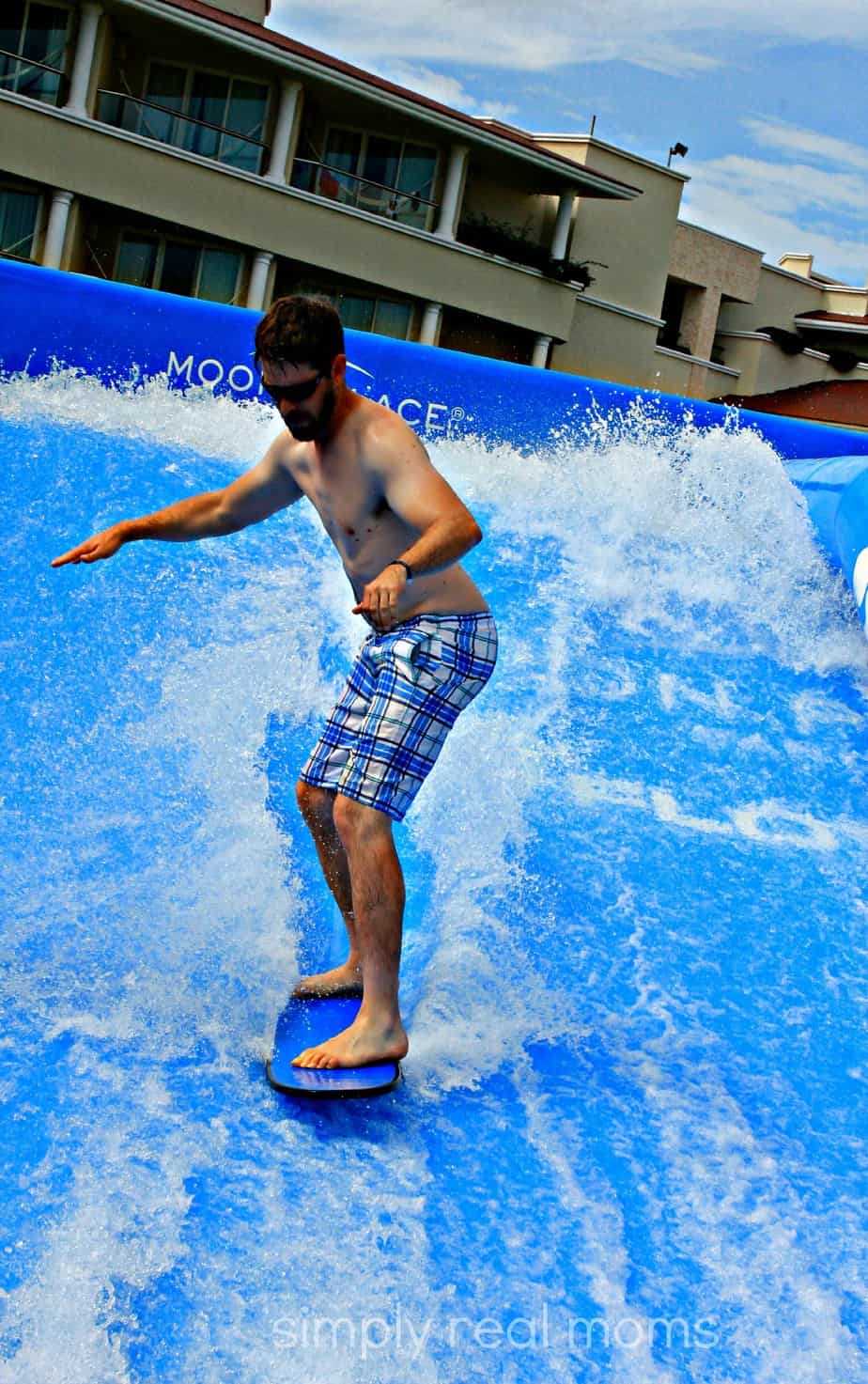 This wave simulator was quite popular among the guests, including my husband! Guests had a chance to show off their surf skills— or lack-thereof. The FlowRider is sectioned off into two so guests can either try their hand at surfing or cruise the waves on the body board which is perfect for kids. This was quite entertaining to watch from the bar across from the simulator, especially when we watched a bride who was married the night before "trash her dress." She surfed the waves while wearing her wedding dress, such a fun thing to watch.
If you really want to try the FlowRider and are nervous about wiping out fast, there is no need to be nervous as there are staff at the simulator that are extremely experienced and can go with you. They stand on their board and hold your hand as they teach you and cruise the waves with you. Perfect for the first timer or any child who wants to surf.
Toddler & Kid Time: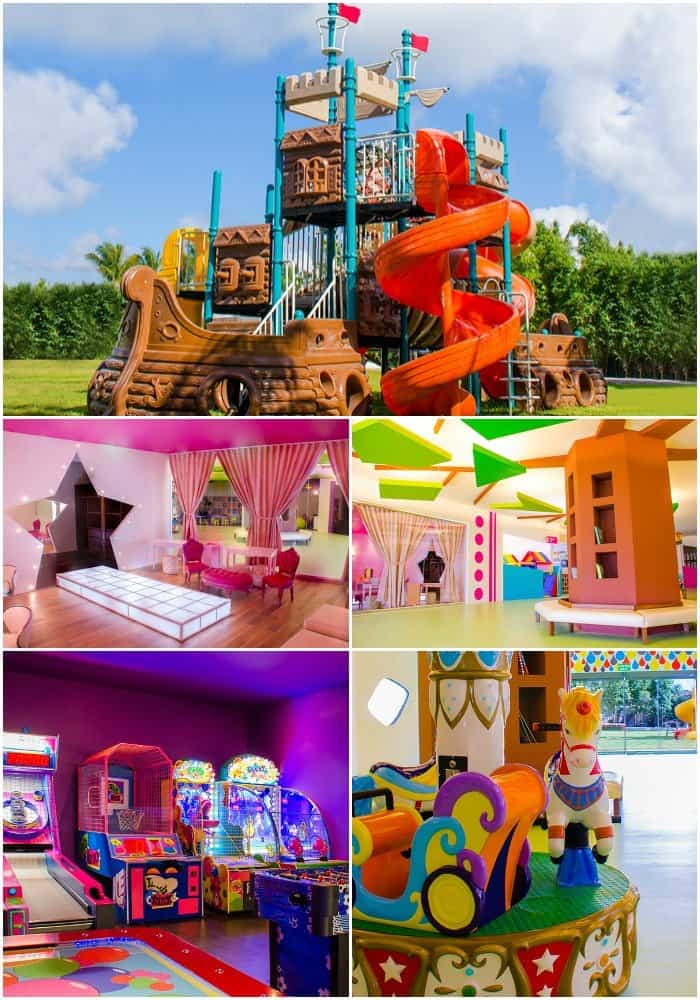 Moon Palace's new kids club, "The Playroom," is a dream come true for the royal mini guests. Complete with various game rooms, the new kids club has iPlayrooms for toddlers, a beauty salon perfect for girls to embrace their inner princess, a mini runway to practice their catwalk, a girly doll house, a kitchen, an Xbox room and a separate area filled with toys. "The Playroom" also has a theatre with comfy seating and concessions, where kids can mingle while watching movies. For the more active kiddos, there are two playgrounds, both inside and out. All children in the club are always under strict supervision by the property's helpful staff. Anything and everything a kid can ever desire can be around in The Playroom.
Teen Lounge:
OK, I am sure we all know what it's like to be a teen on vacation. Usually things to do around resorts are targeted at children and adults, leaving the teens to either lay around on the beach all week or stuck doing "kid" activities. When I learned about WIRED — a lounge just for teens, I knew I had to check it out and see what exactly this lounge was all about.
The minute I walked in I heard energetic music coming from inside, as I turned the corner I think my eyes widened as I saw an entire wall full of  TV screens, all for video games! Each TV comes with a controller so you can play a video game. There are even cushioned loungers built into the wall with its own screen, so your child or teen can lay back, relax and play. Behind me was a giant open room complete with a DJ playing the hottest tunes and an entire food concession stand with snacks galore (all free for the kids seeing as this is an all-inclusive resort)! To my left was an area with pool tables for kids who weren't into the video game scene. To my surprise I saw a hallway that led into two more rooms! The first room had a grassy floor, bean bags and two TV screens for kids to play games like Just Dance Kids. It gave them the open floor and space they needed. The last room was full of arcade games. WIRED was seriously one of the coolest lounges I have ever seen.
Adult Only Bars:
Sky Lounge is an adult only lounge that is perfect for those 18 and up (Yes, in Cancun the drinking age is 18 years old) who want to have a few drinks and relax. Sky Bar has two pool tables, TV's all around, music and fabulous cocktails. My husband and I enjoyed a round of pool the first night we were there.
If you are looking for a night club, no need to venture off the resort as Noir will have you dancing the night away. We had so much fun at Noir, the music was on point, the drinks were strong and the atmosphere was incredible.
Animals: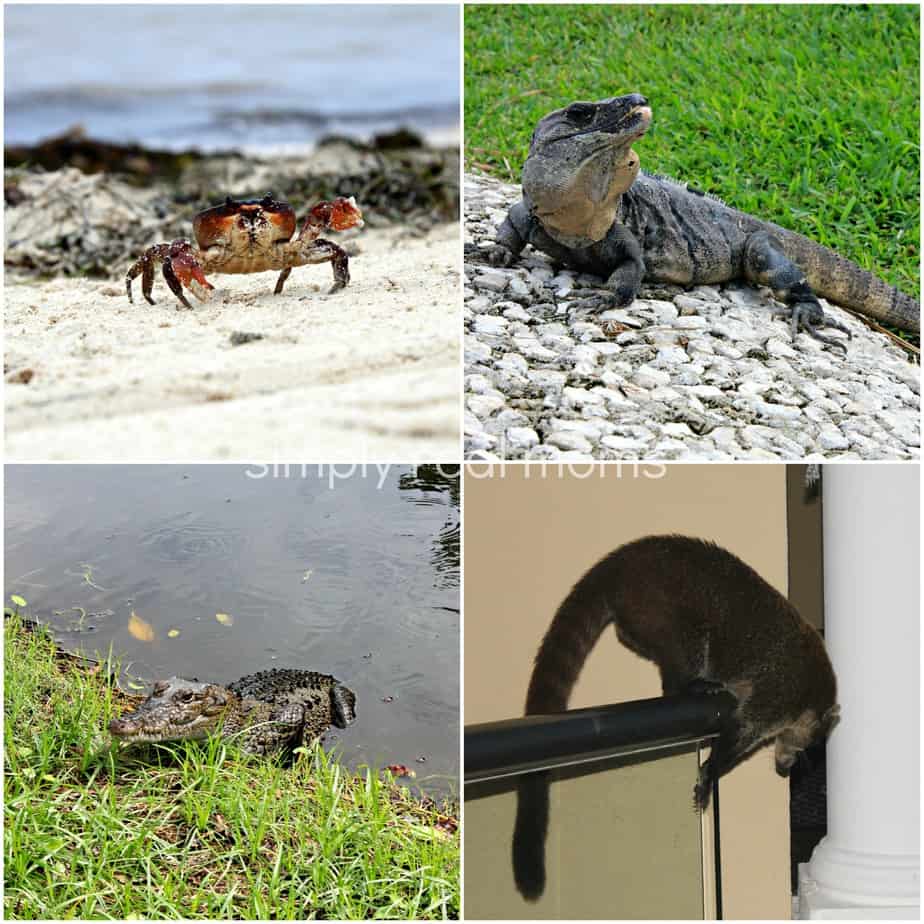 Moon Palace Resorts has amazing wildlife. Built around a swampy jungle, there are many types of animals you can see while on the property. During our stay we saw what looked like an anteater, iguanas, baby geckos, crabs, and crocodiles. Yes, you read that right, crocodiles. We heard that crocodiles are a common sight while on the golf course and wanted to see one before we left. On the last day we were there we went out front to the bell hops and asked one of them where we could see a crocodile. Next thing I know he called one of his co-workers who was out on the golf course and had him pick us up for our own private tour. He took us around the property showing us the wildlife and telling us about the history of the Moon Palace. After an unsuccessful attempt at finding a crocodile on the golf course, he knew exactly where we could find one and showed us how we could call it to get it to come closer to snap a photo. Being able to see a crocodile completely made our trip seeing as we don't have crocodiles in California.
Shopping:
The Moon Palace is secluded a ways from all the busyness of Cancun. Every day there is a bus that will take you to one of their sister resorts — The Beach Palace and the Sun Palace. The Sun Palace is an adult only resort that you can spend a few hours relaxing at or you can head to the Sun Palace that is right where all the shopping is. Whether you want to shop at a high end mall that sells designer name brands or you want to get some authentic Mexican items at a market full of local shops, you are in the right place with the Beach Palace.
Not only was the shopping fun as we got our kids some ponchos and other small souvenirs, but we got to spend an hour at the resort, eat some lunch (yes, you can even eat at the sister resorts for free), and check out the incredible views. The Beach Palace was a lot smaller than the Moon Palace, but equally as impressive. After a few hours the bus picked us up and took us back to the Moon Palace Resorts.
Activities to do with resort credit:
There are a ton of adventurous activities you can do with resort credit! Activities include:
Golf
Spa Treatments
Dolphinarium
Scuba Diving
With over 5 restaurants at the Sunrise tower alone, the food choices are incredible. Our first night there we ate at a seafood restaurant located near the pool. I have never had a seafood platter that fresh and delicious before. The breakfast buffets are also delicious and packed with plenty of food choices for everyone!
On our second night there we met up with fellow blogger and good friend, Jen, from themomreviews.com, for a double date at a romantic restaurant on the golf course- La Trattoria.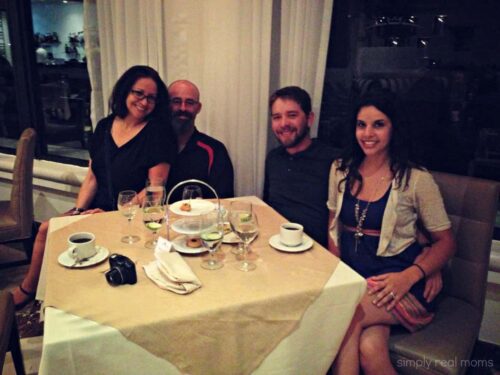 La Trattoria is a reservation only restaurant at the Moon Palace and definitely one I recommend if you are traveling with just your spouse. The atmosphere is exclusive and romantic, the food is incredible and there is even a man who comes around and plays the violin for you.
If you are looking for a "wow" experience, you will want to head to Momo's inside the Sunrise Tower.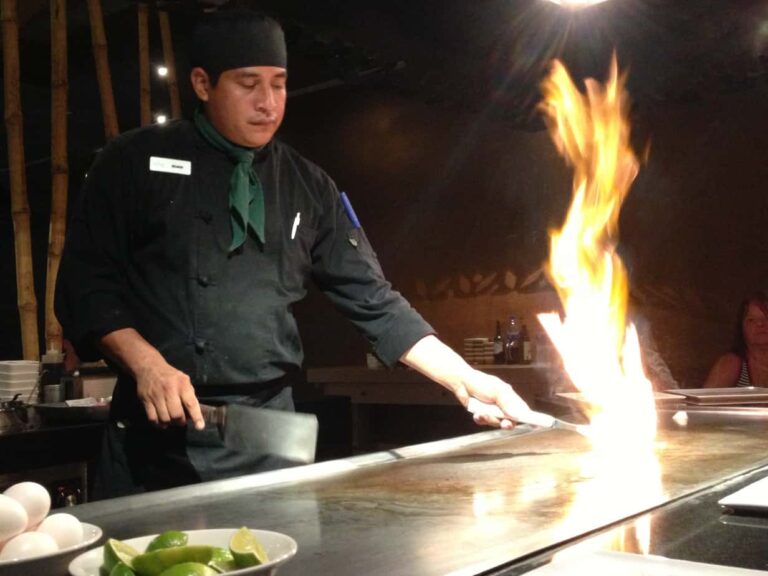 Momo's is a Japanese, hibachi restaurant where you can be entertained while you eat. We made a lot of friends during our experience at Momo's and I recommend you eat there at least once during your visit at the Moon Palace. Definitely a fun experience for everyone.
If you are wondering which of the three towers you should book, here is a brief description of each tower and what they offer. Remember, they offer free shuttles to each of the three towers.
Sunrise: Perfect for the family!
  La Gondola Italian buffet
  MoMo Asian a la carte
  Bugambilias Mexican buffet
  Palapa Fragata Snack buffet / Seafood a la carte Palapa Barracuda Snack buffet / Steakhouse a la carte
  SKY BAR Adult-only bar
  Lobby Bar
  FLOWRIDER (double wave simulator open every day 9am-5pm)
  Pool Bar Columpios
  Noir Nightclub
  WIRED Teens lounge
  Gym
  Beauty Salon
Moon Grand: The most recently renovated section and mostly visited by adults.
 Los Tacos Poolside restaurant with traditional Mexican tacos
  El Caribeno  International & Caribbean buffet / Seafood a la carte
  La Selva Snack bar
  Lounge bar
  Pool bar
Nizuc: The most relaxing section
  El Manglar Italian and International buffet
  Arrecifes Brazilian Steakhouse
  Los Caporales Mexican a la carte (dinner)
  Palapa Delfines Poolside café / grill restaurant
  Palapa Pelicanos Poolside bar / restaurant
  Sweet & Coffee Crepes & Pastries
  Lobby Bar
  Chapel
I will definitely be coming back to the Moon Palace Resorts, but this time my children will be coming with me. This resort holds a special place in my heart and I can't wait to return!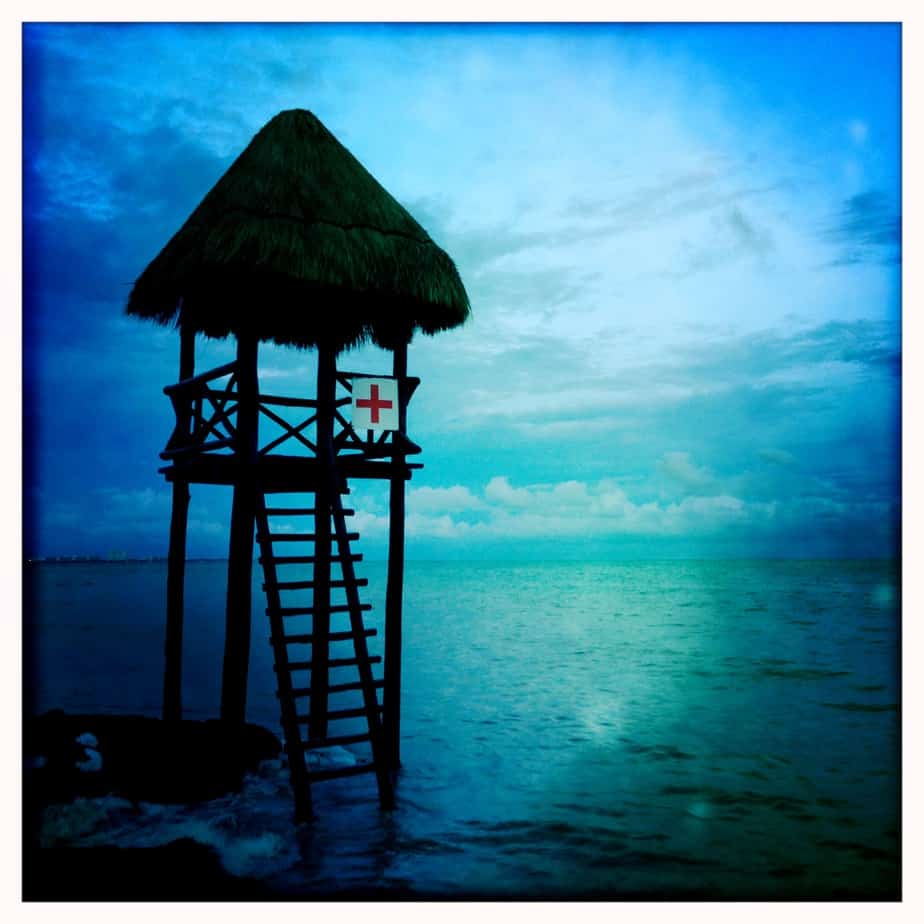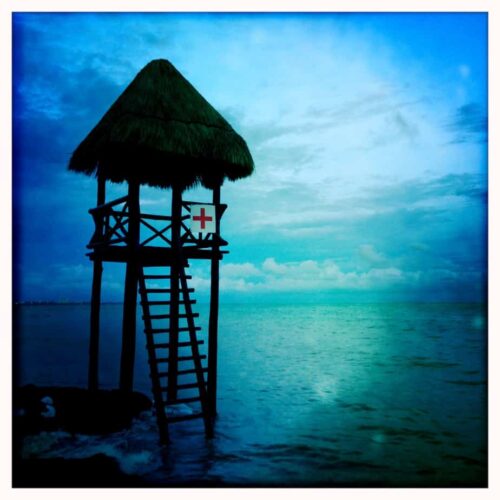 *Huge thank you to Moon Palace Resorts for hosting my stay. All opinions are my own.