What's the Point in Taking Kids to Church?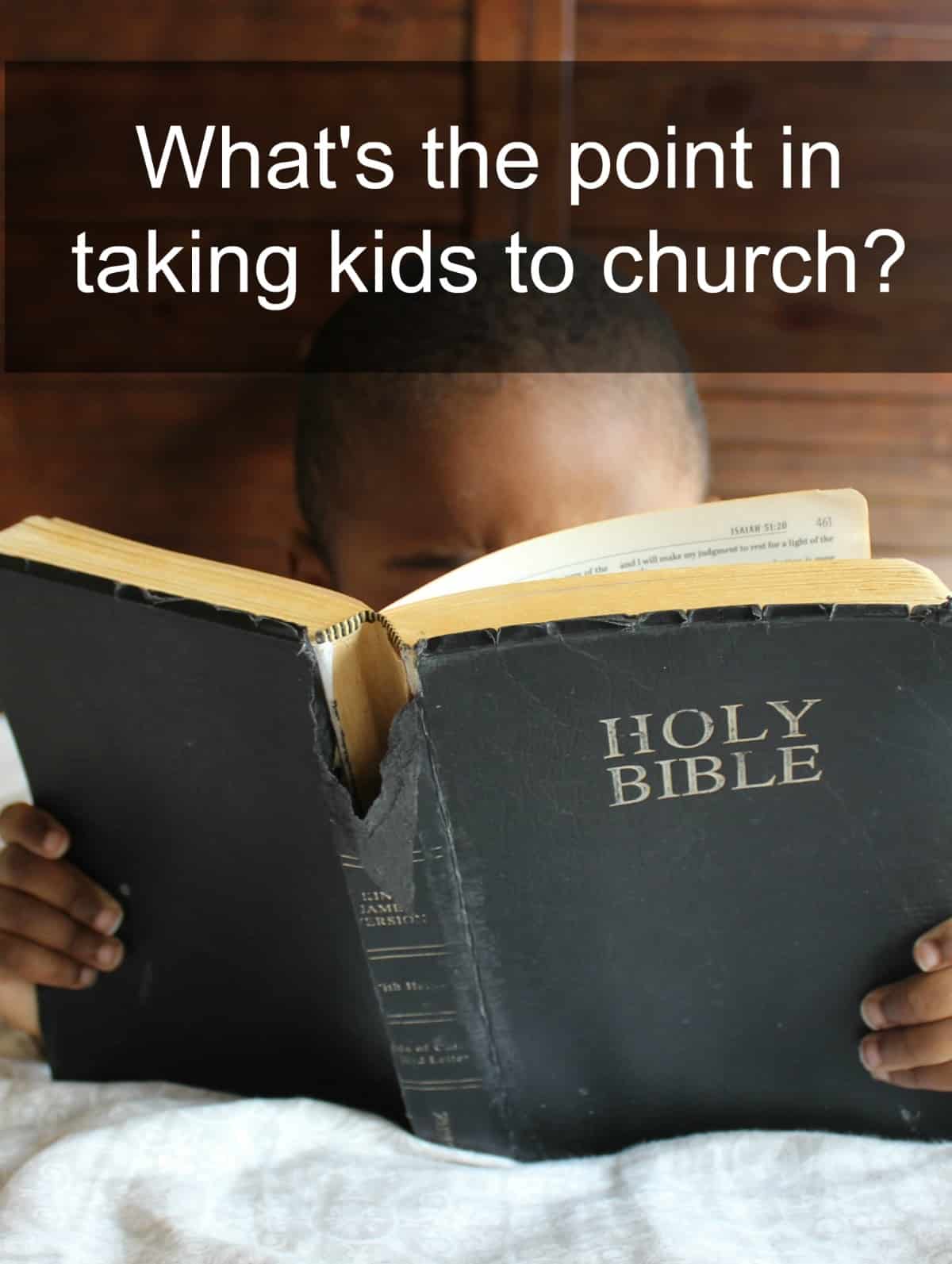 Memorial day weekend was our annual church conference and with 2 small tykes in tow, there were multiple times my head just hung down and I wondered what's the point in taking kids to church?
In fact I wondered why I was even trying. Most of my time in church was spent hushing little ones and picking up the few toys we allow them to bring. Then picking up bookmarks and pens, because kids will make toys out of anything.
What's the Point in Taking Kids to Church?
The rest of the time I'm out of church with a little one who has become so noisy I cannot hear a thing being said in church so what's the point? Why do we even try to take these babies to services? Why do we deem church such an important part of a Christ centered family's life when we cannot even hear what's being said?
Saturday services went okay. Sunday's services became increasingly challenging, and by Monday morning I just wanted to stay home in bed. But we went and I tried to listen. But the little I heard, only made me feel worse.
Monday morning the question was asked: "Why did you come to conference this year?"
As I'm fighting back tears, the voice in my head replies "I have no clue! I cannot take notes, what I'm hearing is so mixed with my children's fussing that it makes no sense. Everyone else else seems so joyful and peaceful and I'm just failing! Failing at being a mom, failing at being a christian…" and the nasty little voice keeps whining on.
That little voice, it lies.
Anytime the voice in your head brings condemnation, discouragement, depression, self pity, envy, etc. rest assured, it is not of God. The Still Small Voice of God bring peace and comfort, not condemnation and discouragement.
So what's the point in taking kids to church? Why bother even trying to go to a worship service when you have little ones. Why not wait until they are a bit older?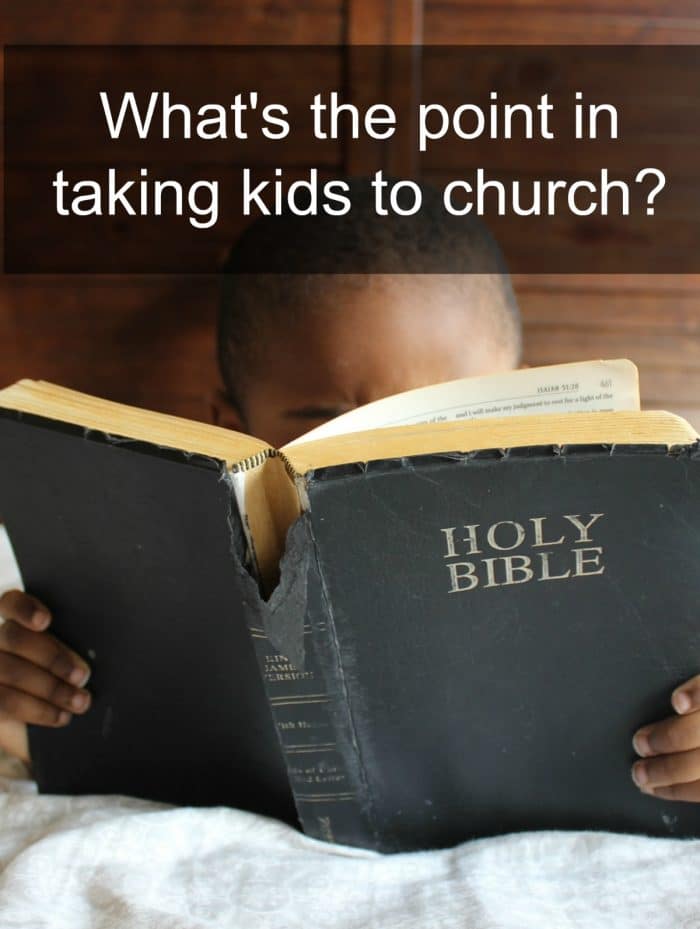 The Reason for Going to Church with Young Children.
Or rather 3 reasons!
#1. Fellowship
While I was feeling so down and frustrated, my 1 yr old became so loud and unruly that I had to take him out again. Sitting in the baby-room though, something occurred to me. I wasn't alone! There were a dozen other moms in there, ALL also attempting to settle their little ones.
What a comfort to be surrounded with Christian sisters, and see that we all share the struggle of seeking spiritual nourishment while still caring for our babies. I wasn't alone, and the nasty little voice in my head began to be silenced as I visited with other sisters, sharing our struggles.
God isn't limited to speaking only through our elected ministers. He is just as easily able to speak through a sister in the baby- room.
#2. A Firm Foundation
My almost 3 year old amazes me sometimes. He remembers the oddest things that happened months before. He remembers things Jason and I talked about and we didn't even realize he was listening.
Church is no different. Even though it seems like he is only worried about his toy, or snack, or going out to potty/get a drink, his subconscious is picking things up.
While christian parents cannot simply take their kids to church once a week and expect them to become followers of Christ automatically; taking children to worship services is a fundamental part of giving them the firm foundation upon which they can grow.
#3. God's Love for Children
On the wall in my boy's room is this verse: "suffer the little children to come unto me and forbid them not" Jesus spent time with children, he loved them and he blessed them.
I cannot help but believe that a church full of wriggly, noisy little children is a delight to our God! What a shame it would be for me to sit at home sulking because I don't get what I used to from sermons.
Scripture also backs this up:
Hebrews 10:25 Not forsaking the assembling of ourselves together, as the manner of some is; but exhorting one another: and so much the more, as ye see the day approaching.

1 Thessalonians 5:11 Wherefore comfort yourselves together, and edify one another, even as also ye do.
In fact, search for verses in the New Testament containing the word "together". You will find many, many verses talking about being knit together, working together, striving together…
This "togetherness" cannot happen if I'm sitting at home sulking because I cannot get much out of the church service due to kids.
So we will keep taking the children to church with us. Perhaps over time, the nasty little voice in my head will be silenced entirely. Or maybe I will always struggle against it. But I know this much: No matter how hard, or dark a place I find myself in, God's light can reach there and I can trust that he will bring me through.
Our children are the only true legacy we have. They are the only things on this earth that we both leave behind and can take with us. It's worth my life, to raise them in a manner that they can follow me to heaven someday.
So what's the point in taking kids to church?
Everything!