November 28 is the day our nation recognizes as a day of thanksgiving. In a land so richly blessed as America, 1 day out of 365 seems rather insignificant. However, we can make everyday a day of thanksgiving, no matter the circumstances.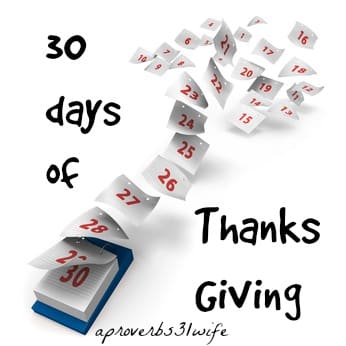 30 Days of Thanksgiving:
This month we are going to go through 30 days of thanksgiving. We will be focusing on one blessing a day. Some will be pretty easy such as homes, family, and food; while others like sickness, and trials are going to be more difficult.
My prayer is that over the next 30 days I will be able to share what the Lord has been placing on my heart about thankfulness and just how blessed we truly are.
In 1 Thessalonians we read this: In everything give thanks: for this is the will of God in Christ Jesus concerning you. chapter 5, verse 6.
God wants us to be thankful! He wants us to give thanks even in the hard times, he wants us to praise him! And why shouldn't we praise him? We, how have been given the gift of eternal life through the death of his son Jesus. If we have eternal life, why should we ever complain about things in this life that is so short?
Hebrews 13:15 says this: Let us offer the sacrifice of praise to God continually, that is, the fruit of our lips giving thanks to his name. I read that to say that every time we speak (fruit of our lips) our words should be of praise to our maker.
*sigh. How many times have I opened my lips and the fruit that falls out are not those of praise, but of complaints?
James 3:10 makes this remark: Out of the same mouth proceedeth blessing and cursing. My brethren, these things ought not so to be. I'm taking it a bit out of context, but it applies to this as well.
How can we really be thankful, if we are complaining as well? When I was pregnant, I was thankful that a baby was coming, but many times I allowed myself to complain about… well so many things.
My goal for myself is to always find something to be thankful for no matter what the situation. Not easy, but I want my son to see and hear his mommy praising and thanking God, instead of whining and complaining.
While I know that not all of my topics will apply to every-one, they are the topics that came to mind as I was writing down specifics that I was thankful for. I hope you will join me on my 30 days of thanksgiving and in my challenge to always be thankful.