I was asked to participate in Evite's #EviteBabyTrends series. Although I have been compensated, all views are my own.
A baby shower is one of my most favorite things to host, and here at Simply Real Moms we are throwing a fun Milk & Cookies themed baby shower! The colors black and white were perfect, and we threw in a touch of gold to make it fun! When you are looking to keep a baby shower theme gender neutral or simple, this is a great way to go! Who doesn't love Milk & Cookies?!
We will reveal all kinds of fun from our Milk & Cookies Baby Shower over the next few weeks, but today we are focusing on some of the decor. Since milk and cookies are the focus, we wanted to create an edible decor element that would be easy to make while looking impressive!
Items Needed:
Empty Starbucks Frappuccino Bottles (as many as you need for your guests)
Milk
Powdered Sugar
Sprinkles to match your decor (we used cookies & creme and gold sprinkles)
Funnel
Straws
We peeled off the labels from the bottles and soaked them in warm soapy water and scrubbed them to get the goo off (but you could use a goo gone too!).
Then, we made a thick icing using milk and powdered sugar. Start with about 1/2 – 1 cup of powdered sugar with only a splash of milk. Mix them together until smooth, and add more milk or sugar as needed to get a thick consistency (you will want it to stick to the bottles)
Place your sprinkles into separate bowls.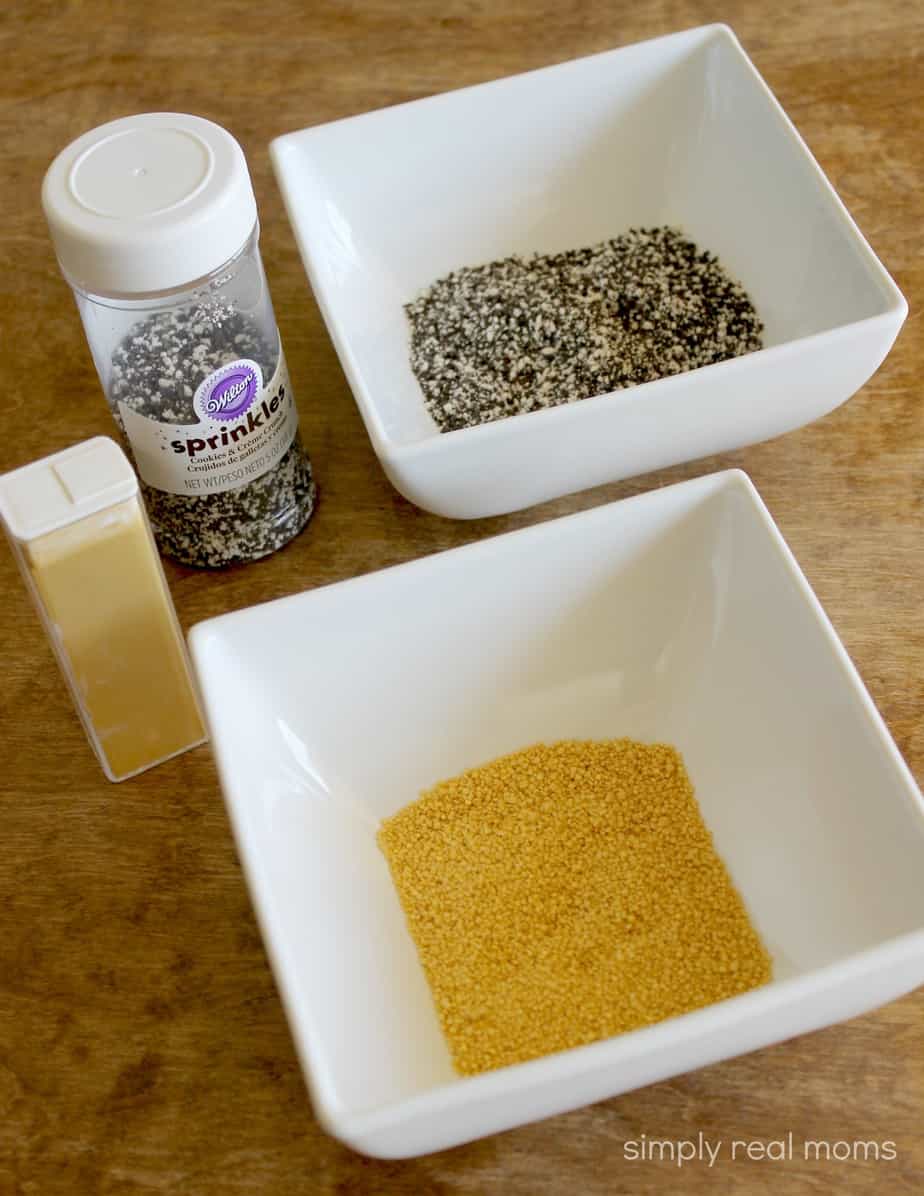 Aren't those gold glitter sprinkles adorable?!
Now, dip the top of each bottle into your icing, just covering the ribbed part around the rim. tap the bottle with your hand to make sure there's no drips and then dip right into the sprinkles bowl. Since we used two different sprinkles, we traded off which bowl we dipped into!
Place the bottles in an area that is cool or even the fridge until you are ready to fill them.
Fill them right before guests arrive, using a funnel to pour your milk so that it doesn't rinse off your sprinkles.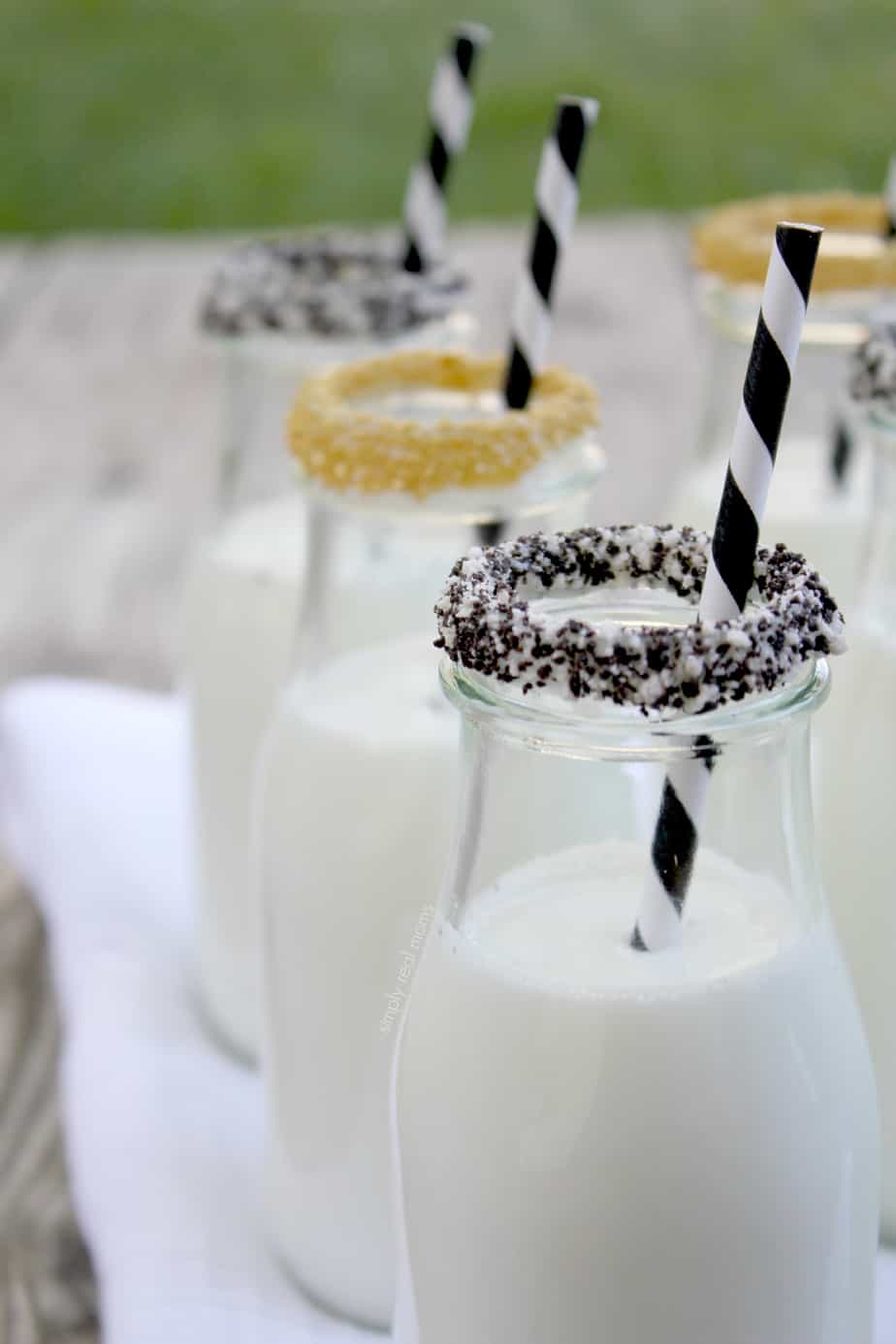 These were a hit at our party, especially with the kids!
Another decor element we love is one we used for our Little Man Shower. I love to hang personalized onesies up on a mock laundry line!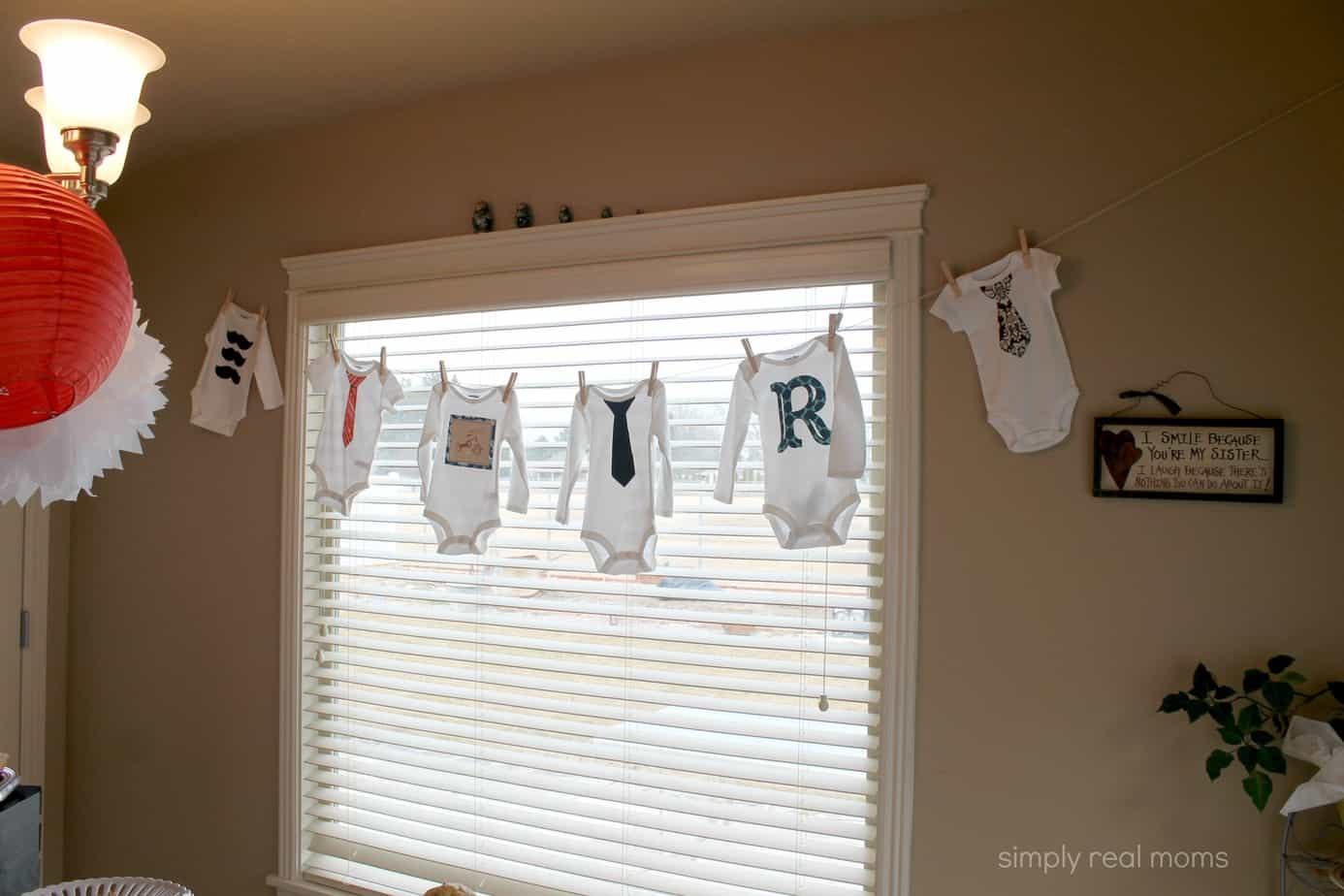 It is so easy to make personalized onesies that will match your decor, simply follow THIS tutorial for iron on personalization or even THIS tutorial to make a fun cardigan onesie!
There are tons of more fun ideas for baby shower decor on Evite's Baby Shower page, make sure to check it out! Make sure to join in Evite's Baby Shower on Twitter on April 10th at 6PM PST to win prizes #EviteBabyTrends!
Come back next week when we reveal our fun diaper cake we made for the party! Stock up on diapers now to make your own with these awesome Huggies Coupons!