Best Books for Boys ~Recommendations from an 11 Year Old.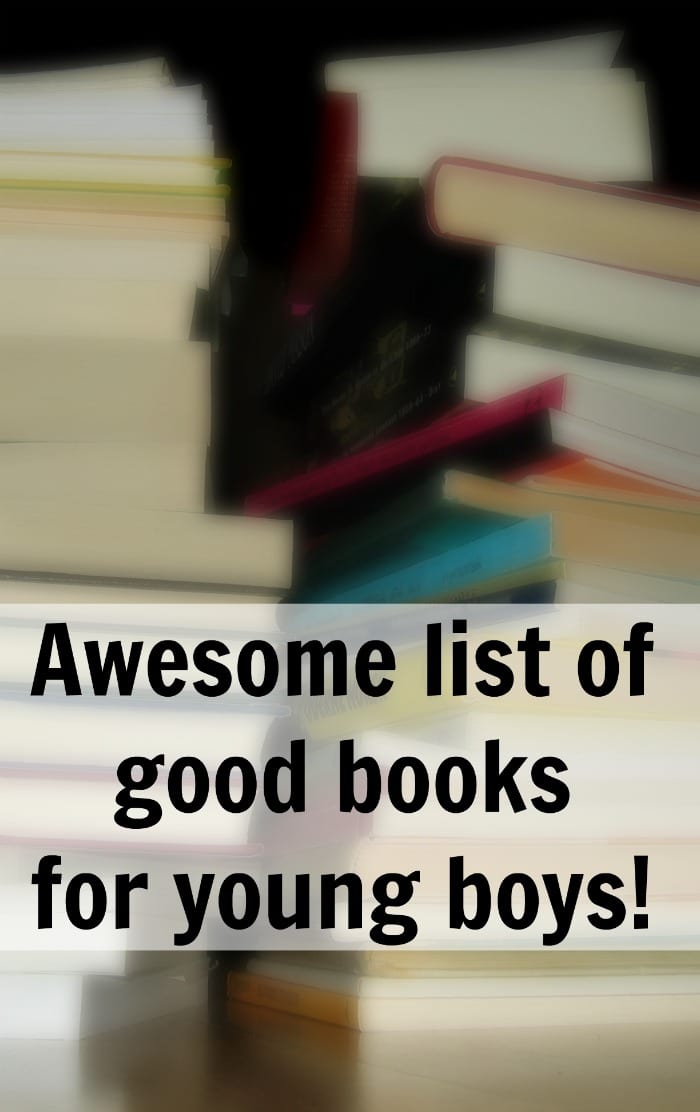 With the help of my 11-year-old bother, I have a list of best books for boys.  After I wrote my post on good books for girls, I had requests for good boy books as well.
I had to enlist my brother's help on this one. He will be 12 this year and is a reader like his big sis. I kid you not, last year at Christmas we were discussing subjects like how Luther Burbank got several types of apples to grow on one tree, and how pasteurization got its name.  I love this kid!!!
So I sat on the couch with my note pad and K— brought me the books that he loved.  Just like with the list of girl books, these are wholesome and good books that your sons will read and be inspired by.
Disclaimer: Most of the links here are affiliate links to Amazon. If you make a purchase through these links, you will be helping support this site at no extra cost to you. If you do not wish to support this site, you may simply clear your internet cookies before ordering.
Best Books for Boys:
These first few books are Lamplighter Books. I heartily recommend Lamplighter Books as family friendly and wholesome reading.
Daring Deeds, by Archer Wallace. Encourage your sons to bravery and heroism.
The Giant Killer, by A.L.O.E.  (Allegory) Slaying the giants of sin in our lives.
Sir Knight of the Splendid Way, W.E. Cule. (Allegory) A knight is challenged in many ways along his fight towards the City of The Great King.
The White Knights, W.E. Cule. 3 boys read of sir Arthur's round table an determine to take on being a knight in their day-to-day lives.
Buried in the Snow, Franze Hoffman. A boy and his grandfather spend the winter in the herder's cabin in the mountains. Together they face and overcome starvation, deep snows, wolves, and when the grandfather dies, they boy learns to rely more on God than ever before. True adventure and survival.
Next in the list of best books for boys are the books by Janet and Geoff Benge. There are 2 different sets that they have written;  Christian Hero's, Then and Now, and Hero's of History. I still love these books. They have done a great job in bringing the stories of these hero's to life.
The Little House books. Last winter K— was saying how he wanted to grow a huge pumpkin. I told him to look in Farmer Boy for the answer to that. He made a face and said he didn't think those books looked interesting.
Funny thing is, after he looked up how to grow a huge pumpkin, he read the entire book, and then the whole series! He had a sheepish look on his face when he admitted to liking them, after he had made such a fuss. lol!
Jacob's Rescue. This is a true story that took place in Nazi Poland. Telling the story of how a young boy and his brother were saved from the Nazi invasion. Several reviewers on Amazon mention using this book about the holocaust as teaching material for their 5th grade class.
The Orphan Train Series, by Arleta Richardson.
Written my cousin: Catching Raindrops. This simple children's story follows a young girl during a flood that devastated her family and town. A great story on how she learns to trust God even in the hard times.
Best books for boys: Adventure.
These books are not Christian based, but they are good clean books full of the adventure that boys love so much.
Summer of the Monkeys, by Wilson Rawls.
Gentle Ben, by Walt Morey. Walt Morey is a favorite author of mine. I cannot stand behind all of his books as I haven't read them all, but I love the ones I have read!
Lost in the Barrens, by Farley Mowat.
Big Red, by Jim Kjelgard.
Old Yeller, by Fred Gipson.
Rascal, by Sterling North.
An American Adventure Series, by Lee Roddy.  Set in the great depression era, Lee cleverly hides all sorts of historical tidbits in this set and I remember really enjoying the books as well.
Henry Reed Inc. by Keith Robertson. A very funny story, make sure to check out Henry's babysitting service as well. 🙂
I have also read all of these books myself and loved them. So I guess, it's not a "boys only" list.  But in all honesty, I read everything I could get my hands on as a kid. 🙂
All of the best books for boys are linked to Amazon. Please note that you may find them cheaper elsewhere. Amazon is a great place to read reviews from other readers and learn a bit more about the book.