9 Insane Butt Workouts to Sculpt Strong Glutes in 15 Min or Less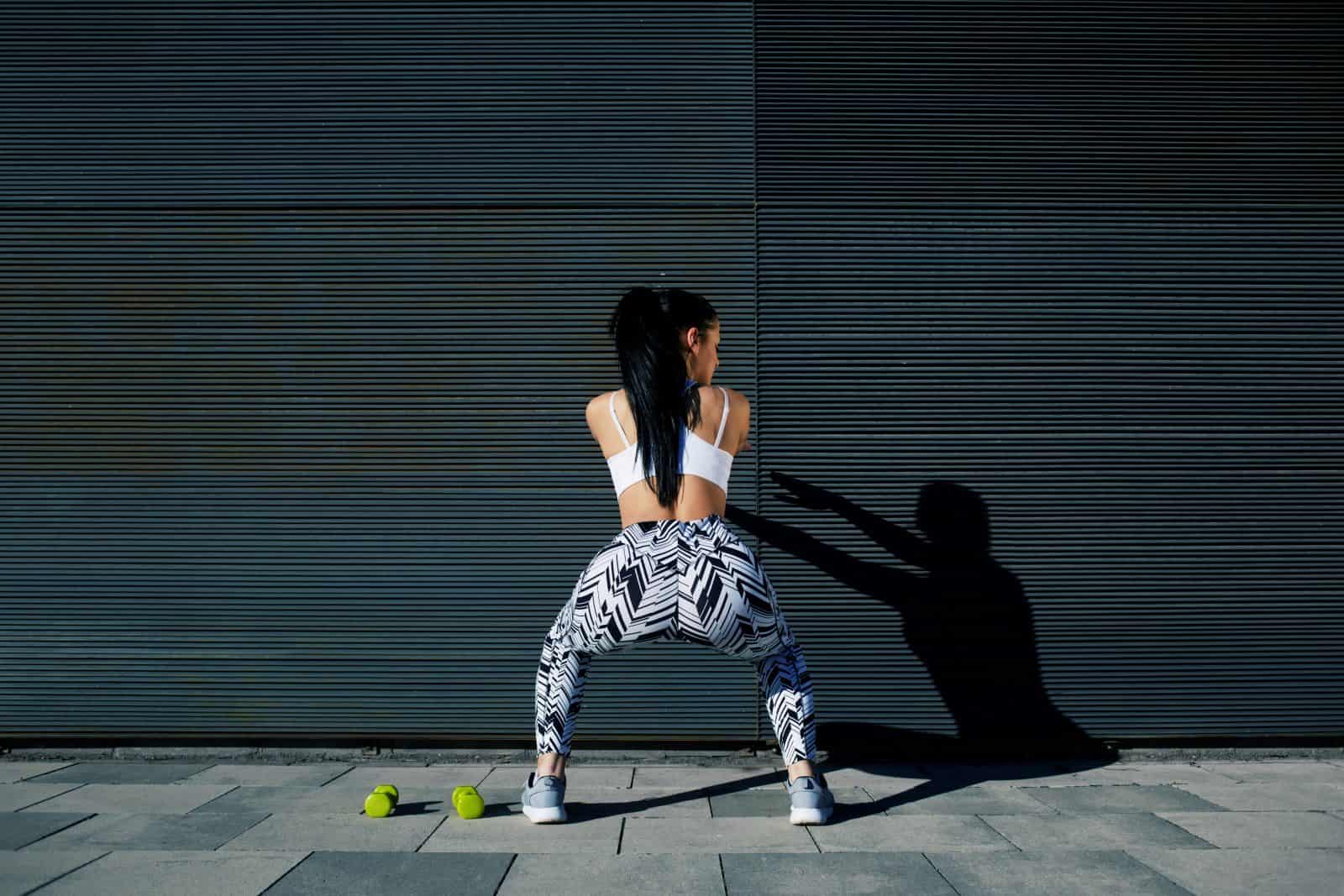 ---
I hear so many women say they want a better butt but they just don't have the time for hour-long gym sessions. Are you striving for that peachy round shape bum? Here are butt workouts that won't take much of your time and are fun!
Fortunately, you don't have to spend hours at the gym every day to get a better booty. Since your glutes (made up of the gluteus minimus, gluteus medius, and gluteus maximus) are the largest and strongest muscles in your body, you'll torch calories long after your workout is over.
Add these workouts to your at-home routine, you're going to love them.
Great Butt Workouts You Can Fit Into Your Day
Even with just a few minutes per day, you can start toning, tightening and lifting your butt with these great bum workouts.
Tip: Grab a loop band to really increase resistance while doing your workouts.
In fact, I've pulled together a list of eleven butt workouts that are 15 minutes or less and can be done almost anywhere. These videos include a variety of workout styles from bodyweight exercises, ballet barre, pilates, yoga, dance fitness, and more so you can come back to this post every week and try out a new booty blaster video without getting bored.
Are you ready?
Related Healthy Living Posts:
1. Insane Butt Blaster – Home Workout for a Lifted Booty
By Blogilates | Length: 11:10
In this fat-burning workout, get ready to draw shapes with your butt. I know it sounds strange, but in true pilates fashion, your glutes and hamstrings will be on fire! As a fair warning, you focus on one butt-cheek at a time for an entire song. #goodluck
2) 5-Minute Butt Lifting Workout
By Bailey Brown | Length: 6:05
Tack this five-minute booty burner on to the end of another workout or complete this if you're short on time. You'll need a mat or a soft surface as you'll be on the floor the entire time. This workout includes a lot of glute bridge variations!
3) 10-Minute Booty Shaping Workout (Pilates-Inspired)
By PopSugar Fitness | Length: 11:45
For this Pilates-inspired workout, you'll flow through dynamic movements on a mat. Feel your glutes squeeze and burn as you do donkey kicks, fire hydrants, rainbows, leg circles, pulses, and crossovers. You're sure to sculpt your bum with this one.
4) Yoga Workout for Butt | Best Toning & Strengthening for Your Glutes
By Natalia Mihailovska | Length: 11:43
Most people think you need heavy weights or intense lifting to shape a plump booty, but yoga can target your backside too. In this workout, you'll build a lot of heat in your glutes in this 10-minute yoga routine. This is also great to strengthen your lower back and will help you tighten up you quads and butt.
5) The Ultimate Ballet Workout for Lean Legs & a Tight Booty
By Autumn Calabrese | Length: 7:38
Although this is a ballet barre style workout, you don't have to have a barre. You can simply use a chair to steady you as you move through the various positions. Some of the movements include plie, tendu, dégagé, rond de jambe and more. This one includes lots of squats but it's also fun to incorporate these movements while working out. Enjoy.
6) Dance Fitness With Jessica: Booty Blaster
By Dance Fitness with Jessica | Length: 12:59
If you want a high-energy booty blaster, this workout delivers. You start by rocking out to the beat of Ludacris's song "How Low Can You Go". Think fast paced donkey kicks and fire hydrants on 2x speed. Then you move onto a song called "Booty Bounce Pop" which includes a lot of glute bridges. This is fun, but be warned: #glutesonfire
7) Tone Your Booty With The Best Lower Body Workout ~ Bikini Series
By Tone It Up | Length: 10:23
In this butt-kicker, you can expect to complete four circuits. Each circuit includes 4 moves and each move lasts 30-seconds. You'll do a lot of body-weight squats and lunges!
8) 10-Min Booty Burn – No Equipment
By Pamela Rf |Length: 11:13
This body-weight workout will leave your legs screaming at the end. You'll do a lot of pulse lunges, lunges with leg raise, jump squats, side squat steps, sumo squats, and abductor squats, before taking it down to the floor.
9) Booty! Butt and Thigh Workout – Best Butt Exercises for Women
By Chalene Johnson | Length: 9:18
This workout does require some equipment, including weights, a big box and more. If you're short of time you can run through the circuit one time or you can repeat it and take it up to an hour-long workout. It's up to you. You can expect deadlifts, squats, big box lunge downs, sumo upright squats, and more.
Bonus: Grow a Booty and Tone Legs – Full Gym Workout With Weights and Machines
By Mary Casarreal | Video Length: 11:21 | Actual workout: 1 hour
For this workout, you will need access to a gym with weights and machines. You can expect barbell squats, weighted walking lunges, explosive lunge-squat-lunges, crossbench still lunges, Bulgarian split squats with weights, leg presses, leg extensions, and hip abductors.
This one is brutal, Y'all, and you'll feel it for days. But if you want fast results, add this to your weekly workout routine!
---
Like anything, consistency is key. You have to keep working and squeezing your glutes every week in order to achieve a well-rounded backside. You got this!
Women's health is so important and these bum exercises are a great way to help you on your journey to health. You can also always incorporate some squats alternating the left leg and right leg or do traditional squats with your feet shoulder width apart. Sometimes that's all you have time for and that's ok.
Always remember to keep your knees above your ankles and if something doesn't feel right stop right away.
Love These Workouts?
Leave a comment and tell us which of these videos is your favorite butt workout routine and don't forget to sign up and get access to dozens of free printables and resources to help you live a crazy, ridiculously-awesome, sensible life!
[elementor-template id="8302″]