17 Best Places to Buy Cheap Kids' Clothes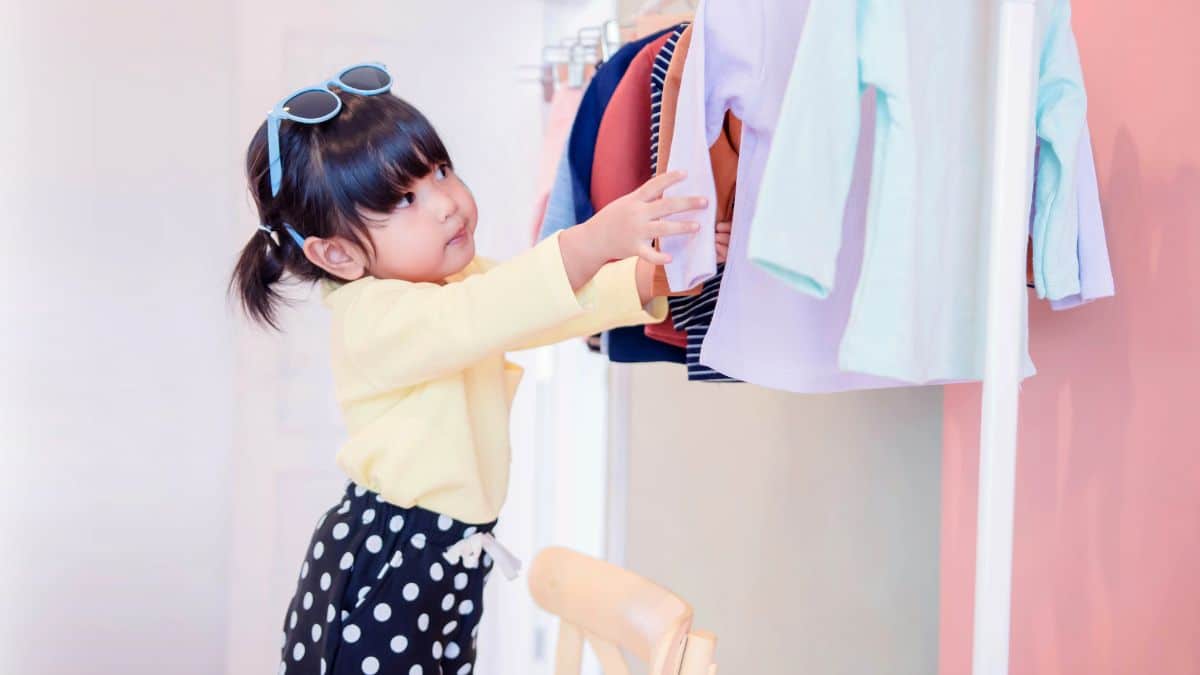 It is no secret raising a child is extraordinarily expensive. According to a report from the USDA, it will cost parents around $233,610 to raise a child to age 17.
Food and housing top the list for the highest expenditures throughout the years; however, clothing is an expense you shouldn't ignore. At 6% of the total, you can expect to spend around $14,000 on attire for your youth.
But don't let that number scare you because there are always ways you can save money. For example, shopping at stores that sell cheap kids' clothes will help you lower this expense.
Where to Buy Cheap Kids' Clothes
Since there are a limited number of work hours in a year for making an income, it's essential to spend your money wisely. Unfortunately, many school-age kids want name-brand clothing and shoes or the latest trendy attire, which can wreak havoc on your budget. You may even think you must figure out how to make an extra $500 monthly to clothe your kids. Not so! Browse the stores on this list to find cheap kids' clothes your youngsters will love.
Old Navy
Old Navy sells all the basics your kids will need for prices you will love. Whether your child prefers jeans or joggers, T-shirts or button-downs, Old Navy stocks many colors and styles.
If your child needs an extended size, shop Old Navy online for slim and husky clothing. You'll find sleepwear, including pajama sets for the whole family to match. In addition, check out Old Navy's selection of swimsuits, sandals or flip flops, and rashguards for your next beach vacation.
Children's Place
Children's Place is an inexpensive clothing store where you can clothe your boys and girls on a budget. Children's Place has clothing ranging from the basics to dress clothing to school uniforms.
In addition, boys' jeans are a popular item at this store because of the many different fits, sizes, and colors. You will find skinny, bootcut, straight, and relaxed fit styles in regular, slim-fit, or husky sizes. Also, you can buy your kids' favorite denim style online in multi-packs of two, three, or four pairs of jeans in different washes.
You will consistently find fantastic sales on clothes for kids from toddlers to preteens, whether you are shopping for cheap kids' clothes online or in-store.
Sugar and Jade
Sugar and Jade is a brand owned by Children's Place that sells tween and teen girls' clothing. You'll find trendy but cheap clothing, including girls' tops, loungewear, complete outfits, jackets, and dress clothes.
In addition, they sell shoes, handbags, and jewelry for young fashionistas. Sugar and Jade often run money-saving sales and offer discount codes for their girls' clothing.
Shein
If you have ever wondered where to buy cheap clothes online for the family, Shein is your answer. Besides affordable, fashionable clothes for men and women (even maternity clothes), you will find the most popular styles for children at prices you will love.
For example, shop for cardigans, tunics, and jeggings for little girls. Or shop for overalls, graphic tees, and sweatshirts for little boys. From newborn clothes to clothes for teens, Shein has a vast range of sizes that will fit your child's needs.
Amazon
You will find the best deals on almost anything you need on Amazon. Clothing for boys and girls is no exception.
Easily filter your search to find the clothing you want and sort by price from low to high to find the cheapest kids' clothes on Amazon. Amazon is a great place to shop for harder-to-find clothing, such as christening outfits.
In addition, you can usually find seasonal clothes on Amazon, even when local retailers sell out of the items. For example, kids' winter apparel, such as snow boots, snowsuits, and fleece pajamas, can be found year-round. Check customer reviews to ensure you purchase quality items from a reputable seller.
Cookie's Kids
Cookie's Kids is a great place to look if you are searching for cheap school clothing. They carry a variety of school uniforms to meet all your needs for school clothes, including polos, button-up shirts, khakis, jumpers, blazers, and ties.
But Cookie's Kids also sell basics like jeans, t-shirts, outerwear, and pajamas. In addition, Cookie's Kids has cheap clothing for infants if you are expecting or need a baby shower gift.
H & M
H & M has affordable clothes for the entire family. You'll find adorable baby clothes and stylish clothing for your school-age kids. H & M also carries holiday dress-up clothing, button-down shirts, and suits for boys if your child needs attire for a special occasion.
In addition, you can sign up for emails and texts for extra savings coupons to get 15% off sitewide.
Carter's
Carter's is well-known for its quality layette and toddler clothes. Shop for onesies, rompers, hats, and bibs for baby boys and girls. For toddlers, look for playtime clothes or dressy clothes for special occasions.
In addition, Carter's also sells well-priced clothing for older kids up to size 14. You'll find a large selection of pajamas, swimwear, outerwear, socks, and underwear.
Zulily
Zulily is an online retailer that sells brand-name products for less. Zulily's inventory is constantly changing because new products are added to their online shop daily. As a result, you'll find your kids' and teens' favorite brands at discounted prices.
In addition, Zulily implements a Smart-Pay system that allows you to make your purchase in two interest-free payments without having to apply for credit.
Kohl's
Kohl's is a well-known department store that sells name-brand and store-brand apparel for the family. Kohl's frequently offers coupons for a percentage off your purchase. You can use the coupons on top of the store's sale prices.
However, remember to read the coupon's fine print because many exclusions are listed, such as Nike, Under Armour, and Calvin Klein. Kohl's is an excellent place to find cheap kids' clothes.
Osh Kosh B'Gosh
Carter's, Inc. owns Osh Kosh. Therefore, you can expect the same excellent quality clothing from Osh Kosh as Carter's clothing at prices that will please your wallet. In addition, Osh Kosh carries the same size range and variety of clothing as Carter's.
The main difference is in their target market. Carter's aims their marketing efforts toward people needing infant and toddler clothing. At the same time, Osh Kosh aims their marketing at parents of preschool and school-age children. As a result, you'll find great deals when looking for cheap kids' clothes at either store.
Justice
If you are looking for a trendy and fun clothing collection for girls at reasonable prices, Justice is the Place to shop.
You'll find everything for the special girl in your life, including leggings, activewear, outerwear, accessories, and bags at Justice. In addition, they also have plus-sized clothing for young girls.
Marshalls | TJ Maxx
TJ Maxx and Marshalls are off-price retailers owned by TJX Companies. These stores can sell clothes cheaply by purchasing surplus and overstocked goods from brands. If your kids want name-brand clothing, Marshalls and TJ Maxx are excellent places to shop.
You'll find big-name athletic clothing brands at these stores, such as Nike, Under Armour, Adidas, and Puma. Marshalls and TJ Maxx also sell popular brands like Lucky Brand Clothing, Calvin Klein, Roxy, and Free People. In addition, these stores sell your kids' favorite name-brand backpacks for back-to-school.
Ross
Ross is another off-price retailer that sells name-brand attire for less. First, look in the boys' section for name-brand sporty clothing, including pullover hoodies, sweats, shorts, and sneakers.
Then, check out the girls' clothes for the latest trends in blue jeans and mix-and-match separates. So whether you are back-to-school shopping or shopping for gifts, you'll find tons of cheap kids' clothes your kids will want to wear.
6 pm
6 pm sells discounted attire for the entire family. You'll find a vast selection of name-brand clothing, shoes, and accessories for kids at a fraction of MSRP. Also, search the clearance tab for some of the cheapest kids' clothes.
One drawback of buying kids' clothes at 6 pm is that you must spend $100 to receive free shipping. However, the cost for standard shipping is a reasonable $3.95 flat fee.
JCPenney
JCPenney is a well-known department store founded in 1902. This department store carries many popular name brands for clothing and shoes. You'll also find plenty of private-label brands for your kids' basic wardrobe needs.
Shop for long-sleeve and short-sleeve shirts, hooded and crewneck sweatshirts, and sweatpants at JCPenney. In addition, JCPenney also sells boys' suits, button-down dress shirts, and dress pants for those special occasions.
Nordstrom Rack
Nordstrom Rack is an off-price division of the luxury department store Nordstrom. You will find all your kids' favorite name brands at up to 70% of the retail price at Nordstrom Rack.
Stock up on boys' clothing, including hoodies, shorts, tees, trousers, and more. Or shop for girls' dresses, sweaters, tights, and skirts for your little princess. Whether shopping for babies, toddlers, or big kids, you will save money on clothing at Nordstrom rack.
Look No Further for Cheap Kids' Clothes
Whether or not your child loves brand names doesn't have to make a difference in what you pay for clothing. You can find cheap kids' clothes, even brand-name clothing, in many different stores. So start browsing any of these stores to find great deals and keep more cash in your wallet.