29 Best Children's Nativity Sets To Celebrate Christmas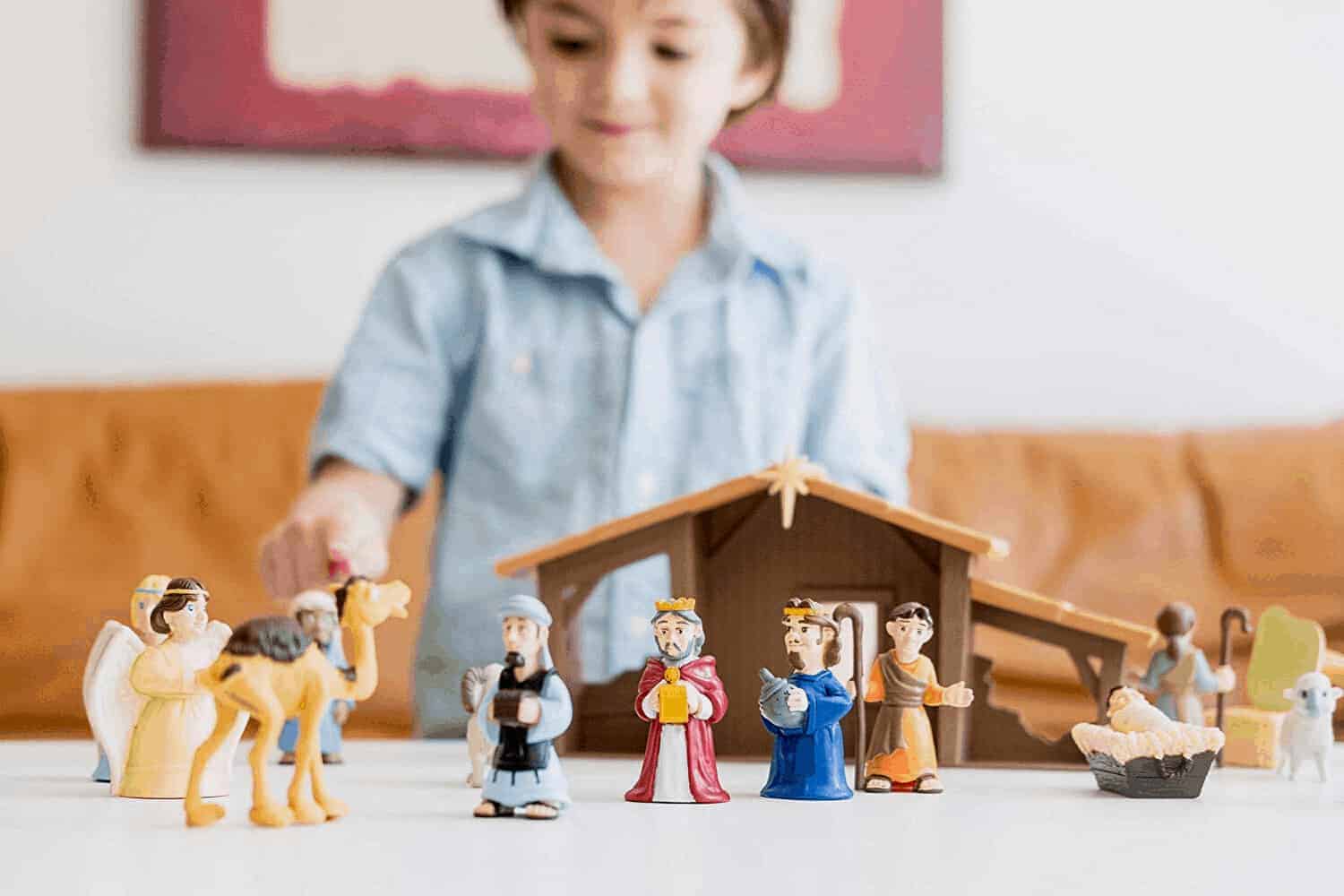 Displaying a beautiful nativity set is one of my favorite ways to keep Christ at the center of Christmas, but there's just one problem… most are fragile and breakable which means that they're often placed up high and out of reach from the kids or, sadly, not displayed at all.
Rather than putting a distance between your children and the Christmas story, why not bring the story of Jesus' birth to life with one of these children's nativity sets instead?
I've searched high and low to find you a wide variety of nativity toys, activities, and playsets that have 4-star reviews or greater and are designed for child's play. If you have a child or grandchild under the age of 12, they'll love these options on this list of 30 of the best children's nativity sets!
Wooden Nativity Sets for Kids
1. The christmas Star from afar game, nativity set, book & advent calendar bundle
The Star from Afar is an interactive nativity set and fun hide-and-seek game that invites children to celebrate the true meaning of Christmas.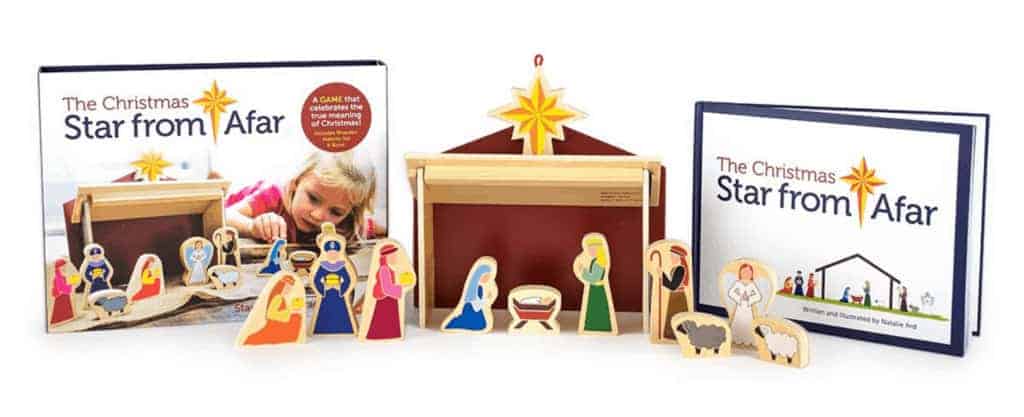 In the Bible, the three wise men followed the star to bring gifts to the newborn King, Jesus. The Star From Afar recreates that scene in a creative and interactive way.
Here's how the game works:
Set up your nativity, then hide the star every night.
Once your children find the star, move the three wise men and read the scripture at comes in the bundle.
You'll repeat this again and again until the night before Christmas.
On Christmas Eve, place your star on top of your nativity stable. Then, when your kids wake up on Christmas morning, they'll find the star on top of the crèche along with their Savior, baby Jesus!
This bundle comes with a hardcover book, a 14-piece colorful wooden nativity set, and a wooden star. You can also add on the Star From Afar Stable Animals if you'd like a more robust nativity scene.
I think this is a great Christian alternative to Elf on the Shelf and can also double as an advent calendar for a fun countdown to Christmas morning!
2. Children's Countdown Nativity Set From Dayspring
If you love the idea of an advent calendar but don't want to commit a full 25 days, this is a fun alternative that offers a 12-day countdown!
Inside of this set, you'll find 12 figures. The back of each figure contains the name of the figure and a short description of their role in the story:
Mary mother of baby Jesus
Joseph husband of Mary
Donkey carried Mary on her journey
Sheep symbol of purity
Ox warmed the manger
Sheep symbol of innocence
Angel announced the coming of baby Jesus
Shepherd followed the Star of Bethlehem to visit baby Jesus
Melchior wise man who brought the gift of gold
Caspar wise man who brought the gift of Frankincense
Balthazar wise man who brought the gift of Myrrh
Celebrate the birth of baby Jesus!
I think you can really use the Children's Countdown Nativity at the start of the Christmas season to teach your children about Christ's birth and make it part of your own family tradition.
3. Melissa & Doug classic wooden christmas nativity set
The Melissa & Doug brand is great for a child's first nativity set because it includes a retelling of the Christmas story to help create a treasured family tradition.
If you want your kids to be able to interact and play with a nativity set that isn't cheesy or made from plastic, this is a great beginner set. It is sturdy, colorful, easy to assemble, and has all of the important wooden figures needed for a manger scene. Because it is durable, you don't have to worry about damaging the nativity figures if the kids knock it off the coffee table.
Also, did you know that the manger piece is double-sided? You can display the cradle without baby Jesus all season long and flip it around on Christmas day to celebrate the birth of Jesus!
Wondering where to buy this set at the best price? Get the Melissa & Doug Nativity at Amazon, Target or Walmart!
4. Children's 10-piece wooden nativity scene by clever creations
If you are looking for an adorable wooden nativity set that your child can play with for hours, this one is it!
This tabletop nativity set includes Mary, Joseph, Baby Jesus, three wise men, an angel, and two palm trees. All of the pieces stand up easily and are sturdy and well-made. This is the perfect size for a little kid's hands!
Nativity Play Sets for Kids
5. Fisher-price little people nativity set
If you have a toddler or preschooler, Fisher-Price makes the best nativity sets for imaginative play! Plus, if your child loves to put everything in his or her mouth, you can easily clean this set with just soap and water!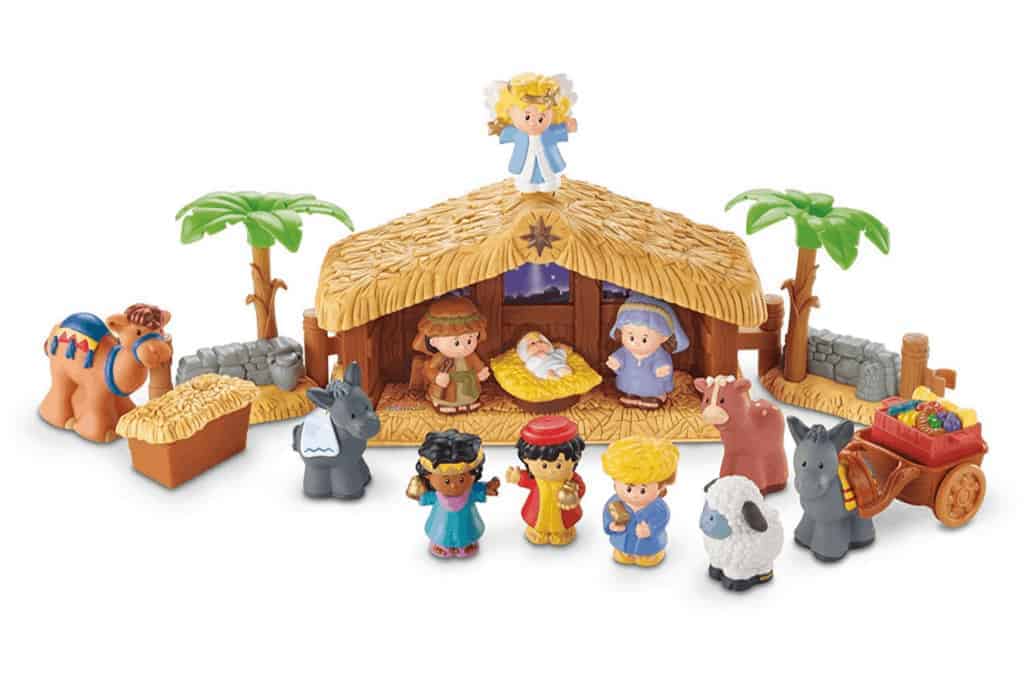 There are actually two Fisher-Price versions available online.
If you want the set with the bells and whistles, you'll want The Little People Christmas Story 12 Piece set (pictured above). This one includes the stable, manger, 12 Little People figures and 5 accessory pieces. This one is unique because when you press down on the angel, the star lights up and sings the song "Away In A Manger"!
A cute family tradition you can start this year is to read the gospel Luke and have your kids pull out the Little People characters as you read through the story. Note that the Little People Christmas Story set doesn't include the shepherds, but you can buy the Lil' Shepherds set separately to complete the whole story!
If you don't care about all the bell and whistles and just want a simple set, The Little People Nativity Playset would be a better option! This set includes the stable, manger, 11 Little People Figures and 2 accessory pieces and doesn't light up or make sounds.
No matter which Fisher-Price set you choose, your kids will love it!
6. Veggietales nativity playset
If your children love VeggieTales, they will go crazy for this playset! It has all of their favorite characters like Larry the Cucumber and Bob the Tomato, plus the star lights up and the angel sings!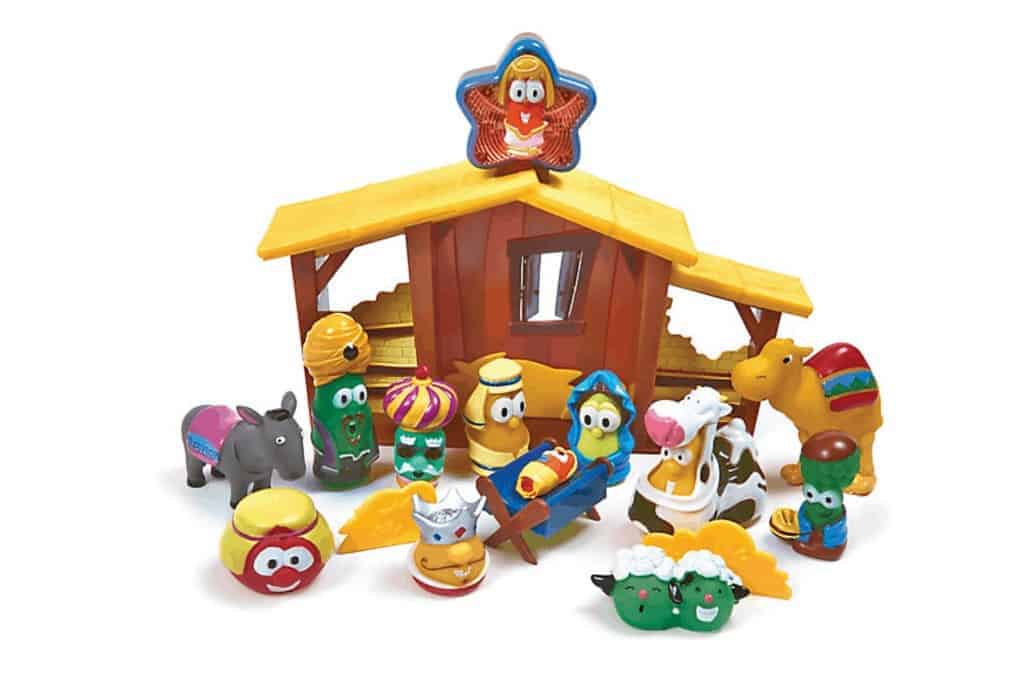 This set has 15-pieces including a stable with angel and star, Mary, Joseph, Baby Jesus in manger, camel, donkey, shepherd, two "pea" sheep, three wise men, two haystacks, a little drummer boy, and 2-piece veggie cow.
I can confidently say this nativity scene will provide hours of fun while also acting as a tool to teach children about Jesus!
7. Nativity bricks ultimate kids nativity set
If you have a child who loves to build with Legos, they will love putting together the Nativity Bricks Ultimate Kids Nativity set.
Technically this set isn't made by Lego. I searched high and low for a Lego nativity set but came up empty-handed. The only Christmas toys made by Lego are Lego Advent calendars which aren't faith-based.
Though this isn't the beloved LEGO brand, many people who reviewed the set said the bricks are high-quality, snap together easily and stay snapped together. Ideally, this set is best for older children ages 9+ because it includes 315 pieces and takes about an hour to build, but if you kids who are a few years younger, I still think they would still enjoy this set with a little supervision as they put it together.
8. Bibletoys nativity playset (18 pieces)
This nativity scene, designed for children ages 3+, encourages play and builds excitement and wonder about the Christmas story.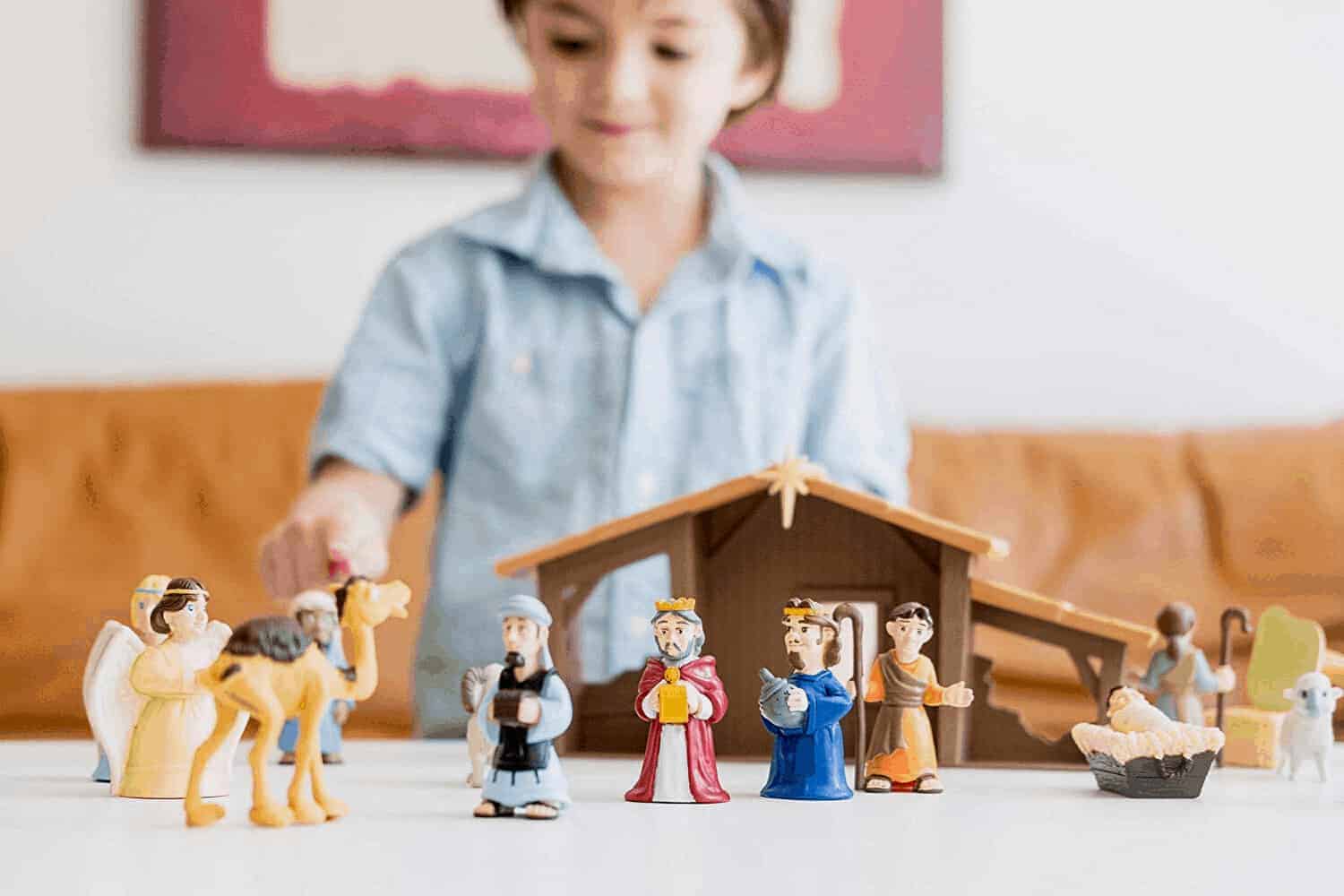 Not only does this set include the traditional figures and nativity scene, but it also includes a storybook to help your children experience the true story of Jesus' birth.
In regards to the quality, one reviewer said the characters are made well to fit into little hands and are heavier so the pieces don't fall over easily. I think this set can also double as Christmas decor when your kids aren't playing with it!
9. Illuminating playmobil nativity manger set
This manger set is unique! Not only can your kids play with this set, but they can also use the fold-out feet and turn on the twinkling stars to make a Christmas display in their window!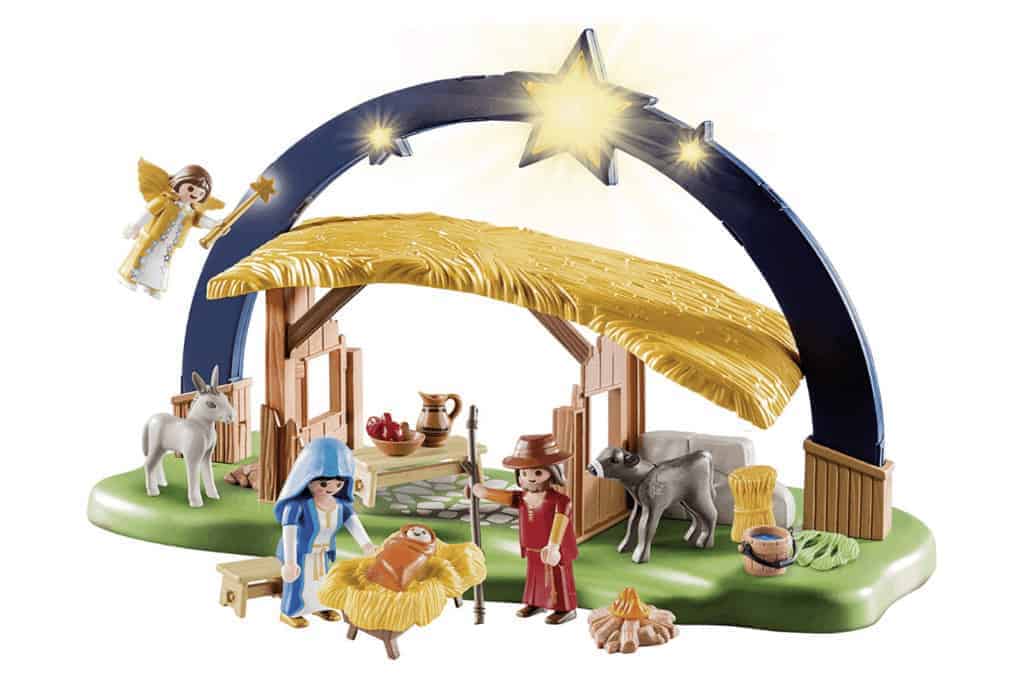 You can play with this set on its own or combine it with the Playmobil Three Wise Kings Set for a more robust holiday scene. I love that PlayMobil includes unique accessories like a bonfire, vase, and fruit bowl for example. It really adds another opportunity for your kids to be creative and use their imaginations!
10. Peanuts christmas nativity Deluxe figure set
If your kids love Charlie Brown they're going to go crazy for the Peanuts Christmas Nativity Scene!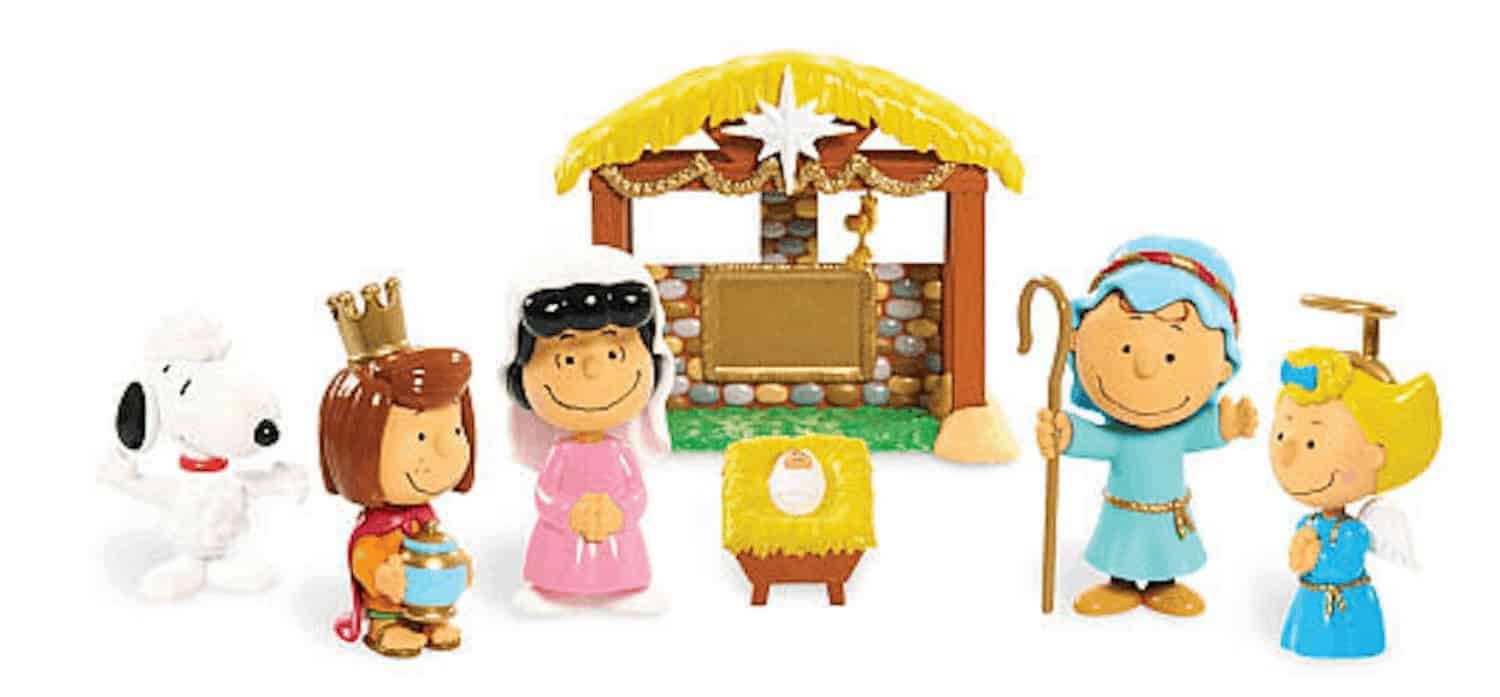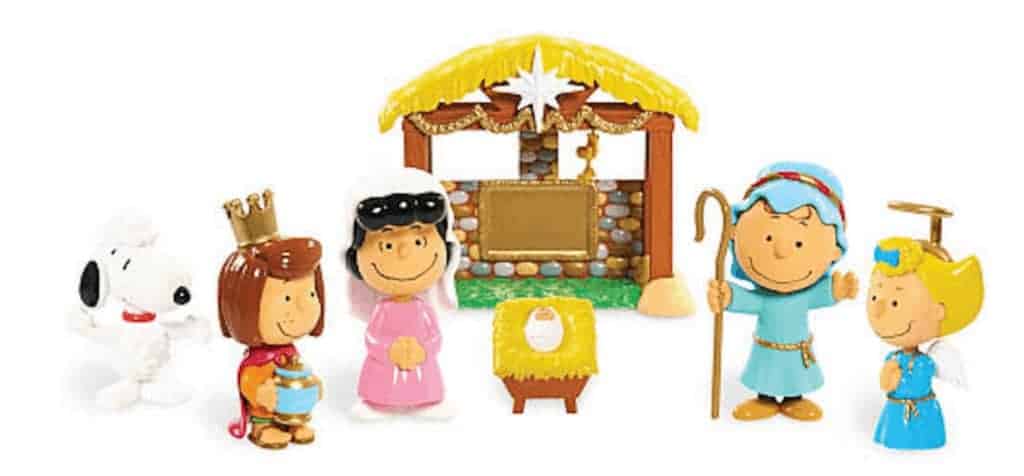 This set includes your favorite characters: Charlie Brown, Snoopy, Sally, Lucy, Peppermint Patty plus the manger set and cradle. One reviewer said that the characters are beautifully crafted with high attention to detail. She said they are lively, colorful and just awfully cute!
Let's be honest… you don't have to be a kid to enjoy this classic nativity set!
11. Blue panda christmas nativity playset
The Blue Panda Set is perfect for children ages 3 and up and would make the perfect gift for Christian families of all denominations!
This set comes with 15 pieces including a toy version of Joseph, the Virgin Mary, baby Jesus in a cradle, the Three Wise Men, an angel with felt wings, a camel, 2 sheep, a lamb, a donkey, a stable and 2 palm trees.
I personally love the innocent, child-like design. This really is a great set to teach your kids about the birth of Jesus Christ.
12. Miniature kids nativity scene
The figurines in this next set certainly are miniature standing only about one-inch tall. If you have limited space, this is a great option to display a nativity in your home.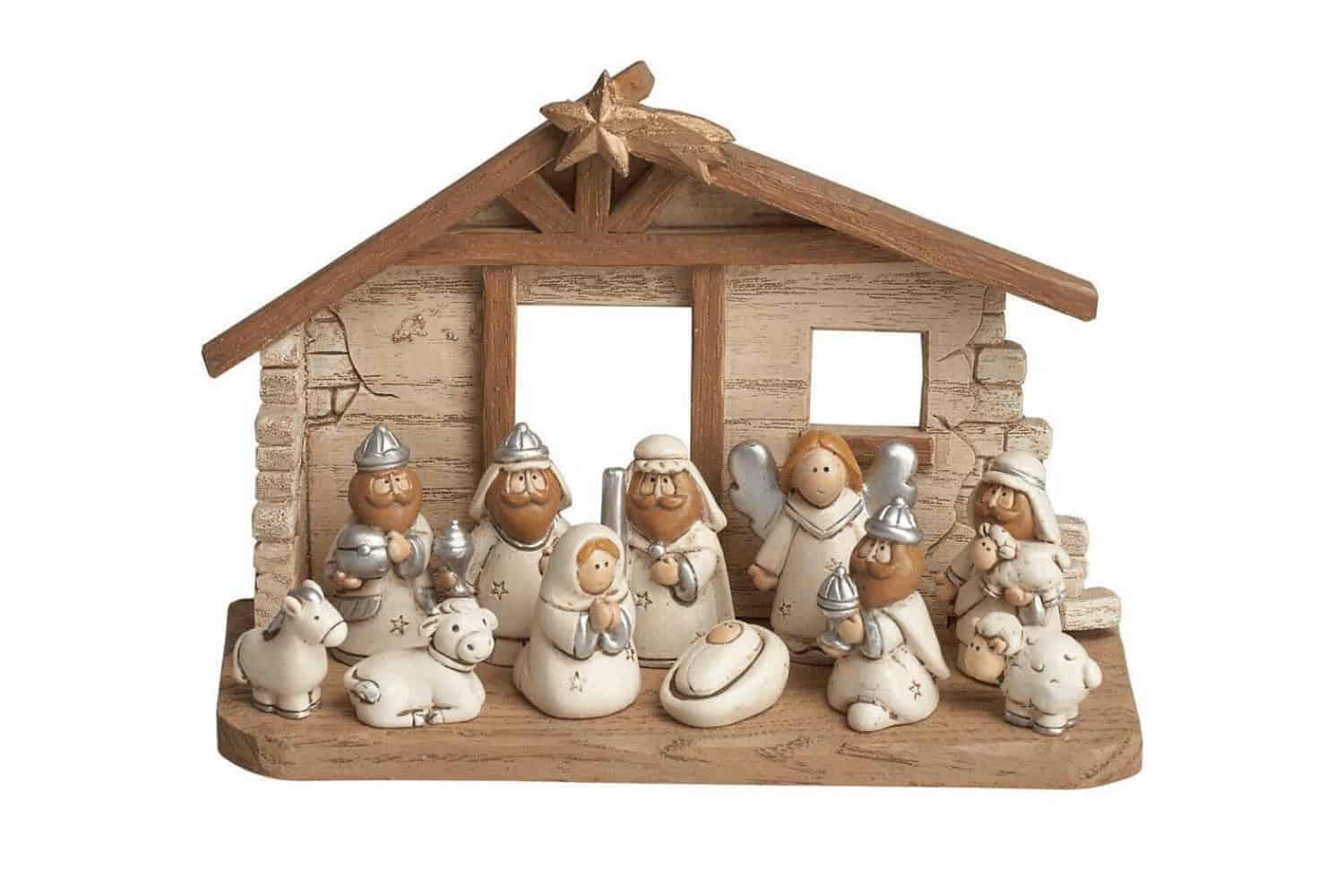 I love that while this nativity set is designed for children, it also looks sophisticated enough to set out as part of our Christmas home decor.
NOTE: Because the pieces are so small, this set can be a choking hazard for young children. It's best to keep this set out of reach from infants and toddlers.
13. Kidkraft travel box – nativity scene playset
If you travel a lot for the holidays and/or want a cute nativity set to take anywhere, the KidKraft travel box playset would be perfect for your toddler!
The set includes 12-pieces that all fit securely in the barn, making it easy to clean up, transport or store. When your child is ready to play, they just have to fold down the front panel for quick access and interactive play! The best part… no assembly is required!
14. My first Noel portable nativity story box
This nativity story box is a great beginner's set. It's similar to the previous KidKraft travel box in that it's a portable set you can take on-the-go, but this one includes 15-pieces!
You'll find Mary and Joseph as well as baby Jesus in the manger. The three Kings have traveled very far following the bright star an angel told them to, place them on the road with their camel and put the star above the stable so they know the way! The shepherd was very kind to lend his stable to Mary and Joseph, looks like he and his animals will be in attendance to behold the birth of the Messiah. The horse, cow, and sheep are all here to be a part of this momentous occasion.
This set is made from sanded and natural cuts of wood and safe water-based paints, very sturdy and kid-friendly!
Unique Children's Nativity Sets
15. My pop-out 12-piece nativity set
The 'My Pop-Out Nativity' is a set to assemble, play and display!
This unique set has a tri-fold background scene with twelve illustrated cardboard figures that each has bases that assemble in a snap! It also has an educational insert that teaches about each Bible figure and is packaged in a vinyl bag that has a button closure for safe and easy storage!
16. Christ is born – nativity nesting blocks
Begin a new Christmas tradition with these nativity stacking boxes!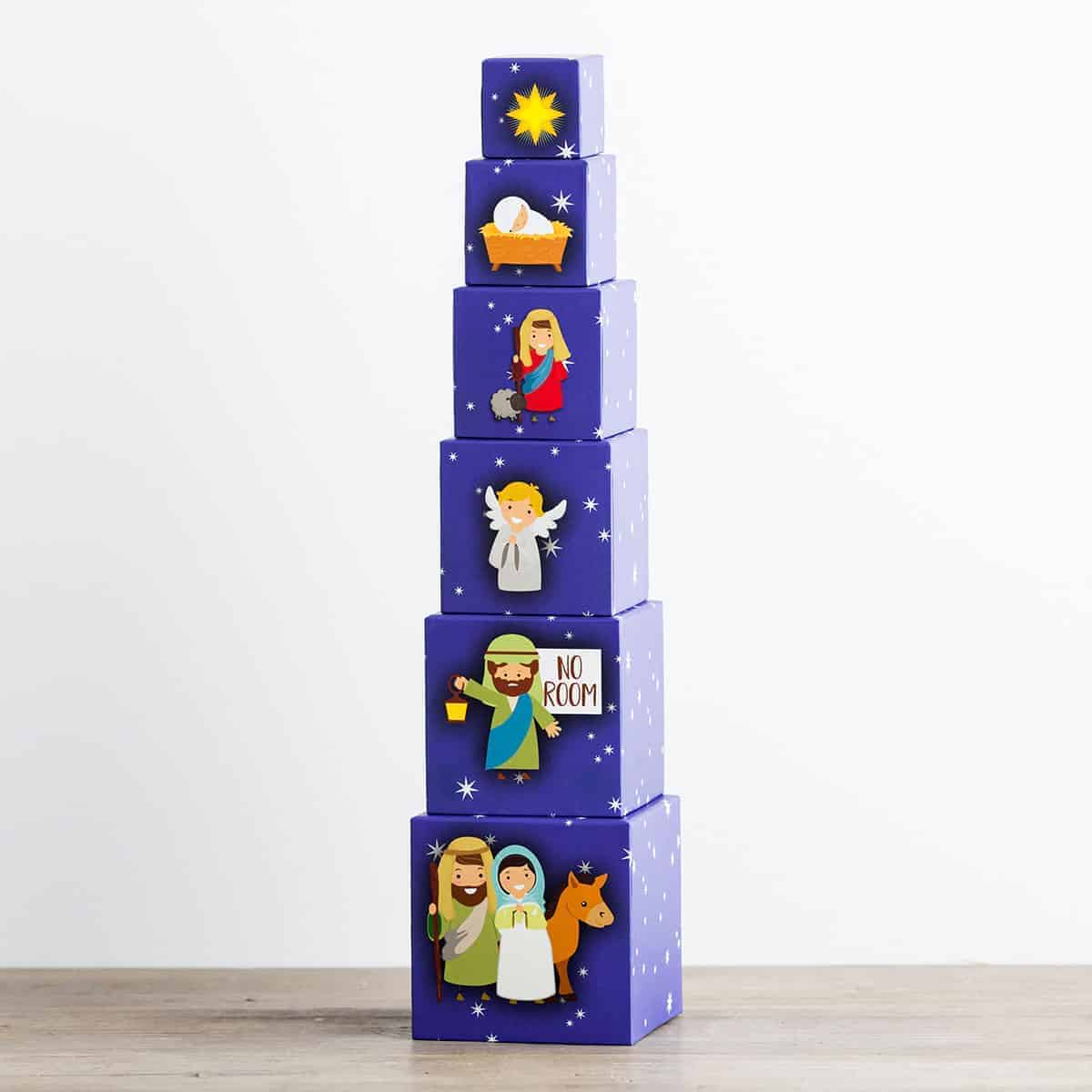 Each box is decorated with the Biblical characters represented in the Nativity story found in Luke Chapter 2. Along with Scripture, each box displays a segment of a beautifully written poem helping you keep Christ at the center of your holiday gathering.
17. Nesting nativity doll set from imagination generation
This is such a unique way to engage with the Christmas story! You can take these nesting dolls apart and put them back together on a regular basis this time of year.
The designs and colors are great, making them something you want to play with and explore, but most of all the paint and wood are holding up well to use by smaller children. As a heads up, the baby Jesus is about the size of a bullet or nickel so it can be a choking hazard for little ones.
18. What god wants for christmas book & 7 gift box set
Open a series of seven Advent-themed gift boxes with your children this December and fill their hearts with the wonder and excitement of the season!
This set includes an illustrated storybook, downloadable audiobook, seven gift boxes, kid-friendly nativity characters, stickers, and a stable backdrop you can use to create your own model of the first Christmas.
As your kids read the story and open the last box, there'a mirror inside. When they peek in the box and see their own reflection they get the message: "all God wants for Christmas is you!" One reviewer said opening the last box hit her 6-year old daughter right in the heart and made her cry. People are raving about this set. This is a MUST purchase!
19. Paint your own 9-piece nativity set
If you want more than a Christmas nativity display, grab one of these "paint your own" nativity sets. It's afforable, small and easy to paint!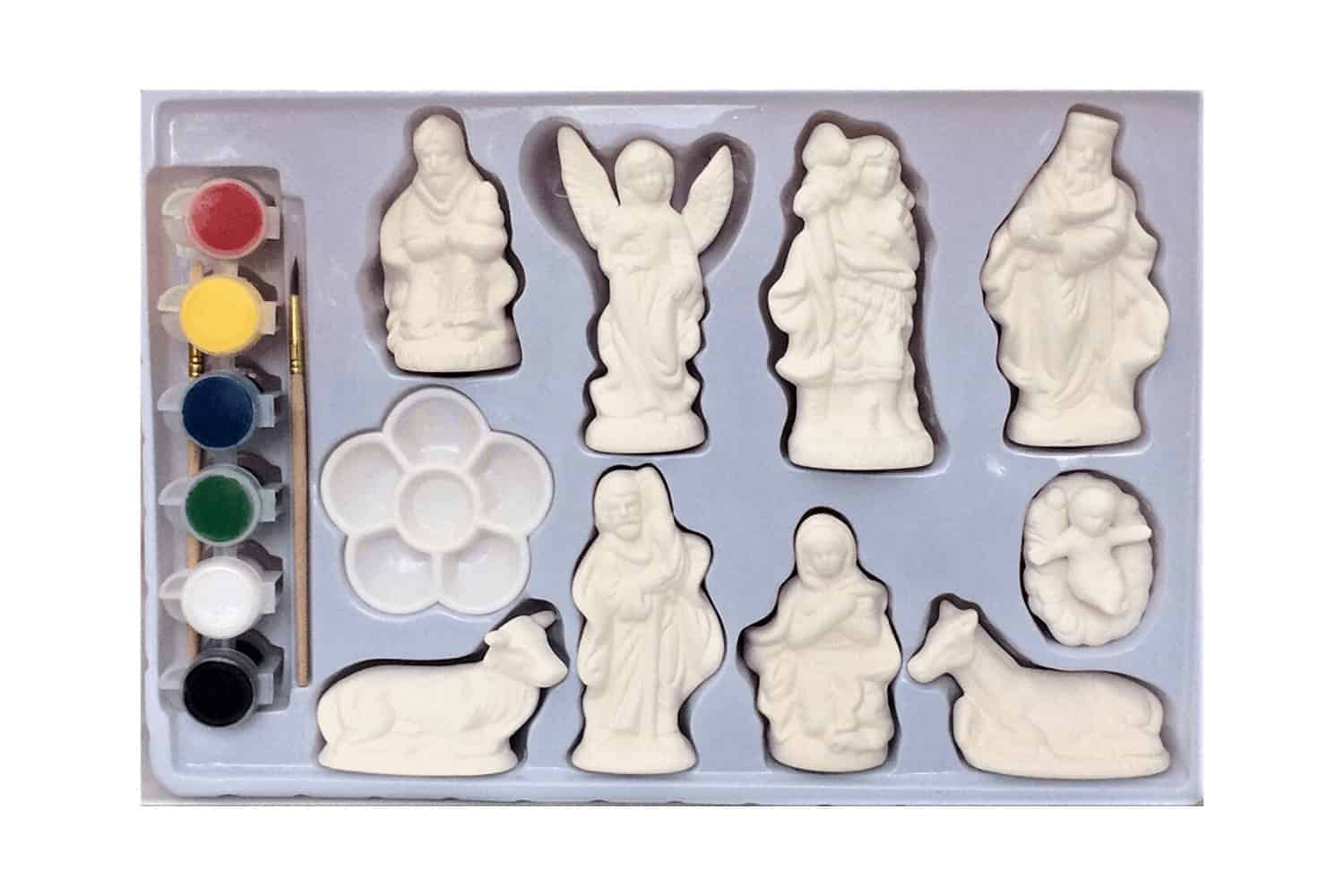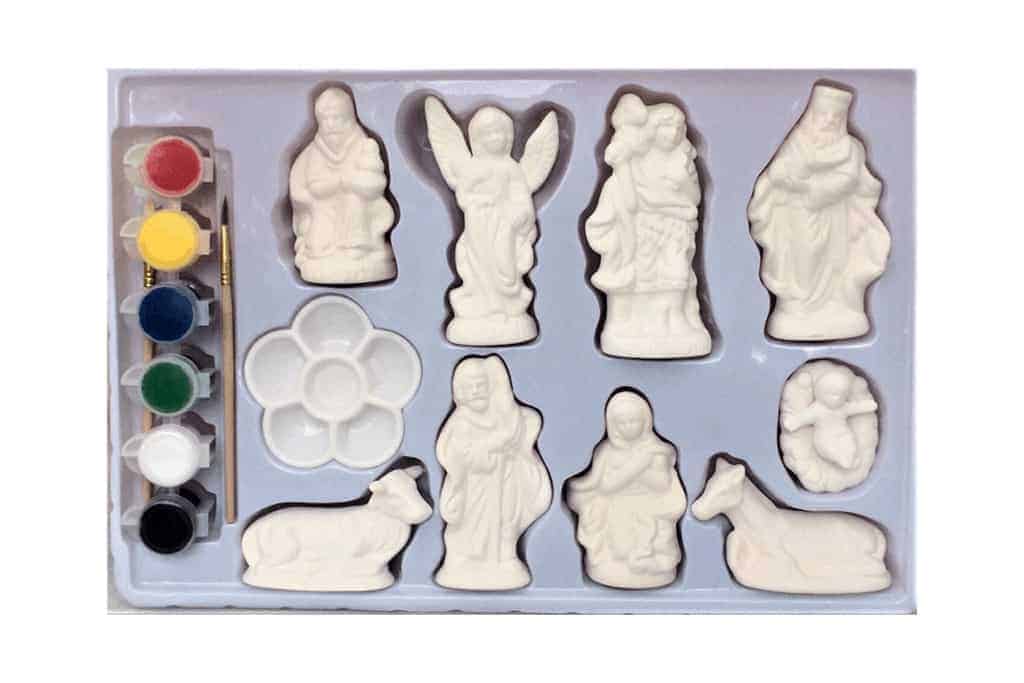 As a heads up, most reviews say it's best to use your own acrylic paints rather than the ones included in the set. They also say you buy this set for the beautiful figures and fun craft activity!
20. Nativity sticker activity
If you are looking for a fun, Christ-centered nativity activity for your upcoming Christmas party, this 12-set sticker set would be perfect for you!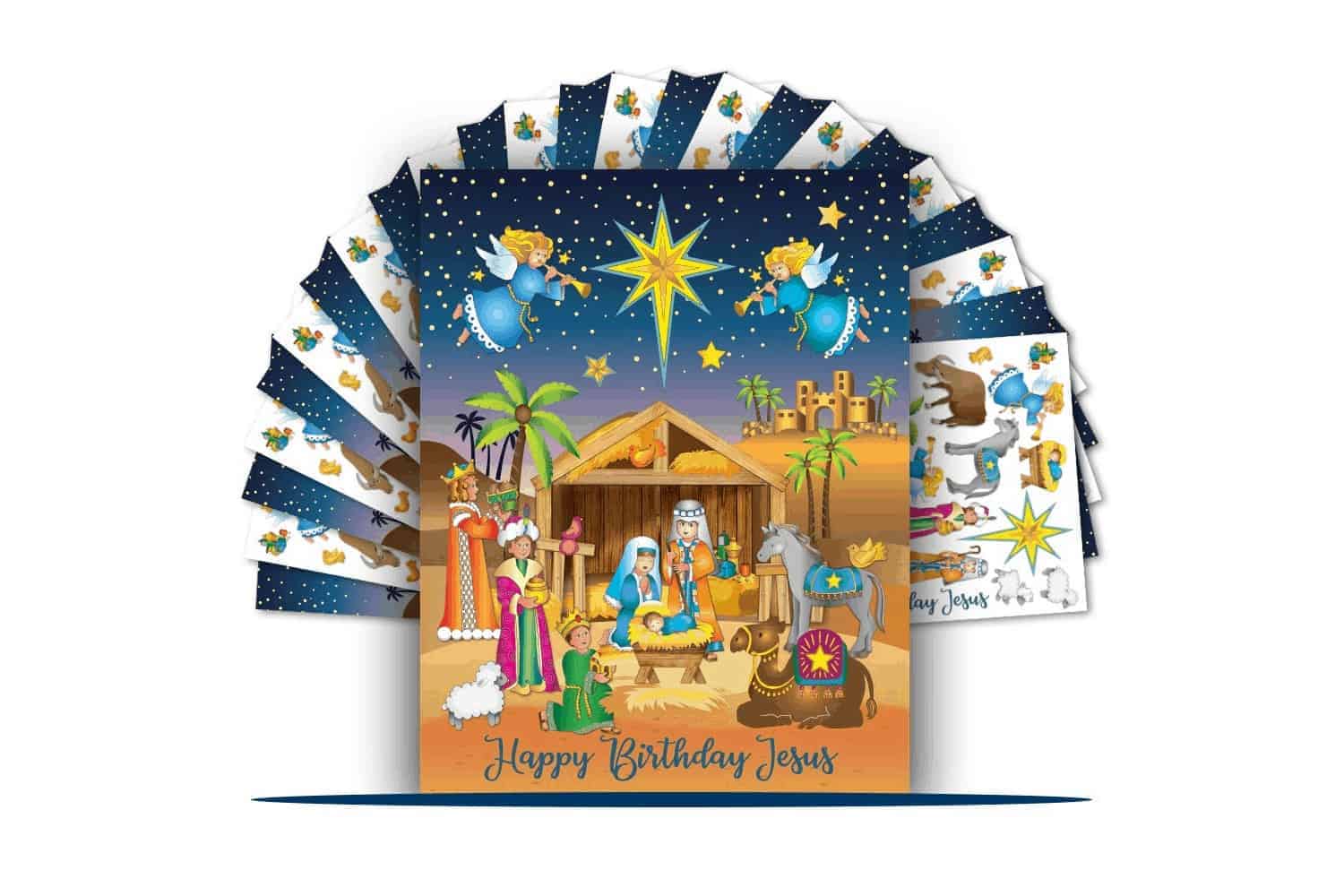 The set includes 12 background scenes and 12 sticker pages – perfect for a crowd. This is also a great activity for homeschoolers, preschoolers, VBS, Sunday School activities, stocking stuffers and more!
21. Window cling nativity set for kids
Want a unique way to decorate for Christmas this year? This Window Cling Nativity set allows your child to build a decorative Nativity Scene and share the good news of Jesus this season!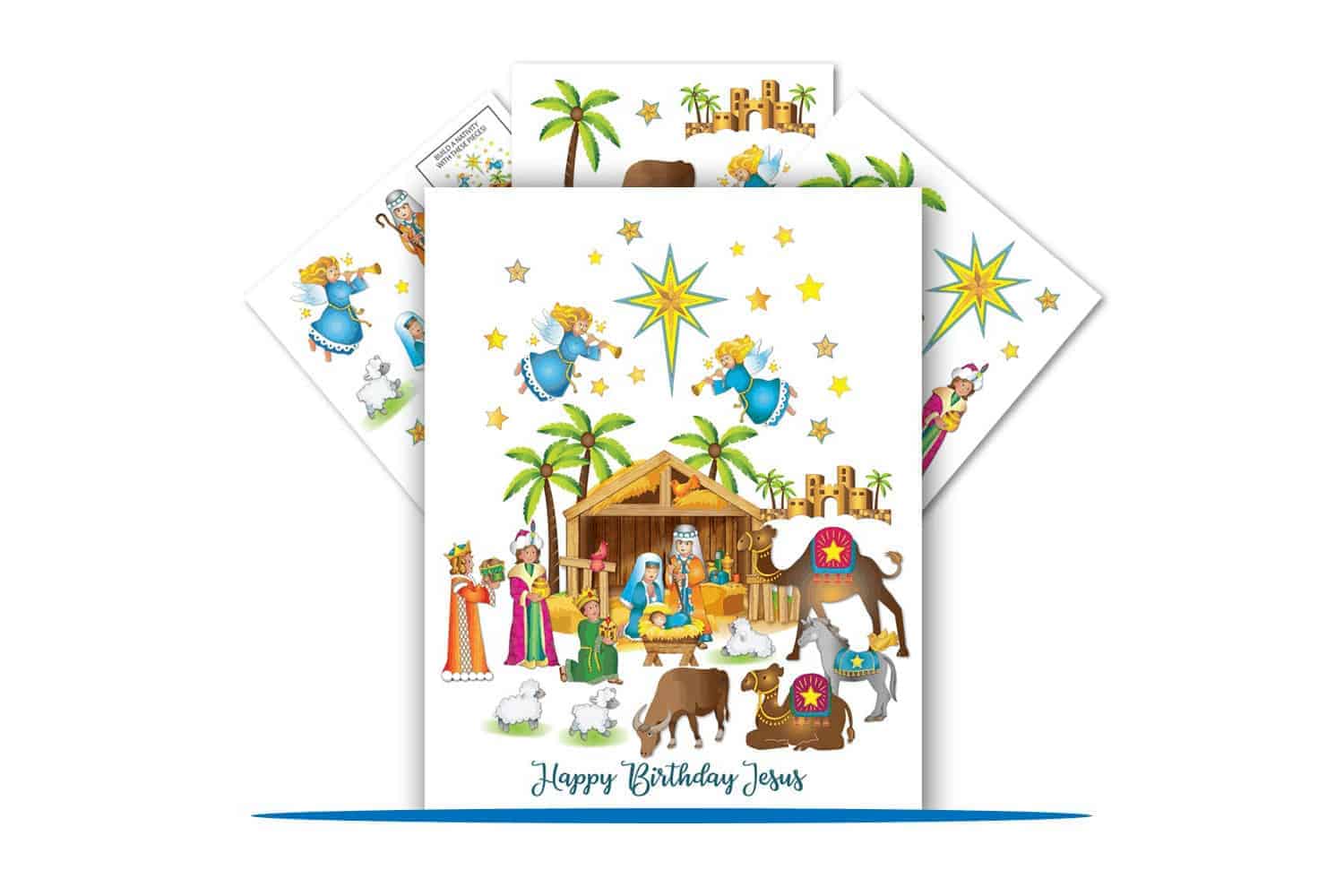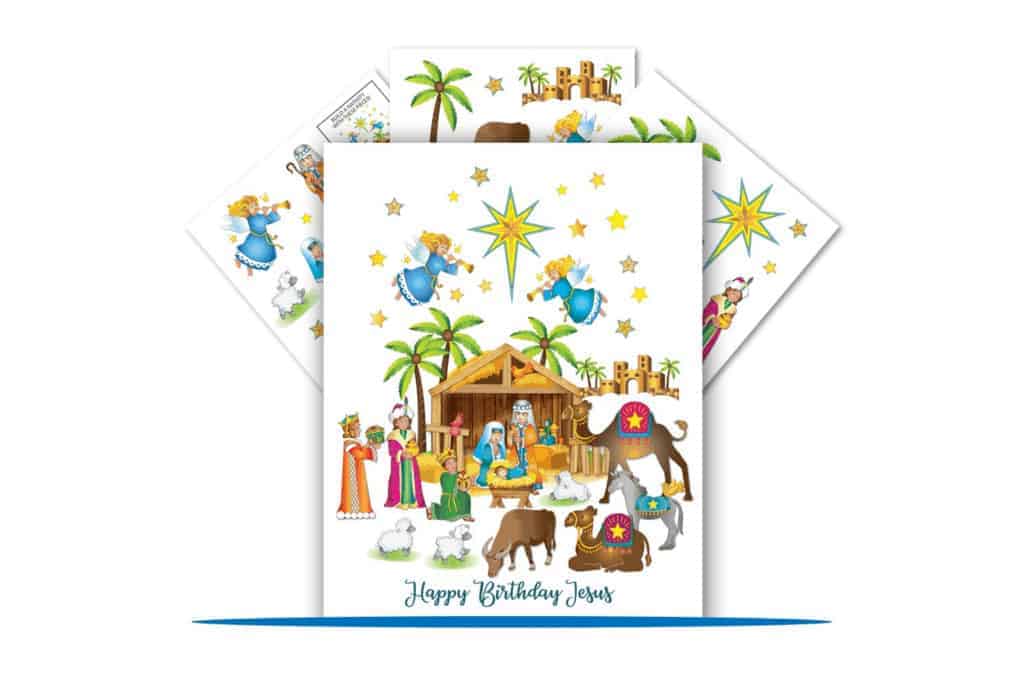 It includes three 8 ½ x 11 inch Craft Sheets With 40 Clings For Indoor Window Decoration. I personally love the "Happy Birthday Jesus" & "The Reason For The Season" Clings! All of the clings are reusable without adhesives for easy peel-and-stick as well as removal.
Fabric Children's Nativity Sets
22. Mistletoe mill fabric nativity set
This nativity hangs on the wall and can be used for play or as a holiday decoration. This scene would be perfect in a baby's nursery or hung down low in a kid's playroom. It would also be a great addition to your Sunday school or preschool classroom.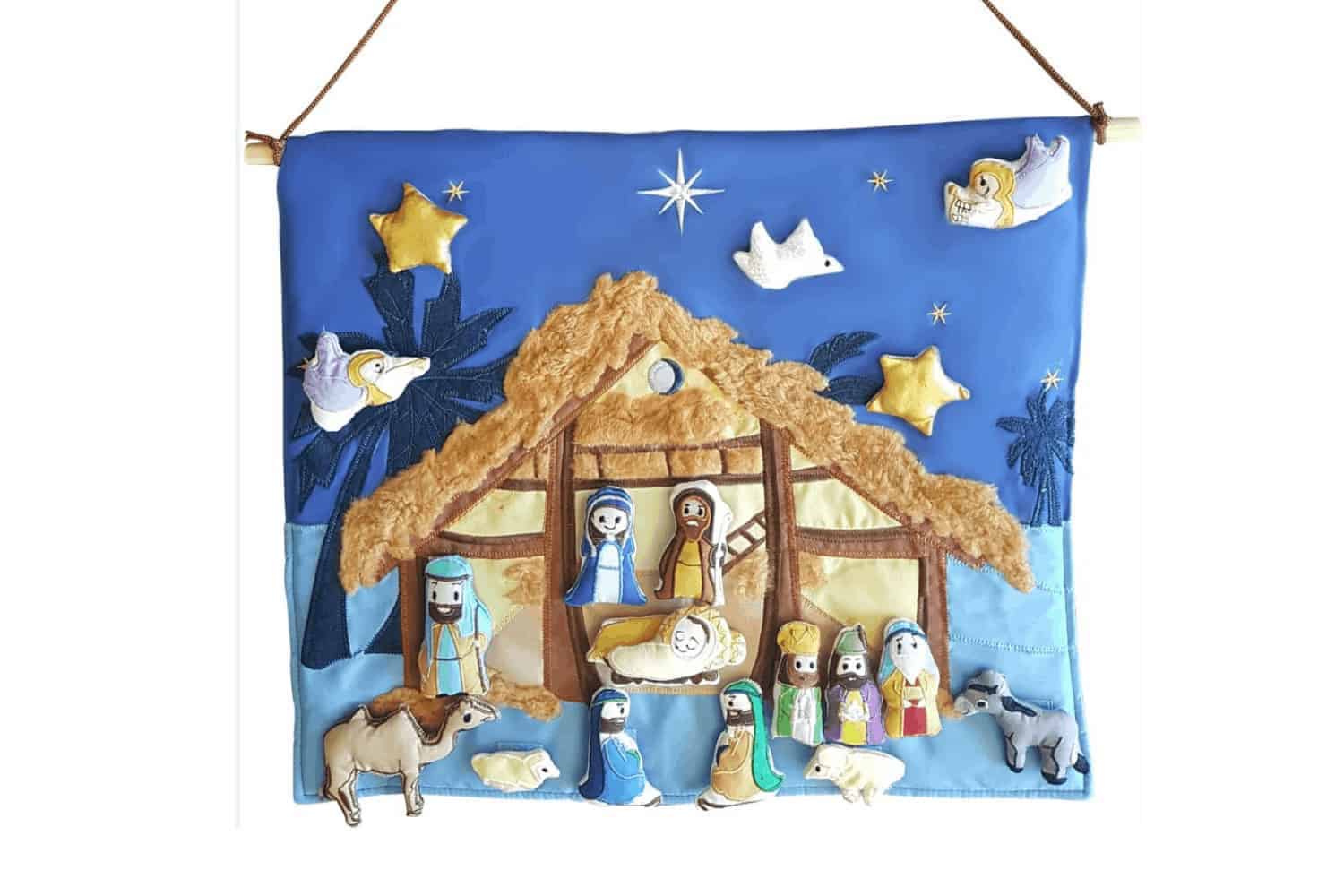 Each piece connects by hoop & loop and can be arranged as a traditional manger or have fun and create a whole new crèche display.
Your baby or toddler will have a blast rearranging the machine-embroidered nativity figures and putting them back in the right place. If your child doesn't want to play with all of the pieces there's a pock in the back for easy storage.
23. Soft fabric nativity manger play set for toddlers
This plush nativity set is just the right size for toddlers and babies! It can fold all of the pieces inside of the sturdy stable and be easily transported thanks to its convenient handle.
You wouldn't expect this on a cloth nativity, but the little figures can actually stand because they all have a flat base.
Inside you'll find Mary, Joseph and baby Jesus (who can be removed from manger); three wise men, a shepherd, sheep, donkey, and cow. They also have another cow & camel that are part of the stable background. Everything is lightweight and can be kept inside when doors are shut, with Velcro tabs.
The set also goes above and beyond with extra details like shiny thread on the angel and star.
24. 8-piece christmas plush nativity set
This set is different from the rest! All of these nativity characters are made from cloth so your kids can set them up and play with them without worrying about breaking them.
This would actually be a great addition to a Sunday school or preschool classroom!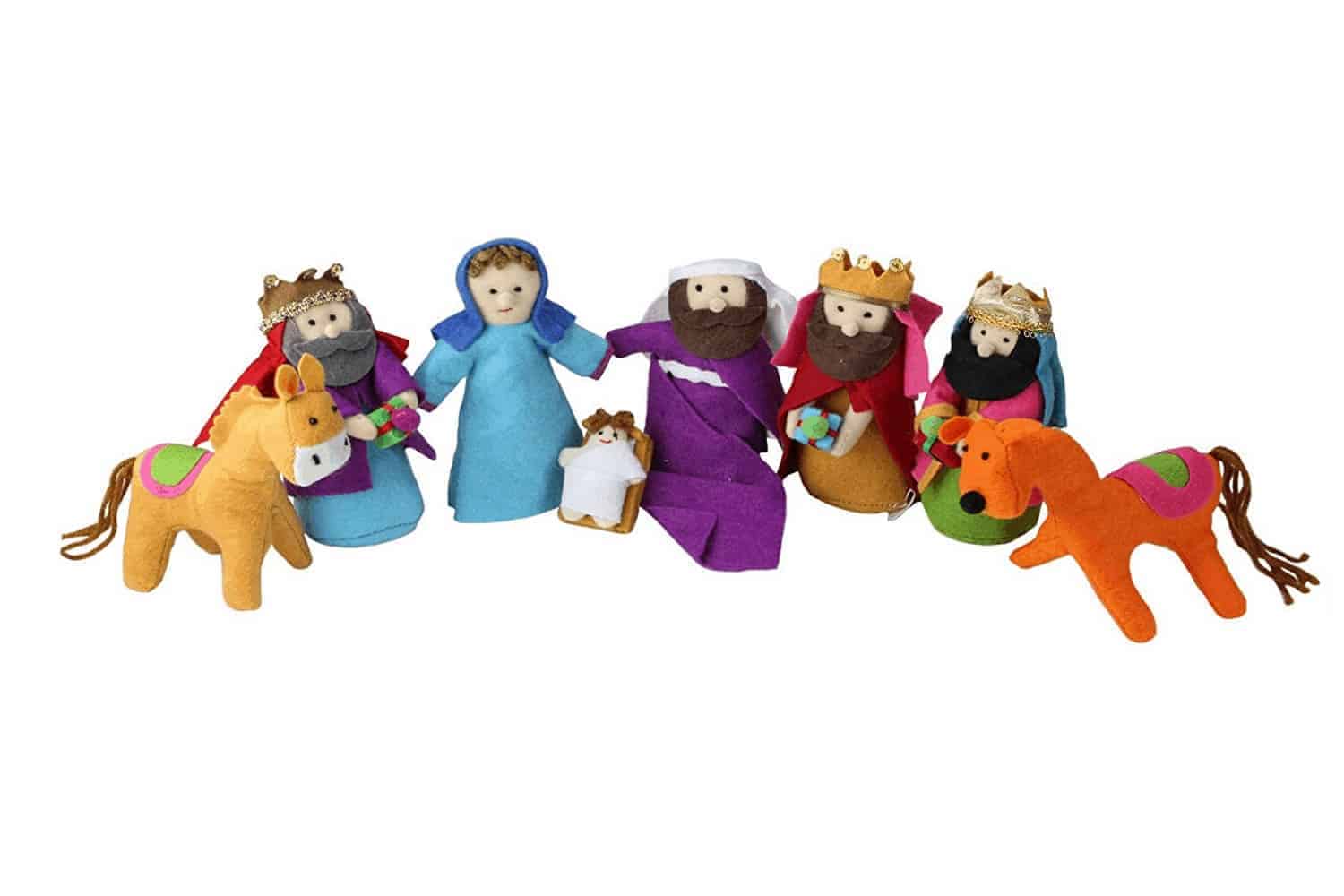 This set made by Betsey Cavallo includes 8 total pieces. As a heads up, one reviewer said that each figure comes with both a tag and a warning label that needs to be cut off which was a bit annoying.
Get yours here on Amazon.
25. My growing Season nativity bag
This nativity set is actually a zippered nativity finger puppet book. BONUS: the puppets can also be used on a flannel board!
One reviewer said that this nativity bag helped his 18 month-old learned to recognize and pick the appropriate puppet name as they read the Christmas story. This seriously is the perfect gift or Christmas surprise for any baby or toddler in your life.
26. "The Nativity" – Finger Puppet Set & Storybook
There's nothing like a little hand theatre and interactive play to help kids understand the real meaning of Christmas!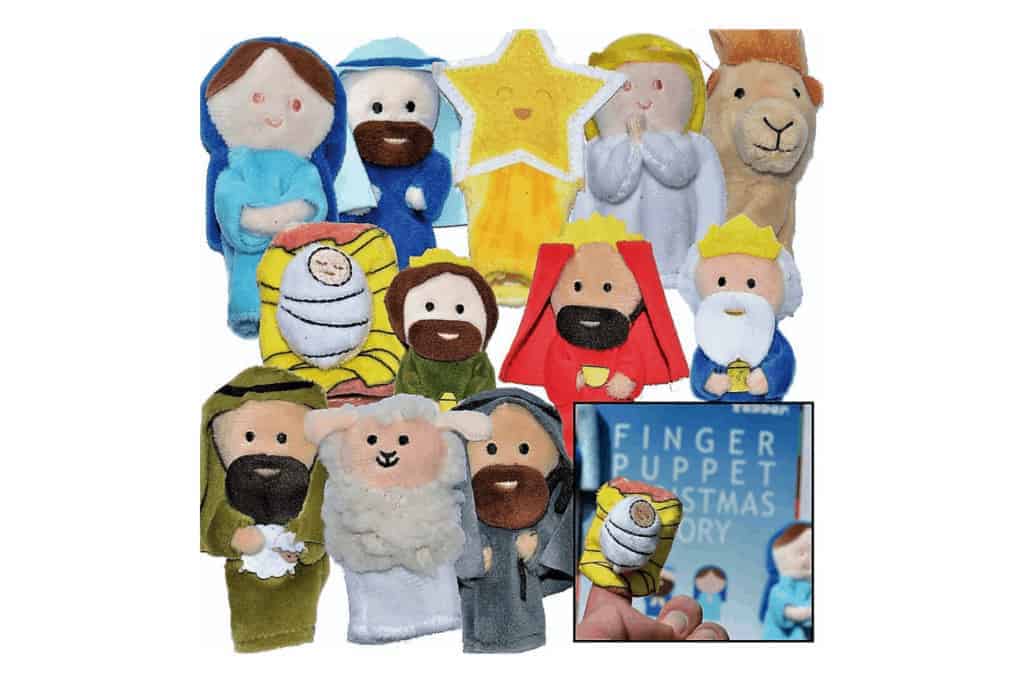 This set is perfect for babies, preschoolers, toddlers, and young elementary-age kids. It also comes highly recommended for kids with autism, ADHD and other common developmental issues. You can expect to find Baby Jesus, Mother Mary, Joseph, 3 Wise Men, 2 Shepherds, 1 Star, 1 Angel, 1 Camel and 1 Sheep finger puppets inside!
27. Nativity scene felt figures for flannel boards
You can use these cute felt figures to showcase the Christmas story as you read the gospel of Luke with your family before opening presents …OR… you can have the kids put on a show and tell YOU the story of Jesus' birth!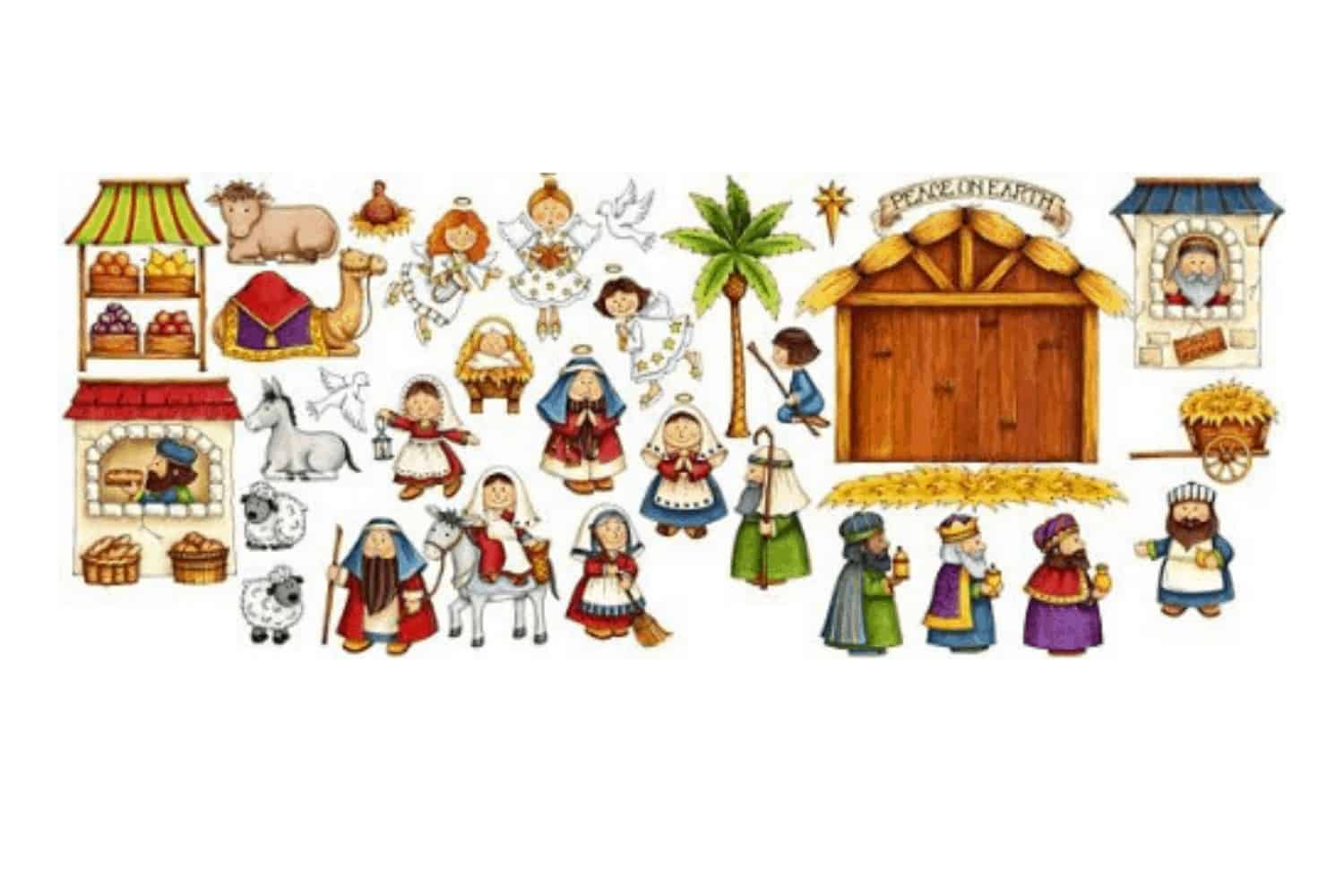 Either way, this is a great way to keep Christ at the center of Christmas. When you order this set, it comes with 33 pre-cut felt pieces that stick to any piece of felt or even the upholstered pews at church! The adult figures are about 4″ tall and can be reused and treasured year-after-year!
Nativity Scene Puzzles
28. \\"piece on earth\\" nativity puzzle board
This puzzle will help your baby or toddler revisit the shapes and sights of the first Christmas!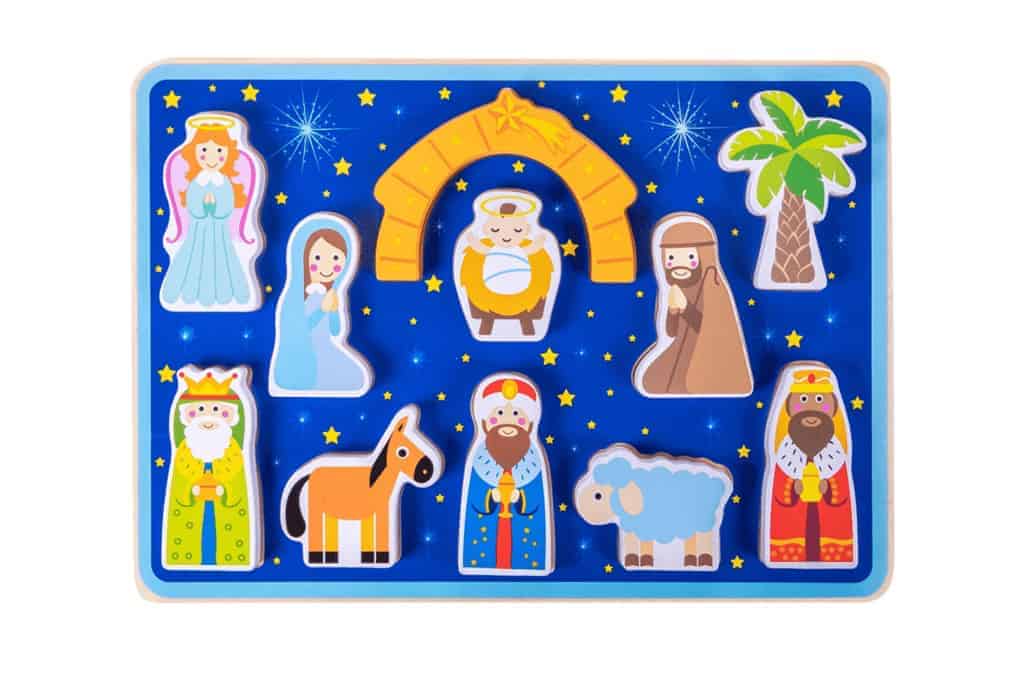 The best part about this puzzle is that the figures are chunky and can stand up on their own making it easy to turn it into a little display or even use for imaginative play!
29. O holy night nativity scene christmas puzzle
Last, this 24-piece jigsaw puzzle can help your child develop fine motor skills and problem-solving skills while teaching them the true reason for the season!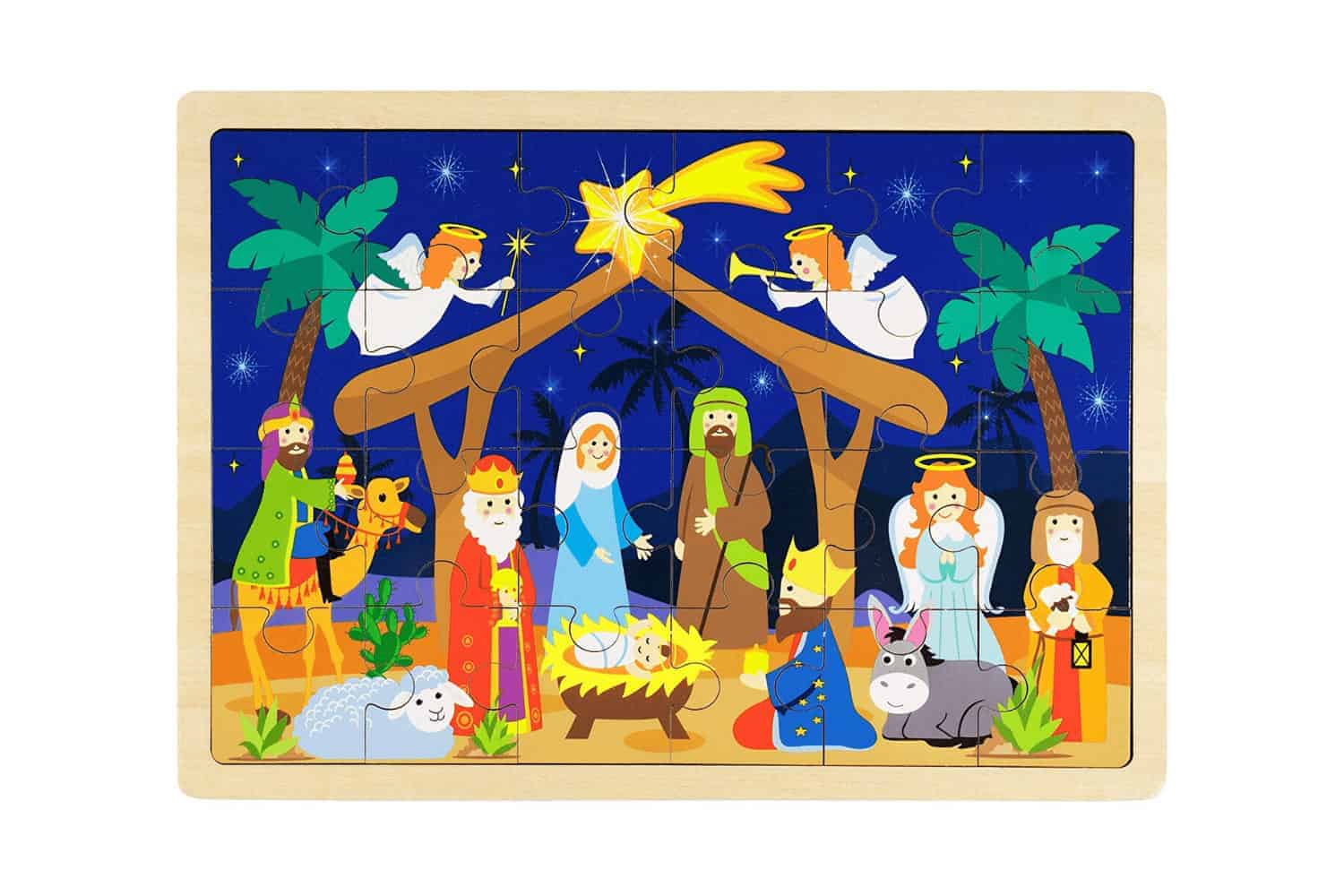 This has a nice quality with a colorful wooden tray puzzle and large, thick pieces, which is most suitable for kids ages 3-5. One reviewer said she bought this cute puzzle as a gift from her Elf on the Shelf to redirect her kids' focus on Jesus all season long!
Wrapping Up
You honestly can't go wrong with any of these options because…
No one has to worry about little hands playing with an antique nativity set that costs hundreds of dollars!
These kid-friendly nativity sets encourage children to use their imaginations.
Most importantly, these nativity playsets put Christ at the center of it all. Jesus is the reason for the season, after all!
Now it's your turn! In the comments below, tell me which children's nativity set are you going to buy for your kids or grandkids?