20 Inspiring Christian Mom Blogs You Should Follow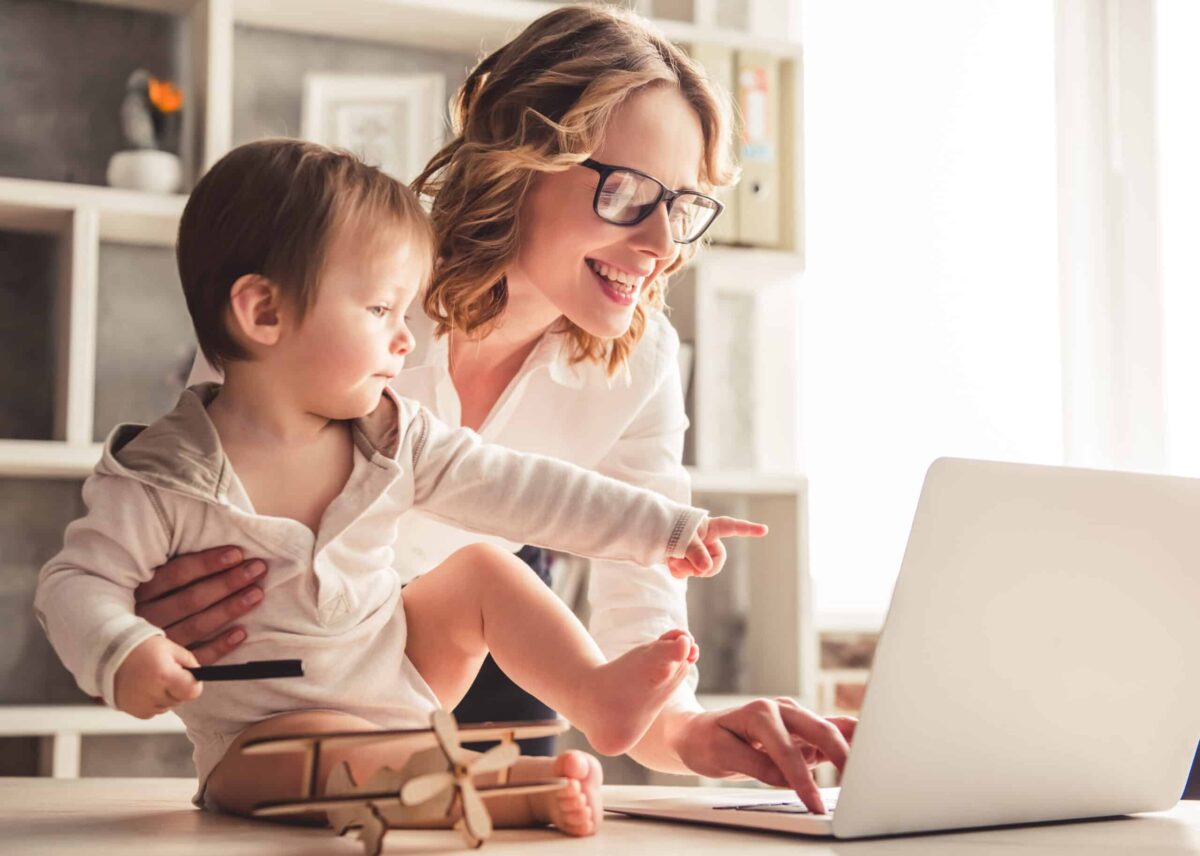 Motherhood can be an emotional roller coaster. One minute you are enamored with your little ones, and the next minute you don't feel like you can keep going. It can be a lot! 
A good support system can make all the difference in the ups and downs of parenting. Yet finding your village can take time. 
That is when social media or the internet can be such a gift. You can readily pull up the advice or encouragement from another mom just by reading a blog or a post. 
You can find someone to relate to as you're searching for tips. Quick access to help and perspective is such a benefit.  
Are you looking for some online friends that can inspire you? Here is a list of the top Christian mom blogs and Christian parenting blogs.
20 Best Christian Mom Blogs
1. Gracelaced by Ruth Chou Simmons
If you are a creative or artistic person, you will love following Ruth. Her beauty-filled work not only points people to the Gospel but inspires you with the loveliness. And with six boys of her own, she has plenty of relatable advice.
2. Risen Motherhood by Emily Jensen and Laura Wifler
The sister-in-law duo are down-to-earth and relatable. The two women live in central Iowa and raise their families as they encourage other moms. Since they are also in the thick of motherhood, their solid Biblical teaching is somehow accessible.
They cover a broad range of topics and always explain how the Gospel applies. It's always nice to be reminded of how our everyday, mundane tasks can relate to Biblical truths.
3. Embracing a Simpler Life by Katie Bennett
Motherhood is full of chaos and noise. That's why Katie's mission hits home with so many moms. She desires to help other mothers focus on what really matters.
Katie does a wonderful job of disentangling us from stuff, activity, and all that distracts and points us to a heavenly mindset. Because it's easy to get distracted, am I right?
Visit Embracing a Simpler Life
4. Christ-Centered Mama by Sarah Liberty Hardee
CCM helps equip moms in their daily faith. Every article cites Scripture, and she covers a multitude of topics that we all face as moms.
As a mom of three, she helps support her husband, a pastor in the Kansas City area.  
5. Becky Thompson
Becky's blog is full of resources that offer hope to encourage you as a mom and strengthen your journey with the Lord. She is the author of many books and a speaker.
6. The Better Mom by Ruth Schwenk
The title says it all. This blog is all about "inspiring moms to become better by becoming more like Jesus." From meal planning to the topic of miscarriage,
Ruth offers honest truths about her own motherhood journey.
7. The Purposeful Mom by Jenn
As a mom of four, Jenn offers wonderful experiences and encouragement in seeking balance and faith for the family.
8. Money Saving Mom by Crystal Paine
We could all use tips on saving money. Crystal has amazing ideas on deals that will help you budget and manage your money.
She is also a mom to six children who has experience with foster care and adoption.
9. The Busy Mom by Heidi St. John
Motherhood often feels overwhelming. Heidi brings humor and grace to the conversation about marriage and parenting. She wants to set women free and help them become who God created them to be.
Heidi married her college school sweetheart and lives in Vancouver, Washington. Heidi can offer real-life experience raising seven children and now seven grandchildren.
10. Chellbee
As a self-taught Bible student, Chellbee writes on various topics covering her faith, marriage, and family. Growing up, she watched many friends and family pass away from tragic accidents and made the choice to have a relationship with Jesus.
She believes you should do more than just read your Bible. She wants to guide others in deepening their relationship with Christ.
She also has an Etsy shop with beautiful scripture cards, stationery, Bible study journals, and more.
11. Natasha Crain
Natasha knows the importance of being ready to defend her beliefs in a world increasingly hostile to a biblical worldview.
Her three apologetic books equip parents to talk to their kids about Jesus. She lives in southern California with her three kids and her husband of 22 years.  
12. The Humbled Homemaker by Erin Odom
The health of the family, the home, and you as a mom are Erin's priority. She shares insights on how to make needed changes to see the improvements you desperately seek.
13. Arabah Joy
Started on a whim, Arabah provides knowledge from real life that sometimes you just need a minute. She understands the stresses of motherhood and wants to see moms flourish and live a purpose-filled life.
14. Her Discipleship by Candice
Candice takes the guesswork out of how to renew our minds daily. Her goal is to help women study the Bible each day.
15. Lullaby Lark by Erin
Having a child with special needs, Erin shares her personal experiences and life lessons with the intent to encourage other moms.
16. Pray With Confidence
Writers from all over the world contribute articles that focus on prayer obstacles and how to overcome them.
Learning the basics on how to pray is essential to growing your prayer life. The sample prayers can help any mom pray through the hard challenges in life.
17. Farmhouse on Boone
If you are looking for a wholesome view of life, follow Lisa. She shares handmade projects, scratch recipes, and a look into her farmhouse restoration.
18. InstaEncouragements
InstaEncouragements is the place to go if you are looking for genuine encouragement! Not only does Patsy believe we like to be encouraged, but she wants to give you the knowledge to become an encourager.
You will instantly feel included in this online community. 
19. Ale + Tere
Teresa grew up in Florida, grew her family in the suburbs of Nebraska, and is now near Dallas, Texas, with her four kids and husband.
When she is not homeschooling or cooking up fabulous dishes in her kitchen, she writes about God's grace and points others to Jesus. 
20. Christian Parenting
The husband and wife team, Jeff and Terra Mattson have many years of experience in professional counseling and pastoral ministry.
They have their individual wisdom from raising their own kids and their Biblical and clinical training. Their reminder that YOU are the right person for this job is needed encouragement in times of feeling lost at this whole parenthood job. 
Christian Mom and Parenting Blogs Wrap-Up
With a full list of various women who can speak into your life, I hope you find someone with whom you connect. 
At Hello Sensible, I have a similar goal. I want to build you up in your faith and your journey as a parent. This motherhood gig is a wild ride! My two kids continue to keep me on my toes. 
If you are looking to grow in your Biblical knowledge or if you are debating about when to start potty training, you are in the right spot. 
Re-heat your coffee and sit for a bit!