Cozy Kitchen Makeover at Jane's House
Recently I was talking with Jane (via Email that is) and she was telling me how she was planning on making a few simple changes to her kitchen.  The main change would be paint, curtains and wall decor. I asked her if she would share some before and after photos with us.  I love seeing how just a few changes can give a room a whole new look!
So without further ado I give you,
A Cozy Kitchen Makeover at Jane's House:
A little story before my cozy kitchen makeover.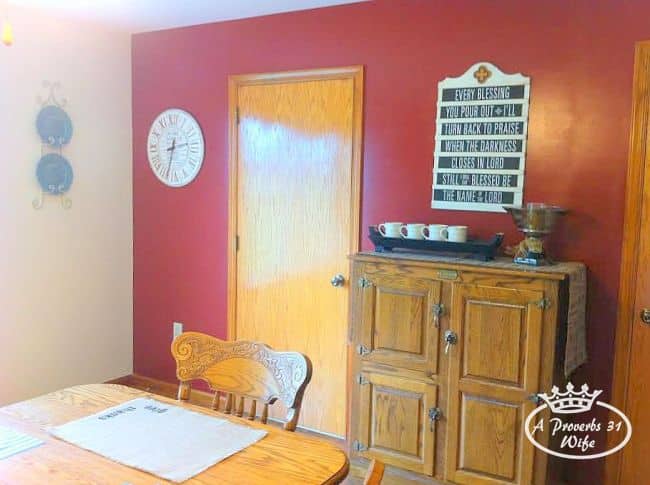 One early morning I walked into my kitchen and saw a puddle of water on the floor,  then I looked up at the ceiling to see a huge spider in under the paint, or so I thought!  The ceiling had a leak, so call the plumber of course.  Guess what, the original plumber had sealed off a pipe connection with only foam and glue, the tub pipe was missing a original piece and it had held for 14 years!
That settled it for me, 14 years of living with a family ,and my kitchen walls were showing wear and marks.
It was time for a mini make-over. Nothing like a coat of paint and some wall decor to change how a room feels.  I wanted people to walk into my kitchen and feel right at home. These are the before photos of my cozy kitchen makeover.
The kitchen was getting a facelift by adding a splash of that homey red and white color, and of course I wanted to showcase my Mary & Martha products.   I love the Scripture that is getting splashed across my kitchen, and you can do the same with Mary & Martha.  Contact me at just4jane4@yahoo.com if you want a special deal 🙂  Let's splash the Word's of Christ across our homes!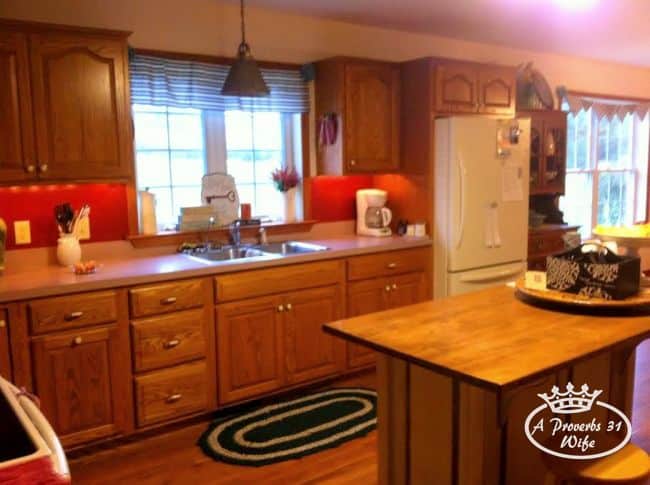 My favorite paint is Clark & Kensington in a semi gloss so I can spot wash the walls.  Clark & Kensington is a very durable paint, it does take a little longer to dry but once it is dry, you will have a very durable paint for many years.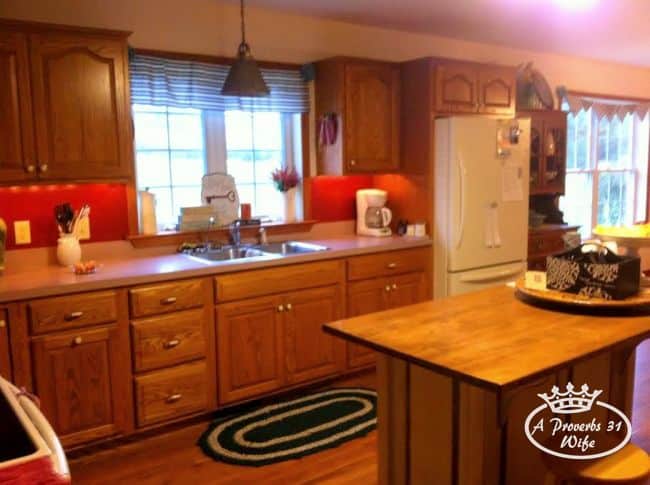 I did something a little different and fun for my curtains. I used the napkins and placemats from Mary & Martha!  I cut the placemats to fit and then folded both placemats and napkins over twine, then I added several dots of glue so the fresh breezes don't blow them away.  The placemats and napkins are still on sale in the OUTLET SECTION of my shop.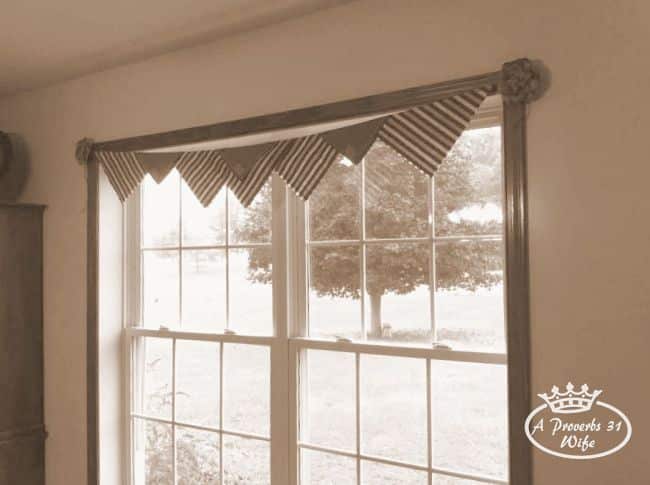 The little teal flower at the end, is the same color as my Grace and Gratitude dishes. Just a fun pop of color here.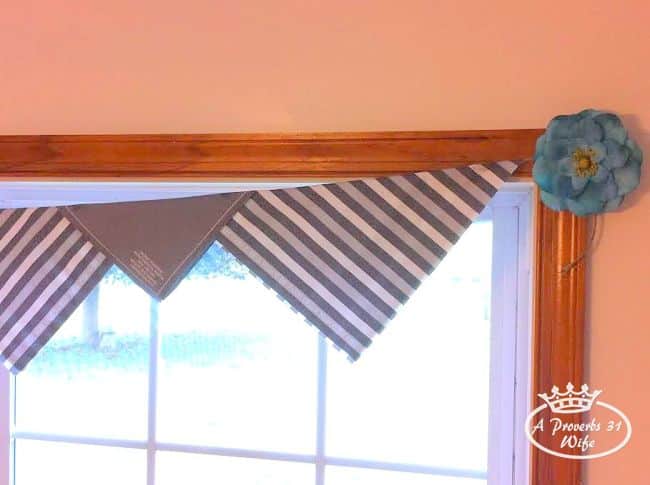 The VINTAGE ANNOUNCEMENT SIGN makes a statement at the end of our table.  The tiles are interchangable depending what song I want up, I even have Silent Night tiles for Christmas!   I love the way that it pops on the red wall and brings Scripture into our home.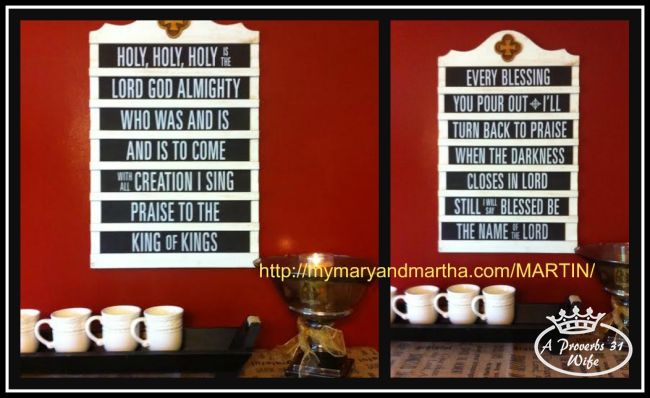 The FOREVER WALL CLOCK is still on sale in the OUTLET (while supplies last).  This clock is a huge 20 inches, so nobody should be late at our house! LOL.
I've never had a china closet or kitchen hutch before so  I shopped at a local Amish furniture store, they had gorgeous china closets, but the prices started at $3,000.00!  I really couldn't justify buying that to display even my pretty Mary & Martha dishes, could you?
So I went shopping at the local used furniture store and I found just what I was looking for, a small and older style of hutch.
My Grace & Gratitude collection went into my hutch, the splash of blue with the creamy white and the red walls just sent homey happiness through my old soul 🙂  Why, I even feel like cooking again!
The teal blue GRATITUDE plates on my wall rack are a smash with the red wall beside it, so glad my daughter suggested it!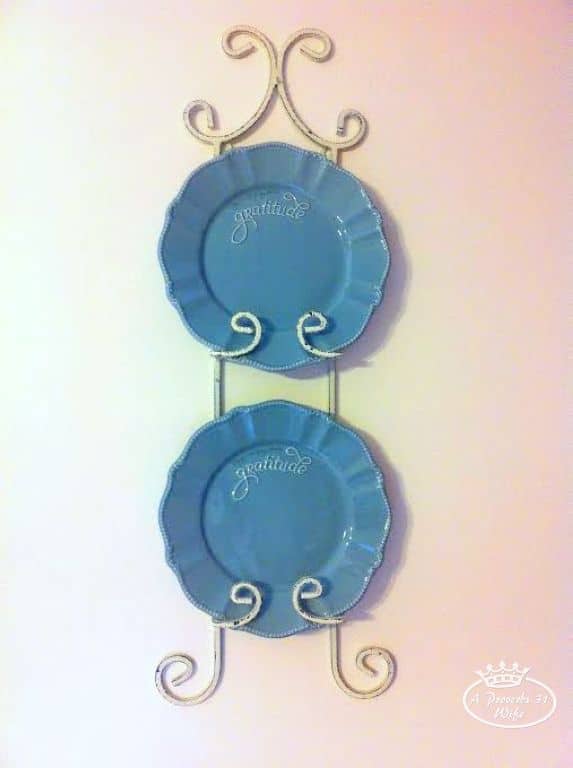 Does this look like a cozy kitchen to you?  Let me know in the comments, and please tell me what dinner I should make now that I feel enthused about cooking agin.   Would you like to be entered into the monthly giveaway from Mary & Martha?   Email me at just4jane4@yahoo.com and let me know.
As always, you can follow me on PINTEREST or FACEBOOK to learn more about my passions.
Note from Kendra: I don't know about you, but I absolutely love kitchens accented in red. The fact that Jane didn't paint the entire kitchen red is pretty awesome, and what do you think about the teal pops of color? I'm thinking I love it! 🙂