Creating a Simple Filing System for Personal and Business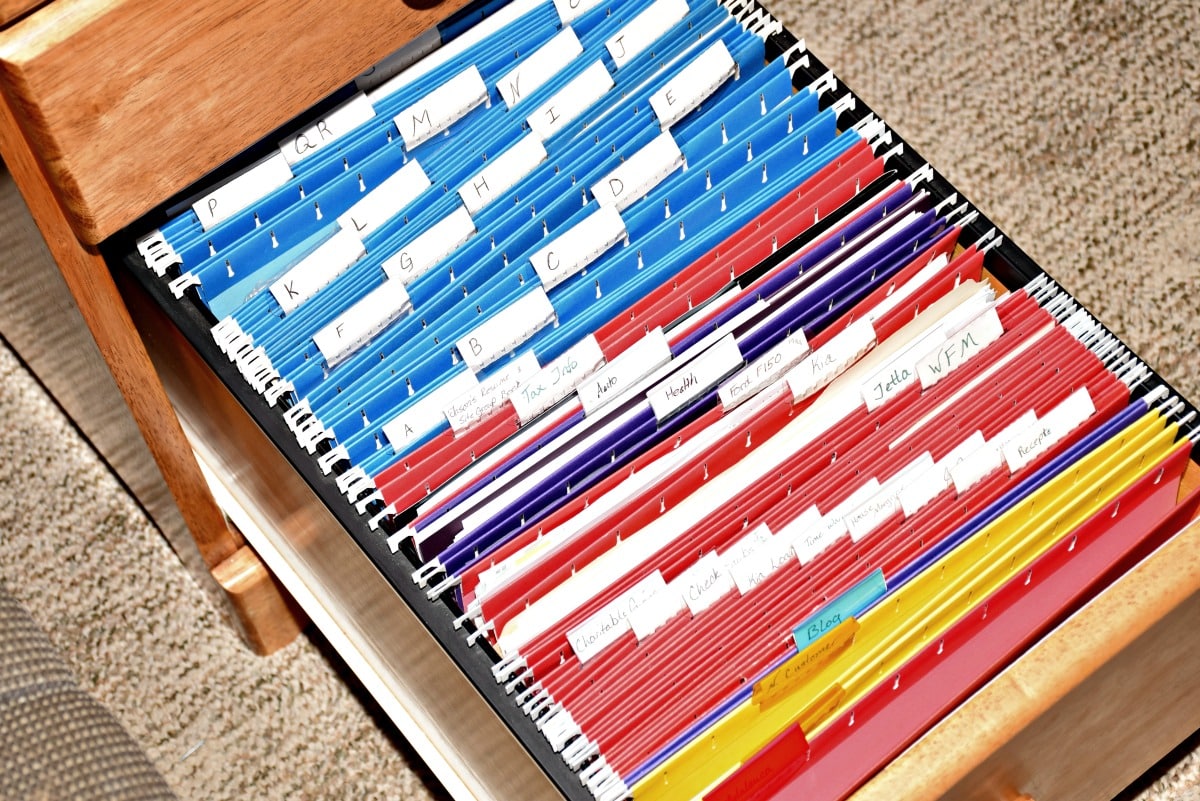 Paper… Piles and piles of paper. Pretty sure the trees are crying! Anyone else feel like their desk/office area just overflows with paper? Today I'm sharing my system for creating a simple filing system. And I do this every year!
Each year, after our taxes have been safely squared away with the IRS and everything settled, I clear out my main filing drawer. Typically the first of March is when this gets done. This year too many things were going on so I just managed to accomplish it.
When going through files with their piles of papers I'm often so tempted just to toss it all out. However, common sense prevails and I keep the necessary years for each category of information.
Creating a Simple Filing System
A Filing Safe
You can buy fireproof safes that use hanging files. I have found this to be the very best way to hang onto those papers and documents that we have to keep such as:
Birth/Death certificates
Social Security Cards
Any other form of identification such as passports
Marriage license
Wills
Life Insurance plans
Vehicle titles or loan information
House/land deeds or mortgages
A-Z Filing
I have a set of files that have receipts and accompanying paperwork such as owner's manuals/warranties for items we have purchased like home appliances, car seats, lawn mower etc.
This is a simple setup because I file alphabetically. Every few years I'll skim through the files and toss the paperwork for items we may have sold or tossed. Occasionally I'll need one of the warranties or receipt for some reason or another and I'm thankful that it was easy to locate.
Bills Bank Statements and More
Then I have the main files. The ones that fills up fast with pay-stubs, CC/bank statements, bills, Blog and Norwex related business stuff etc.
I have few papers for the blog since most is done online, but some advertisers prefer to send checks and I do print a few of the important documents.
Norwex has a lot more papers. So I use two different files for it, income related papers, and expense related files.
*This is "business" income and the records are kept 7 years.
Then comes the "fun" stuff…
The receipt file in the front is emptied monthly as I compare receipts to the credit card and bank statements when they come. I then staple the receipts within the statement it belongs to and file it in the appropriate CC or Bank Statement file.
*I pull these out yearly and keep in a box for 3 years.
Bills like internet, phone, utilities, house mortgage and any loans we have, each get their own files. This makes it simple for me to compare what's happening on the pricing end of things. Internet especially is notorious for going up unexpectedly.
*I pull these out yearly and keep for 3 years.
Other folders would include Jason's pay stubs and work related information, the monthly statement for our different ins. plans (the actual policies are in the safe), a file for medical related expenses and a file for receipts from charitable gifts.
*These are also cleared yearly and kept for 3 years, with the exception of medical which are kept 7 years.
[clickToTweet tweet="Creating a simple filing system is easy once you have a plan!" quote="Creating a simple filing system is easy once you have a plan!"]
The tax info folder is also cleared out yearly keeping only the previous years tax information in it. IRS states you need only keep 3 years of tax info, but since they can go back 6 years if they suspect you under-reported your income by more than 25% we decided to keep 7 years to be on the safe side.
Each of our vehicles have a maintenance file and those files are only cleared out when the vehicle is sold. As well, we have a file on a child we sponsor through world vision and that file is not cleared out. It's kind of fun to look back through those files and read the letters etc.
I do know that we keep papers longer than required for many categories, especially as you can easily go back a couple years to print out credit card and bank statements. However, this is just what works well for us.
The files we pull out each year fit nicely into a banker's box and that's what we use.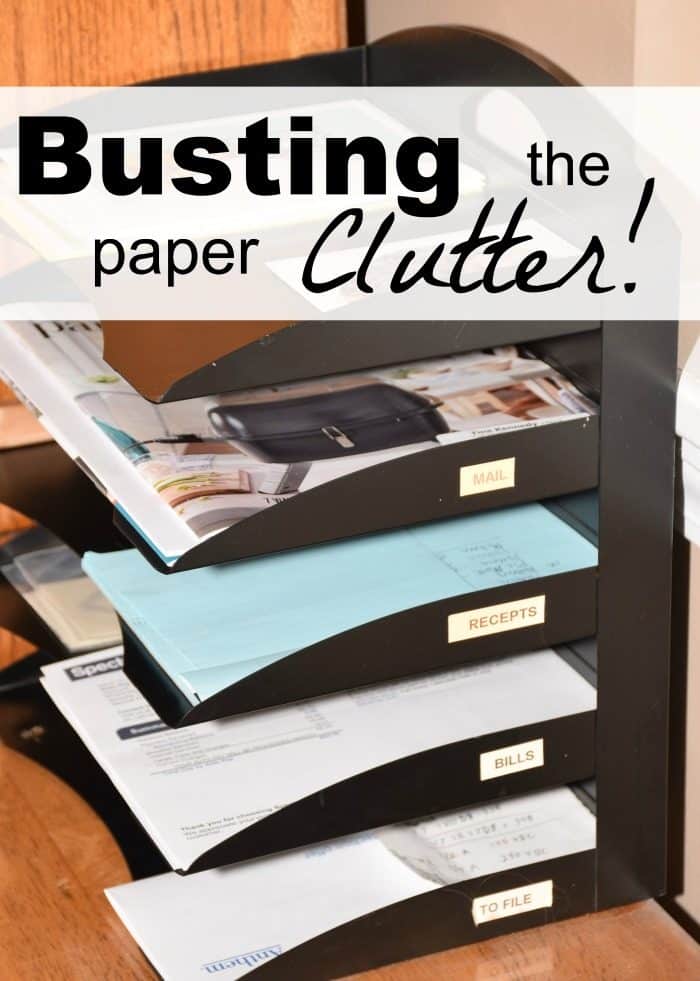 Finally, what about ALL that MAIL? 
First things first. DON'T let junk mail into the house. When I get the mail, I typically detour by the trash can and leave about 75% of it there. The rest is easily sorted and filed on the desk until I'm able to do book work.
The main key to creating a simple filing system is make it your own. Not everyone reconciles their cc and bank statements against their receipts. If you don't do this, make files for each month and put the receipts and statements in their correct months.
A lot of work up front makes things very easy ongoing. So take a little time. Look at the papers you have on hand, and file them in a way that makes sense to you.
When you have a system, it's easy to stay on top of the paper clutter and important papers don't get lost, while the bills get paid on time because they are right there.
What do you think about creating a simple filing system? Do you have something that works well for you?