Don't Let a Drowned Phone Ruin Your Summer Fun!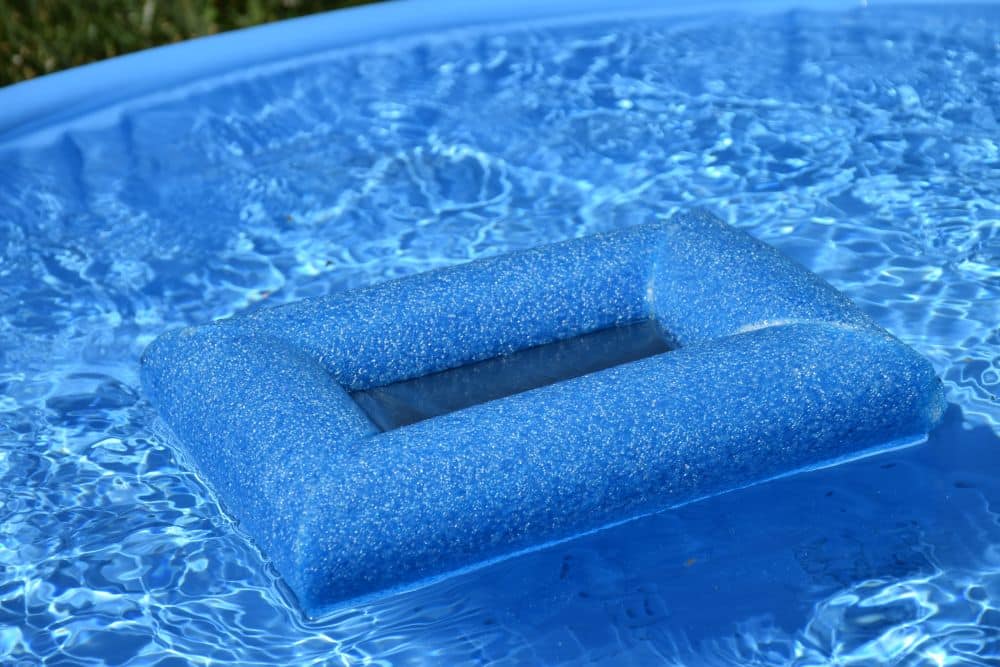 Disclosure: This shop has been compensated by Collective Bias, Inc. and its advertiser, Walmart Family Mobile. All opinions are mine alone. #SummerIsForSavings #CollectiveBias #WFM1
Not much is worse than hearing a "sploosh" and looking over to see your phone going swimming. While the obvious answer is to simply keep the phone away from water, that's easier said than done.
Just a few months ago, I bought a new phone on my Walmart Family Mobile monthly plan. It was time for an upgrade and my tax refund was put to good use. Unfortunately I forgot I had kids, and when the oh so helpful sales rep offered the $20 protection plan I said no.
Too bad for me. I enjoyed my new phone for all of 2 months before my oldest dropped it in saltwater. I'm guessing it fried instantly, as it never turned back on for me.
This summer, don't let a drowned phone ruin your summer fun. 
I plan to be around water a good deal this summer and most of the time a zip-lock freezer bag is enough to keep my phone water proof. However, if my phone was dropped into the lake or a pond it may stay dry, but it would sink and I'd never find it.
So why not use a pool noodle to keep your phone afloat?!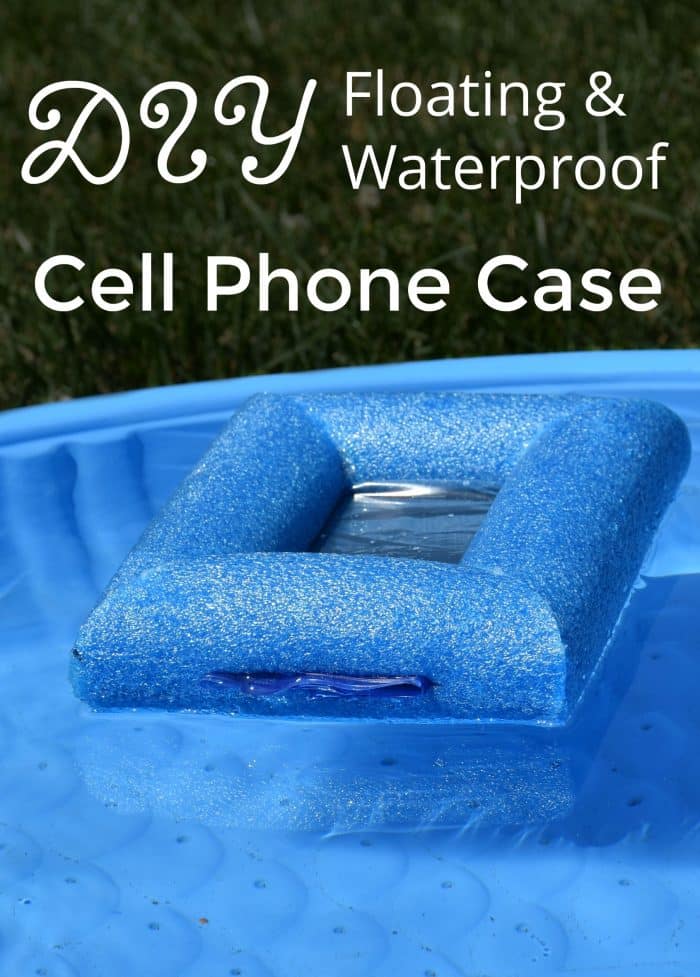 But first things first. Once again I need a new phone.
The Walmart Family Mobile phones (powered by T-Mobile) are found in the no contract area at Walmart.
Our monthly plan: the $49.88 PLUS Plan = Unlimited Talk and Text, and TRULY Unlimited data plus a free VUDU◊ movie credit every month ($7 value) per line for $49.88, isn't changing. I just need a new phone.
Why Walmart Family Mobile?
Keep your current phone (that uses a sim card) or get a new one (they have a great selection!)
No contract (!!!) pick your monthly plan, activate (No ACTIVATION fees!), and go!
Powered by T-Mobile's nationwide 4G LTE† network
No late fees – pay as you go
The truly unlimited data is amazing for those summer trips when I'm away from WIFI but still need fast internet
The best pricing found in the no-contract wireless plans at Walmart
The $49.88 PLUS Plan also gives you a free VUDU◊ movie rental credit valued at $7.00 each time you renew your service.
◊Limited time offer. Available for lines active with the PLUS $49.88 plan only. VUDU◊ enabled device and account required for digital viewing. Customers must be 18 years or older to open a VUDU◊ account. Movie rental only available in the USA. Free movie rental provided in the form of a movie rental code to the value of a $7.00 VUDU◊ credit. Movie rental code allows for selection from available movies for rent.  May not be readily redeemable on all new releases. Code will be delivered within up to 24 hours of the effective account renewal date. Must be used within 30 days of receiving code. Offer is non-transferable. Limit 1 per customer. Additional terms and conditions on VUDU's◊ website: http://www.vudu.com/termsofservice.html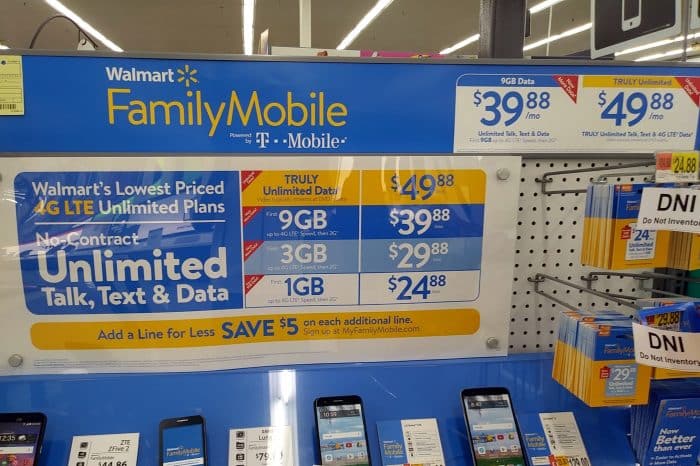 I went with a different style of phone this time. The LG L59 – Grace. And before you ask, yes. Yes I added the protection plan!
I simply purchased a new phone. Still saving money on our monthly plan. Still enjoying a free VUDU◊ credit each month. Still making good use of the truly unlimited data.
Still enjoying the perks of the $49.88 PLUS Plan: Unlimited Talk and Text, and TRULY Unlimited data with Walmart Family Mobile – Powered by T-Mobile.
Disclaimer: All prices for phones and plans included in this post are accurate as of the date of posting; however, these prices are subject to change. Please refer to this page or your local Walmart for current pricing.
Want more ideas for summer fun and savings? Here you go!
Now… For the floating phone case!
I don't recommend using this as a reason to take your phone swimming. Rather, it's a precaution against water problems when you are at the pool or lake. 
You will need:
Pool noodle with hollow inside
Graph paper, pen and scissors
Sharp knife and/or razor blade
Masking tape
Waterproof glue
Air tight freezer bag
Start by tracing your phone on graph paper. When you cut the traced image out, cut 1.5 squares in from the line. This will make your "pattern" smaller than your phone.
Reason being is to make the noodle "case opening smaller than your phone so it slides into the noodle a bit. Still confused? Keep reading, it will become clear.
Make a 45 degree cut on the end of your noodle.
Use your "pattern" to measure from the short end of your cut, and mark the length of the next cut. Make a second 45 degree cut.
Make a second long piece, then using the short end of your pattern, mark and cut two short pieces.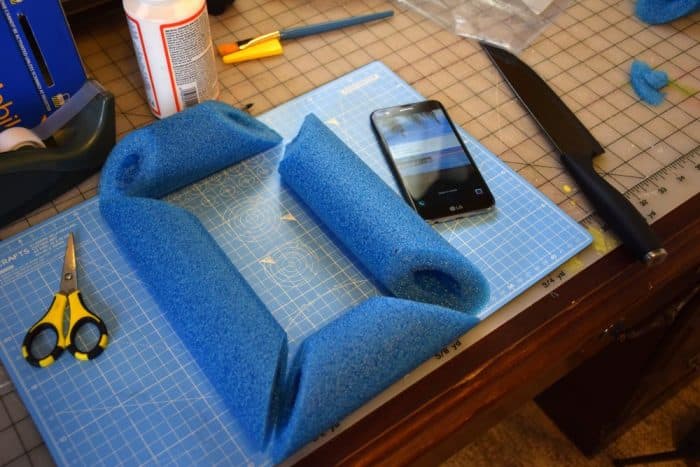 Now that you have the basic frame, it's time to glue!
I used a water proof Mod Podge, but I'm sure there are better glues out there than that.
Glue both ends and press them together. Use masking tape to stabilize the pieces and hold them together while the glue dries.
Let it sit at least 24 hours. I had to leave mine sitting almost 48 hours because the glue was thick in places.
Carefully remove the tape.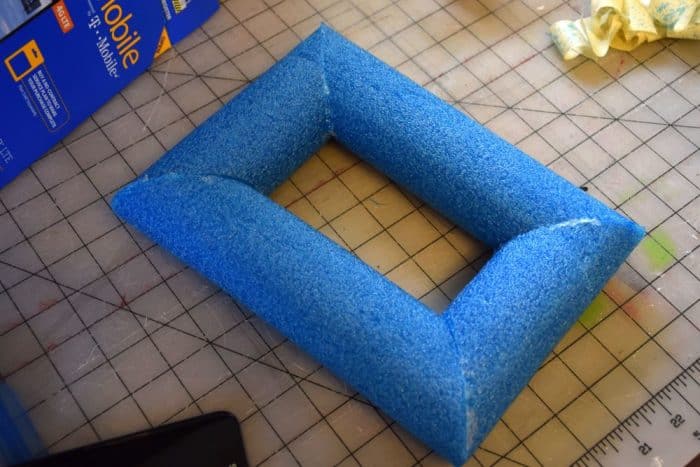 Use a razor blade knife to cut a slit through the center of the bottom noodle. This slit needs to be wide enough to slide your phone up through it into the center of the case.
Next make 1/4 inch deep cuts around in the center of the case. Inside the corners you may need scissors to snip through the glued spots.
Slide your phone into a freezer bag and seal tightly. Fold excess bag over in the back and tape.
Now, slide your phone into it's new floating case!
If your measurements and cuts are done right, the noodle frame will hug just the sides of your phone, but won't cover speaker or buttons.
Next you want to make a couple holes so you can reach power and volume buttons.
Flip the frame over, and beside where the buttons are, cut a small hole so you can press against the center of the noodle and adjust volume or turn the screen on.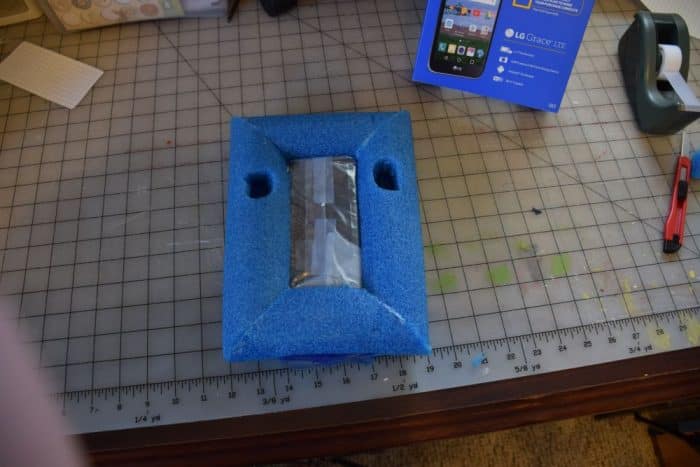 Now, enjoy your time around water, and don't panic if your phone takes an unexpected splash!
(yes, my phone is floating in a kiddie pool!)
Still confused? Maybe a video will help!
†To get 4G LTE† speed, you must have a 4G LTE† capable device and 4G LTE† SIM Card. Actual availability, coverage, and speed may vary. LTE† is a trademark of ETSI.