Faithbox: An Uncensored Review of the Popular Faith-based Subscription Box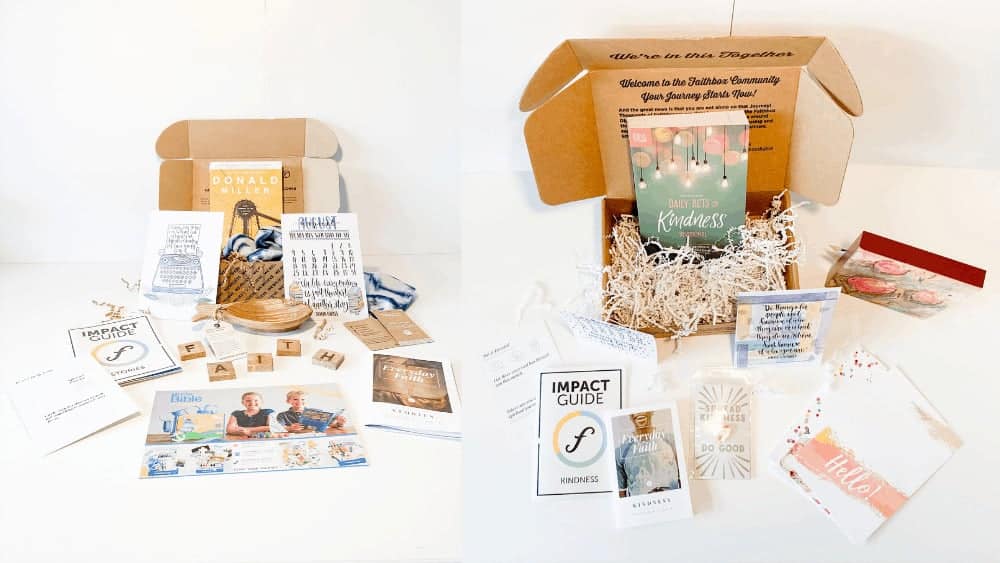 Recently, I've had a few friends tell me that they get a subscription box called Faithbox delivered to their house every month. I've heard of boxes like FabFitFun and Stitch Fix, but never realized there is a Christian version available!
These girls raved about the positive impact it's having on their spiritual journey, so I decided to check it out for myself and share my uncensored Faithbox review with you.
What Is Faithbox?
Faithbox is a Christian subscription box for women that includes a daily devotional "Everyday Faith" booklet, impact guide, and various hand-picked, faith-inspired products to help you keep Christ at the center of your life.
Beyond the box, Faithbox is a company that cares about God's creation and making a difference not only for their members but also for the world at large. That's why all of the content and products that are delivered to members come from artisans and fair trade companies that do good.
You can see a few of their videos highlighting the communities across the world who are impacted by their work:
What Comes In A Faithbox?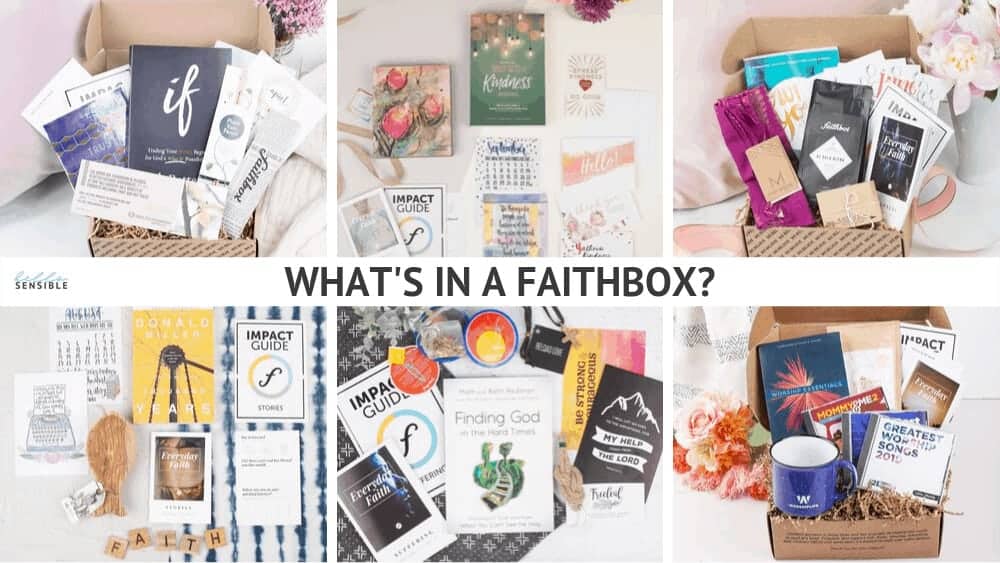 Each month there's a new theme with different goodies inside of their eco-friendly box. Because you never know what's inside, I think it kind of feels like Christmas every month.
Some months the products include Christian books, wall art, fair-trade coffee and tea, worship CDs, mugs, magnets, scarves or other unique products.
In a minute, I'll share what I personally received in my August and September 2019 boxes, but first I want to point out that there are a number of other perks and benefits that come with your monthly subscription!
Additional member perks
Daily Devotional Videos – Every day there are short video devotions that accompany the "Everyday Faith" booklet. These videos are delivered via email, but you can also access them on YouTube. This goes beyond the content and adds an extra dose of support and encouragement in your walk with God. Here's a sample of the devo videos:
Facebook Community – There's a private Faithbox subscribers-only Facebook group with a community of over 5,400+ like-minded Christians. It's designed to be a safe place to chat about what you're walking through spiritually as it relates to the box's monthly theme.
Prayer Team – Faithbox has a prayer team that prays for your requests weekly.
One-Time Discount Code – In your welcome email, you also get a one-time 15% off coupon code to purchase additional Faithbox products or gift a subscription to someone else. (This seriously makes the best present!)
"Share One + Get One" Referral Benefits – Lastly, when you share about Faithbox and a friend signs up with your referral link, you get a free subscription for the next month.
I honestly didn't know about all of those other perks until my second box came in. (Not because they didn't tell me, but because I wasn't paying attention.) So I'm telling you all of this ahead of time so that when you sign up, you don't miss out on all of these bonus benefits too.
Ok, on to what I actually got in each month's box…
August 2019 faithbox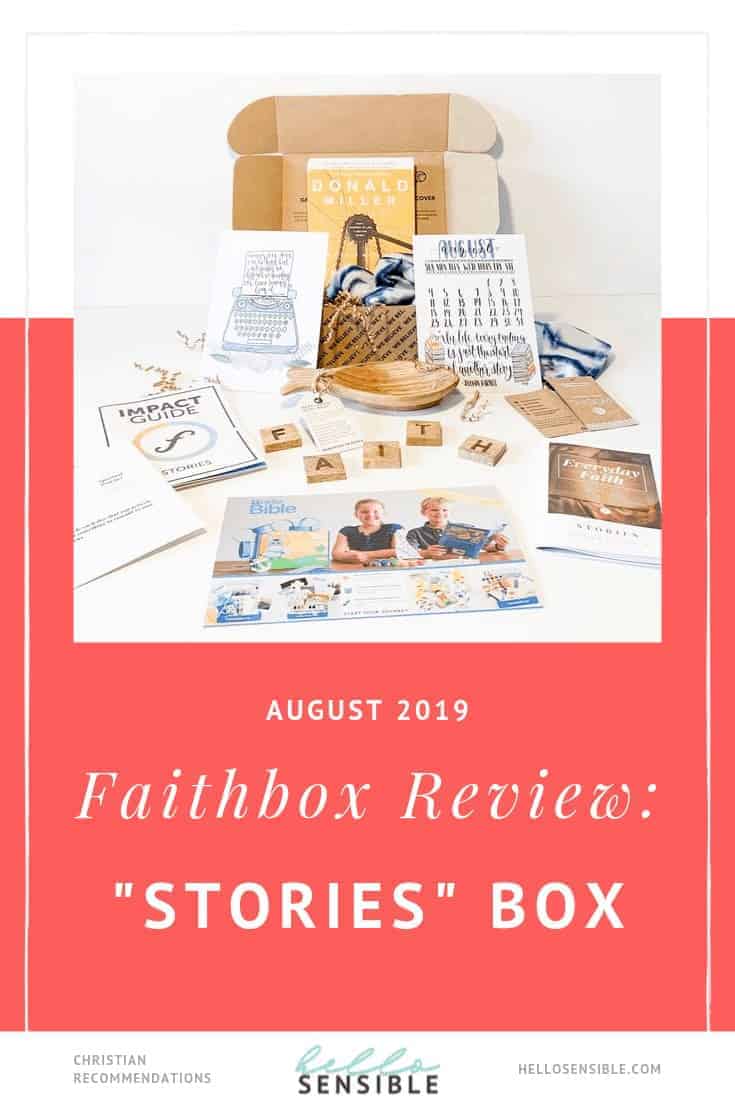 The theme in August was all about the power of our Stories.
"The best stories are filled with challenges, setbacks, victories and accomplishments. These are things that draw us emotionally and connect with us spiritually. Why then, do we feel shame, regret, and fear when it comes to living and sharing our stories?"
Everything inside of our box helped us explore that very question.
Impact Guide – This is a small booklet that gives you an overview of the month's theme, an overview of the products that came inside your box, and a way to connect with the featured companies and partners featured in the box.
Daily Devotional – This small 4 x 6-inch devotional booklet, called "Everyday Faith", includes a bite-sized devotional to read each day of the month. All of the content is centered around scriptures and wisdom related to the month's topic. Some days you'll get a Bible verse of the day with a few paragraphs to help you reflect on God's word. Other days, there are guided prayers or calls to action. Here's a sample of what that looked like in August:
Day 1 – Quote reflection: "When we share our stories, what it does is, it opens up our hearts for other people to share their stories. And it gives us the sense that we are not alone on this journey." – Janine Shepherd
Day 2 – We reflected on the verse of the day, Ephesians 3:8, which calls us to tell others about the treasures available to them in Christ. It accompanied a few paragraphs to connect the dots about the scripture to our theme.
Day 8 – We were to write out our stories on paper.
Day 18 – We were prompted to take action and do something redemptive, restorative or loving, as God's story models for us.
Day 23 – We were given a prayer prompt: "My God and my Lord, help me to live a life worthy of Your call. Where I am weak, give me strength. If I cannot see, let faith be my guide. When I am afraid, breathe courage into me. Should I feel insufficient, remind me that You are enough. May my story bring glory to Your story. Amen."
Day 26 – Declaration: "My story is not finished being written. If I'm not dead, God's not done! I will live my life and my story believing my best days are ahead of me, not behind me."
As you can see, there are a variety of ways to connect with God and live out your faith. As I mentioned before, various leaders in the company and in the community read these devotionals via short 2 to 5-minute videos that you can find in the Facebook group or on YouTube. You can also leave a comment and share how God is showing up and working in your life to connect with other believers!
Spiritual Inventory Card – This is a small card that allows you to evaluate your spiritual progress for that month. It gives you a place to…
Write your verse for the month
Rank your spiritual practice in the areas of serving, spending time with God, sharing your faith, being in community, being generous, and resting.
Circle each day that you actively did something to commit to your focus.
Keep track of three ways you've paid it forward (or did a good deed).
List three ways God has blessed you this month.
Circle a number (1-5) to evaluate where you are on your spiritual journey.
Book: A Million Miles In a Thousand Years by Donald Miller – This book is a story about how we can all edit our lives and live a more meaningful life before the credits roll.
After Donald Miller wrote a successful memoir, two movie producers proposed turning his memoir into a film, but the process was eye-opening. To make it an interesting movie, Donald and the screenplay writers had to rewrite the original story so much so that it no longer resembled his life. What he learned during that process was that there are principles and formulas that screenplay writers use to make a story meaningful so that when you're sitting in the movie and the credits roll you actually feel a sense of gratitude that you saw this film. In that process, he began to wonder what his life would look like if he used these same principles in his real life – and so this book was born – to help us all discover how we can edit our own lives and live a more purposeful life.
Since releasing A Million Miles in a Thousand Years in 2009, Donal Miller has gone on to launch StoryBrand – a company that helps individuals, businesses and organizations clarify their message so they can tell better stories in the world.
Acacia Olive Wood Bowl – This was one of my favorite products in the August box. It's an absolutely gorgeous, one-of-a-kind, sustainably-sourced bowl made from acacia olive wood! It was hand made by native artisans in Narok and Machakos, Kenya. I love that it's shaped like the Christian fish symbol. I use this bowl by my bedside table when I take off my wedding rings or earrings. It is functional but also a beautiful decorative accent piece.
Indigo Shibori Dish Towel – This is a very beautiful dish towel made by artisans who bind sections of the cloth with thread and then hand-dye the cloth to create beautiful, vibrant patterns. These Shibori dish towels were made by a group of just 15 women and 10 men in western India!
Their partnership with Faithbox and other fair-trade opportunities, they're able to sponsor vocational training and health camps and provide drastically improved working facilities and conditions!
Letter Magnets – The 1-inch wooden magnets that spell out the word FAITH were ethically sourced from local mango trees. The pieces were cut into squares and then impressed with heated, metal dies giving the burnt color on each letter. This meaningful product normally requires a larger company to produce, but Faithbox was able to partner with local artisans instead. After production, two women, Sita and Rashmi, proofed the magnets to ensure proper packaging.
Custom Watercolor Art – Last but not least, we received two 5 x 7-inch cards with custom watercolor art created by Madeline Harwell. The first card is a desktop calendar card and the second included an inspirational quote. These are perfect to display on your refrigerator or even place in a frame for simple decor. A large portion of Maddy's sales were donated to organizations including Oasis International, Backstoppers and Generosity Rocks. All of these organizations are actively involved in serving underprivileged communities, first responders and refugee families.
September 2019 faithbox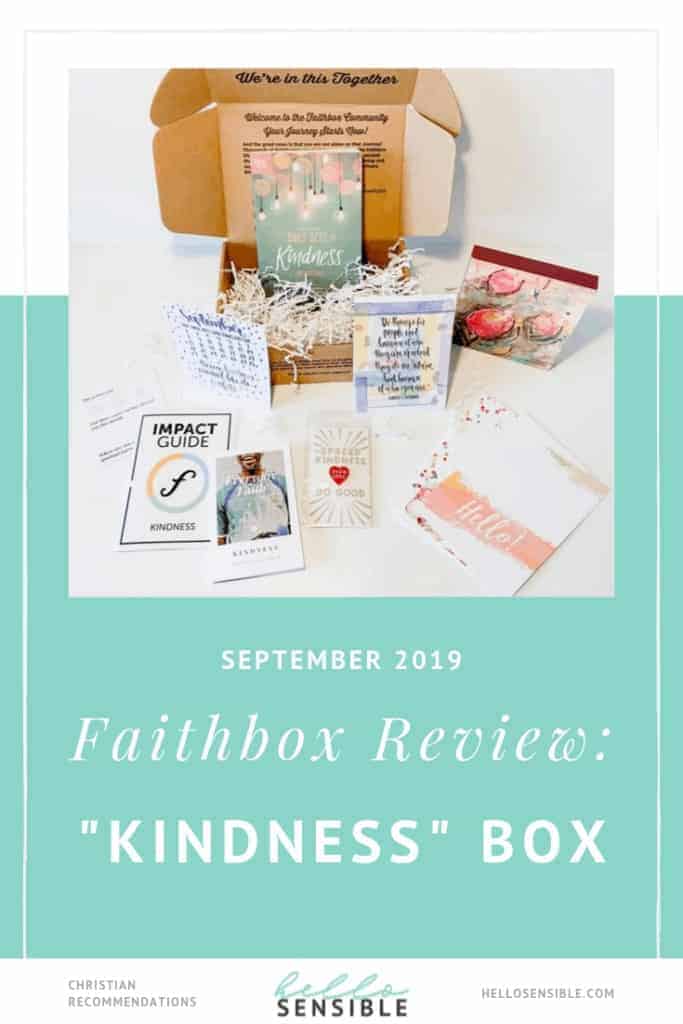 For September, the theme was kindness.
"This month, we'll discover where kindness comes from, what it looks like to show kindness, what happens when we withhold it and what happens when we extend kindness."
Just like the August box, this box included the "Everyday Faith" devotional booklet, impact guide and spiritual inventory card. Since I previously covered what's inside of those, I'm going to move on to sharing all of the extras that came inside of the September box.
Book: The One Year Daily Acts of Kindness Devotional by Kristin Demery- This book offers 365 days of daily devotionals that help you make kindness apart of your life, home and soul. In it, you'll find scripture passages and inspirational stories about why God calls us to show kindness, what it means to live a life of generosity and how you can incorporate kindness into your everyday routine.
Kindness Wood Block Print – We received a wooden block sign that was created by Primitives by Kathy. Kathy collaborated with the Friendship Heart Gallery, an organization created to provide opportunities for artistic expression for artists with intellectual disabilities, to bring us this collection replicated by original artwork by the local artists. A large portion of the sales of each item will be given back to Friendship Heart Gallery to support their mission and programs.
Show Love Lapel Pin – We also received a heart-shaped pin that says "show love". This pin, also created by Primitives by Kathy, is part of her "Benefit Collection" which sets out to make a difference by donating 100% of the proceeds! I won't personally wear a pin on my shirt, so I gave this to my 7-year old daughter to wear on her backpack to school every day. It's a beautiful reminder to share and show the love of Jesus to others.
Custom Watercolor Art – Like the August box, we received two more custom watercolor art prints. One was a calendar of the month of September and the other was an inspirational quote. I have both hanging in my office so that I can see them at a glance as I work throughout the day!
Custom Thank You Cards – Last but not least, our box came with a handful of custom-made thank you cards and envelopes to empower us to show our appreciation for the kindness we receive. I am terrible at writing notes, so these cards were a perfect way to prompt me to spread kindness!
How Much Does Faithbox Cost?
There are three subscription plans to choose from:
[elementor-template id="10155″]
If you prefer not to subscribe, you can always shop previous boxes without subscribing.
What I Like About This Christian Subscription Box
If I'm going to spend money on what seems like a box of random faith-inspired products, I want #1) beautiful products that will genuinely enrich my life and #2) I want products that are created by companies and organizations that are making a difference in the world. I believe that Faithbox does both!
To date, I have personally used and/or shared all of the products in my box. At first, I thought "why did I get a woodblock print made in China?", but then I read the impact guide and understand the intention and meaning behind the products and appreciate them so much more. Even though I wouldn't normally consider the woodblock artwork "my taste", I now proudly display it around my house because I deeply connect with the mission of Friendship Heart Gallery.
Additionally, I love all of the extra perks and benefits that come with the box. I thrive in a community, so I love having exclusive access to the Facebook group. I also love the option to email prayer requests.
What I Do Not Like About It
The only two complaints I had were related to shipping and cancellation.
Shipping
When I signed up, I didn't realize that my box wouldn't arrive right away, so at first, I thought the shipping was slow. After I found out about the shipping policy it made so much more sense.
POLICY: If you purchase a subscription BEFORE the 18th of the month (at times this date is extended), your first box will ship out the last week of that same month (shipping begins on the 25th) and arrive by the beginning of the upcoming month. You will not receive the box from the same month your order was placed in. (i.e. if your order was placed on February 8th you will not receive the February Faithbox, you will receive the March box).
If you want to sign up, just be aware of their shipping policy so that you don't have any unfulfilled or unmet expectations like I did.
Cancellation
Finally, I am not a big fan of how the cancellation process works. From your account online, you can easily upgrade or skip a month, however, you cannot cancel online.
POLICY: If you choose to cancel your subscription, you must do so by contacting customer support by submitting your request to support@faithbox.com, live chat or call us at (469) 615-3321 during normal business hours, Monday – Friday 8am – 9pm. Your cancellation will take effect at the end of your current subscription cycle.
I know you can still cancel via chat or email, but I think it's just silly not to be able to click a few buttons in your dashboard to cancel. (Just my honest 2 cents.)
Would I Recommend Faithbox?
After weighing out all of the pros and cons, yes, I would absolutely recommend Faithbox.
By treating yourself to a Faithbox each month, it empowers you to grow in your faith. However, if you are not someone who is going to take the time to fully explore all of the products inside the box, it can be easy to overlook the true value of the box.
When you sign up, I encourage you to dig into all of the content, including the daily devotionals to get the most out of the box. If you ever find a product you don't care for, give it away! Share it with a friend or save it for an opportunity to regift it to someone who will fall in love with it.
If you'd like to try it out for yourself or gift a Faithbox to someone else, click here to sign up. I can't wait to hear how this makes a difference in your walk with God!